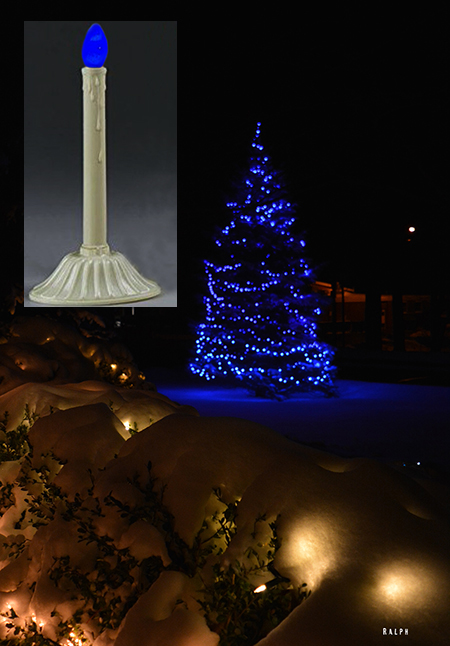 Why am I posting the "Blue Spruce pic again?
That's a good question, and I believe I have a good answer. First of all, it's Christmas week. As some of you already know, Christmas is this coming Friday. I know, that came pretty quickly huh? It seems like it happens every year. Thanksgiving rolls around and then the next thing you know, BAM it's Christmas again. And this year? Let's face it it's been one weird ass year.

And I know I'm not alone when I say that 2021 can't get here soon enough.

But before I go any further here, I need to explain what that Blue candle is doing in the Blue Spruce pic. Well, when I was a young boy, who still believed in all the things that our parents taught us, I still believed in Santa Claus. All the kids in my neighborhood did. I mean once one of us stopped believing in Santa, it basically trickled down to all of us. Even the stubborn holdovers.

That shocking news as a young kid hit us all. But prior to that cold reality,
there was that time of innocence. Those magical days, of just being a child.

Back when I was around 7yrs old, I had a single Blue Candle that my father placed in my bedroom window. He had candles in all of the windows. And he always had Blue candles. I grew up with three boys in one room and three girls in the other room. I was the oldest of six. My bed was set up against the back wall of the room/house. My two younger brothers were side by side on the opposite side of the room. I could lay in my bed and stare out the window. And I did for many nights. And especially on Christmas Eve.

I can remember the last Christmas Eve when I still believed.

I was determined to stay awake all night if I had to, just to wait and see Santa in person. On so many Christmas Eves in the past, I tried to stay awake only to fall asleep and wake up with a stiff neck for sleeping with my head on the cold window sill. But that last year? Oh I was going to catch him in the act. Hook or by crook I was going to finally see him.

Because I believed. I truly believed.

My single Blue candle would shine out on the newly fallen snow, and my young active imagination would run wild. I could see across our back yard and over to our neighbors yard. I could see the street lights shining on Williams Street as I fought to stay awake. I would imagine I heard bells. And I would think I'd hear Santa himself calling out the names of all his reindeer. I would strain my neck, and press my face up against the cold window, trying to see and hear.
Any slight sound, or flash of light, would catch my eye and ears.

The distant dog barking. "Maybe he's barking at Santa?" I would think.

But that night ended just like all the others. I fell asleep and missed the grand entrance of Old Saint Nick. But still, I happily awoke with my brothers and sisters, as we did our yawning routine, walking down the stairs while rubbing our eyes. My dad would have the giant studio like lights glaring in our faces, as he shot movies on his 8mm movie camera. Thank God we still have those old reel to reel movies of those memorable days. I miss those days.

So while the Blue Spruce has Blue lights on it, because it's a Blue Spruce.

The deeper meaning behind those Blue lights is, it takes me back to when I was that young boy, waiting up for Santa, with my single Blue candle in the window. The blue lights ignite a part of my past when I still believed. And I hoped it would do the same for our kids when they were growing up, and now our grandchildren. Because they still believe. And that's the true spirit of this Holiday season. Children believing in something magical. Like Santa.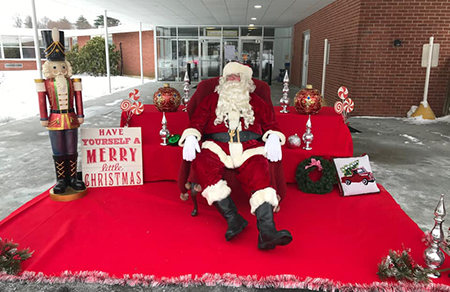 I took this photo of Santa today. The annual Christmas Parade was canceled in Hampton this year due to (what else) COVID. So the town and the rec Department set up up a drive by visit with Santa at the Marston School. It was wonderful. Carload after carload of parents, grandparents, and aunts and uncles drove their kids by Santa and had them roll the windows down to say hello and listen and see Santa. This town is awesome.

And speaking of this town and this community.


These wreaths are lying at the graves of all the Veterans in the Hampton High street Cemetery. When I was Commander at the American Legion we had the WREATHS ACROSS AMERICA stop by our Post 35 in Hampton for the first time. It went over so well we made sure that each time they started off their caravan to Arlington National Cemetery they would stop by our Post and lay a wreath at our GWOT Monument. For many years the Merrill group in Maine would make a special stop at our Post. It was wonderful. And when I stepped down as Commander in 2014, the trend continued under our current Commander Berk Bennett. But with COVID having all kinds of unrelenting restrictions this year, they went straight to DC. People missed them.

Like always when things go wrong, people, good people, step up to help.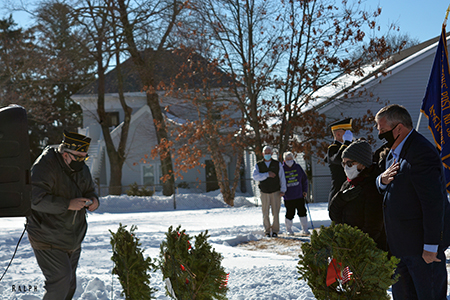 The McGrails a local Hampton family decided that they would purchase enough Holiday wreaths to place at the gravestones of all the Veterans buried in Hampton's High Street Cemetery. They asked our Post 35 to conduct a service. So we did. And the results was another outstanding event here in our little seacoast community. We really do have some wonderful, caring individuals, who always seem to step up and volunteer to make something good happen here. I was on hand to document the event. There is a gallery down in the photo section. Check it out. It's pretty heart warming.

And speaking of heart warming. I got another letter from Jerry Law. As well as a beautiful Christmas card and some really cool pics of Allen Bigbee. Plus some really cool vintage Rick Griffin decals.




I love hearing from Jerry, because it's always some hand written letter with some cool old pics from Maine and NH. He knows that I'm a huge Rick Griffin fan so to get these decals was so nice. Thank you Jerry. Merry Christmas and may God Bless you and your family and friends.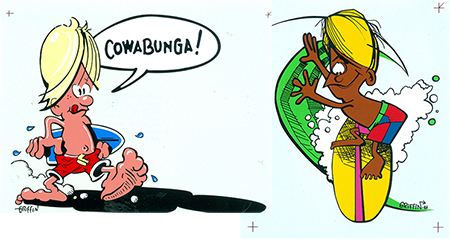 These Murphy cartoons are my main inspiration when it comes to my
cartoons and many caricatures I would do over the years. Rick Griffin was
the Best in the business and he is missed by so many.

LONG LIVE MURPHY!

I passed another minor milestone in my life a few days ago.


It's important to know, that I never push my sobriety on anyone.
My family and friends all drink socially, and I have no problems with that. I can be around it, and it does not affect me. I realize I am not the norm, and that AA works for so many others. I personally didn't need it. And anyone who knows me well enough knows, that once I make my mind up, I'm going to see it through. No matter what.
Anyway, another year has gone by.
For those who complained about the snow storm and NOR'EASTER we had this week, I am old enough to remember this baby.

The BLIZZARD of '78.
They say a picture is worth a thousand words right?
Well take a look at this.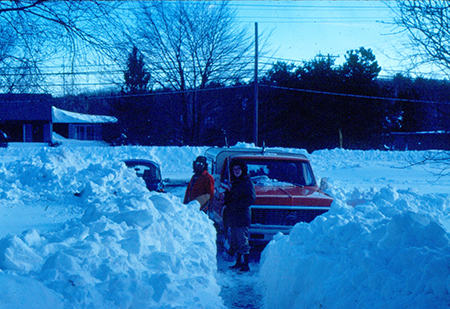 These are my two friends Bruz and Kate. February 5th-7th, 1978.
I surfed that storm. But I also remember all the vehicles that were trapped
on Rte 128. It was a bona fide nightmare. so yeah, that 12" of snow we just got? A minor inconvenience compared to this beast.

"MERRY CHRISTMAS, HAPPY CHANNAKUH, HAPPY KWANZA
& BEING SOBER HEALS ALL WOUNDS!"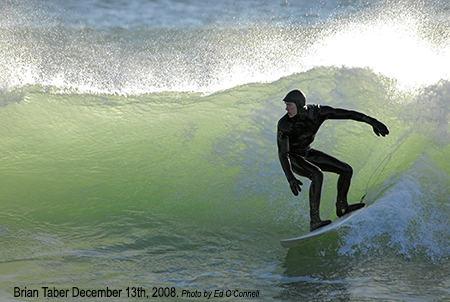 This week's Ed's corner is from December 13th, 2008. The surfer is Brian Taber. The spot? The Wall in Hampton. The Wall was Good this week. The Call of The Wall. Photo by Ed O'Connell
*Click the photo above to see a larger version of Ed's Pic.

Now for Some Local and National News

This is a photo I took of Sam George back in January of 1979.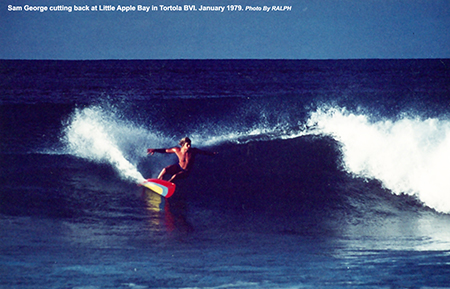 The first time I saw Sam surf I knew I was seeing something special. The late John "JT" Taylor and I were blow away by Sam's surfing, and we were equally Blown Away by his knowledge of surfing and his ability to tell a story. I knew from that very first meeting that Sam was someone who was going to go places in this world and make a difference. And I was right. Rather than have me list all of his amazing achievements I've listed them below for you to browse over. There have been many great writers of Surfing. From Steve Pezman and John Severson to William Finnegan, from Drew Kampion to Matt Warshaw. I put Sam George right up there at the top of that list. He's that knowledgeable and that creative.

Sam can hold anyone's attention, and his writing, and his large body of work is proof of that. When Sam speaks, people listen. Especially surfers. Why? Because he knows what the hell he's talking about. He's not just a writer, he's one of us. One of you.

We have stayed in touch over the years since that first meeting in Tortola BVI. I've followed his career and kept in touch. I've sent him updates while he was with both SURFING and SURFER, and we've managed to cross paths a few times. Both on land and in the water. The thing about Sam is, he never seems to age. It's true. He's still that stoked young surfer that I met in 1979. Though he no longer rides those short McCoy's anymore. But he still rips on his custom SUP's.

And the good news is, his knowledge of surfing and his creativity has grown leaps and bounds.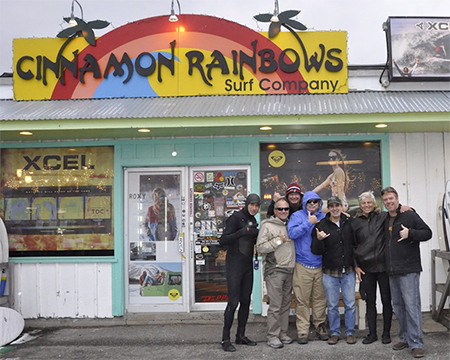 Here's Sam with his WESTIE Posse when they came out to visit when I was sick in 2014. That visit was key in my recovery from the disease that was trying to kill me. That they would travel across the country to see me spoke volumes of what true friends are all about.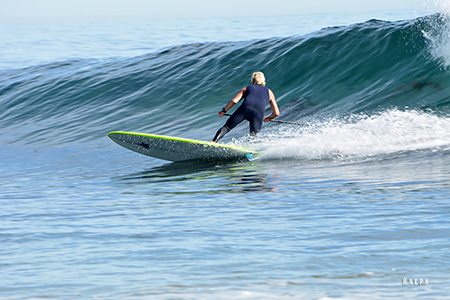 This is Sam last January. Still styling, still in perfect position on the wave. And...still stoked. Sam is a SURFER.

This is Sam's new venture.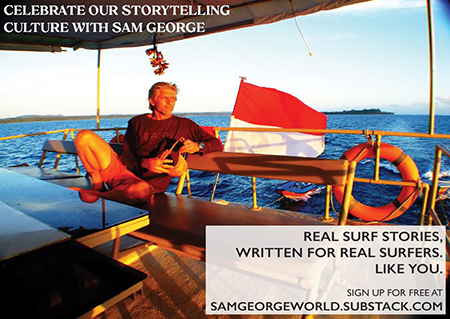 He sent me an email (see below) and I instantly signed up.
*CLICK ON THE IMAGE ABOVE START READING TODAY*

This is the email I received from Sam.


Ralph,

After more than 30 years in the business of writing about surfing, I reject the general perception that surfers don't read. Trouble is, with print media dead there's not much out there worth reading these days, aside from marketing promos, salacious gossip and narrowly-focused, almost entirely cynical surf contest coverage (with the exception of blogs like yours, of course!)

To that end I've aligned myself with a platform that allows me to publish a much more sophisticated spectrum of content for the discerning surfing devotee, with stories, editorials and the insightful examinations of what I describe as "the surfing world and all that's in it."
I'm hoping you find something in there for you. Please click on the link below to get started. And Ralph, if you're stoked about what you find, please feel free to share the link with your myriad, enthusiastic followers. You're way ahead of me in this online publishing realm.


Many thanks,

Sam
*I urge you all to sign up to get these important and entertaining stories of our world. Besides, it's FREE. Trust me it's worth it.

For those of you who might not know who Sam George is, here's a sample of what he's done. Check it out.

Sam George is an American professional surfer, writer, director and screenwriter. A former competitive surfer, in 1983 George became a contributing editor at Surfing magazine in San Clemente, California, later becoming the magazine's senior editor. His monthly column "Caught Inside" ran until 1990, when he left Surfing and began work at SURFERMagazine.

George worked at Surfer from 1990 to 1998, when he left the magazine to work on a book project and to help start and edit a free tabloid called SurfNews. He returned to Surfer as executive editor in 2000, a position he held until 2005, when he left the magazine to concentrate on documentary film projects.
In 2007, George directed the documentary The Lost Wave, about his discovery of an indigenous surfing tradition in São Tomé and Príncipe.

George has traveled extensively throughout his career, having explored the coastlines of over 40 countries and is credited with the discovery of new surf breaks in West Africa, the Andaman Islands and Madeira. Still very active in surfing, George continues to compete in standup paddle races and tandem events.

Filmography:

Writer, Riding Giants (2004) directed by Stacy Peralta

Writer/director, The Lost Wave (2007)

Writer, Crips and Bloods: Made in America (2008)

Co-Director and Writer, Hollywood Don't Surf! (2010)

Director and Writer, "Hawaiian: The Legend of Eddie Aikau" (2013)

RALPH'S PIC OF THE WEEK is selling 2021 CALENDARS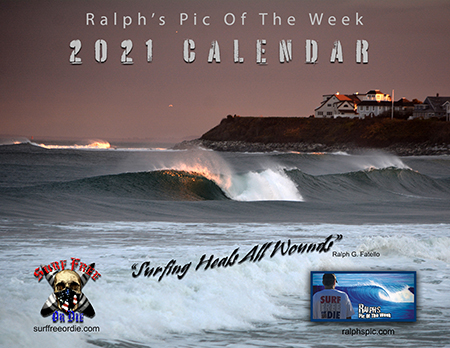 It's all local surf and surfers. If you're interested in getting one send me an email to: ralph@adlantic.com

I'm asking $20 per Calendar.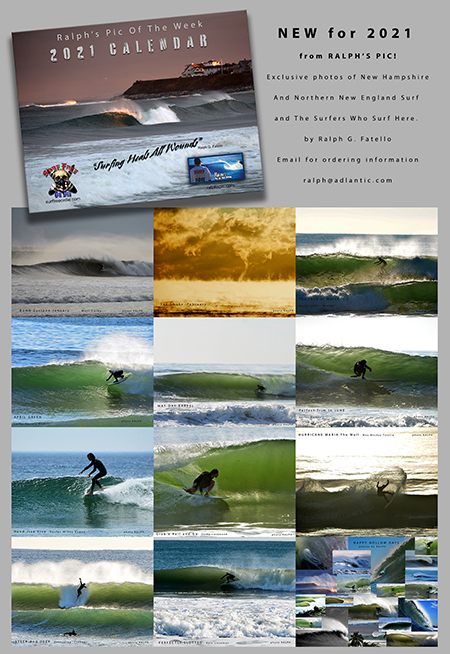 Who doesn't want a local New England Surf Calendar? I shot all the photos. Yes they are from The BLOG.


KSM Photoshop of the Week
I wanted to show you all the progression that Ole Khaliddy is transitioning into. The pic on the lefet is from 2003 and the one on the right is pretty recent. As you can see KSM has let himself go. Personal hygiene was never very big with him anyway. I will say this, he's a pretty scary looking Saint Nick. Damn.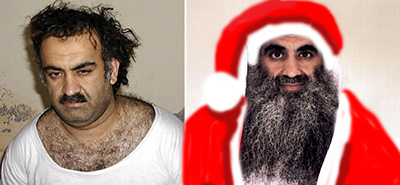 And so my friends, please take advantage of this weekly photo shop of the mastermind who planned 9-11 and resulted in the deaths of 3,000 innocent civilians by KSM (Khalid Sheik Mohammed).

*Note to self -must pick up a case of Santa Hats at Home
Depot this week.

HAPPY HANNAKUH! MERRY CHRISTMAS!!
HAPPY 1st Met 37th Anniversary Cory December 23rd, 2020!
HAPPY BIRTHDAY Tony Berardini December 24th, 2020!
HAPPY BIRTHDAY Baby Jesus December 25th, 2020!
PLEASE Keep 98 yr old Frank Grondin in your thoughts and prayers, as well as Chuck (Kim's dad) .
PLEASE Keep longtime NH Surfer Greg Smith in your Prayers.
PLEASE Keep local Surfer/Musician Pete Kowalski in your thoughts and prayers this Holiday season.

Please Support ALL The photographers who contribute to
Ralph's Pic Of The Week every week for the last 16 years.
** BUY a HIGH RES Photo from any of the weeks on RPOTW.

Remember my friends... Surfing Heals All Wounds.
Pray for Surf. Pray for Peace. Surf For Fun.

Ralph