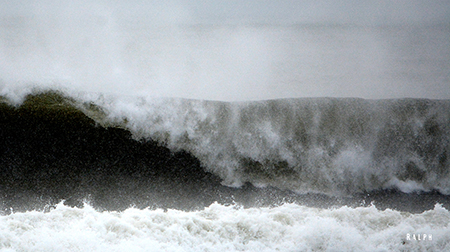 THE WAVES FROM THE LAST WEEK HERE IN NORTHERN NEW ENGLAND HAVE BEEN NOTHING SHORT OF INSANE.

We were all pretty satisfied with the incredible swell the week before. But then we got hit with another massive Nor'easter that gave us yet another killer swell. I shot more stills and video the last two weeks in December than I have all the Decembers the last 10 years. Suffice it to say, I've got some killer footage coming. But before that happens you'll be able to see the pics that were shot this last week and weekend. It's also the reason why the Blog is late again, and unfortunately, the 2023 RPOTW calendars.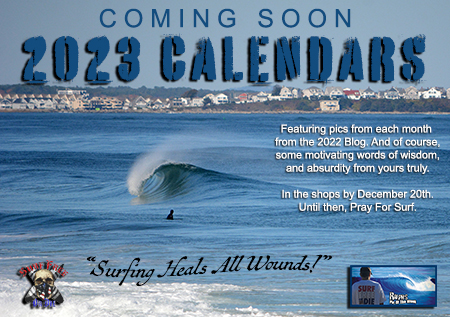 Truth is, I was waiting for a decent December swell to shoot for the month of December. As most of you know each calendar features pics from the previous year. I try to keep it real. In other words each pic of the month is from the actual month taken the year before. In the case of the 2023 Calendar each month is from the year before. I'm going to try and get the calendars done mid week. Put it this way, they will be done before Christmas.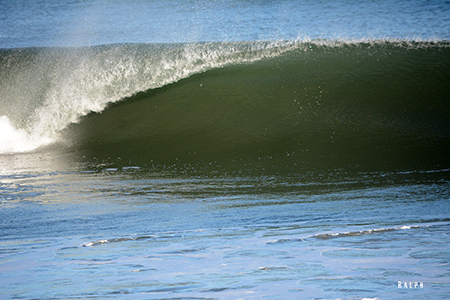 But back to the waves this week. Man there were some beautiful waves breaking up and down the coast. From Mass to Maine. But there were also some serious gnarly ones too. The not so pretty days like Saturday December 17th, 2022. It was Big, Windy, Cold, Raining, and Snowing. But that didn't stop the boys and girls from charging all day long. There were some serious hold downs, a few broken boards, several snapped leashes, some bruised egos, and some humbling experiences. The ever growing crowds in the water are causing some unsettling drop ins, resulting in some minor and serious collisions. We all need to be a bit more vigilant out there. And we need to watch out for one another. And more importantly we all need to know our own personal limitations. Nobody wants to see anyone getting hurt.




Sure it makes for exciting visuals, but I'd rather shoot good rides than these.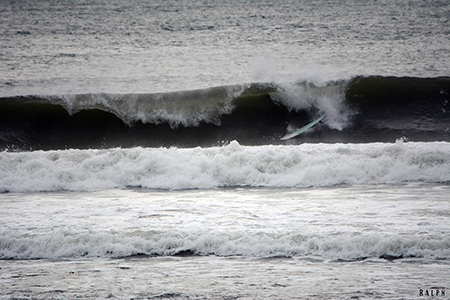 We all need to know our capabilities. Otherwise people, and it's usually innocent people, can, and will get hurt. Busted boards are one thing, busted bodies are something else.




If you're out surfing alone, that's one thing. But if you're in a crowd? You need to be aware of your surroundings. And when you are in a crowd you must have control of your board. Letting your board go, while depending on your cord to save you, is not good. I've seen more people get hurt when others just ditch their boards. You need to hold onto your boards.




Even the very best fall off their boards. Like this guy. But I can virtually guarantee, that he never lets his board go. He's always aware of his surroundings. And he would rather take a wave on the head, than to jeopardize another surfer's safety. The bottom line is, the crowds are not going to go away. So it's up to each and every one of us to stay frosty out there and look out for one another.

WREATHS ACROSS AMERICA DECEMBER 17th, 2022
Like a lot of Americans, I first became aware of the WREATHS ACROSS AMERICA in 2005 when a photo circulated around the Internet of thousands of Wreaths covered in snow, placed on the graves of the fallen in Arlington National Cemetery. The photo was so powerful, it went viral. I 'm sure many of you here today saw the same photo. I read all about the man behind this incredible gesture. Morrill Worcester from Harrington, Maine.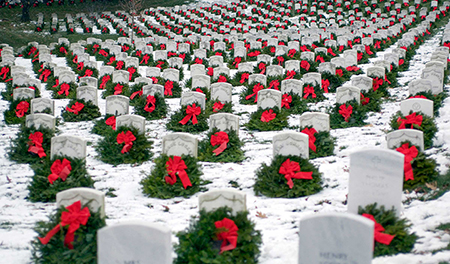 Morrill Worcester owned WORCESTER WREATH COMPANY. When Morrill was a12 yr old paperboy, he won a trip to Washington DC. Visiting the nation's capital it was a trip that he would never forget. And his visit to ARLINGTON NATIONAL CEMETERY left a lifelong impression on the young boy. That experience followed him throughout his life, and successful career in business, reminding him that his good fortune was due, in large part, to the values of his nation and the veterans who made the ultimate sacrifice.

The story goes that in 1992, he had a significant surplus of wreaths nearing the end of the holiday season. Remembering his boyhood experience at ARLINGTON Worcester realized he had an opportunity to honor our country's veterans. With the help of Maine senator Olympia Snow, arrangements were made for the wreaths to be placed at Arlington in one of the older sections of the cemetery-a section which had been receiving fewer visitors with each passing year.

As plans were underway, a number of volunteers and organizations stepped up to help. The AMERICAN LEGION, The VFW, and a local trucking company BLUE BIRD RANCH owned by James Prout who generously provided transportation from Maine to DC. This act of generosity became an annual tribute that went on quietly for years until 2005, when the photo I previously mentioned appeared on the Internet. Well, that opened the floodgates.

Morrill Worcester became an overnight hero by his kind act of honoring the fallen in Arlington.

Thousands upon thousands of requests came in from all over the country.
This unique act of honoring veterans by placing wreaths on the graves, had touched the hearts of so many Americans all over the country. It was a wonderful heartfelt story that we all desperately needed.

In 2006 (the year after the famous photo surfaced) I had the distinct pleasure of meeting Morrill Worcester and his family and his Army of volunteers, when we arranged for them to stop at AMERICAN LEGION Post 35 on their way to Washington that December of 2006. He was a quiet and humble man. And as I looked into his eyes, I could see the true passion and honor he had for not only the fallen Veterans, but for those who have served, and are still serving. I'll never forget that first meeting.

We were lucky to have them stop by for many years following that first meeting.




But they got bigger and bigger each year and it became what it is today. Towns and cities all across the nation now participate like we are today here in North Hampton by lying wreaths on the graves of local veterans. It has become bigger than anything Morrill Worcester could have imagined. Right now at this very moment in cemeteries all across this nation there are similar services being conducted. And it all started 30 Decembers ago in 1992.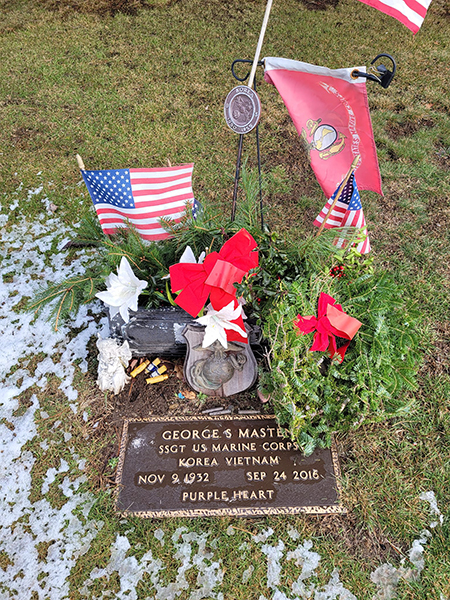 My dear friend George Masten is buried in North Hampton, NH.
I miss George more than all the other departed veteran friends of mine.




Dave Marenelli and myself this Saturday December 17th, 2022 at the local WREATHS ACROSS AMERICA Ceremony.

REMEMBER-HONOR-TEACH. That's the mantra of the WORCESTER WREATH COMPANY. REMEMBER The Fallen. HONOR those who serve and their families. TEACH the next generation the value of Freedom.


"HELPING THOSE WHO NEED HELP HEALS ALL WOUNDS."




This is Brian Tabor at the Wall on December 13th, 2008. It's funny, I thought about Ed this whole last swell. especially when I was perched in his favorite spot to shoot from. I wondered what kind of shots he would have gotten if he was still with us. And I wondered if Ed (who was not especially religious) could see the waves from where he is today.

I suppose I'm talking about heaven or wherever it is, that old surf photographers go. Can you see us Ed? If you can send me some kind of a sign. Let me know it's you. Photo by Ed O'Connell
*Click the photo above to see a larger version of Ed's Pic.

LOOK WHO IS RECEIVING THE FAITH IN THE FUTURE AWARD AT THE HAMPTON AREA CHAMBER AWARDS.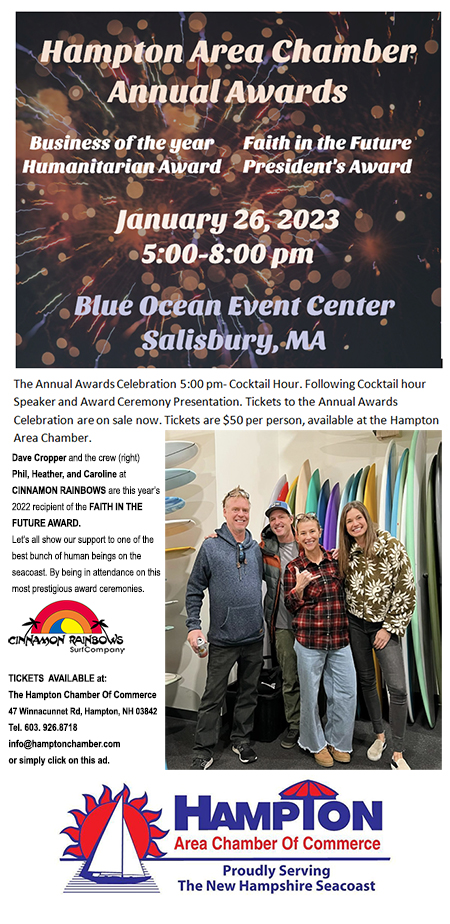 PATRIOTS GET ROBBED FOR THE SECOND TIME THIS SEASON IN THEIR LOSS TO THE LAS VEGAS RAIDERS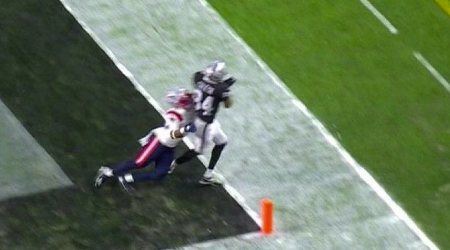 THE PATRIOTS who are now 7-7 Got Robbed By The Instant replay Officials in the game today losing to the RAIDERS.
I honestly hate bitching about professional sports, but in the name of God, what the hell were the instant replay officials seeing in New York? Two out of three camera angles had his toes out of bounds. That was a no brainer. That was NOT a TD.

That game was over. The Patriots got robbed again.

If you thought the non TD call of Hunter Henry during the Vikings game was bad, wait until you see this. The league should be fined. I mean it. They should be heavily fined. I really, really, don't like the Raiders. I never have and after tonight? I never will.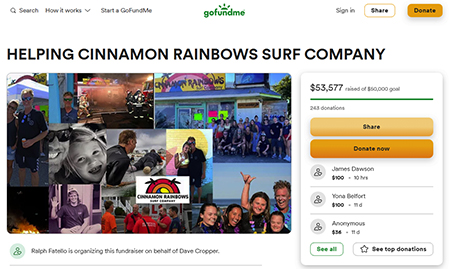 *Click on the photo above to make a donation

The HISTORY OF NEW HAMPSHIRE SURFING DOCUMENTARY. 58 years in the making.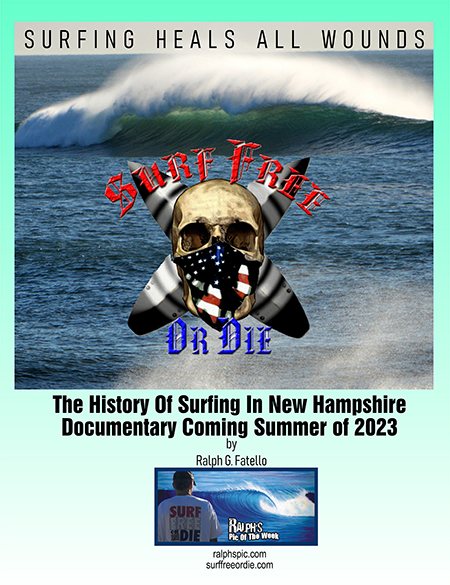 This should be ready by next Spring/Early Fall 2023. This has been 58 years in the making.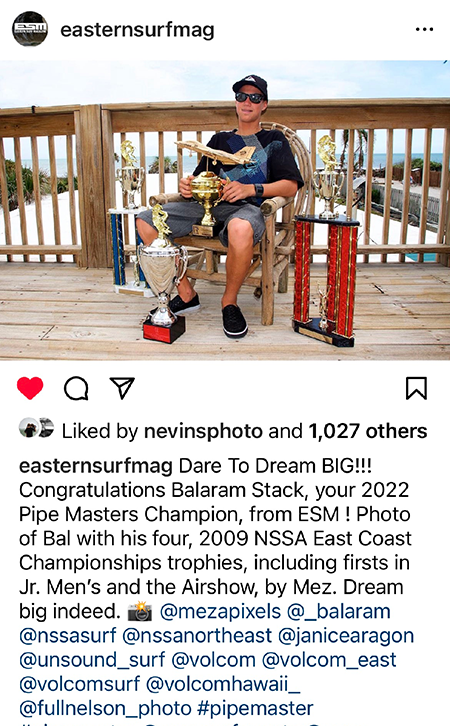 CONGRATS to BALARAM STACK For Winning the Pipe Masters. My son Max competed against Balaram in the ESM NORTHEASTERN Regionals one year. This is quite an accomplishment for an East Coaster from the NY/NJ zone.

KSM Photoshop of the Week
Whenever the Patriots got robbed by those blind sons of bitches down in NY I thought about our boy KSM. I wondered if someway and somehow Ole Khaliddy had something to do with the NON OVERTURNING of the call on the field. Then I came to my senses. Yes the Sheik hates all Patriots in America, and Yes he hates all Red, White, and Blue color schemes. But is he involved with the NFL? Oh hell no. I mean he may be crafty when it comes to blowing shit up and hiding stuff in the bowels of camels, but to be able to overturn a call by an NFL referee? Oh hell to the no.
But it was still fun making this week's KSM meme. Hey Sheik guess what today is? It's the first day of Hanukkah. Shalom.

And so my friends,
please take advantage of this weekly photo shop of the mastermind who planned 9-11 and resulted in the deaths of 3,000 innocent civilians by KSM (Khalid Sheik Mohammed). *Note to self -must pick up a case of used Zebra shirts at Home Depot this week.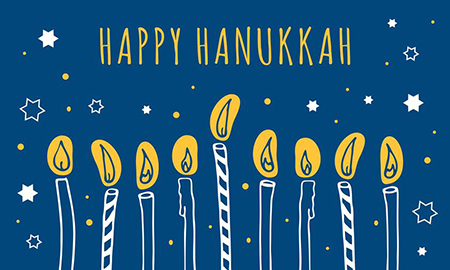 REST IN PEACE GUS LINSEMAN



Father to local surfer Kenny Linseman and grandfather to local surfers Holly and Kyle Linseman of Hampton. Kenny and the kids were very close to Gus. Kenny was a good son, and I know they will all miss him. Our most sincere condolences to them all.

REST IN PEACE Madeline Susan Johnson
July 27,-2020 to December 12, 2022
She was the niece of local surfer Cam MacLeod. The whole surf community sends their condolences to Cam's family during this tragic and sudden loss. Surfing heals all wounds.
HAPPY BIRTHDAY Brent Labreck December 10th, 2022!
HAPPY 70th BIRTHDAY 12-13-22 to my Sister Donna!
HAPPY 39th ANIVERSARY Cory! December 23rd, 2022!
HAPPY 4th ANNIVERSARY Noelle and Pete Rizzo 12-23-22!
HAPPY BIRTHDAY Tony Berardini December 24th, 2022!
HAPPY BIRTHDAY Baby Jesus December 25th, 2022!
Please keep local surfer Mike Keefe in your thoughts and prayers in the next few months. Keep fighting Mike!
Please keep local Surfer/Musician Pete Kowalski in your thoughts and prayers. SURFING HEALS ALL WOUNDS!
Please Keep local surfer Bill M. in your thoughts and prayers.

Please Support ALL The photographers who contribute to
Ralph's Pic Of The Week every
week for the last
18
years.
** BUY
a
HIGH RES Photo from any of the weeks on RPOTW.

Remember my friends... Surfing Heals All Wounds
.

Pray for Surf. Pray for Peace. Surf For Fun.


Ralph




Yesterday-JERRY LAW CIRCA Late 1970's
Back in the day, this man was responsible for many of the surf photos to come out of Maine. Jerry Law has documented as much about Maine surfing as I have about New Hampshire surfing. In fact, one of these days I will do a LOCAL LEGENDS piece on this man. He took/takes some great photos. And he's such a nice guy, I always look forward to his old school hand written letters. Jerry is the real deal when it comes to keeping the positive vibe stoke going. Everyone that knows him says the same. "He's such a good guy." And he took some incredible photos along the way. Thanks Jerry for being a good friend and a local surf historian. Photo by Ron Freeman







I kept a daily Blog on my CATCH A WAVE FOR MOLLY surf campaign, when I surfed every single day for 365 consecutive days. Click on the Banner above to read entries of my daily journey. There's some really interesting and true experiences
that happened during that year. Some of which are to this day, unexplainable. Some are just mind blowing. But all true.

I started on July 26th, 2010 and ended on July 26th, 2011.

Some rainy Sunday, pour yourself a cup and go through the journal. Pay close attention to the month of May in 2011. Read that month and let me know what you think of that. Be forewarned it will change you forever.