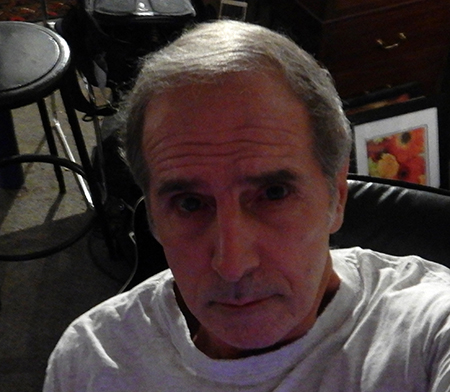 As you can all plainly see, I'm back to looking like the Ralph that most of you know. The biggest reason I cut my hair and goatee was that I was not about to walk my youngest daughter down the aisle looking like a cross between a Civil War veteran and Charles Manson. I promised her I would cut it all off prior to this special day. Nothing is going to spoil her wedding. Not my hair, not my goatee, nor the continued absurdity surrounding COVID. F*** COVID NOW AND FOREVER! And there's one thing you can all bank on, I will NOT wear a mask at her wedding. Period. Not during the ceremony and certainly not at the reception. Sans mask. The casualties of COVID are never ending.

Personally, I've lost some good friends over our disagreement about it.

Publicly, we've all LOST something. Some are just heartbreaking.




This would have been the 11th year for SURFING WITH SMILES.




This would have been our 13th year for HIT THE BEACH.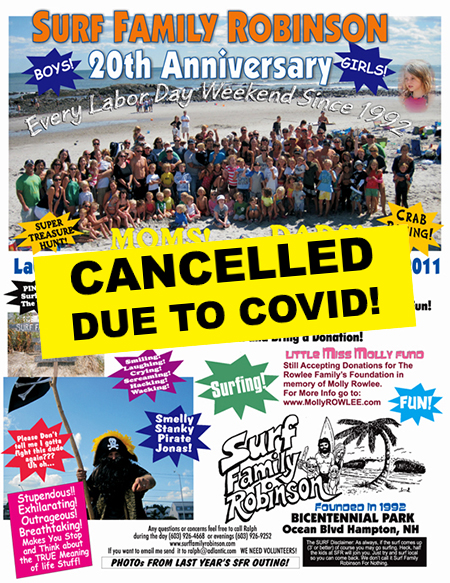 This would have been our 28th year at SURF FAMILY ROBINSON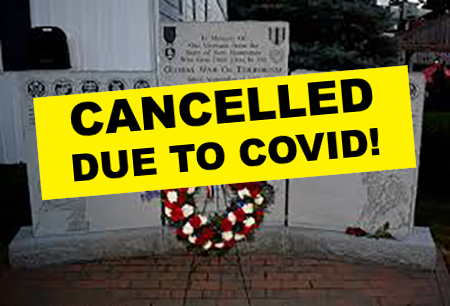 This would have been our 14th year at our GWOT Observance.

All of these cancellations hurt. Every one of them. The loss is almost inconcievable. Especially to those of us who put so much into the preparation of these events. It's important to know, that these events are all SEACOAST RELATED. This is NOT NYC. This is NOT Florida. This is NOT anywhere where this virus is peaking. We are pretty much in the best place to be as far as COVID goes. Yet, there are people who walk and live among us here on the seacoast who wear masks constantly. People who drive with them, shop with them, hang on the beach with them, make love with them, sit on their toilets with them.

Well, I'm not sure about that last one, but I wouldn't be surprised.

There are those who fear COVID and those who Don't. I'm one of the latter.

But to each their own. If you feel comfortable wearing a mask, fine knock yourselves out. I just think you're being overreactive, but whatever floats your boat. People have different reactions to fear. Some have negative reactions, while some "face the tiger." Again we are all different. But I respect your decison to wear a mask, or to not wear one. I just ask that you show the same respect to those who don't agree with you.

When this is all over, we will all have to look back on these days, and make a clear and concise assessment. Was all the worrying and precautions neccessary? Or was it blown out of proportion?

Only time will tell. Just remember this. 90% of those who died from COVID were elderly paitents with pre-existing conditions. And for all my Seacoast friends. NOBODY died from COVID on the Seacoast. Plenty died from heart disease, cancer, drug overdoses, and car accidents. NOBODY died from COVID here on our NH Seacoast. That is 100% fact.

Friday August 28th, 2020. The day that would have been our 13th Annual HIT THE BEACH with the Wounded Warrior Project, The Manchester VA, and the New England Disabled Sports. This one really hurt.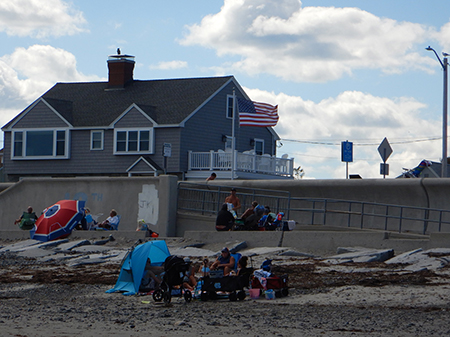 I just came back from 18th street. That's where we run the Wounded Warriors HIT THE BEACH at North Beach in Hampton. I had to go there today. I was dealing with some kind of spiritual pull. I really missed this. Ironically, it was pretty flat. It would have been a struggle all day long trying to get people into waves. Maybe I thought, this is a blessing in disguise. I always stress on this day praying for surf. Well, maybe God knew that today was not to be, so there were virtually no waves to ride.

And that my friends, would have been a first in 13 years.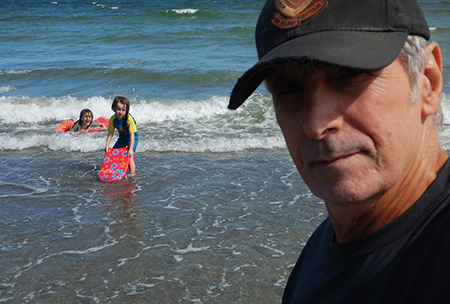 So I did the next best thing. I brought my granddaughters down there.
And you know what? They had a blast. They literally HIT THE BEACH!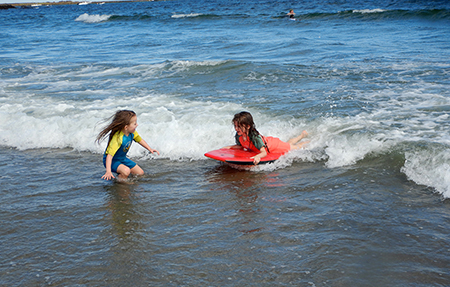 They helped heal my aching soul by just being children at the beach.




Little Avery catches every wave on her own.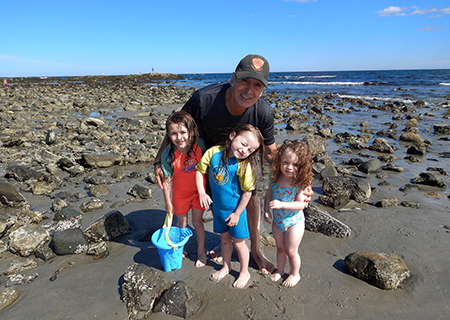 We did it all. Boogie boarding, sand castles, and crab hunting.

But come next year, hell or high water, COVID or the Plague, We WILL RUN HIT THE BEACH, SURFING WITH SMILES, SURF FAMILY ROBINSON, and our GLOBAL WAR ON TERRORISM. If it's the last thing we do on this planet.

"SURFING HEALS ALL WOUNDS!"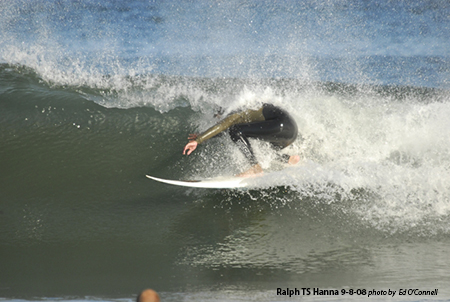 This week's Ed's corner is from the TS Hanna swell during the summer of September 8th, 2008. The surfer is Ralph Fatello.
Ever hear of him? I heard he writes some kind of a surf blog.
Photo by Ed O'Connell
*Click the photo above to see a larger version of Ed's Pic.

Now for Some Local and National News
The latest Police shooting caused quite a stir in Wisconsin. Protesters and armed milita groups clashed in yet another televised shit show, as it all erupted in what "appeared" to be a senseless shooting by the police, and the intentional shooting by this 17 yr old. How can this still be happening?




This kid needs to be locked up for life. Kyle Rittenhouse was driven to the protests by his parents and basically cut loose on the whole scene. There can be no defnding his action. His parents should also be held accountable.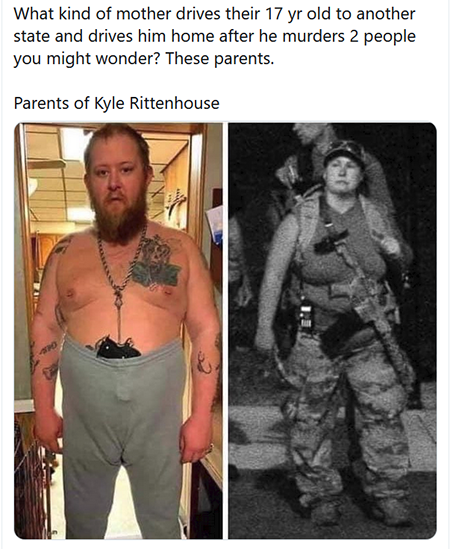 I say to each his own but...these two? I'm sorry, this whole Militia thing is getting slightly out of control. This is absurd. And dude? You gotta fix those testicles there. That's a whole other issue.

And look I'm not taking sides here. But, I was recently called a racist by an individual on Facebook when I suggested that "people" who get apprehended, should comply with the police. *Note I said "people" and I wrote that, because I clearly meant all people. Black, White, Asian, and Hispanic. All people should show respect and comply with the police when they give you a reasonable request. That's being racist? No, that's being smart.

People are at their breaking point when it comes to these Police shootings. I also made a suggestion years ago, that MAYBE they should start to train police officers to shoot at the criminal's knee caps. I know that's a stretch. But think about it. Getting shot in the knee cap is going to stop you. I don't care how big or how high you are. You are going to stop. This latest shooting could very well have been avoided if two things happened. One, the suspect complied with the police officers. Two, the Tasers worked (they tried to tase him but it malfuntioned). All I know is something has to give. And if the Democrats think Biden is the answer they are mistaken. Just as the Republicans are mistaken with a second term by 45. I think, the future is 4 years from now. Who ever wins this next election will be telling, and frightening going forward.

For those who believe in a higher power, start praying.

I worked on this CD (designed the front and back cover), and I recorded one of Asa's songs. Click on this image (below) to read some of the reviews and find out how and where to buy one. There's some great recordings on this record by some of Boston's best musicians.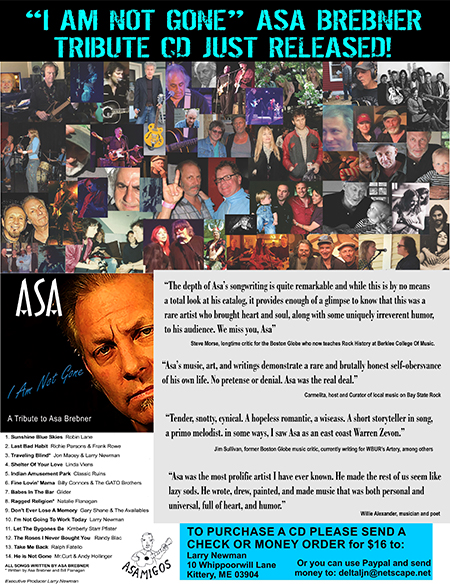 There will be a live performance of all the artists who played on this record at some point (once the Boogieman Covid leaves), and it will be a worthwhile gathering of friends and artists of the super talented Asa Brebner. Stay tuned for more info.

The family of Hayden Moulton has started this trust fund page to help his young daughter Renee in the future, and more importantly, to keep the memory of their son Hayden alive. I've only met Hayden a few times in his life, but I've known Scotty for years. So I want to help him out in any way that I can. If you can help donate to little Renee it would be greatly appreciated by the Mouton family, and the local surf community. Thank You.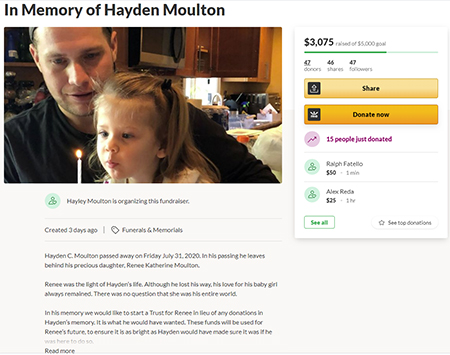 Local NH resident Gary Ritter is going to paddle to and from the Isle of Shoals any day now. It's a long 14 mile paddle. To learn more of this impressive undertaking click on the image below.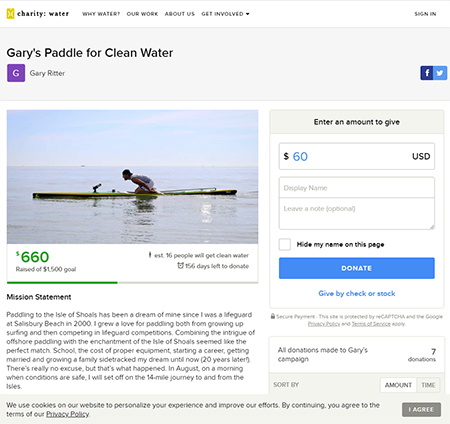 FYI he's going to free paddle. In other words, NO paddle. Just his arms. Laying prone or on his knees. He started a fund raiser with charity: water. So it's a legit and worthwhile endeavor. if you can spare a few dollars help make this dream come true for Gary.
Check in with his charity water fund raiser for details.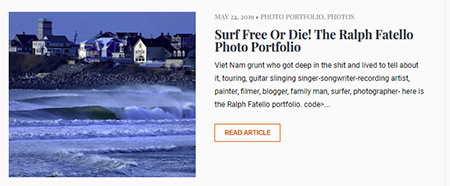 ESM (Eastern Surf Magazine) using a READY MAG format did the Best of Ralph's Pic. And while they couldn't possibly use everything thing I've ever done, they did manage to put up some 50 pics of mine, plus two videos. And I was truly humbled by their intro. Mez said some nice things about me. CLICK ON THE IMAGE ABOVE TO SEE THE WHOLE Spread.

KSM Photoshop of the Week
You've heard the saying "You learn something new each day." Well I had no idea that KSM was considered to be an extra in the movie DELIVERANCE. That creepy scene where the Rednecks commit all kinds of nasty shit on poor Ned Beatty? Well our boy was right there. Yikes. Turns out KSM was too into those scenes and it creeped everyone on the set out. So they shit canned him. Damn Khaliddy, when you gonna learn?




And so my friends, please take advantage of this weekly photo shop of the mastermind who planned 9-11 and resulted in the deaths of 3,000 innocent civilians by KSM (Khalid Sheik Mohammed).

*Note to self -must pick up a case of PIG EARS for my dogs at Home Depot this week.


HAPPY BIRTHDAY Johnny Fatello August 25th, 2020!
HAPPY BIRTHDAY Jaiden Ciarmataro September 4th, 2020! .
PLEASE Keep Mrs Berardini (Tony's 99 yr old mom) in your thoughts and prayers. We'd all love to see her make it to her 100th Birthday in December. She's a fighter, but she could use some help. Your prayers can help. Thank you.
PLEASE Keep longtime NH Surfer Greg Smith in your Prayers.

Please Support ALL The photographers who contribute to
Ralph's Pic Of The Week every week for the last 16 years.
** BUY a HIGH RES Photo from any of the weeks on RPOTW.

Remember my friends... Surfing Heals All Wounds.
Pray for Surf. Pray for Peace. Surf For Fun.

Ralph