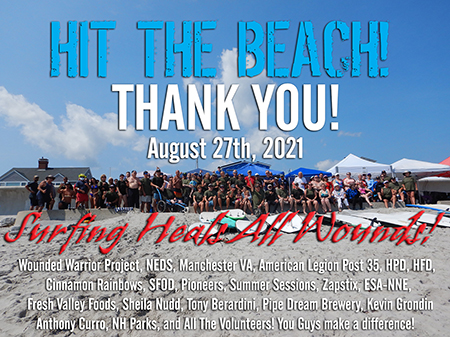 The 13th Annual HIT THE BEACH August 27th, 2021

This was the 13th year for our annual HIT THE BEACH event where we take members of the Wounded Warrior Project, the Manchester VA, and NEDS (New Disabled Sports) for a fun day of surfing and hanging on the beach with their families and fellow veterans. There's so much going on behind the scenes to pull this off each year and it is always stressful prior to the actual event day. First and foremost, we need decent weather, and of course some fun waves.

As you all know, you can't count on the weather.

And as most surfers know you really can't count on there being waves. And with planning this event so far out in advance, there are no guarantees you will get either one on the actual date. It's basically a crap shoot. Suffice it to say, there's a lot of praying going on in the days leading up to this special day. Lord knows I was praying.

And as it turned out, the good lord answered our prayers on both counts. The weather was hot and sunny (although somewhat humid) and there were actually little waves for the vets to surf on. From 9AM to 1PM there were enough waves to go around for everyone to get their fill of fun and sun. Once again the elements came together for everyone involved on HIT THE BEACH 2021.

This year was going to be extra special due in part to last year being canceled because of the pandemic, and then the day before HIT THE BEACH, we had 13 US Service members killed at Kabul Airport. 11 Marines, one Navy Corpsman, and one Army soldier. As you can imagine, there was a sense of tremendous loss that hung in the air like a wet, humid, blanket. I knew as the Past Commander of POST 35 and the chief organizer of this event, that it would fall on me to address the proverbial elephant in the room.

For I knew, there would be several Afghanistan vets in the group of volunteers and participants. And as a Vietnam Vet who watched the Fall of Saigon go down on TV in 1975, and sadly heard about the two Marines who were killed guarding the airport on that last day. One of them Cpl Charles "Charlie" McMahon was from Woburn, MA and was a former Hampton Life Guard.

And ironically, one of the Marines killed at Kabul airport was from Lawrence, MA. Sgt Johanny Rosariopichardo.

It's safe to assume that Rosariopichardo had undoubtedly visited Hampton's beaches in her lifetime. The last Marine killed in Vietnam was from MASS and he was a Hampton Beach Life Guard. Rosariopichardo was from Lawrence MA. I'd bet anything she's been to Hampton Beach many times.
So I could relate to what they were going through. I basically told all the Afghan vets in attendance that their service was not in vain, and their service was both noble and honorable. They had gone after the people that attacked us on 9-11, and had virtually wiped out Al Qeada including killing Bin Laden. That they kept the terrorists from reaching our shores, and they had removed the Taliban and allowed the young girls and women to attend schools, and prosper in businesses and to show their faces to the world.

I told them "They all made a difference."

Current Commander Berk Bennett reiterated what I said about their service, and added that the fallen would never be forgotten, adding that "Today is all about having fun." And that's what the plan was. For these Wounded Warriors to have fun. And boy did they ever.
There were smiles and laughter all throughout the morning and into the early afternoon.

There were many returnees out there as well as some news faces. Both on the participant side, and the volunteer side. And like I've said so many times in the past. It's hard to say who has the most fun. The participants, or the volunteers. I'm saying it's a toss up. They all have fun. I call it "Tears and cheers." Watching wounded vets having so much fun. Just laughing and carrying on like kids at the beach. Because let's face it, we all feel like kids at the beach. But these vets, some with missing limbs, TBI (traumatic brain injuries), and other physical injuries were just whooping it up with their volunteers. It's the stuff that you would see in a Disney movie. I mean, the waves were not very big. But they were really glassy and really fun.

Especially for those who never did it before. Surfing is fun. Period.

The TOY SOLDIER Story at HIT THE BEACH August 27th. 2021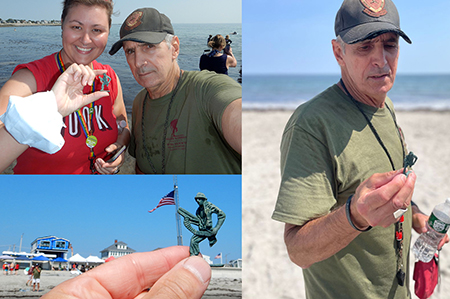 There are times in your life, when certain things happen that just can't be explained, and try as you might to find a reason why, there's simply no reasonable, or logical explanation as to why it happened. At around 10:00 AM as I was walking along the water's edge taking photos and watching over the entire scene like the worried mother hen that I tend to be on this day. When I walked up to Andrea Lucas from the Manchester VA and asked her "What do you think of all of this? Pretty special huh?"

She smiled and said "Yes it sure is." Then she said "I have something for you."

And as she was reaching into her bag she started to tell me what happened.
"I was standing on the seaweed when I felt something under my foot. A little wave came in and washed over my feet, and that's when I saw this. It was lying on top of the seaweed." And she opened her hand and showed me what she had. A little toy soldier, that looked like a Vietnam Veteran. He was holding a machine gun and had a bandoleer of ammo in his hand. And then I saw it. He was missing a limb. His left leg was gone. Just above the knee.

"I thought to myself, Ralph would want this." She said as she handed it to me.

I was stunned. Shocked. And completely overwhelmed with emotion. I looked at her, and then back at the toy soldier in my hand. "How is this possible? To find this wounded toy soldier on this day?" I said. "I know!" she exclaimed. "Isn't it amazing?" I held it up closer to my face. It looked old and weathered. "How is this possible?" I kept asking. I'm sure I drove her crazy. In fact, I kept telling the story over and over again to every person I saw. And each time if Andrea was within earshot, I would call her over and have her repeat the story. And she was great. She graciously repeated the story over and over again. And every single person that heard the story had the same reaction as I did.
"What are the chances of this happening?" I kept asking to anyone I told the story to.

The obvious answers were. "Million to one. Or Millions to one."

It just blew me away. That moment of Andrea handing me that old and worn wounded toy soldier just reaffirmed my belief in something beyond this would. My good friend and Afghanistan Veteran who did two tours over there, including being awarded the Bronze star Col. Tim Bailey USMC said to me "There are no such things as coincidences." Tim and I have had some deep conversations about war and faith. I so badly needed Tim to be there this day, because we were both having a difficult time with this situation in Afghanistan. So for me to share this incredible story with him in real time, just helped us both in so many ways.

Now, I am going to tell you something else that happened on this same day.

People are forever crying at the HIT THE BEACH day. They are tears of joy and sorrow. They are tears of being so humbled, and so grateful for everything that they have. And how these men and women show them what true courage and conviction is. How they are able to overcome tremendous odds and still be positive and upbeat. The lessons that are learned at these events are too numerous to count. But know this, everyone leaves these events feeling better about themselves and their loved ones. It's a two way street. Everyone gets something out of this. Every single person, who witnesses this incredible day.

I have never cried at this event in the 13 years we've been doing it.

Up on the platform where the tents are set up, and the wheelchairs are all lined up in the shade. I told the Toy Solider story to my dear friend and fellow Vietnam vet Jerry. He's been to every single one of these. Jerry lost both hands in Vietnam. I love him like a brother. He was sitting there in the shade in his wheelchair with his lovely wife Joanne when I walked up, and bent over, and told him the story. When I got to the end and showed him the little toy soldier, I suddenly, without warning, burst into tears.

I fell to my knees sobbing.

I tried to cover my face with my arm so no one could see me. It was like the floodgates just opened. I could not control the incredible emotions that were just pouring out of me. I heard Joanne ask "Is he crying?" And I heard Jerry say "I think he is…" And then I heard Jerry say, "You know what you've done here Ralph. We're going to be doing this shit for the next 50 years!"

And just as soon as I started crying I stopped, and started laughing.

"Thanks Jerry for pulling me out of that downward spiral I was just stuck in. "I said wiping my tears away. "Man I don't know what happened?" I said. "I apologize for crying like that in front of you two." Jerry looked at me and said "I didn't see anyone crying. Did you see anyone crying Joanne?" And she shook her head "Nope. I didn't see anyone crying."

I smiled through my tears, and then we all hugged each other.

In hindsight, I think it was the combination of everything catching up to me. The 13 Americans dying the day before, my own war experiences, and of course the true emotions of HIT THE BEACH. Like I said, TEARS and CHEERS. That's what this day was all about.

Now what to do with the wounded toy soldier?

I'm thinking of making it into a necklace. Or maybe just keep it in front of
me on my desk, so I can see it every day.

One thing's for sure, I'm never letting it go.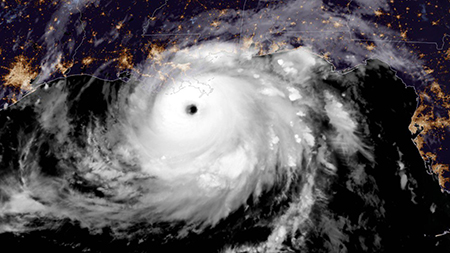 HURRICANE IDA
I really feel sorry for the folks that are dealing with Hurricane IDA. She's coming ashore on the very same day that KATRINA did. August 29th.
And it looks like IDA is going to cause some serious damage. Pray for the folks down south who are going to be taking the full brunt of IDA.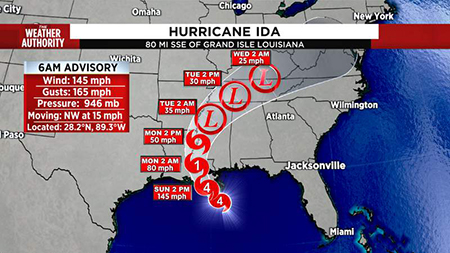 I'm guessing IDA will be here on the weekend. I just hope nobody dies and not too many people lose their homes and property.

"SURFING HEALS ALL WOUNDS."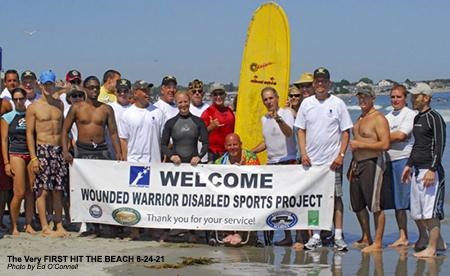 This week's Ed's corner is from the VERY FIRST HIT THE BEACH. I think we had 8 veterans from the Wounded Warrior Project. Hard to believe this was 13 years ago. This year we had over 50 vets and their family members. HIT THE BEACH is one of the highlights of our summers up here. August 24th, 2008. Photo by Ed O'Connell
*Click the photo above to see a larger version of Ed's Pic.

Now for Some Local and National News
By now everyone has heard the tragic news. We lost 13 service members. 11 Marines, one Navy Corpsman, and one Army soldier. The news hit everyone right in the gut. I'm not going to start pointing fingers right now. It's all still too raw. I wrote about my feelings last week. No need to re-hash what I've already written. I will say this. You can't trust the Taliban. You can't put them in charge at the airport and have them be the ones who allow these Terrorists to get in front of our people. ISIS-K?
They sound like a Bad Cereal. Bastards. Every last one of them.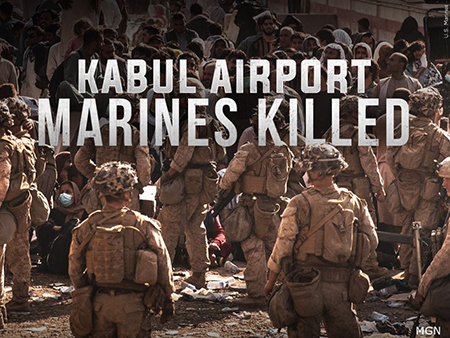 For 18 months we had no causalities. Now 13 in one day.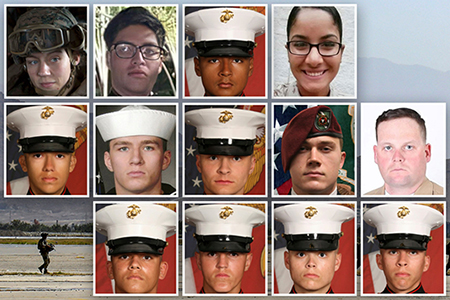 This is all on the Commander In Chief. And I am certain, that it's weighing heavily on his mind and soul. He promised to retaliate and he has. Less than 24 hours later, 3 members of ISIS K are not having cereal in the morning. Thanks to our precision Drone Strikes. But I am worried for those young kids over there. Both our troops and the Afghans who want the hell out of there.
And the deadline is looming. August 31st, 2021.
PLEASE PRAY FOR OUR TROOPS.

Here's some good news for the kids and Surf families.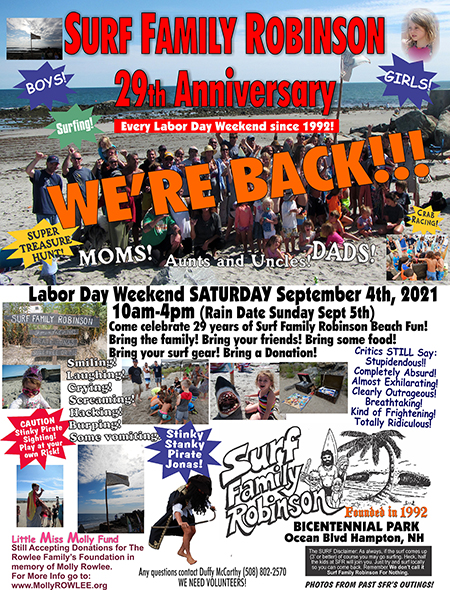 After the year of COVID and the Pandemic the fun has returned to the Seacoast! The 29th Anniversary of SURF FAMILY ROBINSON. This coming Saturday!

Also, another surfer's Paddle for one of the local Surfers.
Thursday September 9th, 2021 at 6:00PM at 18th street
at North Beach (The Wall) in Hampton, NH.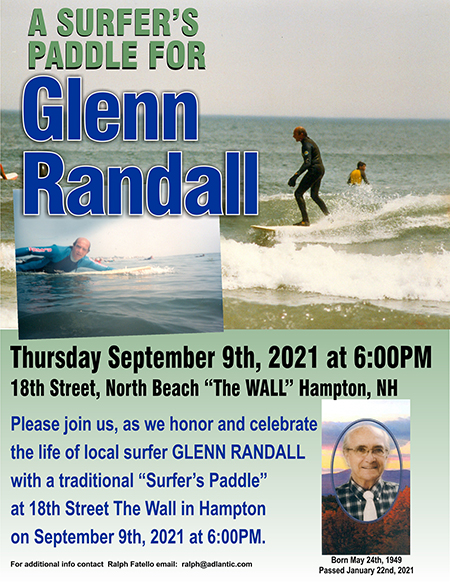 There's no greater honor for a surfer than to have a Surfer's Paddle in your memory. If you knew Glenn please join us.

KSM Photoshop of the Week
So you heard about the "Cry Baby" who posed for the NIRVANA Album cover some 30 plus years ago right? Well now he's suing the band saying that the LP cover was borderline child pornography and he's got some emotional problems he has to deal with. It's hard not to laugh about it. But wouldn't you know it. Ole Khaliddy claims he was the first one to pose for the album cover and he's trying to get in on the lawsuit. I tell ya KSM is starting to sound more and more like Charlie Tuna from the Old Sunkist commercials. "Sorry Khaliddy."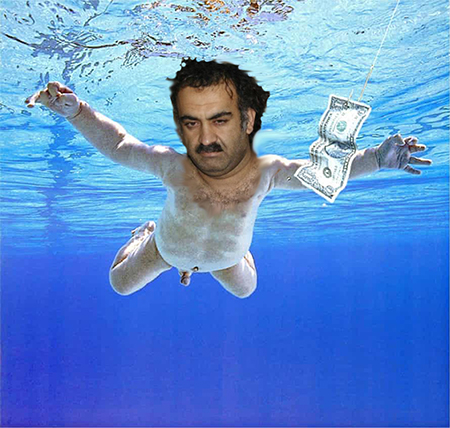 And so my friends, please take advantage of this weekly photo shop of the mastermind who planned 9-11 and resulted in the deaths of 3,000 innocent civilians by KSM (Khalid Sheik Mohammed).

*Note to self -must pick up a case of old cloth diapers at Home Depot this week.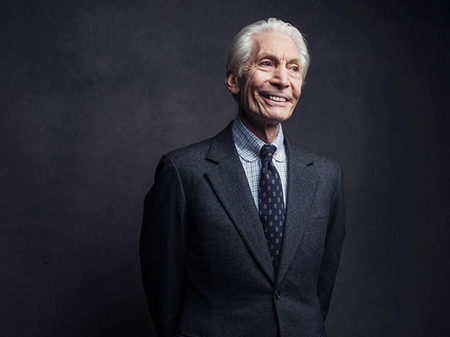 REST IN PEACE Charlie Watts. Rolling Stones Drummer.
HAPPY 16th BIRTHDAY Veda Cropper August 23rd, 2021!
HAPPY BIRTHDAY Hannah Vokey August 24th, 2021!
HAPPY BIRTHDAY Kainalu Nichols August 24th, 2021!
HAPPY BIRTHDAY Duke Kahanamoku August 24th, 2021!
HAPPY BIRTHDAY Johnny Fatello August 25th, 2021!
HAPPY BIRTHDAY Hokulani Nichols September 7th, 2021!
HAPPY BIRTHDAY Mackey V September 14th, 2021!
REST IN PEACE JoEllen Bunton 72, July 6th, 2021
REST IN PEACE Nash Rogers 8yrs old, July 6th, 2021.
PLEASE SUPPORT THE DIPG AWARNESS TEAM!
PLEASE Keep 90 yr old Chuck Dreyer (Kim Grondin's dad)
in your thoughts and prayers.
PLEASE Keep longtime NH Surfer Greg Smith in your Thoughts and Prayers.
PLEASE Keep local Surfer/Musician Pete Kowalski in your thoughts and prayers throughout the year.

Please Support ALL The photographers who contribute to
Ralph's Pic Of The Week every week for the last 16 years.
** BUY a HIGH RES Photo from any of the weeks on RPOTW.

Remember my friends... Surfing Heals All Wounds.
Pray for Surf. Pray for Peace. Surf For Fun.

Ralph