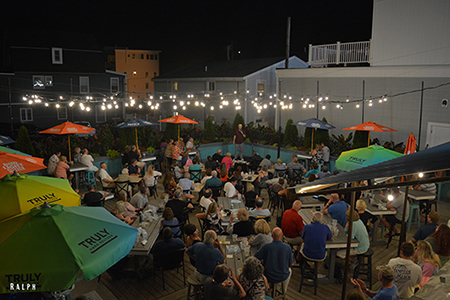 THE HBCF (Hampton Beach Comedy Festival)
Friday August 20th, 2021 at McGuirk's Ocean View Hampton Beach
Featuring: Jimmy Dunn, Dave Rattigan, Tony V, Will Noonan, Jeff Koen, Steve Scarfo, and Janet McNamara.

All the comics were really hilarious. It felt great to be out on the boardwalk last night. It felt like...oh what's that word? Oh right. Normal. Truth be told, there's nothing normal about these comics. They are all uniquely funny in their own way and styles. And look, I don't just laugh at anything or anyone. But Friday night? I was laughing as hard as I ever laughed in my life. My sides are still hurting. It was a great venue, and everyone got their money's worth. Let's face it. There's nothing better than laughing. Especially after last year.

It was great to see Jimmy Dunn back on his home turf.

And the line-up was really special. One of the things I picked up on the last few times I've seen Jimmy and his talented group of comics is, I love watching them interact with each other before, during, and after the shows. There's an obvious camaraderie that's very similar to what musicians do when they hang out together. Having played in bands for most of my adult life, I can relate to watching Jimmy and his friends supporting each other. It reminded me of nights when we were on a bill with many other bands. Everyone hung out and got along. The same is true with Jimmy Dunn and his band of comics.

The only difference is, they are all hilarious.

Whereas with musicians, not everyone is as social and as funny as comics.
It was just neat watching how they interact with each other. And make no mistake about it. They all rib each other to death, but to see them behind the scenes it's obvious they share that special bond.

And that bond? It's making people laugh. Think about that.

They make people laugh. They rehearse, write, and are constantly watching and listening to the world around them as they gather material. And they work their asses off honing their trade. You know, whenever I speak at a wake or a funeral about an individual who sacrificed a part of their lives to make someone else's life better, I always say. "In the end we will all be judged by what we did here on earth. Did you sacrifice a part of your life to make someone else's life better? Did you put a smile on someone's face?"

Clearly, every comic I know does that. That make us laugh. They makes us smile. And most times they do it by making fun of themselves. Think about it. They stand up there and make fun of themselves. And we laugh. We smile. Hell, we roll over with laughter at their expense. And sometimes it's their own family members that they make fun of. They do it because, we can all relate to them. We see a part of ourselves in their stories and jokes. And it strikes that nerve within us. Or should I say funny bone? My point is, comics are good for the soul.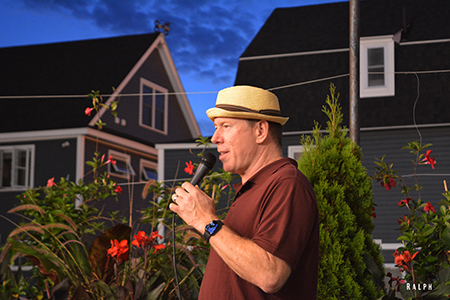 The man himself. Jimmy Dunn. He's the funniest guy I know. And I know some funny people. I couldn't wait to see Jimmy this summer. The pandemic put everyone and everything in a year long holding pattern. Musicians and comics suffered greatly. So this show was bigger than just another comedy festival. This was a coming out of sorts. I kept saying to Jimmy "You're back on the beach. You're back on the boardwalk. You're home Jimmy. Welcome back!" His new material was really funny, and he looked great and was genuinely happy to be back on stage running the show and telling jokes and stories.

The line-up on Friday was a great mix of comics. First up was Jeff Koen. He was another really funny comic. I'm laughing just looking at this photo. Some comics don't even have to say anything they just exude humor. Jeff was one of those guys. He could make you laugh by just smiling at you. I'm not going to ruin any of their bits by telling you their jokes. You'll just have to take my word for it and go see them for yourselves.

Steve Scarfo was hilarious telling the crowd some really funny and personal stories about his life at home. And being a parent and now grandparent I could relate with those funny stories. I had never seen Janet McNamara before this show. But I'd go see her again in a heart beat. She was uncomfortably hilarious. And I mean that in a good way. She was very good by not breaking character during her set. She had me convinced that she was this crazy quirky character. You were funny Janet. Very funny.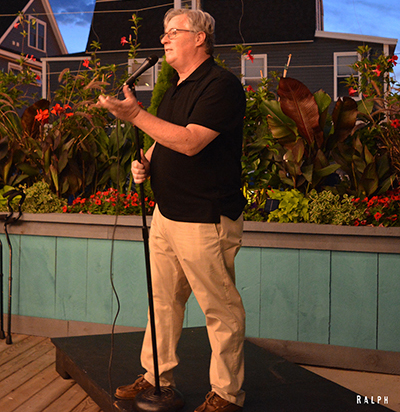 Dave Rattigan is always a pleasure to watch and laugh to. A Beverly boy (my old stomping grounds) who takes no prisoners when it comes to making fun of himself, his family, and his daily surroundings. Again, another comic who completely makes fun of himself. And we laugh because it's funny, and we see ourselves in them. He makes me almost miss Beverly. Wait, I do miss it.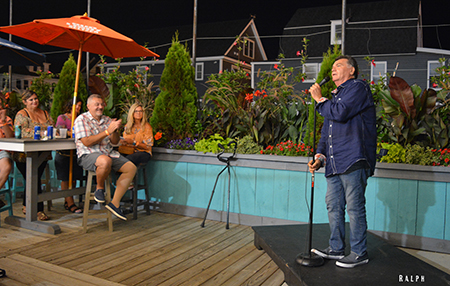 Tony V. What the hell can you say about this man?

He's a freaking Boston legend. Tony and Jimmy do a Podcast that is borderline insane TWO BOSTON GUYS WHACK UP A PIE. Tony reminds me of certain members of my extended Italian family growing up in and around the North shore and Boston area. You know the kind, one of those guys who is incredibly funny who has no filters. I'm talking Zero filters. He's gonna say things that make you laugh out loud, while making your parents gasp in shock. Cringe-worthy hysterical. That's Tony V.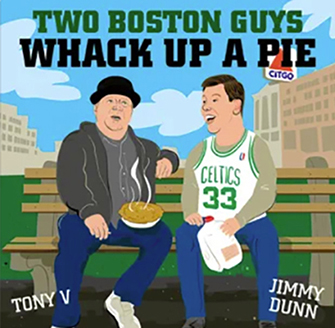 *Tony and Jimmy do a hilarious Podcast called TWO BOSTON GUYS WHACK UP A PIE. Click on the image above to hear some of this insanity.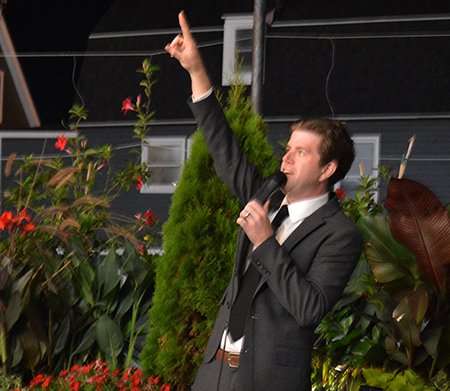 Will Noonan cracks me up without saying a word.
He's got great facial expressions that make me smile. He's like that funny little wise ass brother that you secretly know is going to go places in life. That is if he doesn't get himself in trouble first. He looked like Dennis the Menace in a suit last night. He had me laughing from his opening bit to the last. Great kid with a solid future. Remember his name. Will Noonan.

All in all the HBCF was a huge success. People came and laughed. And everyone left McGuirk's feeling better than they did when they got there. And in 2021? That's saying a lot. Welcome back Jimmy and ALL the comics who performed this summer. *See the full gallery below in the photo section.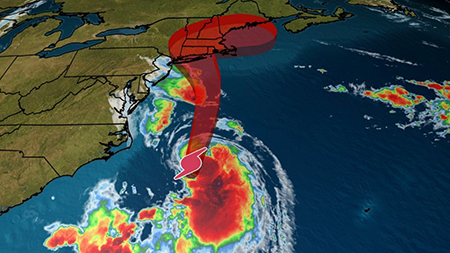 HURRICANE HENRI
I really can't complain or be negative about these Tropical Storms and Hurricanes. After all, it's the one kind of storm that attracts surfers from every level. And let's be honest with ourselves most surfers would rather surf a Hurricane Swell than a big Nasty Nor'easter snow storm. And you can't blame them. Surfing Big waves in warm water? That's the perfect scenario for any New England Surfer. We have that short Hurricane window and all eyes are typically on the tropics come August and September. And Henri had all the makings of a perfect storm/swell for us here in the Northeast. That is until he changed tracks and went right up our snout and then took a left.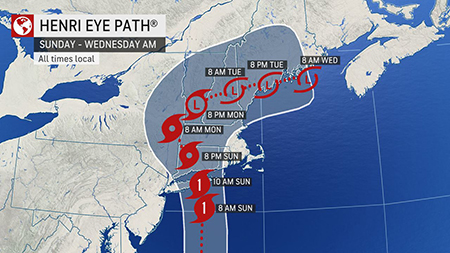 That wonderful excitement turned to moans and groans when he did.

Damn you Henri. Now it looks like it's going to be scrappy leftovers at best. That's too bad for most of us. Though, the real core crew all went south yesterday in hopes of picking up the swell in all those south facing beaches.
My son Max went down as well as a bunch of others. Did they score? Yes. Was it all time? No. According to my son "You didn't miss anything great."
So there you have it, you really didn't miss much. Though surfing head high to overhead waves in tropical like conditions sounds good to me. Am I right?

Damn right I am. I'm kicking myself for not going south. You should be too.
"SURFING HURRICANE SWELLS HEALS ALL WOUNDS."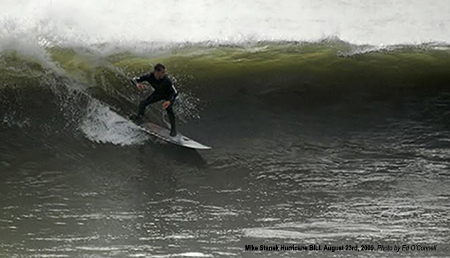 This week's Ed's corner is from HURRICANE BILL August 23rd, 2009. The surfer is Mike Stanek. That was a GREAT swell. Photo by Ed O'Connell
*Click the photo above to see a larger version of Ed's Pic.

Now for Some Local and National News
THE FALL-OUT FROM THE FALL OF AFGHANISTAN
I am a Marine Corps Vietnam Veteran. Like millions of other Vietnam Vets, when the Fall Of Saigon happened in April of 1975, it sent me and my fellow vets into a spiral of depression. It took us years to come to grips with it all. Sadly, some never recovered.

Then August 15th, 2021 happened.

The Fall Of Kabul and Afghanistan. It was like the flood gates had re-opened and we (Nam Vets) were re-living that horror all over again. Most of us turned to help our younger GWOT vets and to guide them on how to handle this. Because, whether anyone wants to believe it or not, this affects the veterans on levels that most of you will never know.

What we do know is this. Politicians are the same on both sides of the aisle. Both parties are to blame for both Vietnam and Afghanistan.

I'd ask that you be more sensitive when you are around veterans of both Vietnam and Afghanistan. Especially when you start spouting off about both wars with your opinions, having never served in uniform in either war. Be forever mindful of those who had to fight in those wars. Some are carrying wounds that are both physical and psychological. But more importantly. Be aware of the families who lost loved ones.

Those scars and wounds never go away.

My heart broke for all of the South Vietnamese that we abandoned in 1975 and the hundreds of thousands who were killed by the Communists when they took over. As well as the millions of Boat People who fled the country trying to escape the communists. Just like my heart is breaking for all the Afghans we are currently abandoning as they try and flee the barbaric Taliban. Trump and Biden both are to blame. Trump for negotiating with the Taliban without the Afghan Government being there, and giving them a exit date. And Biden for picking "September 11th, 2021" as the absolute last day, and for completely, and totally mishandling, this fiasco of a pullout. What a total mess Joe.

And when the Veteran suicide rate goes through the roof for both Vietnam Vets and GWOT Vets, the whole world should look at the two of them. Politicians. Is there a more despicable line of work?

The blood is on the hands of both of them.

Biden is really taking heat from both parties for this mess (as he should). He refused to give the Afghan Army Air Support. No Air Support? And No ground Intel? Not sure how many military engagements you've been involved with, but as someone who's been on the ground with the infantry, we depended on AIR SUPPORT and we really depended on good solid INTEL.
When Biden pulled both? It was a done deal. This is all on 45
and 46. They both own it.

Take a good hard look at this photo. This is Taliban fighter in his 50's with an 11yr old girl. This photo was taken right before their marriage. If you are OK with this and think "It's NONE OF OUR BUSINESS?" Do me a favor and unfriend me on social media. And if you are not on Social Media and you see me in public? Hang your head in shame when you walk by me.




When those women and young girls cry out from the horror that is coming, I hope and pray that those two old men wake up in the middle of the night, in cold sweats. And may they NEVER have another good night's sleep, until the end of their lives.

(Below) I did not vote for either one of them. I have no regrets.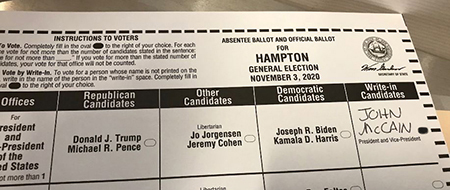 If McCain were president? This never would have happened.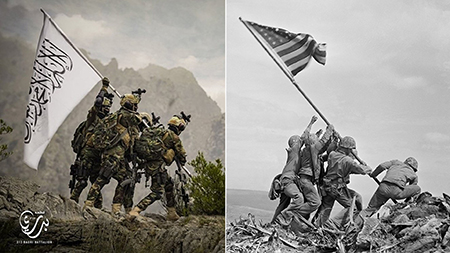 And this image? These are Taliban fighters in US Military uniforms with US Military weapons MOCKING the US MARINES and the iconic Flag Raising on Iwo Jima. Can you imagine if American Troops did something like this? The Media would crucify them. Mocking the Marines? Absolutely disgusting.

CLICK ON THE IMAGE ABOVE TO READ A MESSAGE FROM THE COMMANDANT OF THE MARINE CORPS.

The "Bottom Line" on this Afghanistan situation is what some people had been saying, and trying to get the current administration to do for months. And that is, We should have gotten ALL OF THE AFGHANS WHO WORKED WITH THE US, OUT OF THE COUNTRY. BEFORE WE PULLED OUT. This needs repeating. GET THEM OUT- BEFORE WE PULLED OUT. The Commander In Chief is responsible for that major blunder. Like he said last week, "The Buck Stops With Me." It sure as hell does Mr. President. It sure as hell does.

KSM Photoshop of the Week
With all the Hurricane Henri news everywhere. Ole Khaliddy got into his Yellow rain Slicker and was seen jumping around the parking lot at GITMO during the high winds and torrential downpours, in hopes that he would get caught in a big wind gust and be blown off the base. Sorry Sheik. Gas bags don't float very far. They just stink up the place.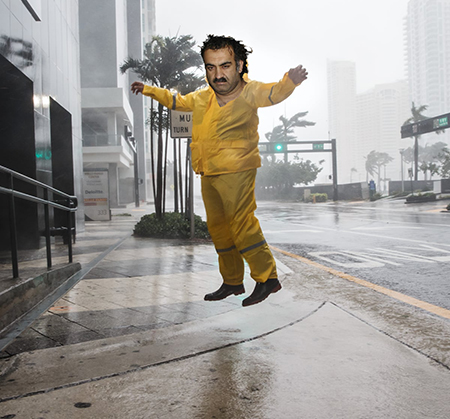 And so my friends, please take advantage of this weekly photo shop of the mastermind who planned 9-11 and resulted in the deaths of 3,000 innocent civilians by KSM (Khalid Sheik Mohammed).

*Note to self -must pick up a case of Yellow Rain Slickers at Home Depot this week.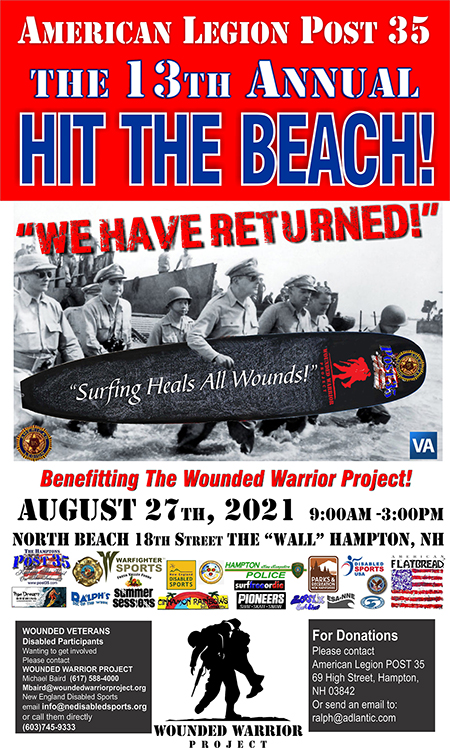 Our annual HIT THE BEACH THIS FRIDAY August 27th, 2021!
ALL VOLUNTEERS MUSTER at 0800 at 18th Street at North Beach (The WALL) in Hampton, NH.

HAPPY 70th BIRTHDAY Sid "The Package" Abruzzi The TRUE Water Brother. August 12th, 2021!
HAPPY BIRTHDAY Julia Nichols August 19th, 2021!
HAPPY 16th BIRTHDAY Veda Cropper August 23rd, 2021!
HAPPY BIRTHDAY Hannah Vokey August 24th, 2021!
HAPPY BIRTHDAY Kainalu Nichols August 24th, 2021!
HAPPY BIRTHDAY Duke Kahanamoku August 24th, 2021!
HAPPY BIRTHDAY Johnny Fatello August 25th, 2021!
HAPPY BIRTHDAY Hokulani Nichols September 7th, 2021!
REST IN PEACE Mike "Jersey" Morreale July 23rd, 2021.
REST IN PEACE JoEllen Bunton 72, July 6th, 2021
REST IN PEACE Nash Rogers 8yrs old, July 6th, 2021.
PLEASE SUPPORT THE DIPG AWARNESS TEAM!
PLEASE Keep 90 yr old Chuck Dreyer (Kim Grondin's dad)
in your thoughts and prayers.
PLEASE Keep longtime NH Surfer Greg Smith in your Thoughts and Prayers.
PLEASE Keep local Surfer/Musician Pete Kowalski in your thoughts and prayers throughout the year.

Please Support ALL The photographers who contribute to
Ralph's Pic Of The Week every week for the last 16 years.
** BUY a HIGH RES Photo from any of the weeks on RPOTW.

Remember my friends... Surfing Heals All Wounds.
Pray for Surf. Pray for Peace. Surf For Fun.

Ralph






Yesterday- HURRICANE BILL August 23rd, 2009
(Below) This was one of the best Hurricane Swells in the last 20 years. It was also the same day we had the Paddle for Molly Rowlee. It was a memorable day on so many levels. The surfer is unknown, though he looks like Richie Appel. Maybe Richie can let us know either way. Photo by RALPH

*Click on the pic to see a larger version.



I kept a daily Blog on my CATCH A WAVE FOR MOLLY surf campaign, when I surfed every single day for 365 consecutive days. Click on the Banner above to read entries of my daily journey. There's some really interesting and true experiences
that happened during that year. Some of which are to this day, unexplainable. Some are just mind blowing. But all true.

I started on July 26th, 2010 and ended on July 26th, 2011.

Some rainy Sunday, pour yourself a cup and go through the journal. Pay close attention to the month of May in 2011. Read that month and let me know what you think of that. Be forewarned it will change you forever.