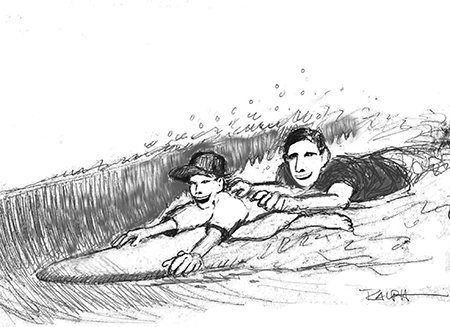 "HELLO MY NAME IS THOMAS"

Back on August 21st, 2000 I was 27 days into my CATCH A WAVE FOR GUS campaign. That's 27 days out of 365. I had a ways to go. But on this date, things had been going along just fine. There had been waves almost every day, and I was really enjoying myself in the warm and forgiving summer conditions. Of course, I knew what was coming. This was not my first rodeo as far as surfing in all of the New England elements. I just had never committed to anything quite this big before. Save my service in Southeast Asia during the war in 1969-1970. But this? This was different. I'd be dealing with a whole other kind of enemy. The New England Weather. And if you know anything about New England weather, you know that the winters can be unforgiving. I knew what lay ahead for me. That was part of the challenge.

But, August in New England is pretty pleasant as far as weather goes.

Yes it's hurricane season, but hurricanes are what most surfers look forward to in the summer. Big surf and tropical waters. Hell, I was secretly hoping we'd get hit with a few named storms. Like during the 1995 hurricane season. We had so many tropical storms and hurricanes that I'd lost track of all the names. But as any surfer knows, don't go counting your chickens before their hatched. We typically shy away from the hurricane predictions each summer. We will believe it when we see it.

But at the time, I was enjoying the warm water, and the fun sized surf.

As I pulled up to 10th street I could see that waves were still 2-3'. In other words, it was thigh to waist high. It was glassy with little or no wind. The sun was shining bright with not a single cloud in the sky, and the beach was practically empty. Nobody out in the water and hardly anyone walking or sitting on the beach. I did notice this family off to my left. A mother and father sitting in their beach chairs, and their young son about 8 years old playing in the sand. The boy was wearing a baseball hat and had a large tee shirt on that went past his knees. He was lying on his side in the sand. I glanced over at them as I walked down towards the jetty at 10th street. I was going to surf my namesake, "Ralph's Rights". It's a long story, but back in the day (early 70's) I only surfed the right off the jetty. My late best friend Joe Somogyi, and current best friend Kevin Grondin gave that right hander the name. It was both cool and embarrassing. Typically you only get surf breaks named after you when you pass away. But clearly I was very much alive. And I admit, it's one of the better shaped waves at the wall.

So I paddled out and started catching waves.

I think it was about my third wave, when I rode the wave to the very inside, and noticed that the young boy had moved, and was now directly out in front of me. He clapped his hands as I kicked out. I smiled and sat on my board and waved to him. He waved back all excited. And I remember thinking to myself 'How sweet is this kid.' He's really into me surfing these fun little waves. And just as I started to paddle back out, I noticed that he was dragging himself across the sand. He wasn't standing or sitting. He was literally dragging himself across the wet sand. My heart sank as he dragged himself closer.

I caught a few more waves, and each time I got close to him he would clap his hands. And each time he clapped his hands I would wave back at him. His parents who were still sitting in their chairs, would from time to time glance up from their books to make sure that their son was still within their safe zone. I finally decided to catch one more wave and call it a day. I caught a nice waist right that peeled perfectly in his direction. I bent over and got a little tube (head dip) and came out and saluted him. He went wild clapping his hands. His parents were now watching the whole scene unfold. As I rode the rest of the wave all the way to the inside, I picked up my board and walked to where the boy was half sitting and half laying down.

As I got to within a few yards from him he looked up at me smiling and said "Good morning. My name is Thomas!"
I smiled back at him and said "Good morning Thomas my name is Ralph!" He smiled and said "It's a beautiful day Ralph!" To which I answered "It is a beautiful day Thomas." I stopped in front of him and looked over at his parents and waved. They waved back. And I started to walk towards them. Little Thomas dragged himself alongside me as we both approached his parents. "Good morning" I said to them as they both now put down their books and looked up "Good morning." They answered.

"Looks like Thomas is really into me surfing." And as I said it, Thomas reached up to touch my surfboard.

"You like my surfboard Thomas?" He smiled and said in a loud voice "Yes!" I smiled back at his parents. "Lots of people love surfing. It's pretty special." I stood there while his little hand started to feel the rail of my board. The water was dripping off my board and onto his little hands. "Are you from the area?" I asked. "No we're from up state New York. We're just here for a week before school starts." "Oh great, this is a great place for a vacation." I said as I watched Thomas's eyes staring at my board. He was almost mesmerized by it all. I stood there for a few awkward seconds, water dripping off me and my board. "Well, I need to get going. I'll probably see you all again, I come down here every day to catch a wave. Nice meeting you all. Have a nice day Thomas." "You have a nice day too Ralph!" He yelled as I walked away.

I no sooner walked ten feet away when my mind started racing.

I should ask his dad if it would be OK if I took Thomas out on my board and gave him a ride. Then I thought "Are you crazy?" You don't know anything about them. They don't know you from a hole in a wall. You don't even know what the boy is suffering from. He may not be able to enter the water for medical reasons. Just mind your own business, and keep it friendly and hands off. But the whole ride home I couldn't stop thinking about it. I looked into his eyes and could see the desire, and the total fascination he had with my board and my surfing. I couldn't wait to get home and tell my wife Cory about it. The drive to my house from the beach is under two minutes. I pulled into the driveway and ran into the house.

"Baby I just had the most incredible thing happen to me." I yelled as I got my wet feet all over the floor. She looked down at the floor and then up at me.

I then told her about the whole encounter. I told her every single detail about the meeting of Thomas and his parents. And then, I told her about my idea. FYI I always run my ideas by Cory. I still do.
She's heard them all. The Good, The Bad, and The Ugly. She is my human soundboard. She's been my biggest supporter over the years, and she's saved me from myself more times than I care to admit. But I always know I'll get a clear and intelligent response from her. "Oh I don't know Ralph. I mean that sounds like it would be amazing and all, but we need to think this through first." So we talked about it. We talked about every single scenario. The what if's and the potential dangers. What if the surf is big? What if it's raining and potential thunderstorms? What if there's jellyfish? Or worse sharks? What if he falls off the board and gets hurt? I had answers for them all. If the surf is big we only catch the whitewater. If it's raining and thunderstorms we simply don't do it. Jelly fish? I can spot them a mile away. Sharks? The only kind of shark that might be that close would be the harmless nurse shark or sand shark. As for him falling off the board? I will have my hands on him. He won't be on the board alone. I'll have him up front with me laying down behind him with a firm grip on him.

Once I explained each concern, I could see Cory easing up and seeing that my vision could work.

Cory smiled and said "OK you should ask his parents if you see them again." I kissed her and we hugged. My CATCH A WAVE FOR GUS just elevated my stoke to a whole new level. I couldn't wait for the next day.

August 22nd, 2000.
But as luck would have it, the next morning when I went down to the beach to catch my wave, they were nowhere in sight. I hung around for a few hours, but there was no sign of them. Maybe they had gotten wind of my crazy proposal and got out of Dodge. But that's silly. They don't know me. Still I wondered. The waves were a bit unruly this day. But I hung around until lunch time when I finally paddled out and caught my wave for the day. I looked up and down the beach but they were not there. So I went home second guessing myself.

The next day August 23rd, 2000.
The waves are bigger this day. It's a solid 3-4' with a side shore wind. Not exactly great conditions for what I wanted to do with Thomas. And as luck would have it, I spot Thomas and his parents down the beach. But I got cold feet and slipped out and caught my waves without them seeing me. I felt pretty low. I was now doubting myself. I was searching for signs but came up empty every time.

The next day August 24th, 2000
The surf is bigger today. A solid 3-5' and hollow. There's no way I would ask Thomas's parents if I could take him out. I end up surfing with my son Max, Kevin, and his son Kody. We have a blast. I never see Thomas and his parents. But just as well. This day would not be the day. I'm beginning to wonder if they are in fact still here. Maybe they went back to New York. I'm feeling that empty feeling of a lost opportunity slipping through my fingers. I curse myself wishing I had asked them that first day.

Friday August 25th, 2000.
Today is my brother Johnny's Birthday. My sister Evamarie is coming up with her daughter Janelle and her friend. Kim, Leah, and Kody are going to join me later along with Max. It's going to be a fun day. And the surf? Well it dropped overnight to a 1' to 2' high but it was super clean looking. Plenty good enough for what I need, and still fun enough for the kids. And if I see Thomas? These waves are perfect. I paddle out and catch a handful of fun waves when I hear someone calling my name. It's Thomas!

I wave back and ride my next wave in. I pick up my board and run up to Thomas. "Good morning Thomas! Today is a great day!" "Good morning Ralph!" he yells with a big smile. I look over at mom and dad and wave. I am 100% committed to popping the big question. "Let's go over and say hello to your mom and dad." "Okay Ralph" he says as he drags himself alongside of me as I walk towards mom and dad. "Good morning. Isn't today just a beautiful day?" I say as I stand there. Thomas is at my side and once again he's touching my surfboard. "Good morning, it's Ralph right?"

"That's right, I'm Ralph. I answer. "How long are you guys around for?" I ask.
"Today is our last day. We're leaving first thing in the morning. " His mom says. I looked down at Thomas touching my board and took a big breath.
"You know, I was thinking…since meeting you all the other day... Uh, would it be OK…if I… take Thomas out for a ride on my board?" I asked nervously.
His mom who is behind Thomas immediately starts shaking her head no. She looks terrified. His dad looks at me with a look of surprise, and then looks over at Thomas. "I don't know, what do you think Thomas? Would you like to ride on Ralph's surfboard?"

"YESSSSS!!!" Thomas yells. I start laughing and the dad is smiling from ear to ear and mom is still in shock. Thomas is fit to be tied. He grabs onto my board and won't let go. I'm doing all I can to keep my cool. I reassure mom that everything will be fine.

"I need to drive up the street to my home. I'll be right back. Please don't go anywhere." I said as I literally pry Thomas's hands off my board. "Ill be right back." I get in my vehicle and zoom up the road to get Cory. I run into the house yelling "It's going to happen! Thomas is going to go surfing! Let's go!" She grabs a towel and a camera and we meet Kim down at the beach.

I'm not gonna lie. I was nervous. I mean, I've never done this before. But I'm going to make this happen.

The plan is simple. Dad would carry Thomas down to the water's edge and we will both place him on my board and I will lay down behind him. We get down to the water line and I can tell that Thomas is a little anxious, and mom is borderline having a heart attack. Dad is cool though. We get Thomas on my board in knee deep water. The waves are only knee to thigh high. So there's no real danger with the surf. I position him midway on my board. I have a 9'0" longboard so there's plenty of room on the board. At this point I have no idea where Cory and Kim are. But I know they are somewhere on the beach taking photos. But my mind is only focusing on Thomas.

I begin to talk to him in a soft and soothing voice. "Thomas, I want you to trust me. Nothing is going to happen to you I promise. I'm right here with you. I got you. OK?" I hear his little voice say "OK Ralph."
I put my hand on his trunks as I lay down behind him. We paddle out a little way. "Can you hear the water hitting the board Thomas?" I say as I paddle him around. "Yes I hear it." He says back to me.
"That sound is what I remember when I caught my first wave a long, long time ago. That sound. I still hear it today Thomas." I can't see his face, but I can hear his heart beating. I turn the board around and face toward the beach. I wave to mom and dad and Cory and Kim. I look over my shoulder and let a couple of waves go by. Then I see the one I want. I motion to his parents and the girls. I give the thumbs up and tell Thomas "Here comes our wave Thomas. Get ready."
Then I start paddling. I have to switch hands because I have him by his waistband. But I'm strong enough to paddle us into the wave. I take deep strokes and feel the board moving. Suddenly we are moving with the wave as I lean to the right to angle the board. I can feel us picking up speed when I yell to Thomas.
"Thomas we caught it! We're surfing! WHoooooooo!" I yell and as I do Thomas yells back "WOOOOOO!"
I can make out his dad yelling and hooting as his mother takes a series of photos. I am hooting as loud as I've ever hooted. "YEAH THOMAS! WE'RE SURFING!!" I know that Cory and Kim are on the beach hooting and taking photos too.
The water is splashing all around us as we speed down the line. We both continue to yell and hoot. There's water in my eyes as I hoot as loud as I can with Thomas. I'm so happy I can barely contain myself. We finally come to a screeching halt when my fins hit the sand. Thank God there's water all over my face, because it masked the tears that were streaming down my face.
"You did it Thomas! You surfed! You rode a wave! Want to get another one?" I ask.
"YESSS!" he yelled back.
So we repeated the whole experience. Not once more, but twice more.
Thomas caught three waves with me.

When we all gathered on the beach after the last ride, we were high fiving each other, and hugging each other. We were all crying tears of joy. His mom, his dad, me, and the girls. It was one of those moments in life that you just never forget. I was numb with a buzz that was rippling through my body.

I looked down at Thomas who was sitting on the sand, still holding onto my board.

"Thomas when you go home, and you go back to school, you can tell all your friends, that you went surfing. And your mom has the photos to prove it. You're a surfer Thomas! You went surfing!"

We hung around for a bit, then, we all said our goodbyes, and wished each other well. As we walked back up the cement stairs at 10th Street, I looked back at Thomas and his parents. They were still talking about it. Their animated gestures and smiles warmed my heart. I yelled one more time to Thomas.

"Hey Thomas! WOOOO!" He waved back at me, and I waved at him.

We drove away that afternoon feeling so good about our lives, and really life in general. I was secretly hoping that they would come back the following summer. But they never did. I'm sorry to say that I never saw them again. That was 20 years ago. I hope that they never forget that day, August 25th, 2000. The day that young Thomas went surfing.

Many years later, when we would do the SURFING WITH SMILES, and the WOUNDED WARRIORS HIT THE BEACH, I would always think back to that day. The "First Day" I ever did anything like that. I hope that Thomas grew up to be someone that he wanted to be. I'll never forget him. How could I? That beautiful child with the biggest heart. "Good morning. My name is Thomas!"

"Surfing Heals All Wounds."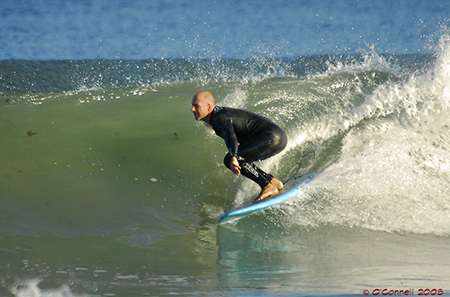 This week's Ed's corner is from the summer of 2008. The surfer is Steve Franson. I can't be 100% sure, but it seems that Steve has been riding blue boards forever. I love finding these old pics of Ed's. I like finding new ones each week. It just goes to show that Ed took photos of everyone. Not just the stars like some photographers. Steve will be happy to see this one again.
Photo by Ed O'Connell
*Click the photo above to see a larger version of Ed's Pic.

Now for Some Local and National News
Joe Biden has made his choice for VP. Kamala Harris. These two could very well be our next president and vice president of these United States. Not gonna tell you who to vote for. But these are your choices. We already know about Joe. Kamala Harris? not so much. However, she could very well be your next president.

Why? Joe's not exactly a spring chicken.

He's more like an old buzzard. So I wouldn't be at all surprised if he kicks the bucket within his first two years in the oval office. That would leave Kamala as the president of the United States. Yup. That's how fragile this situation is.
One heartbeat away from being president.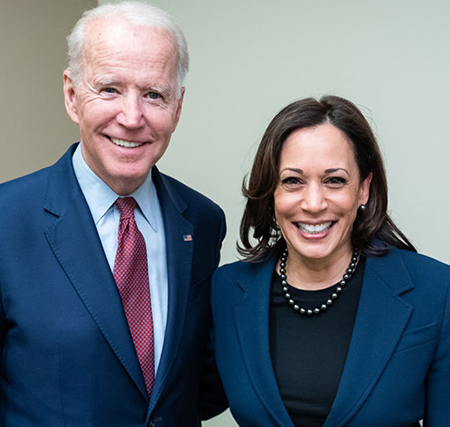 Remember that when you cast your vote. Though they do look good in Blue. And I don't know much about Harris. But I do know, that she's a politician. And most politicians lie through their teeth.

Like these two below. In fact, nobody lies more than 45. Nobody.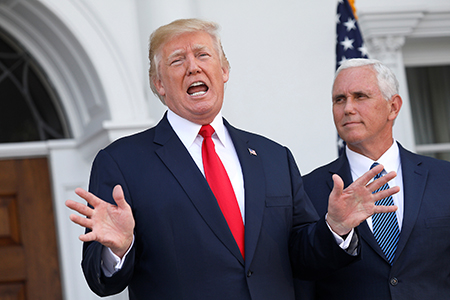 And you already know about these two. If you've been paying attention you should know all there is to know about 45 and his sidekick. So these are your choices. Come November 3rd, 2020 one of these dynamic duos will be president and vice president. Don't bitch and moan about the country and the politics of our country. You want to make a difference GO OUT AND VOTE!

Not sure if you saw this story last week. But this woman biker got off her Hog (motorcycle) and tried to walk up on a bison (cow) and her calf. When she got too close, one of the bison attacked and whipped her around like a rag doll. It was impressive.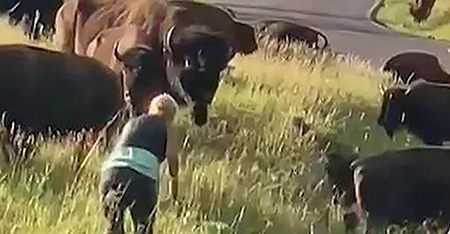 That bison ripped the pants of this woman. She was I'm sure in shock. My take? It's time to cull the herd. No not the Bison herd. The dumb ass herd. There are some really dumb asses out there.
Don't mess with large wild animals or you will get your ass kicked.

Last week I mentioned my old friend Scott Moulton, a local surfer that I've known for many years. His son Hayden passed away and left behind a loving family and some very close friends. Hayden also left behind his precious young daughter Renee. She was the light of his life.

The family has started a trust fund page to help her in the future, and more importantly, to keep the memory of their son Hayden alive. I've only met Hayden a few times in his life, but I've known Scotti for years. So I want to help him out in any way that I can.
If you can help donate to little Renee it would be greatly appreciated by the Mouton family and the local surf community.
Thank You.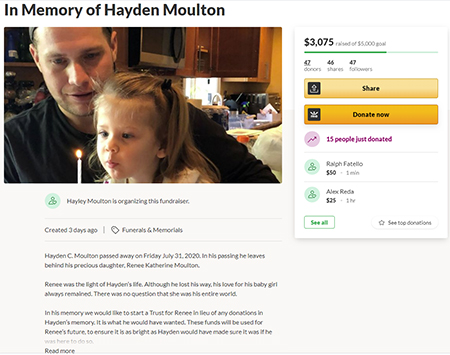 Hayden with a nice looking Striper. Damn, he looks like his dad.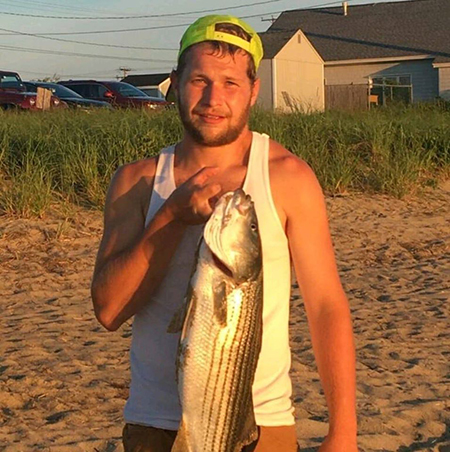 I'm so sorry for their loss. I know this pain personally. My family went through this the summer of 2014. Rest In Peace Hayden. Watch over your little girl and your family. They are hurting.

Local NH resident Gary Ritter is going to paddle to and from the Isle of Shoals any day now. It's a long 14 mile paddle. To learn more of this impressive undertaking click on the image below.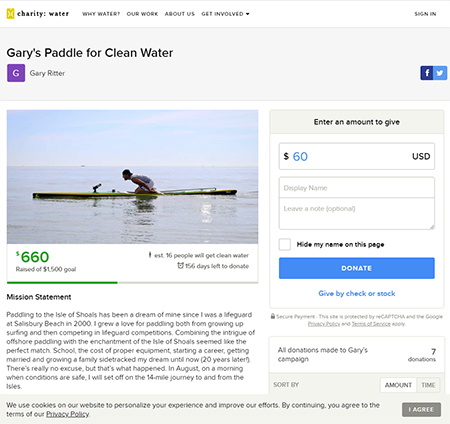 FYI he's going to free paddle. In other words, NO paddle. Just his arms. Laying prone or on his knees. He started a fund raiser with charity: water. So it's a legit and worthwhile endeavor. if you can spare a few dollars help make this dream come true for Gary.
He is currently looking at Friday August 21st, 2020 as a possible launch date. I'm sure you can check in with his charity water fund raiser for details.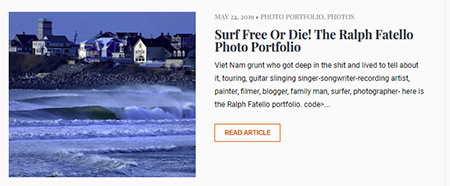 ESM (Eastern Surf Magazine) using a READY MAG format did the Best of Ralph's Pic. And while they couldn't possibly use everything thing I've ever done, they did manage to put up some 50 pics of mine, plus two videos. And I was truly humbled by their intro. Mez said some nice things about me. CLICK ON THE IMAGE ABOVE TO SEE THE WHOLE Spread.

KSM Photoshop of the Week
With back to back Tropical Storms this week I was smuggled this pic of Ole Khaliddy standing out on the beach at GITMO as TS Kyle went whipping by. Not sure what the old lunkhead terrorist was thinking, but I like this pic of him. Yes he still looks miserable but there's something tropical about this pic. Anyway, it's not worth discussing any further. It is after all photo shopped.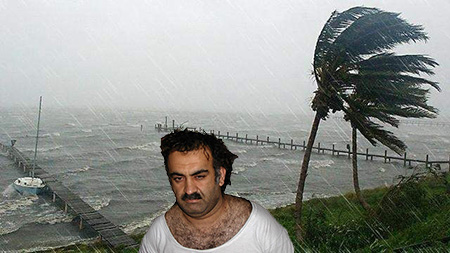 And so my friends, please take advantage of this weekly photo shop of the mastermind who planned 9-11 and resulted in the deaths of 3,000 innocent civilians by KSM (Khalid Sheik Mohammed).

*Note to self -must pick up a case of Old Weather Station
VHS tapes on Tropical Storms and Hurricanes at Home Depot this week.

REST IN PEACE Hayden Moulton 1994-2020.
REST IN PEACE Norm Brunault age 92
HAPP BIRTHDAY Julia Nichols August 19th, 2020!
HAPPY BIRTHDAY Pete Rizzo August 21st, 2020!
HAPPY BIRTHDAY Veda Cropper August 23rd, 2020!
HAPPY BIRTHDAY Terence Kirby August 23rd, 2020!
HAPPY BIRTHDAY Kainalu Nichols August 24th, 2020!
HAPPY BIRTHDAY Hannah Vokey August 24th, 2020!
HAPPY BIRTHDAY Duke Kahanamoku August 24th, 2020!
HAPPY BIRTHDAY Johnny Fatello August 25th, 2020!
TUKKA RASK IS A CHICKEN SHIT COP OUT. Get Rid Of Him.
PLEASE Keep Mrs Berardini (Tony's 99 yr old mom) in your thoughts and prayers. We'd all love to see her make it to her 100th Birthday in December. She's a fighter, but she could use some help. Your prayers can help. Thank you.
PLEASE Keep longtime NH Surfer Greg Smith in your Prayers.

Please Support ALL The photographers who contribute to
Ralph's Pic Of The Week every week for the last 16 years.
** BUY a HIGH RES Photo from any of the weeks on RPOTW.

Remember my friends... Surfing Heals All Wounds.
Pray for Surf. Pray for Peace. Surf For Fun.

Ralph