THE PADDLE FOR WALT
This week marked an unprecedented week of SURFERS'S PADDLES. Staring with Walt Helfer's Paddle on 8-12-21. Walt passed away in the height of the Pandemic in 2020. So his family had to sit on any kind of service until the all clear signal was announced. This was true for so many families who had to wait on services for loved ones. But the Surfer's Paddle is not your typical service. It is something for surfers only.

Created by surfers for surfers.

The first documented Surfers Paddle occurred on Waikiki Beach by the Hawaiian Beach Boys in the early 1920's. They would all gather on the beach with flowers and speak of their loved ones. Then the Beach Boys would paddle out into the ocean beyond the line-up, and form a circle. In the middle of the circle there would be a surfboard belonging to the deceased and on that board would be the large Hawaiian Lei representing the surfer.

The surfers would all take turns talking about their loved one and then when everyone had a chance to speak, they would all toss their flowers into the middle of the circle while hooting loudly and splashing water everywhere.

The mainland surfers started their version of the paddle sometime in the late 1950's and early 1960's. And surfers have since had hundreds of thousands of paddles all over the globe . But make no mistake about this. It was started by surfers, for surfers.

And Walt Helfer was a surfer. Was he a great surfer? No. Was he a good surfer? Not really.

But there were times when Walt was the BEST surfers in the water. How's that? Well, to quote the great Phil Edwards. "The Best Surfer in the water is the surfer having the most fun." That would be Walter on many occasions. I know this personally because I witnessed it. I can't tell you how many times I would look over at Walt paddling out beside me and think to myself "This is the future for me." I would be in my 20's and he would be in his 30's. And he would be out there surfing at the Wall with all of us. And when I was in my 30's and he was in his 40's he would still be there. This happened when I was in my 40's and he was in his 50's, and when I was in my 60's he would be in his 70's. I would look to him as motivation. He was so inspirational to so many.

Walt surfed right into his 80's. Now that I am in my 70's, that became such an inspirational goal.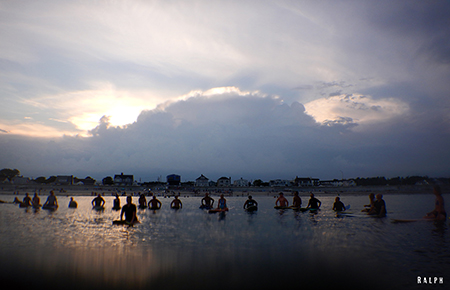 One of Walt's last wishes was to have a Surfer's Paddle where all of his friends and family could come down to the beach and celebrate his life. And that's exactly what we did. We had a tremendous showing of friends and family there that night. There had to have been a hundred of us. Close friends of Walt along with his family showing our respect to someone who loved to do what we all love doing. To just be able to go surfing. His wife Lorraine looked like a queen out there, his daughter Margaret had so many mannerisms of her father that I had to keep stopping her when she spoke to me to tell her. "That was something your dad would do." She would smile when I did.

Then of course there was Walt Jr. He looked and acted just like his dad.

We spoke about Walt's service in 101st Airborne. Yes Walter was a veteran . A Korean War Veteran. And yes, Walt jumped out of perfectly good airplanes onto the frozen ground of Korea. And for anyone who doesn't know, the Korean War was a bitch. The coldest of cold days and hottest of hot days. There was nothing nice about serving in Korea from 1950 to 1953. I've known my share of Korean war Vets.

They were the toughest of the tough.

And with Walt being in the 101st I couldn't help but think of my late father-in-law Jerry and my late best friend Joe. They both served in the 101st. I have nothing but the highest respect for all Korean War Vets. Walt Jr wanted to make sure that everyone knew of his father's service. Walt was also a very talented musician. He could play any instrument.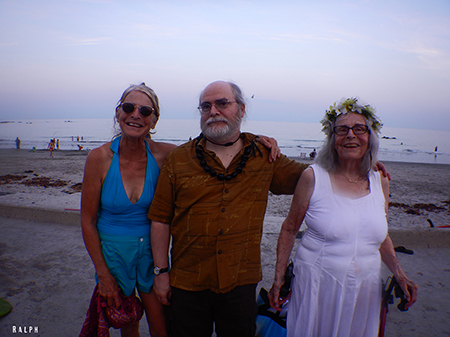 Walt was a great husband, father, and grandfather to his five grandkids.

Ali Hopkins his granddaughter was the one who contacted me to help her put the Memorial Paddle together. I then contacted John Savastano who brought his cool mobile PA system that runs on a 12 hour battery. Having that system was key. John also had an MP3 file of the HAWAII ALOHA song. We shot video of the service and I hope to have that posted by next week.

I do want to thank all the local Surfers who knew Walt for coming out to pay your respects to one of the elders of our tribe. You made a difference with Walt's family and it was greatly appreciated. Mahalo and Aloha to you all.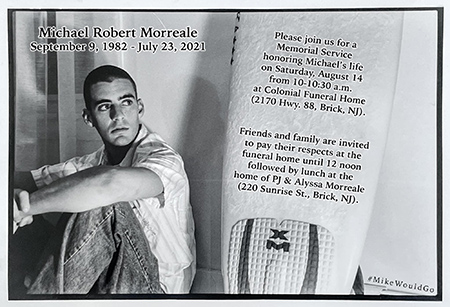 THE PADDLE FOR MIKE MORREALE

I did not know Mike personally, or rather I was not close to him. I saw him out surfing a few times here and there, and we were Facebook friends and he was always commenting on my posts. So in a sense I knew him as I would know many of the surfers who surf here. He was from NJ and he was a pretty good surfer.




A Goofyfoot who surfed the Rocks enough times when he lived here. His close friends Eric Cannon and his buddies called him "JERSZ" from being from Jersey. Mike was married and he leaves behind his parents and two brothers. Mike was an avid surfer, fisherman, and he loved hunting for shark teeth. Mike was also a veteran. He served honorably in the Coast Guard. "Semper Paratus" (Always Ready) is their motto.

Mike was only 38 years old when cancer took him. Such a tragic passing.

Give credit to Eric Cannon for organizing this small, but close group of friends to honor Mike with a Surfer's Paddle.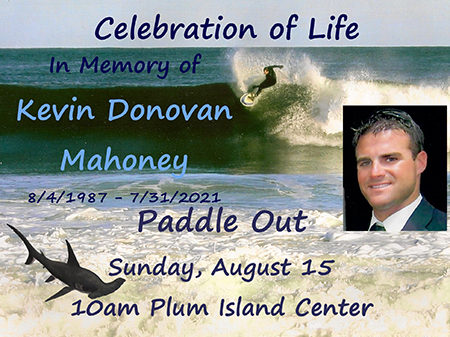 THE PADDLE FOR KEVIN MAHONEY
This paddle was this morning in Plum Island and was conducted by Jim Callahan. Although I could not be there for this paddle I did help out Jim by providing him with a guideline on how to properly conduct a Surfer's Paddle.

There is a protocol that most paddles follow. Having done literally dozens and dozens of Surfer's Paddles since my very first one in 1978, I've got a handle on how they should be run. I was happy to help Jim out and I know that Jim did a great job and the turnout was pretty significant.

Another Surfer gone way before his time. More on Kevin's paddle next week.
"SURFING HEALS ALL WOUNDS."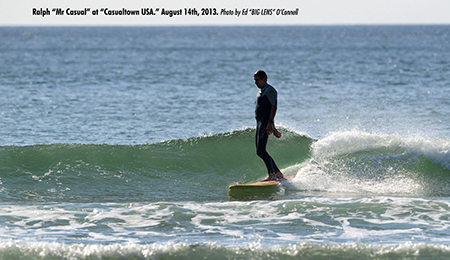 This week's Ed's corner is from the summer of 2013. The year before he passed away. This showed up on my Facebook feed. It's another cool shot of me that Ed took. is is Photo by Ed O'Connell
*Click the photo above to see a larger version of Ed's Pic.

Now for Some Local and National News
THE FALL OF AFGHANISTAN
As a veteran who fought in Vietnam, and lost 5 good friends there, and after watching the Fall of Saigon, so many of us (Vietnam vets) slipped into a dark depression. Unless you served there you just have no idea what that felt like when Saigon fell to the communists. It sent so many vets into a spiraling depression that many never recovered from it. And now after watching the same thing happen all over again in Afghanistan, it has reawakened that dark place for us Vietnam vets.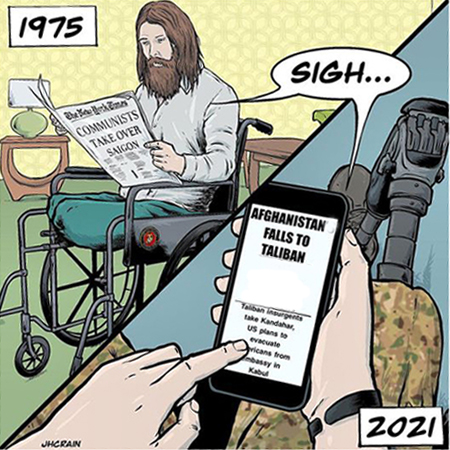 The GWOT Vets will now suffer the same depressing feelings that we went through. Make no mistake about it, those who served and fought in Afghanistan will be going through the same depression that we went through. My heart is breaking for them, and the people we are leaving behind. The men who fought alongside our troops, the interpreters, and the ones who risked their live gathering intel for our military. But the most depressing of all are the poor women and the young girls. They will be suffering the most. They had finally enjoyed the freedoms of running their own businesses and being able to go to schools and colleges the last 10 to 15 years. They will now be thrust back into the dark ages. Only horrible nightmares await them.

And you mean to say that nobody saw this coming? Are you shitting me?

Biden announces the withdrawl of ALL AMERICAN Troops in May and makes a boastful statement that we will be gone before 9-11. And they didn't see this coming? Really? WTF is going on in that White House? This is one of the most embarrassing and humiliating times in our Nation's History. This is all on you President Biden. You own this sickening nightmare.

We went into Afghanistan to go after Osama Bin Laden and Al Qeada. The Taliban were working hand in hand with them. Once we got Osama and eradicated Al Qeada, the mission shifted. The Taliban provided a safe haven for Al Qeada and other terrorist groups. ISIS, etc. We helped the people of Afghanistan especially the women and young girls by keeping the Taliban at bay. But now, all bets are off. The women and the young girls will suffer greatly at the hands of those evil sons of bitches. And some of you can turn your head and look the other way and claim "It's not our fight. Not our country." But you all know, it was the RIGHT THING TO DO. The men and women who wear the uniform, and fight these wars sacrificed a part of their lives to make someone else's lives better. There's no greater honor than that.

I say from this point forward. ANY POLITICIAN WHO WANTS TO SEND YOUNG MEN AND WOMEN OFF TO FIGHT IN FOREIGN WARS, MUST HAVE FIRST THEMSELVES, SERVED IN THE MILITARY, PRIOR TO THEM BECOMING POLITICIANS.

Otherwise you DON'T GET TO VOTE on sending our Troops off to fight YOUR wars. Didn't wear the uniform? You don't get to vote. PERIOD. Just so we're clear here. I'm talking about both parties. Democrats and Republicans.
KSM Photoshop of the Week
With all the recent news of fights breaking out on the airlines wouldn't you know it, ole Khaliddy took to the fisticuffs on a recent Island hopping Flight to get KSM Vaccinated,. He put up a pathetic fight but the female flight attendents got him subdued with duct tape. The Sheik is now Vaccinated. How about you?




And so my friends, please take advantage of this weekly photo shop of the mastermind who planned 9-11 and resulted in the deaths of 3,000 innocent civilians by KSM (Khalid Sheik Mohammed).

*Note to self -must pick up a case of Duct Tape at Home Depot this week.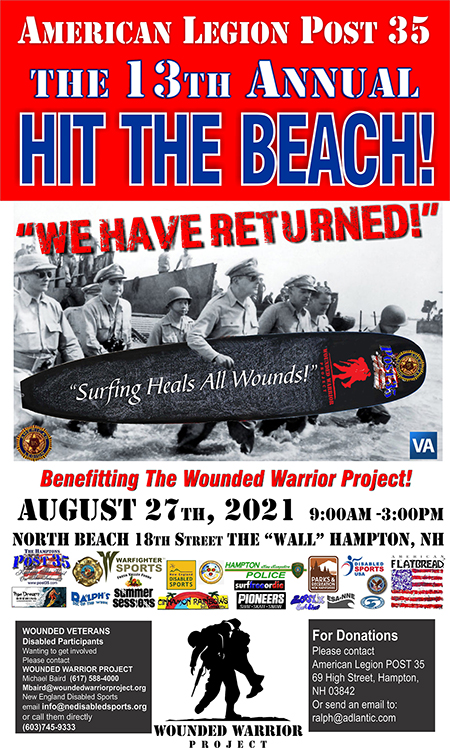 Our annual HIT THE BEACH IS BACK! August 27th, 2021!

Just when you thought there was nothing to laugh about.
The JIMMY DUNN HAMPTON BEACH COMEDY FESTIVAL IS BACK! CLICK ON THE IMAGE BELOW TO BUT TIX. HURRY BECAUSE THEY ARE ALMOST SOLD OUT!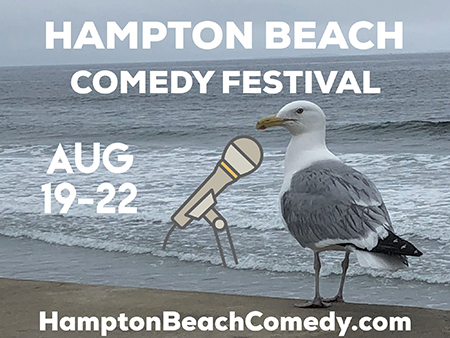 HAPPY BIRTHDAY Johnny "SAV" Savastano August 1st, 2021!
HAPPY 70th BIRTHDAY Sid "The Package" Abruzzi The TRUE Water Brother. August 12th, 2021!
HAPPY BIRTHDAY Julia Nichols August 19th, 2021!
HAPPY 16th BIRTHDAY Veda Cropper August 23rd, 2021!
HAPPY BIRTHDAY Hannah Vokey August 24th, 2021!
HAPPY BIRTHDAY Kainalu Nichols August 24th, 2021!
HAPPY BIRTHDAY Duke Kahanamoku August 24th, 2021!
HAPPY BIRTHDAY Johnny Fatello August 25th, 2021!
HAPPY BIRTHDAY Hokulani Nichols September 7th, 2021!
REST IN PEACE Mike "Jersey" Morreale July 23rd, 2021.
REST IN PEACE JoEllen Bunton 72, July 6th, 2021
REST IN PEACE Nash Rogers 8yrs old, July 6th, 2021.
PLEASE SUPPORT THE DIPG AWARNESS TEAM!
PLEASE Keep 90 yr old Chuck Dreyer (Kim Grondin's dad)
in your thoughts and prayers.
PLEASE Keep longtime NH Surfer Greg Smith in your Thoughts and Prayers.
PLEASE Keep local Surfer/Musician Pete Kowalski in your thoughts and prayers throughout the year.

Please Support ALL The photographers who contribute to
Ralph's Pic Of The Week every week for the last 16 years.
** BUY a HIGH RES Photo from any of the weeks on RPOTW.

Remember my friends... Surfing Heals All Wounds.
Pray for Surf. Pray for Peace. Surf For Fun.

Ralph






Yesterday- THE EMPTY WAVE. THANKSGIVING 1986.
(Below) This is more proof that waves are timeless. This wave could easily have been from any number of swells the last 70 years. I've always said, that waves themselves are timeless. This wave is 35 years old. Photo by RALPH

*Click on the pic to see a larger version.



I kept a daily Blog on my CATCH A WAVE FOR MOLLY surf campaign, when I surfed every single day for 365 consecutive days. Click on the Banner above to read entries of my daily journey. There's some really interesting and true experiences
that happened during that year. Some of which are to this day, unexplainable. Some are just mind blowing. But all true.

I started on July 26th, 2010 and ended on July 26th, 2011.

Some rainy Sunday, pour yourself a cup and go through the journal. Pay close attention to the month of May in 2011. Read that month and let me know what you think of that. Be forewarned it will change you forever.