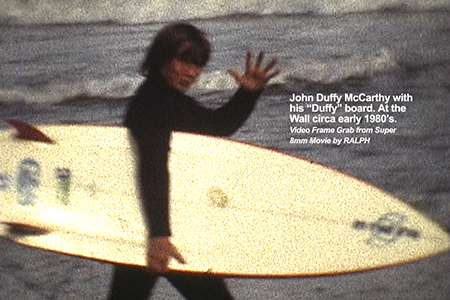 This little Grom turned 50! How the hell did that happen?

Well, it happened the way it's been happening since the beginning of mankind. We all get older. But wait, if Duffy is 50, what does that make me? Damn. It's true. Life is short and getting shorter. It seems to me that I've known Duffy since he was just a little grom living across the street from the infamous Wall. The "Red Roof" as it is affectionately known by the large McCarthy family who once lived there.

The McCarthy's and that house are Hampton Icons. And little Duffy is no longer that young surf grom. Though he is still a surfer. And he's always had a unique surf style. Let's face it, every surfer has their own style. And Duffy's was/is pretty recognizable.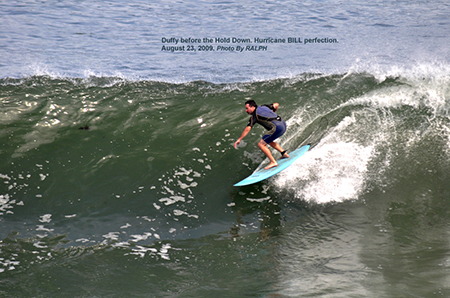 This is Duffy during the Hurricane Bill Swell back in August of 2009.

Though his most famous photo (it's down in the Yesterday Section) appeared in more surf publications than any of of the local surfers combined. It was a long standing running joke, when that same photo kept popping up year after year after year. It was as if that photo was the only existing photo of NH surfing. Suffice it to say, he got some mileage out of that pic.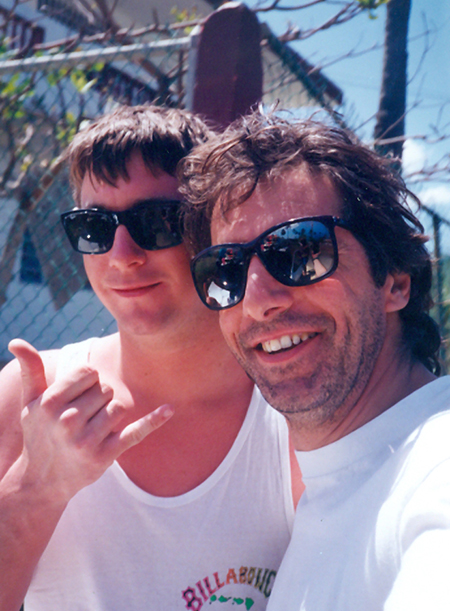 This is Duffy and I in Puerto Rico from 1990. I've been on a few surf trips with the young Duff-master. And they've all been filled laughter and good waves.




This is a still from the opening credits of my old reel to reel movie called WAVE WARRIORS. That's Tony Berardini on the left. This was in 1988 I believe. I remember this whole scene. Duffy was supposed to be on a surfboard when the inflatable shark shows up. Though in typical Duff fashion,
a REAL shark showed up. Albeit just a semi harmless (dying) sand shark, it was nonetheless a real shark. Leave it to Duffy to have a real shark on his board while surfing.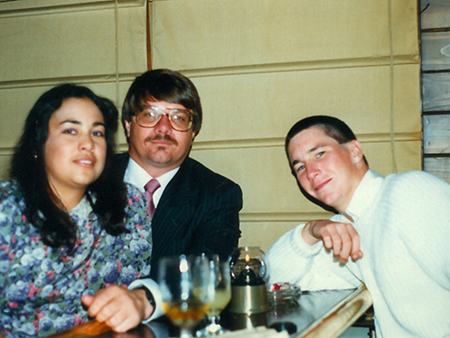 Cory and I love this photo. It's from our wedding reception. Our dear lifelong friends Robin and Elena and young Duffy McCarthy (who crashed the wedding). This was on October 10th, 1987. Duffy wanted to be there and he was gonna go no matter what. We all just cracked up when we saw him.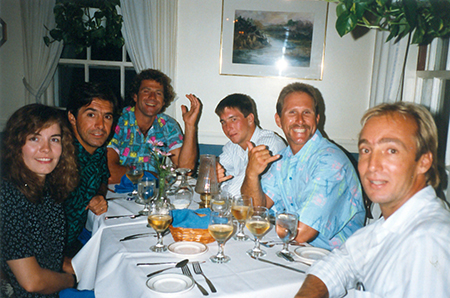 Then two years later he was at Kevin and Kim's wedding. July 23rd, 1989. This is the dinner party for the wedding party the night before the big day.
From left to right: Cory, me, Steve "Mags" Magliano, Duffy McCarthy, Lenny Nichols, and Paul "Ric" Aho.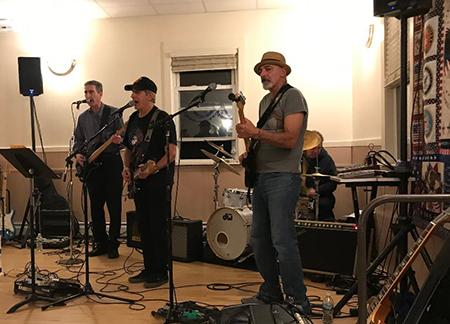 And last night, the ORIGINAL members of The NOR'EASTERS played at Duffy's 50th Birthday Party. The EASTER'S were formed in 1988 and we played all over New England. We're a Blues Rock band that played mostly originals with a few covers tossed in here and there. I've said this many times over the years, (much to the dismay of my old VINNY Band fans) and that is, I've had more fun playing with the Easters than any of my other bands. Don't get me wrong, I loved playing with VINNY and SEMPER FI. And I enjoy all the little side projects I've played in from BHD to my duo with Rich Appel. But for whatever reasons, I've always enjoyed playing with the EASTERS. We just seem to connect on every level.

I shot video of the party and have some good footage of Mel and John playing. I love them both. They have some classic covers that they do very well. And at the end of the night, both John and Mel joined us in a rousing rendition of Woolly Bully. It's too bad that Harry Manzi was suffering from a severe ass ache and had to leave before 9:00PM, because he would have really enjoyed that. It's a good thing I am able to improvise on the fly. Because I was able to include him in the lyrics.

All in all it was a wonderful celebration. I love the whole McCarthy clan. They are the real deal family. Strong, loving, and giving. We should all be so lucky to have a family like them.

And speaking of the McCarthy family. Next month is the 5th annual McCarthy Strong walk against Pancreatic Cancer. Brother Stephen McCarthy lost his battle against pancreatic cancer five years ago. It blows my mind that he's been gone that long. They do the walk Rain or Shine. All the info is below.





The 5th Annual McCarthy Strong "Fight Against Pancreatic Cancer" walk. Sign ups start at 9:00 AM at the Marston Elementary School in Hampton, NH.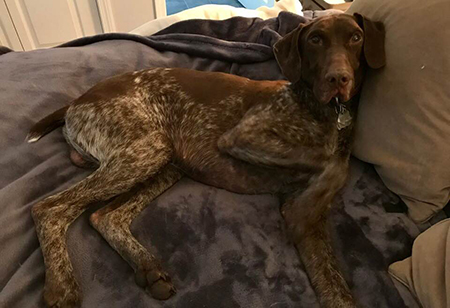 This pic has nothing to do with anything on this Blog. But it makes me smile.
Our dog Patch lying on our bed. None of my past dogs were allowed on the bed. But somehow I've turned a blind eye to Patch laying on our bed during the day. Besides, he's got a hurt paw and needs to rest. Poor Patchy!

"Surfing, Rock and Roll, and McCarthys Heals All Wounds."


I saw Lenny last night at Duffy's party. It was a no brainer once I found this pic that Ed shot of Lenny back in 2009 during the infamous Hurricane BILL swell in August of 2009.
Photo by Ed O'Connell
*Click the photo above to see a larger version of Ed's Pic.

Now for Some Local, National and International News
Mick Jagger recently had heart surgery in the US. He's ready to get back up on his feet, so he can get back out on the road, and play with the band on their current world tour. I saw this meme on Facebook and had to share it with you all.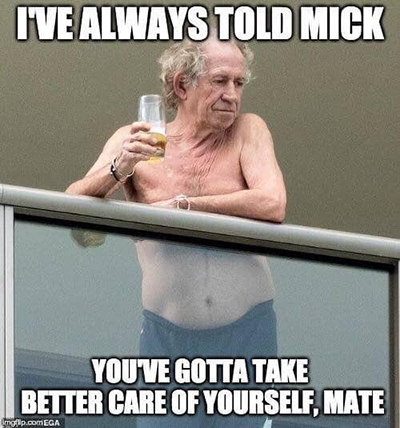 You have to admit, the fact that Keith Richard's who's made a career out of poisoning his body and brain with drugs and alcohol is in better health than Mick. Boy if this pic doesn't scare you, nothing will. "What a drag it is getting old..." Mick Jagger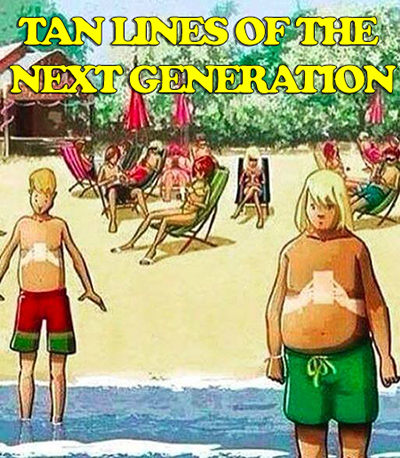 This is both funny and frightening. Because it's TRUE!
The TEXT Generation.

Now here's some real creepy shit. I'm sorry Joe, but this is all just over the top Creepy. What the hell is wrong with politicians? I mean 45 sleeping with porn stars and playmates. Clinton having oral sex in the oval office. And Crazy Joe Biden just creeping the snot out of every woman within reach.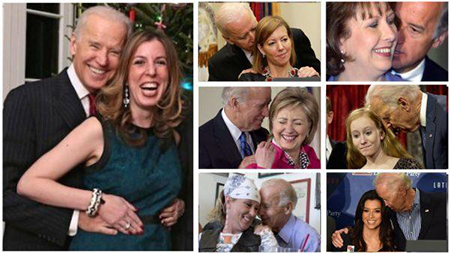 None of these are photoshopped. This is Crazy Joe Biden.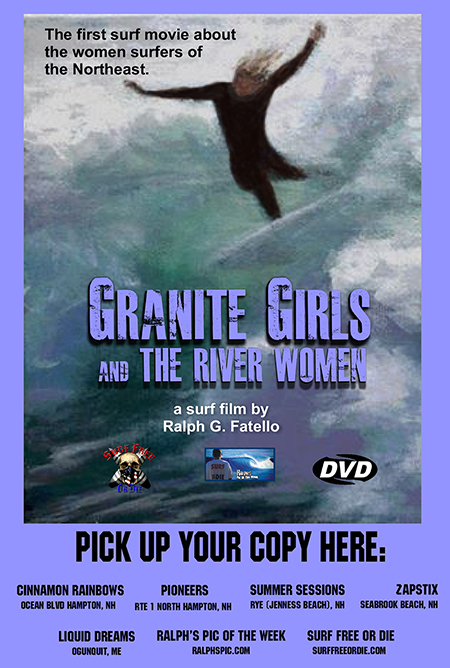 The DVD's are available at all the local surf shops. Or by
sending me an email. ralph@adlantic.com or send a check for $20.00 made out to ADLANTIC and send it here:

ADLANTIC
c/o OC Studio Suites
703 Ocean Blvd Suite C-4
Hampton, NH 03842

Or RENT or BUY it Online. You have spoken and I have listened. You don't have a DVD player so I made it available Online. Watch it on your Smart TV, your computer, or your cellphone! I can't make this any easier my friends.


GRANITE GIRLS and The RIVER WOMEN from Ralph's Pic Of The Week on Vimeo. NOW AVAILABLE on VIMEO ON DEMAND.

On April 15th, 2019 the BLOG is turning 15! FIFTEEN YEARS without missing a single week. Who does that? I'll tell you who. NOBODY does that. I'm the only fool who has committed to writing, shooting, and filming every single week for 15 straight years. I'm going to have a BIG Blog that week with all kinds of pics and videos from the last 15 years. So stay tuned kids.




I've enjoyed every single week, every month, and every year!


KSM Photoshop of the Week
Last week KSM had a nightmare down in GITMO when he
dreamt he was a young Asian girl who had to endure the eerie kissing of Crazy Joe Biden. The poor Terrorist woke up sweating and chilled. Thank God it was only a dream. Though I must say having Joe Biden kiss and touch the terrorists might be a good interrogation technique. They would sing like songbirds to avoid this kind of creepiness.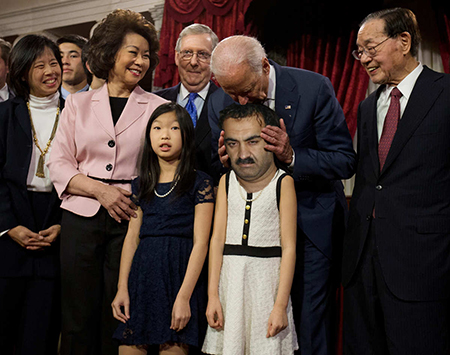 And so my friends, please take advantage of this weekly photo shop of the mastermind who planned 9-11 and resulted in the deaths of 3,000 innocent civilians by KSM (Khalid Sheik Mohammed).

*Note to self -must pick up a case of "Hair Perfume "
at Home Depot this week.

HAPPY 50th BIRTHDAY TO DUFFY McCARTHY April 9th, 2019!
HAPPY 15th ANNIVERSARY TO RPOTW April 15th, 2019!


FYI Lenny Nichols is looking for someone or someones to take over the ESA-NNE District. Please contact Lenny Nichols by calling his cell (603) 944-2418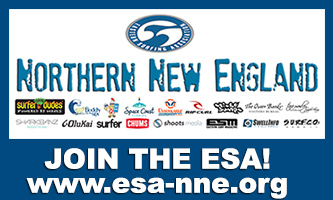 Please Support ALL The photographers who contribute to
Ralph's Pic Of The Week every week for the last 13 years.
** BUY a HIGH RES Photo from any of the weeks on RPOTW.

Remember my friends... Surfing Heals All Wounds.
Pray for Surf. Pray for Peace. Surf For Fun.

Ralph



(Above)
Erik Cannon on his last wave of this particular session.
April 4th, 2019.
Photo by RALPH

*Click on the photo above to see the whole gallery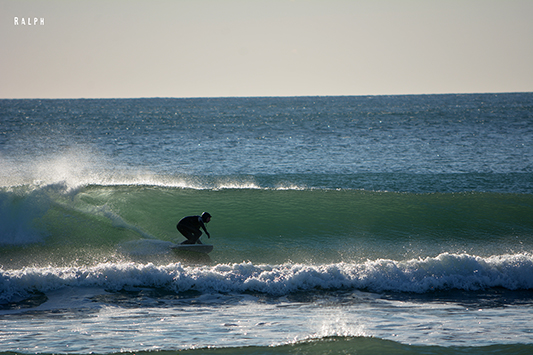 (Above)
This is Max on a long sequence. April 4th, 2019.
Photo by RALPH

*Click on the photo above to see the whole gallery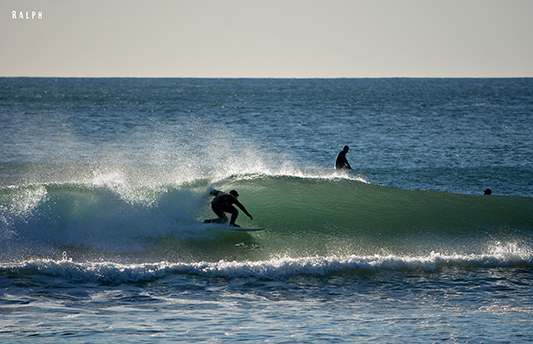 (Above)
From the same wave as above. Max Fatello sequence.
April 4th, 2019.
Photo by RALPH

*Click on the photo above to see the whole gallery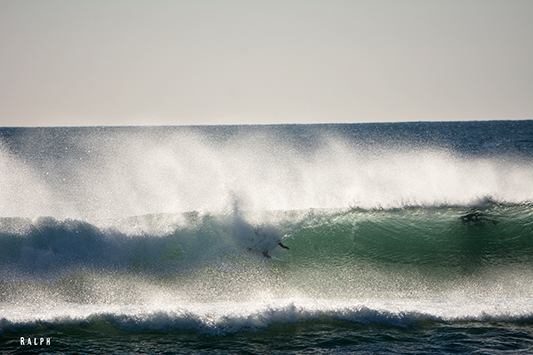 (Above)
This is Max on a different wave. April 4th, 2019.
Photo by RALPH

*Click on the photo above to see the whole gallery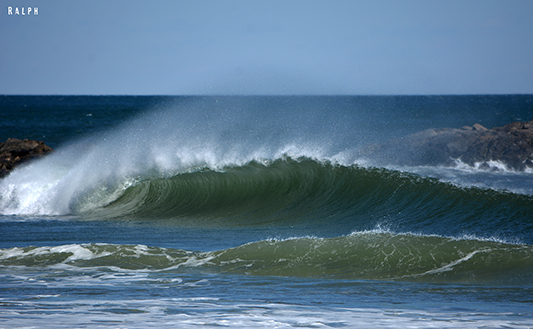 (Above)
Then I changed venues. April 4th, 2019.
Photo by RALPH

*Click on the photo above to see the whole gallery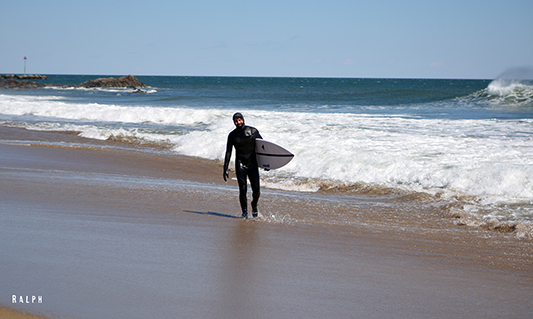 (Above)
That's all she wrote folks on this last day. April 4th, 2019.

Photo by RALPH
*Click on the photo above to see the whole gallery
Today- The Day Before "WINDY WEDNESDAY!"
April 3rd, 2019.
Photos by RALPH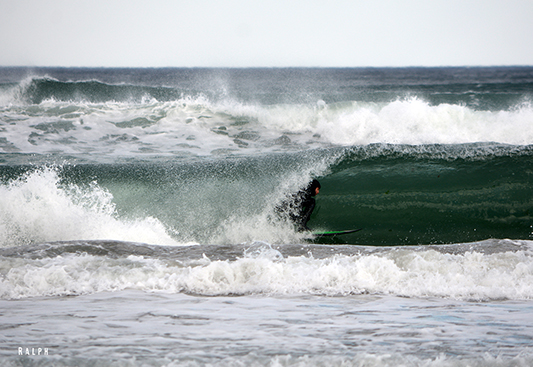 (Above)
This is Jake Davidson going for broke on an inside grinder.
Windy Wednesday April 3rd, 2019.
Photo by RALPH

*Click on the photo above to see the whole gallery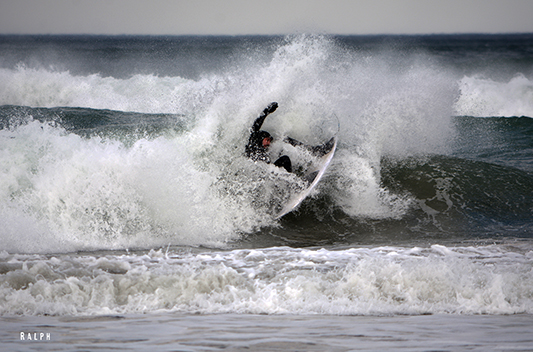 (Above)
Mackey V seen here Sliding into Home Base on
Windy Wednesday April 3rd, 2019.
Photo by RALPH

*Click on the photo above to see the whole gallery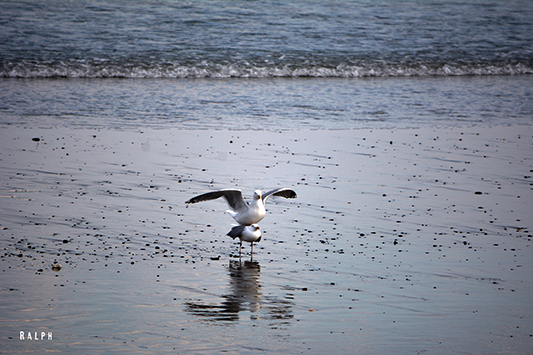 (Above)
Behold, my first ever documentation of two gulls mating on the beach.
Windy Wednesday April 3rd, 2019.
Photo by RALPH

*Click on the photo above to see the whole gallery