BELOW IS A SHORT STORY OF HOW I STARTED SURFING FROM MY FUTURE BOOK "DON'T EVER BUY A MONKEY".
A series of short true stories of my life.

The summer of 1963. My brother Johnny and I were in the backyard practicing for our future career jobs as "Stunt men" in Hollywood. That was the plan anyway. We were always playing war in the neighborhood and out in the woods , not to mention that we were always watching war movies on TV. Between John Wayne and the SANDS OF IWO JIMA, and the AUDIE MURPHY Story, it was part of our DNA. Besides the war movies, we grew up on our heroes on TV. There was Fess Parker as DAVEY CROCKETT on Walt Disney (I got weepy when Davey died at the Alamo), ROY ROGERS as the ultimate cool Cowboy, and Guy Williams as ZORRO. All those shows had stunt men, and Johnny and I were going out west to stake out claim as the best stunt men Hollywood had ever seen.

But one Saturday afternoon while getting "blown up" on the dirt hill in the backyard, I heard my dad call my name through the screen window. He was in the den watching TV when he yelled "Ralphie get in here, you need to see this!" Well, we stopped what we were doing and made our way into the house and ran past our mother who was working in the kitchen (where else) and down the short hallway, and into the den. My dad was sitting in his chair pointing at the TV. I looked, and saw for the very first time in my life, Surfing. In black and white. "What is this?" I asked as I stared in complete awe.
"They're surfing!" my dad answered.
"Surfing? Where are they?" I asked, as I stood fixated on what was happening in front of my eyes. "Probably California or Hawaii." He said.
"We need to go there!" I yelled.
"Ha ha, we're not going to California or Hawaii." My dad laughed.
"I want to try that. I want to go surfing. Please can we move there?" I said moving closer to the small black and white TV screen.
"Eva can you hear your son. He wants us to move to California or Hawaii!" my dad laughingly yelled to my mother in the kitchen.
"Balls on you buster!" my mother yelled back using one of her favorite sayings.
"We're not going anywhere. Now go and get washed up it's almost time for supper." She yelled.
I looked around and realized that Johnny was not in the room. Which in hindsight, was a telling moment. Johnny never got the surfing bug like I did. He got the music bug, just not the surf bug.

But I was mesmerized by what I was seeing. Watching people surfing for the very first time.

I had always been into sports when I was a kid. Mostly football. We always watched the Baltimore Colts, my dad's favorite team. "Johnny U!" he would yell when John Unitas the Colts QB took the field. Me and Johnny liked the Green Bay Packers with Bart Starr at QB and Ray Nitcshke as a middle line backer. Back when the NFL and the AFL had real men playing football, with little to no padding and helmets like they have today. We watched those games every Sunday in the den. I have such fond memories of those days.

But seeing surfing for the first time set me on a course that would change my life, much like hearing the Beatles for the first time, and seeing John Wayne in the SANDS OF IWO JIMA did. I knew, that from that moment on, I was going to be a surfer. And a rock and roller. And a Marine. I also knew early on after watching BEWITCHED on TV, that I would become a "Commercial Artist." I saw what Darrin Stevens was doing in his job at Tate and Foss Advertising Agency, and I wanted to do the same. He was always drawing cool advertisements and coming up with catchy headlines and copy. Lucky for me, I became all of the above.

But back to surfing.

So I begged my parents to move to California or Hawaii. I did not know at that time, that there were great waves right here in New England. I drove my poor parents crazy all summer of 1963. One day while we were on the beach at Lynn Beach. There must have been a tropical storm or a tropical depression off the coast. Because there were waves pouring onto the beaches. My dad pointed out to me that if we had a surfboard, we could surf on those waves. I looked at the waves marching in and thought to myself. He's right. All we needed was a surfboard, and we could surf right here. Yay!

And then…February 9th, 1964. The BEATLES played on Ed Sullivan. Once again, the old proverbial lightening bolt hit me right between the eyes. "Okay. We can stay here. But I now need a guitar, and a surfboard." I said to my parents. I ended up getting my first guitar the Spring of 1964. Paid for by my two paper routes. But I still needed a surfboard. That all changed one day when my old baby sitter Millie Birmingham knocked on the door of our house. She said she had something for me. I came to the door and there was Millie standing on our front lawn holding a giant wooden paddleboard. "I brought this back from California Ralphie, and thought you'd want it." Millie was my old baby sitter and had just returned from her honeymoon. The board was an 11' 2" hollow paddleboard that was made out of plywood. With a square nose and square tail. It was hollow and had a metal fin. Not exactly what I had in mind for my first surfboard.

It reminded me of my first baseball glove.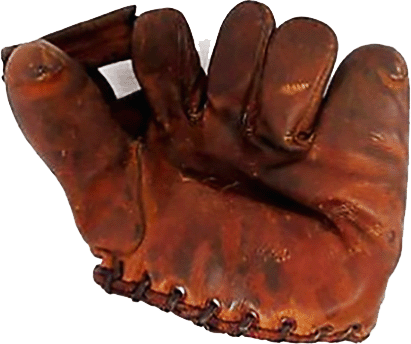 My dad had given me his baseball glove, that he had when he was a kid in the 30's. You can imagine what kind of gloves they had in the early 1930's. Not exactly what Ted Williams was using in 1961. There was no "pocket!" There was no way of me catching a baseball with a web that was half the size of what all the other kids had. I hated it. I cried and complained the whole time I had it. My dad was so stubborn. If this glove was good enough for him, then it was damn well good enough for me. It wasn't.

I played almost a whole season of Little League baseball with a glove that Abraham Lincoln would have scoffed at. If it wasn't for my dear grandmother Noni (on my father's side) buying me a real baseball glove that she bought with her S&H Green Stamps I might have had a complete breakdown. I loved Noni. I never forgot that act of kindness. And the way she yelled at my father in Italian, when she gave me my new baseball glove, and took the other older glove and threw it at him. My dad knew better than to argue with her.

So there I was staring at this weird excuse for a surfboard.




I'm sure my disappointment was evident on my face. But I knew better than to say anything negative. Besides I was a full blown kook. I had never even touched a surfboard, let alone surfed on one. I thanked her and with the help of my father we got that board on top of his old "Beachwagon" (that's what he called our stationwagon) by tying it on the roof with rope. I called a few friends of mine to join us for our first ever "surf adventure." Me, Donnie Nelson, Bobby Smith, Bobby Wickers, and Freddie Foss. Freddie was like a real life "Fonzie" back in the day. He had jet black hair that he slicked back, and smoked cigarettes. I'm not sure why I called Freddie other than I didn't want to be on the bad side of him.

With the "Beachwagon" all loaded with a bunch of would be surfers, we took off for Lynn/Nahant Beach.

Now keep in mind, this was the summer of 1964. There was no way of telling if there was any surf or not. That was thing back then. We never knew if it was 6' and glassy, or completely flat. But it was summer and I finally had a surfboard. Oh and none of us had any wetsuits. We didn't even know that they existed. Wetsuits? The kids I saw surfing on TV were not wearing wetsuits. Of course they were in California or Hawaii and didn't need them. Like I said, we were a car full of kooks. But I do remember this first day at the beach with my "surfboard." Pulling up at the sidewalk where my father dropped us off, we could see that there were in fact waves. Not big waves mind you, but enough to surf on, or so we thought. If only we knew how to surf. If only we knew anything about surfing.

What we didn't realize is, we needed surfboard wax. Who knew? Not us.

That first day was nothing short of a series of complete stumbling and bumbling buffoons. The board was disastrous. It immediately took on water. Can you imagine a board that size taking on water? None of us knew how to paddle. And none of us could stand up on this thing. None of us but Freddie Foss. In his cutoff jeans, Freddie was able to stink bug his way to his feet, and stand much like they do today on a SUP. He rode the wave and we all hooted. But that was the only highlight of that first session. But I was not discouraged. I wanted to keep trying. And I did. But that board was not conducive to riding waves. Not even close. We went a few more times on that beast before we discovered that New England Divers in Beverly, MA had REAL surfboards to rent. This was a game changer.

Seeing and touching a real surfboard for the first time. We were ecstatic. We were downright giddy.

I can't tell you how many times we went to New England Divers to just to look at the surfboards. We'd ride our bikes down there and just stare at them. And when we rented a board for the first time, and took it to Lynn Beach, all the bells and whistles went off in our heads. Taking turns was not going to last very long. But I can recall with complete clarity, the first time I rode on a surfboard. The surf was probably 2-3'. It was a sunny day and the waves at Lynn Beach will break forever. It was low tide and we were all taking turns. Some of the kids stood up and some of them fell off the board. But I remember my first wave. I was sitting on the board, and the smell of fresh paraffin (Gulf Wax) on the deck of the board, combined with the smell of salt water. It smelled like surfing.

I was in heaven. The board was a pop-out, a KEOKI, about 9' long. A wave came and I started paddling. As the wave got closer I paddled harder. And then I felt the board moving. At first I just laid down and let the wave take me. But then I slowly got to my feet and went into a crouch position. I can still remember the sound of the board chattering along, while the rails cut through the wave face. Watching it all in real time, I was for the first time in my life Stoked! I was surfing! I was riding a wave. That feeling of paralleling a wave, was the best feeling in the world. And I knew right then and there, that I would spend the rest of my life, trying to recapture that feeling.

Well, here I am 57 years later, and I'm still surfing.

I ended up buying my first real surfboard that was surprisingly only 8'3" long. It was a red Keoki with a single stringer down the middle. I loved that board. It was for all intents and purposes my first real "magic board." Ask any surfer about their magic boards. Most surfers only get one or two per lifetime. I had several along the long and exciting journey. But there's only one first Magic Board. That old Red Keoki was my first. I rode that board for two years and loved every minute of it. But my "know-it-all" friends kept telling me that I needed a longer board. I gave in to peer pressure and sold that magic board and bought a 9'6" Royal Hawaiian. A board that I ended up hating. I missed my old board and hated my new board. I blamed my friends for my folly. But honestly? I have only myself to blame. Years later, I tried to find that magic board, all to no avail. I couldn't remember who I sold it to. I have no movies of me riding that board, or photos of me surfing it. But back in 2005, my mother wanted the basement cleaned out, and was going to throw everything away unless we came down and took what we wanted. I grabbed an old cardboard box of photos and went through them all. At the bottom of the pile of my father's old family photos, I found a really dated looking Kodak pack. I almost threw it away, but something made me look deeper. In that pack was these old Black and White photos of me and my Magic Board. I almost broke down and cried. There it was…my first love.




And there I was a full blown Kook in 1965 at Lynn Beach.

I'm wearing an old Beaver tail wetsuit top, and had cutoff jeans. But there is proof of that board. Turns out that board was actually made for women. That's why it was so small. I ended up forgiving my friends for pushing me away from my magic board, because they really didn't know any better. They were just going with the trends.

The Royal Hawaiian is now in my garden. I use it as a walking plank near my tomatoes. In fact, I use it more today in my garden, than I ever did out in the water. I crack up when I walk on it out there. I still hate it though.

And that my friends, is how I started surfing, and began to live the lifestyle .

"SURFING HEALS ALL WOUNDS!"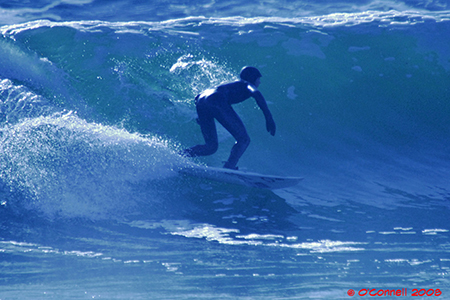 This week's Ed's corner pic is from April 18th, 2008. This is my son Max surfing the Wall. Ed loved shooting Max and he did every single time he was out. Including one of Max's most memorable surf sessions in March of 2014. It was a huge day followed by a nasty Nor'easter that dumped a ton of snow on us. The roads were closed all along the coast.

But somehow Max got down there and parked at Tony's house. And Ed was able to get as close as possible to where Max was surfing. Max was the only one out. Ed shot a handful of pics of Mackey that afternoon. And Max spoke about that session at Ed's Paddleout in July of 2014. I'll run the photo that Ed shot of Max in the coming months. Meanwhile enjoy this week's Ed's Corner pic. Photo by Ed O'Connell
*Click the photo above to see a larger version of Ed's Pic.

Now for Some Local and National News

Losing Tom Brady was a hard and bitter pill to swallow. Same with Gronk. Mostly because they didn't retire, they went on to win last year's Super Bowl. But now hearing about Julian Edleman retiring? Well, it's not nearly as bad as the other two. Why? Because Edleman went out as a Patriot. Do NOT believe the rumor mill about Edleman joining the other two down in the swampy Tampa Bay area.

He's retiring. Period.

Now if that changes, and he joins his former teammates? I promise you that I will eat crow. I will admit my wrongful assessment of one of the BEST players to ever wear a Patriots uniform, and admit that I was wrong. Call me gullible, but I believe Edleman. I believe he's retiring. He's not like GRONK. He's a straight shooter who retired with honor as a New England Patriot.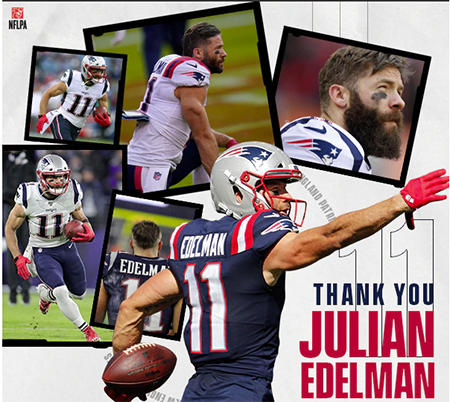 The man played for 12 years as a Patriot. He won three Super Bowl Titles with our team. There was nobody tougher on the field. Nobody more motivated (except Brady). He was a clutch player from start to finish. No question about that.

And he left everything out on the field.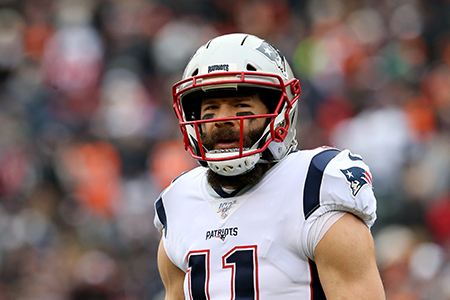 The coaches loved him. The fans loved him. The owners loved him. Hell, even his opponents loved him.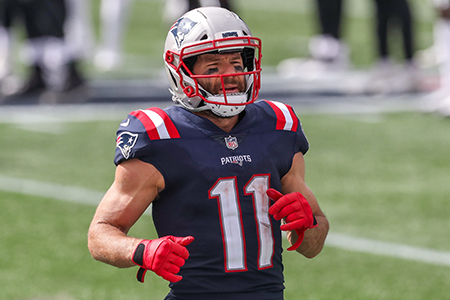 He was exciting to watch both on the filed and on the Duck Boats. He was the epitome of what a football player should be. We are all going to miss him. Number 11. From Drew Bledsoe to Julian Edleman. That number should now be retired.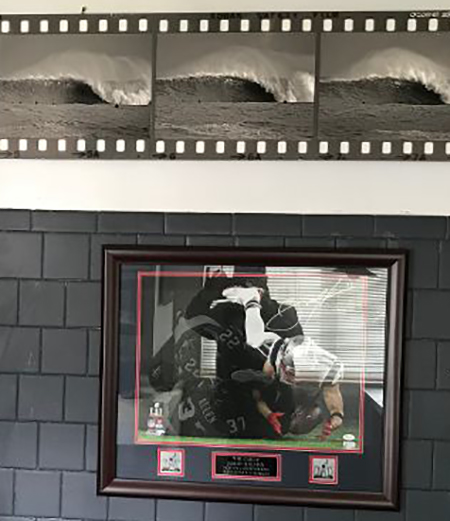 One of my most prized possessions is an autographed photo of him catching the matrix ball during the amazing comeback Super Bowl game against the Falcons. I won this print with his autograph. THE CATCH. It is prominently displayed in my home for all to see. GODSPEED Julian Edleman. Thank you for everything you gave us fans. You will be missed.

There are two things in this world that I would love to witness.
A Tornado and a Volcano. But at safe distances. Though I suppose there's really no safe distance from either. I mean living here in the Northeast we get to experience Heavy snowstorms and Nor'easters. We even get the occasional hurricane. And if we were to be truthful, we've had a few earthquakes.

Nothing like California and elsewhere, but we've had a few. Just not a real Tornado the likes of which we see on TV. I know we've actually had one or two hit out in Western Mass and NH but nothing like we see on the nightly news each Spring and Summer.

The same goes with Volcanoes. We just don't have any.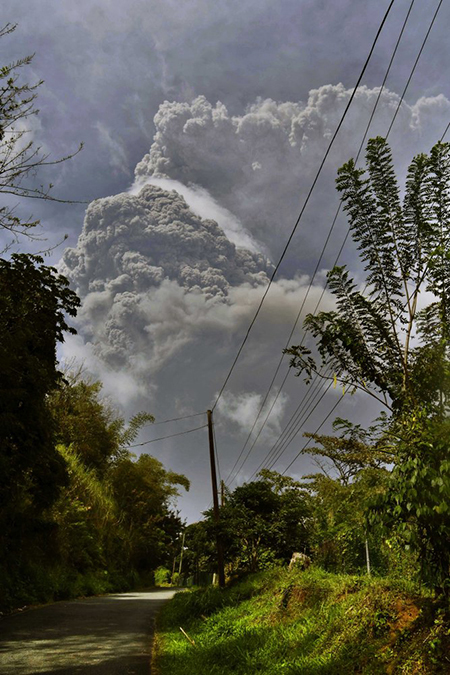 This is one from last week in St Vincent in the Caribbean.
I admit this looks frightening. But I suppose that's part of the strange allure that I feel. Maybe one day when we're back in Italy we will see Vesuvius erupt. And if that happens? You can bet your sweet booty that I will shoot it on video. Oh hell yes I will.

KSM Photoshop of the Week
So last week Bernie Madoff died and nobody really cared. What some of you didn't know is, our boy KSM actually had spent time with Bernie and shared his last meal with him. Really Ralph? No not really. I'm just looking for weekly news stories that will go with Khaliddy to raise a chuckle. And this seemed like a good one. Just another week of the ultimate Terrorist Loser and another loser. What's the old saying? Misery loves company.




And so my friends, please take advantage of this weekly photo shop of the mastermind who planned 9-11 and resulted in the deaths of 3,000 innocent civilians by KSM (Khalid Sheik Mohammed).

*Note to self -must pick up a case of used donuts and hamburgers at Home Depot this week.

HAPPY BIRTHDAY Mike Keefe, Casey Lockwood, Duffy McCarthy, and Demetri Valhouli April 9th, 2021!
HEAL QUICKLY Tony Berardini after his Hip Surgery!
PLEASE Keep 90 yr old Chuck Dreyer (Kim Grondin's dad)
in your thoughts and prayers as he recovers from surgery.
PLEASE Keep JoEllen Bunton in your thoughts and prayers too.
PLEASE Keep Bob Crawford in your thoughts and prayers.
PLEASE Keep longtime NH Surfer Greg Smith in your Prayers.
PLEASE Keep local Surfer/Musician Pete Kowalski in your thoughts and prayers throughout the year.

Please Support ALL The photographers who contribute to
Ralph's Pic Of The Week every week for the last 16 years.
** BUY a HIGH RES Photo from any of the weeks on RPOTW.

Remember my friends... Surfing Heals All Wounds.
Pray for Surf. Pray for Peace. Surf For Fun.

Ralph