October 10th, 2005

Admit it. Come on...admit it. Admit what? Admit that you all secretly hoped that one of these Tropical Storms this past Summer and early Fall had the same name as you. In fact, since they started naming storms with male names I bet the whole bunch of you have been wishing they'd name one after you. I mean how cool is that? Having a storm with your namesake and giving you and your buddies perfect surf. This last storm in the Gulf (Stan) sent some serious surf to the Texans and the Caribbean side of the Centro America. My buddy Stan Chew was down there surfing perfect waves from a Storm named Stan. Unfortunately, over 1,400 people died from that storm. That's the downside of these storms. Look at Katrina and Rita. I don't know of any women surfers named Katrina or Rita, but you know they're out there. And there's gotta be a few in the Gulf who surf.

My wife and I named our oldest daughter after Hurricane Gabrielle.That was the such a good swell. Nobody died and we had surf for over a week. And not just good surf. We're talking Big and Clean and sunny and warm. Perfect.

The first storm of this past Summer was named Arlene. Remember? We got a decent little swell from that. I remember talking to Arlene Nichols on the beach during that swell and pointing out the irony of the names and our mutual love for surf. I remember thinking to myself, there will never be a Hurricane Ralph. There was a Raphael (which is Spanish for Ralph) one year. But never a Ralph. It doesn't really have a cool ring to it.

I just assumed that I might go through life and never get to surf a swell that had the same name. That all changed on Saturday (sort of). This needs explaining.

Those of you who have known me the longest, know that I had (have) a nickname. That nickname is "Vince". Some of my oldest closest friends still call me Vince. I answer to Vince as much as I answer to Ralph. On Saturday the 21st Storm of the year was named. T.S. Vince. Now it might not be Ralph, but I'll take it.

I know some of my old friends are dying right now reading this, cause you know I'm gonna throw this thing around in your face the whole dam week. Get used to it boys. I've waited a lifetime for this Storm. And what if...(get ready) what if this T.S. Vince turns out to be the BIG ONE?
I mean the Big one as in 1 (Click here) the project I was talking about last week. Could you handle that?

Oh yea baby...That's what I'm talking about! Tropical Storm Vince coming to kick your butt!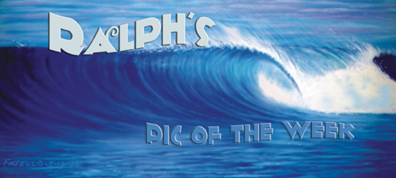 Got good surf pics? Send em off to me directly.
(See link below) Just make sure they're NOT huge files.
In fact if you have any questions about the size, email
me first and I'll write back.
Start shooting crackie!!
Ralph Pic Of The Week
If you want to access the Pic of the week from past weeks click here.
Archives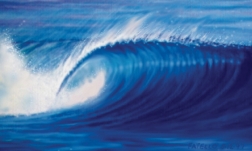 Yesterday 1980 VINCE on the Harbour Rapier at the Wall
Vince liked riding this board. It was his first short board. It was 8' 3". No rocker. Johnny Meehan and Jack Keefe have been after this board for a long time. It stands in my office office today. It has not been ridden in some time. Maybe Vince will take it out again. Then again, maybe he won't. Hard to figure what Vince will do.
Photo by Heidi LaShay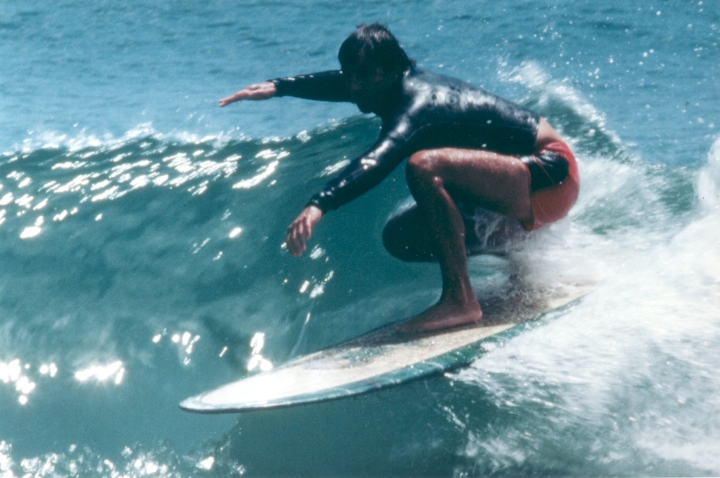 I'm truly sorry that the Red Sox lost. I admit, I'm not a hardcore dedicated fan like some of you. But I am born and raised in New England and have been a fan for as long as I can remember. Last year was something special. That's something to hold onto and something we'll never forget. For the time being, it will have to do. In some way we can all relate to the White Sox. They have not won since 1917...that's one year longer than our long drought. I'm rooting for them. Why not? It looks like they earned it the old fashioned way. They fought for it as a team. Nothing wrong with that.

Now our New England Patriots did another amazing finish today. It was another version of the Tom Brady and Adam Vinatieri show. Do those two have ice running through their veins or what? Dam. Talk about pressure. Going into a hostile environment like that and overcoming those kinds of odds. You have to admire that kind of coolness even if you hate football. Surely as surfers you can admire what it takes to pull something like that off. It takes guts. You know Moxie. Lot's of it.

The New Surfers Journal is out and it has some really well written pieces throughout. I mean, I love the Journal as a whole and have been an avid reader since the very first issue. But this issue is chock full of great articles and photos (of course) that made it a cover to cover must read for me. One of the features is written by a good friend of mine and a regular contributor to this weekly column. Jeff Chamberlain, from the Central Coast of California is one of the best writers in our entire Surf world. And, he is hands down, one of the most innovative adventurers I have ever had the pleasure of knowing. And I've met quite a few in my travels. Trust me, Jeff is the REAL DEAL. He talks the talk and walks the walk. Get the new Journal and read UP ON A PLANE and see for yourself.

My buddy Phil has been surfing his brains out in Florida all year long. He deserves it. Having been landlocked for 3 years in the mountains of Virginia.

Hope you all get to surf today...it's going to be good for a few days. Thanks to TS TAMMY.

Happy Anniversary Cory...18 years and 3 kids later, I still love you as much as I did when we took those vows at Fox Hill in 1987.


As always my friends...

Pray for Surf. Pray for Peace. Surf For Fun.

Ralph




Click On Wave to Go Back to The Top.
Today 2005. Last Week in Florida
Our local New England boy Phil Beauchesne now lives in Florida with is wife Marie. They are expecting their first child. We wish them the best of health and luck. No need to wish them good surf. Look at this photo!
Photos courtesy of Phil & Arthur Productions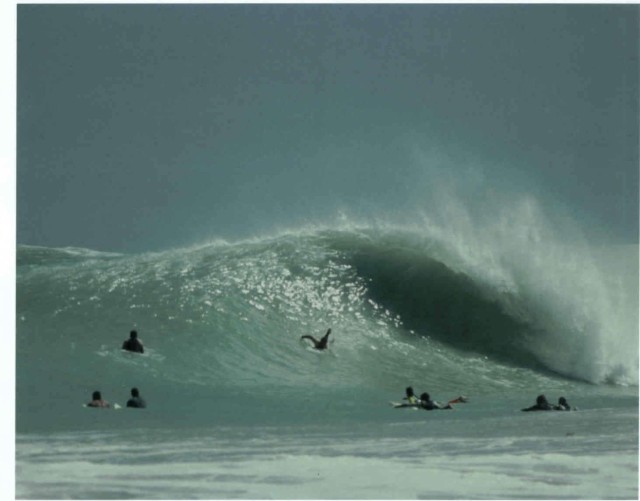 Today 2005. Last Week in Hawaii
Another local New Englander Greg Smith recently got married in Hawaii. I apologize Greg, I don't know what your wife's name is. She sure is beautiful though. Congrats to you both.The crew in these photos are all from New Hampshire and Maine. In fact, the bottom photo is the 1968 Randy Radkay Surf Team (New Hampshire). Can anybody guess who they are? Send me an email with the correct names and I'll give you the proper props.
Photos courtesy of Jay Hammer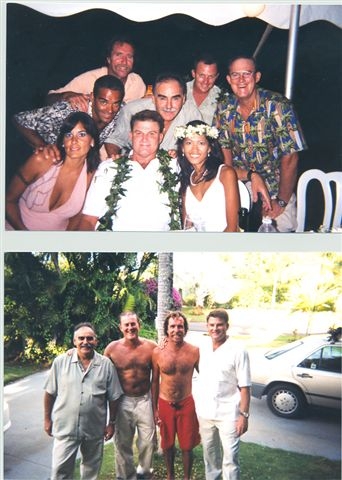 Today 2005 Last week in California
Seeing how we're on the transplant kick here. This is Kyle Howard. Kyle is from New Hampshire. He's a great kid and we all love him and miss him. However, Kyle is fitting in nicely with his new home and loving family. He's getting to surf everyday and he keeps in touch via telephone and IM's my kids and his other friends. We'll be seeing Kyle soon. And it will be in the ocean.
video frame grab by Kyle's brother Cory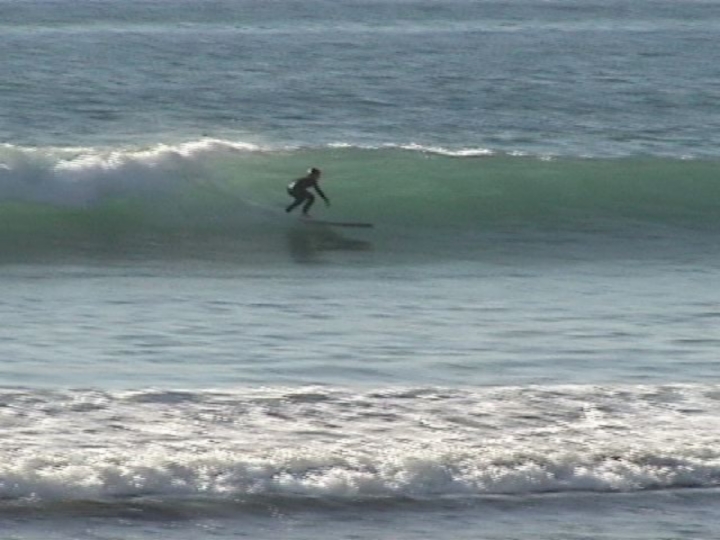 Today 2005 One More from the Surf Family Campaign
Think this dad is having fun with his kid? Think she's getting an eyeful of experience? I love this photo. It's so cool... I can just hear dad's voice..."Now try and stand up sweet heart...you can do it...I'm right here with you...that's it...you got it kid! You're surfing!"
Photo courtesy of the Phantom