September 6th, 2004 (Labor Day Monday)

Is it really over? The summer. Is it over? Gone. Kaput. Man, it seems like it was just getting started when BAM! Here comes Labor Day and the rest of the seacoast program falls into place. The birds were all flying south, the water felt a little colder, the air temp dropped and we all let out a collective moan. It never ceases to amaze me how this all comes about year afterr year. And no matter what we (especially the Groms) try to do to stop it from happening it comes anyway.

So, what kind of a summer did we have? Well, let's look back. The early months of June into the first couple of weeks of July were a complete bust for waves. Remember? If you don't, click on the archive link to re-visit that miserable time. Granted, we had a new Wave Cam up, but what good was a wave cam when there was no surf? Not good at all. In fact it made it worse. Watching those early flat days on our computers only added to our pain. Then...it all changed. Our first Hurricane came and it was early. ALEX. Suddenly we had forgotten what we had all suffered through by the simple act of going surfing again. We had waves and life was good. Again. Little did we all know that this was the start of an amazing comeback.

Yesterday. LABOR DAY 1965
My late father took this photo of me near the spot where I caught my first wave the year before on the North Shore of Massachusetts. I remember this day. My last surf before school started up again. The look on my face tells it all. I was not that happy. Maybe it was the fact that my wetsuit was a joke, or that I had no surf trunks (yes those are cut-off jeans) or the obvious. Summer was over. The fact that my dad had the insight to snap this photo means so much to me. This was the first REAL board I ever owned. It was a 8' 3" Keoki. At the time I thought it was too long. I got rid of it and bought a 9' 6" piece of junk. I remember how bummed I was when I realized my mistake. That board was the best board I ever owned in those early days, if anyone ever finds it please let me know. It's an all RED Keoki. There's a piece of my soul in that board. I'd love to ride it one more time in my lifetime.
Photo by Gus Fatello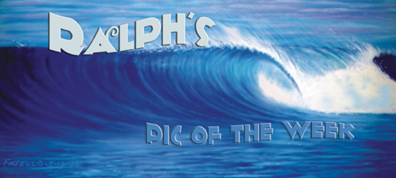 If you got good surf pics send em off to me directly.
Just make sure they are NOT huge files. In fact if you have any questions about the size, email me first and I'll write back. Start snapping your buds!!
Ralph Pic Of The Week
If you want to access the Pic of the week from past weeks click here.
Archives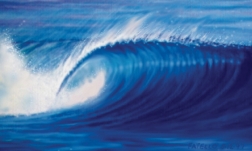 Today. LABOR DAY 2004
Taken just a day or two ago in South Beach Miami. Hurricane Frances produced this heaving A-Frame of a wave. Is it any wonder why surfers flock to the coast when these storms start churning? The media never gets it. They think we're all crazy. They just don't know and we say, Thank God for that. The locals get a gem courtesy of Frances.
Photo courtesy of AP

Before you knew it we were all surfing again and on a regualr basis. It seemed that every week brought a new swell. And not just a new swell but fun head high or better swells. The summer from mid July until this very day had picked up to be somewhat memorable. The Groms were happy, the Shops were happy, the older locals were happy. Heck! The tourists were happy! And all because of mother nature providing us with back to back swells.

So, the kids start school tomorrow and another Storm is bearing down on the East Coast. IVAN. Or, as it already has been dubbed...IVAN The Terrible! We should all be very thankful that we don't live in Florida. On the other hand, we might want to reflect on what these storms that we all live for do to other people's lives. It's awful. Yes, we get surf from Hurricanes and we all relish in the fury. But there are others who take it on the chin. The people in Florida just took two on the chin with another setting up to do even more damage.
It wouldn't hurt to say a prayer for those folks.
That's it kids. The summer's over. Do good in school. Listen to your teachers and parents and we'll see you on the weekends. The rest of you...I'll see you in the line-up! YEEEHAAAA!!!!!
Pray for Surf. Pray for Peace. Surf For Fun.

Ralph

Click On Wave to Go Back to The Top.