October 10th, 2004

Today was a memorable day for me. First of all, like a lot of you, I'm a huge Patriots fan. The Pats won their 19th consecutive game in a row. That's pretty impressive, especially in light of the new Free Agency market. Players in professional sports seem to play more for the almighty dollar than they do for pride. Personally, I think it sends the wrong message to kids. It ain't about the money in my eyes. But hey, that's just my opinion. And I'm writing this column so bear with me here. The biggest reason this day is so important to me is... It's my wedding anniversary. Now, before a bunch of you start twitching and groaning hear me out. Like I said, I write this column. Dave and crew give me free reign to write and say, whatever I want (for the most part).
I keep it clean most times and most always, it's about surfing and our surfing lifestyle. But my friends, like a lot of you, I'm married. And today, my wife Cory and I are celebrating 17 years of marriage. Now, I know that's no NFL streak by any means. It is however, a testament to our mutual love for each other and our three beautiful kids. It's something to us. We all love surfing and everything about it. I am very fortunate to have a loving and understanding wife who puts up with all the crazy times a surfer goes through.
I know a lot of you know what I'm talking about. Let's face it. We're an odd bunch. Those who don't surf don't get it. If you have a relationship with anyone, you know they have to be receptive to the surf lifestyle. Otherwise, it is doomed. So to my wife Cory, I'd say "I DO" all over again, I do love you.
Yesterday. October 10, 1987 at Fox Hill
This photo speaks volumes my friends. This was on my wedding day 17 years ago today. Look where my wife and I are standing. Do you realize how much of a risk I took that day? I mean think about it.That's Fox Hill in the background. Are you kidding me? What if there was surf? My God half of those who were invited to the wedding might of missed it. I myself would of been tempted...but alas, it was not to be. Although, I will tell you as God is My Witness. As I waited in the Union Chapel a mere 15 minutes before we exchanged vows. I could see the line-up at Fox Hill. It had been flat all weekend. Suddenly, a three wave set poured in over the rock reef. I gulped and held my breath. But that's all there was. Just one set and it was gone. I took that as a sign. A positive sign. I was right. Thank God. Photo by my late Father Gus Fatello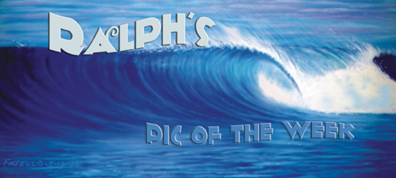 If you got good surf pics send em off to me directly.
Just make sure they are NOT huge files. In fact if you have any questions about the size, email me first and I'll write back. Start snapping your buds!!
Ralph Pic Of The Week
If you want to access the Pic of the week from past weeks click here.
Archives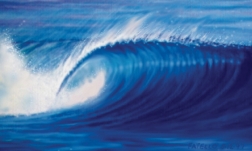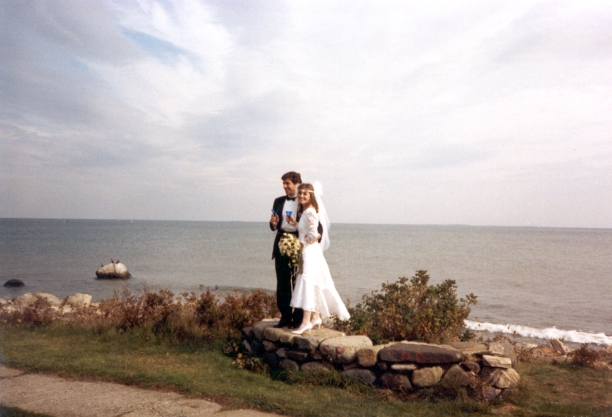 Today. Fox Hill in 2004
Dave Sautter finds room to move during last week's ground swell from Karl, or was that Jeanne? We've had so many swells this Fall I'm getting them mixed up. One thing for sure is, Dave's wave looks like fun. And check out the beautiful dawn check photo at Straws...how lucky are we to experience scenes like this? Pretty dang lucky my friends.
Photos courtesy of Dave Sautter


Don't forget Sunday Oct. 17th at the American Legion Hall on High Street in Hampton, SFOD Presents the Premiere Showing of 13POINT5. Doors Open at 6:00PM for a 7:00PM Showing.
Once again, "The JIMIS" will be performing. Click here for Poster

The New SFOD Grom Video MONKEY PUNK featuring all the local Groms (under 18) surfing in New England will be released on Veteran's Day (November 11th) and be available at all the shops and online.
*Next week I'm planning on doing a column on making surf movies. If you know of any other videographers in the area have them drop me a line. I'm talking old school and the new Crew. Should be an intersting subject matter. (Well, for some people). Hope to see you at the Legion on Sunday for 13POINT5...who knows, you might be in it!
That's it for this week. Go RED SOX! Go PATRIOTS!

Pray for Surf. Pray for Peace. Surf For Fun.

Ralph

P.S. Please keep Praying for those folks down in Florida. They could use it.

Click On Wave to Go Back to The Top.