OPENING DAY JUNE 1st, 2020.

See those two dots out in the water? Those are two friends of ours. One of those dots is Johnny Meehan. This was Johnny's first time back in the water after 128 Days. No this was not about the COVID-19 LOCKDOWN, this was about him having surgery on January 24th, 2020. The fact that COVID-19 hit during his down time of recuperating, was a blessing in disguise. Nobody saw that coming. Certainly not Johnny.

But regardless of COVID, he would have still been out of the water with or without COVID. So Monday June 1st, 2020 was the first time he surfed. And he surfed at the same spot he caught his last wave before surgery. And, he surfed with the same friend he surfed with on that day 128 days ago on January 24th, 2020. Mark Jowett.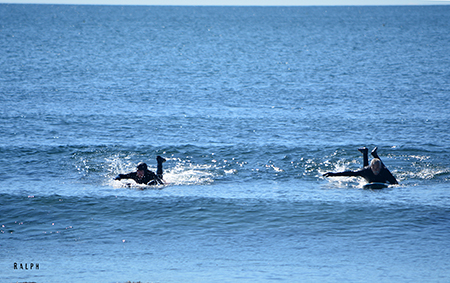 That's Johnny on the left and Markey J on the right. Both paddling hard on this OPENING DAY for ALL of NH, not just Johnny's first time back in the water. Markey tipped me off that Johnny was paddling out. I stopped what I was doing, grabbed my cameras, and drove down the street to capture this significant moment in time. Certainly not for all of mankind, or for the NH surfers, but clearly for Johnny, and his small circle of family and friends. After all, I was there when he caught his last wave, and I wanted to be there when he caught his first wave. I was smiling from ear to ear when I pulled up and saw them both paddling out.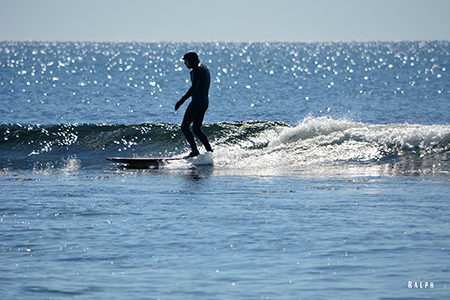 Johnny Meehan was back in the water doing what he loves to do.




Markey J was right there with him, just where they left off 128 days ago.

I'm not going to lie, with all that was going on in the world at that moment (The Riots and Protests over the killing of George Floyd, the Pandemic with COVID-19) this was a welcome reprieve from all of that. This was something special in our own little world here on the Seacoast of NH. There were no crowds or fanfare of any kind. Just two surfers, enjoying one of life's simple pleasures. The art of surfing and sharing waves. Life was good again in NH.

And I was there to capture it all, just like I did on January 24th, 2020.

I shot and edited a video of this special day. I called it WELCOME BACK JOHNNY. It's down in the Video section along with the other video I shot on this day. I called the other video OPENING DAY. And it sure felt like it.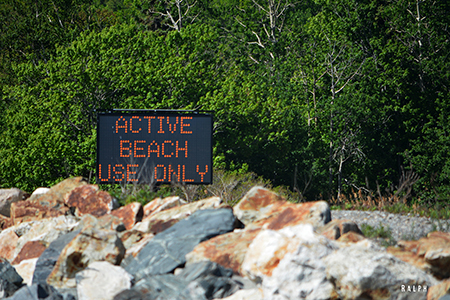 The orders were clear. We could surf but we could not stop and talk on the beaches. I know it sounds strange. And it was. Fortunately that has all changed as of Friday June 5th, 2020. We are now allowed to place a blanket on the sand, and hang out with family and friends. Yes we still have to play the social distancing game, but at least we can return to some sort of normalcy. Because let's face it, this has been anything but normal.

But back at 10th Street at the Wall on North Beach? WE WERE BACK!




I did a video of the OPENING DAY action and it's been well received.
It's down in the video section, you'll want to check it out. It came out pretty good. The surf was small, but the vibes were HUGE! Everyone was out and just having a blast and it felt like...VICTORY! Wait, that's the wrong movie, it felt like last summer. It felt like it's felt a million times over. It felt normal. Smiles and laughter, and NOBODY was wearing Masks. Like I said, it felt normal. It was like we had all awoken from some bad dream.

THE BOYS AND GIRLS WERE BACK IN TOWN!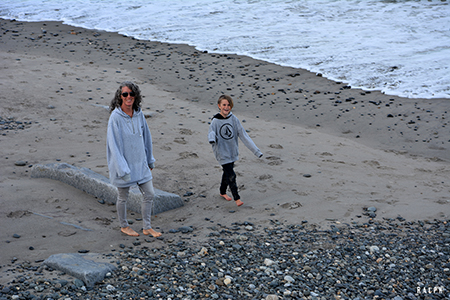 Everywhere I looked I saw a familiar face. Like when Meighan and TJ walked by. Man I was so stoked to see the Rowlees again. Or at least half of them. Buck was not in town yet and K-man was out hanging with his old friends. It felt like summer in Hampton. And I guess that's why the video I did is so popular, everyone was picking up on the good positive vibes. Plus there were waves.

Here's a screen shot of the Wall on June 1st, 2020. It's not big, but there was something to ride out there. And in June? That's always a plus.




And if that wasn't positive enough, there was surf all week long!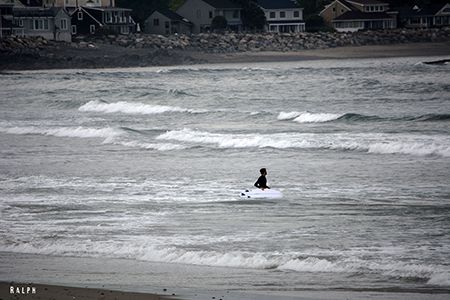 I'm pretty sure this is Erik Cannon wading out on Friday morning. Erik was the man behind the successful petitions to the Governor to allow surfing here in NH. It all came together later, rather than sooner, but Erik wasted no time in getting his feet wet at his home break the Wall. Hopefully this is all behind us now. With more restrictions being lifted each day, the future looks good.

Bottom line? We're back in business. New Hampshire is GOOD TO GO!

Meanwhile the rest of the country is still upset over the killing of George Floyd. A solid week of protests and riots have occurred all across the nation. All because of these four Police Officers who have now all been charged.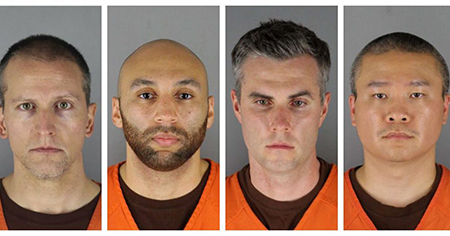 Left to right: Derek Chauvin (who faces the more serious charges due to the fact that it was his knee on Floyd's neck that caused his death) he faces murder in the 2nd degree and 2nd degree manslaughter, J. Alexander Kueng, Thomas Lane, and Tou Thao all face aiding and abetting to 2nd degree murder charges and 2nd degree manslaughter.

It's safe to say that these four men are going to jail.

And I'm going to go out on a limb here and say that times will not be good for them in prison. The damage that these four individuals have caused to not only the family of George Floyd, but the total and widespread damage they have caused to all good and decent Police and law enforcement is beyond comprehension. I truly feel sorry for all the GOOD Law Enforcement members who are dealing with these negative repercussions because of these four. It's been awful to watch. I mean it is terrible to see what's happening in our country. Terrible.

And can we all agree on this. And that is, there's a big difference between the Peaceful Protesters, and the Rioters/Looters. A BIG difference. Those who marched and protested peacefully, did so without any thought of violence and arson, nor were they part of the looting. The looters and the rioters came with a deep hatred and a selfish agenda. They used the killing of George Floyd to commit these acts of violence and arson. And the looters? You did not help the peaceful protesters. In fact, you hurt more black business owners by all of the violence and looting. You did more harm, than good. You looters shamed the name of George Floyd, and all the other blacks who lost jobs at the businesses you burned, and looted.

And can I just say for the last time, to all LOOTERS and RIOTERS, you were all captured on video. Same with Law Enforcement. If there's one thing we have learned this last week it's this . EVERYONE is videotaping EVERY SINGLE THING on their cellphones. So all the Bad Cops? You are being recorded. All the bad Rioters/looters? You are being recorded. You can't hide anymore. Every single person carries a cell phone, and the first sign of trouble? Those cellies come out and they are recording everything. Not to mention all the other surveillance cameras all over every town and city. You can't run or hide from the cellphone. You stupid sons of bitches! WAKE UP!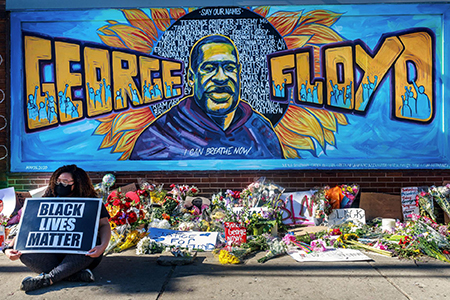 Stop The Hate- Black Lives Matter-Blue Lives Matter-White Lives Matter-Yellow Lives Matter- ALL LIVES MATTER! PLEASE STOP THE HATE!

Watching this Peaceful Protest last week in Boston's Franklin Park, it's obvious to me that COVID-19 is no longer on the radar. This my friends is NOT SOCIAL DISTANCING. Yet, nobody said a word about it. It's like we woke up one day from the pandemic and all the sheltering in place and strict guidelines, to this. How did that change in 24 hours? Yes, there were lots of masks, but there just as many without masks. Is COVID-19 over or not? We are living in strange times. And this is proof of that.

To quote the late Alfred E. Newman "What me Worry?"




"Social Distancing, Surfing, and Love Heals All Wounds."


This week's Ed's corner is a young Kainalu Nichols. Man I miss that kid. Even though he's not a kid anymore. I consider myself a fortunate man by getting to watch Kai go from a little fledgling Grom to a strong young man with heaps of talent out in the water. I can only imagine what he's like today. It's been months since we've seen him, but I'm willing to bet that he's gotten way better in his surfing than when he left. I mean, he was leap frogging through the local talent pool as far as competitive contemporary surfing goes. He was the best surfer out in the water before he left. And with another North Shore winter under his belt? Look out. When Kainalu gets home, he's going to be a force out in the water.
This photo was taken on May 1st, 2008 at the Wall.
Photo by Ed O'Connell
*Click the photo above to see a larger version of Ed's Pic.

Now for Some Local, National and International News
Yesterday marked the 76th anniversary of the D-Day landing at Normandy in France. That's a bitter pill to swallow. How many survivors are left from that day? I'm willing to bet not many. They are all in their 90's now. Those brave young warriors who saved the world from Nazi Germany are all old men today. There was only a handful of survivors at Normandy on the 76th anniversary. The Pandemic stopped a lot of the surviving veterans from making their annual trip here. The local French population came out to honor those who saved them that day. As they should.

But the Americans who fought there stayed home this year.

Thank God we have photos and film reels of their bravery and courage. Including the new found color 16mm film.




Last year the lost footage of D-Day that was shot in color on 16mm m film was released. The footage belonged to Hollywood director George Stevens. These are some of the stills from his film. It was rare to see color prints of WWII. These look pretty amazing considering how old they are.




Look at those old JEEP Willy's. Classic footage from such a historical time in our history. Incredible footage.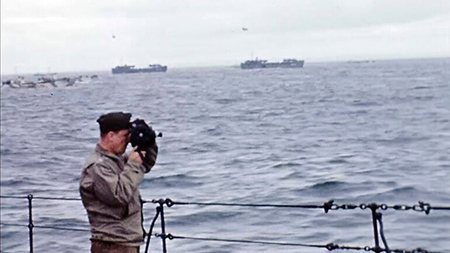 This is the Hollywood Director George Steven on D-Day using his 16mm movie camera. The film was his own personal footage. I can't wait to see it.

And this? Bible Study Class? Hardly, it's just another stunt by
our president. Why he does these things is a mystery.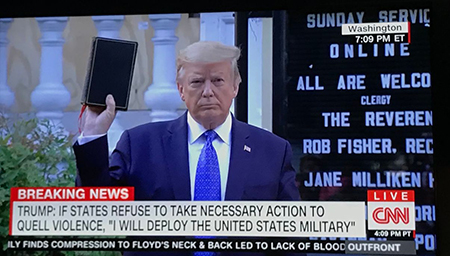 This is when 45 walked over from the White House to the Episcopal Church in the Nation's capitol after clearing the streets of peaceful protesters with tear gas and rubber bullets just so he could walk over to the church and hold this bible. It's a posed Photo op. He's holding a Bible? Now, I'm not to sure, but I think this was a mistake. I've never seen him in any church. Never seen him read a bible. I've never seen him do anything remotely Christian. I think he made another colossal mistake by doing this. But that's me. I do know his "We Must Dominate" speech only incited more riots. I guess he missed another opportunity to help stop the violence, and to listen to the protesters.

When will he ever learn? My guess is, never.

PLEASE HELP THESE GO FUND ME Posts (Below).
Click on the image below to MAKE A DONATION. Greg Smith was one of the BEST surfers to ever come out of NH. If you can afford it, please make a donation. Thank you.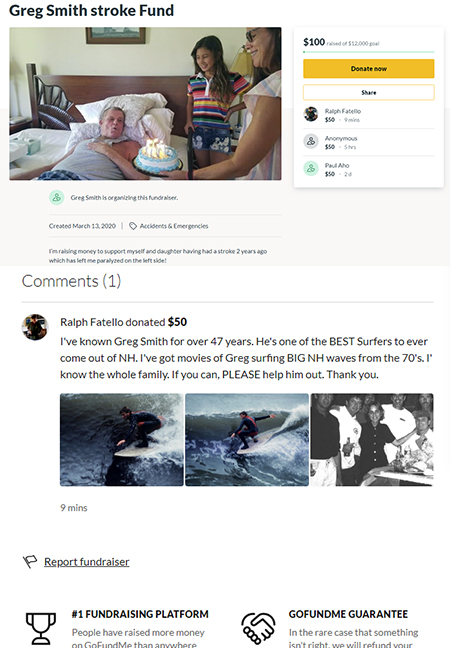 The ASA BREBNER GoFundMe page is also asking for Donations. If you donate $25 or more you get a CD of the artists who are recorded some of Asa's songs. Yeah, I'm one of them. If you can afford it, please donate to this fund raiser. Thank You.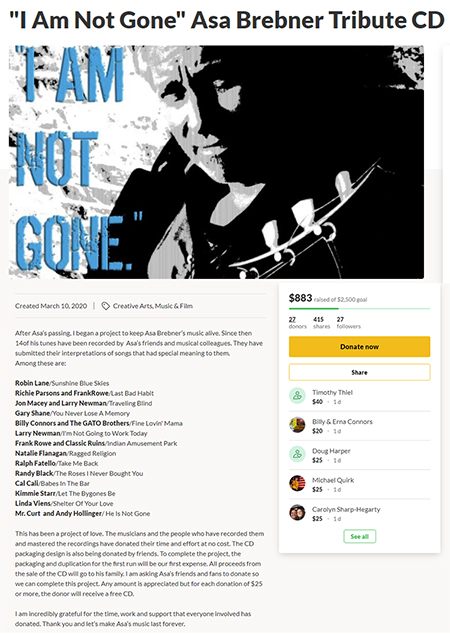 Click on the image above to make a Donation. Thank you.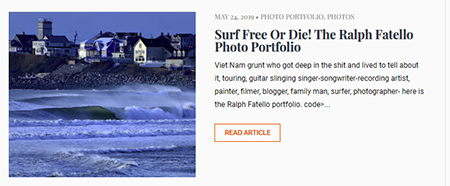 ESM (Eastern Surf Magazine) using a READY MAG format did the Best of Ralph's Pic. And while they couldn't possibly use everything thing I've ever done, they did manage to put up some 50 pics of mine, plus two videos. And I was truly humbled by their intro. Mez said some nice things about me. CLICK ON THE IMAGE ABOVE TO SEE THE WHOLE Spread.


GRANITE GIRLS and The RIVER WOMEN from Ralph's Pic Of The Week on Vimeo. NOW AVAILABLE on VIMEO ON DEMAND. You have spoken and I have listened. You don't have a DVD player so I made it available Online. Watch it on your Smart TV, your computer, or your cellphone! I can't make this any easier my friends. Unless of course I hand deliver to each and every
one of you.

KSM Photoshop of the Week
Wait? That's KSM sitting in the pilot's seat on Marine One? Maybe I was wrong about 45. Maybe, just maybe he's giving KSM another chance? Though I'm not so sure I would have gone to this length. KSM can't be trusted behind the controls of any aircraft. Not after what he's done when it comes to airplanes. And look at 45 reeling backwards at the extended handshake. Ha ha. This must be another photo op. Or...it's just another Ralphie photoshop. Yeah...that's it kids. Just me having fun with KSM.




And so my friends, please take advantage of this weekly photo shop of the mastermind who planned 9-11 and resulted in the deaths of 3,000 innocent civilians by KSM (Khalid Sheik Mohammed).

*Note to self -must pick up a case of FLYING HELICOPTERS For Dummies books at Home Depot this week.

REMEMBER D-DAY June 6th, 1944-June 6th, 2020. 76 Years.
REMEMBER Flag Day June 14th, 2020. If you have any old flags that are torn and faded give them to your local Veterans Post and they will properly retire those colors.
PLEASE Keep Mrs Berardini (Tony's 99 yr old mom) in your thoughts and prayers. We'd all love to see her make it to her 100th Birthday in December. She's a fighter, but she could use some help. Your prayers can help. Thank you.
PLEASE Keep longtime NH Surfer Greg Smith in your Prayers.

Lenny Nichols & Colin Madden
Co-Directors, NNE District
Eastern Surfing Association
@esa.nne.surf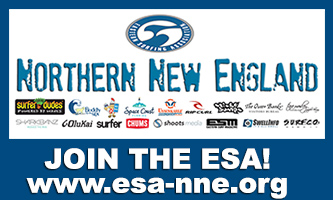 Please Support ALL The photographers who contribute to
Ralph's Pic Of The Week every week for the last 16 years.
** BUY a HIGH RES Photo from any of the weeks on RPOTW.

Remember my friends... Surfing Heals All Wounds.
Pray for Surf. Pray for Peace. Surf For Fun.

Ralph