On April 15th, 2014- RPOTW
will be celebrating the 10th Year of Blogging! That's insane.
TEN YEARS?
I just want to point out, that when I started Blogging back on April 15th, 2004 there were No SUPS. Think about that. No SUPS. In fact, they didn't start showing up until 2007. There was No Barack Obama. Nobody had ever heard of him. He was a Junior Senator that voted "present" most times and was absent all of the others. And for that matter, no one outside of Alaska ever heard of Sarah Palin.

Oh and Flt 370 was still flying around Malaysia, and everyone knew where it was. There were only a handful of reality shows. Cell phones were not yet "smart." People still read newspapers. Wave cams were spotty at best. Magic Seaweed was still in it's infant stages. Nobody was riding four fins. Hell there was no "Crackie!" Though he did make his first video appearance the following year.

But seriously? One of the biggest things about 2004? Nobody had ever heard of Blogging. It was just writing. Or as I called it, a weekly newsletter. I never heard of a blog in 2004.

But things sure have changed in 10 years.

I don't know how many of you have done something (job wise) where you never took time off. Never took a vacation. Well, that was what I did. Our last vacation with the family was going to PR in the winter of 2004. Ironically, our most recent vacation (last week) was in PR. The more things change, the more they stay the same.

But here we are 10 years later. And the blog is still going strong.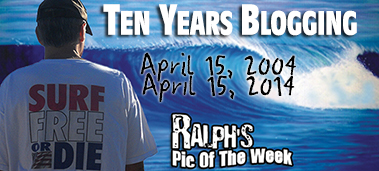 Click on this graphic above to see EVERY SINGLE week from the last 10 years. Better pour yourself a deep cup though, it's not going to be done in one sitting. It's all there, 520 weeks worth.

| never thought past the few months when I first started. In fact, Ralph's Pic Of The Week was just that. A single photo or two. It's true. Go back and see the Archives page and see for yourself. I would write some shit then post a single pic or two. It was nothing like it is today. Are you kidding? This thing has taken on a life of it's own.

With the amazing tool of Google Analytics, I am able to tell how many people actually read my blog from week to week. So as of today, I have 66,700 unique visitors. That my friends is staggering.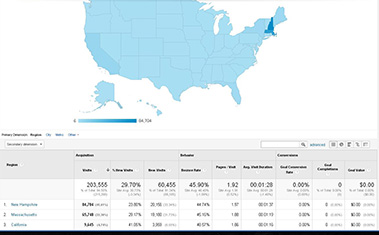 Just click on these graphics above and below to see the larger versions. It is mind blowing to say the least 135 countries around the world? Huh? I look and see people in IRAN and the UKRAINE reading the blog. Oh my God Jacko had me in stitches yesterday as he was doing the accent of some farmer in the Ukraine standing in line waiting for a loaf of bread talking with his comrade about the blog. "Boris did you see what Ralph said this week in the blog?"

Funny but it's pretty close...I think. I can't explain it.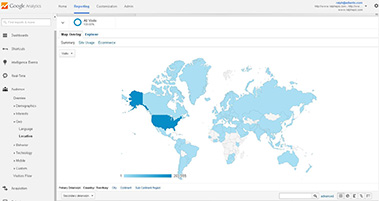 In the very first blog I posted a yesterday, today, and tomorrow series. The yesterday was my late friend Joe (see yesterday pic below) the today shot was Mike Stanek who at the time was the
man out in the water. He still is today by most opinions.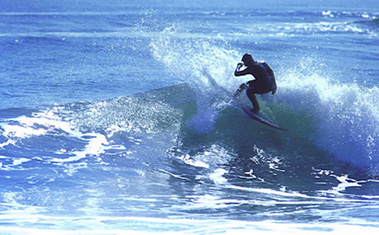 And the tomorrow pic from the first blog, was young Mackey V pictured here in PR from that last family vacation in 2004.
Ironically Mackey is heading back to PR this week.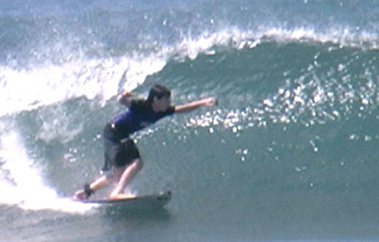 I never saw what was coming in terms of numbers and readership.

I honestly thought I would try it for a year and see what happens. Clearly I was off. My intentions and goals was to simply provide a site where we could post photos of our waves and our local surfers and I would write about them on a weekly basis. I truly have been humbled by it all and I guess a little surprised by the growth of it.

I mean it's just surfing isn't it? Or did it morph into something more?

I do know there has been a fair share of controversies. Hell this week alone saw the biggest flair up since the shortboard evolution. Talking of course about my somewhat innocent post about SUPS.

Though in my own defense, I was specifically writing about the ditching of your board. And look, I don't care what you ride, but you had all better hold onto to your damn boards. Or as I am fond of saying, CONTROL YOUR CRAFT! Otherwise there will be trouble. As there should be.

We have to manage ourselves and police our own. That's the beauty of surfing. We are what we are. Born as rebels on the beach, we are to this day, Rock and Rollers with an attitude. Nonconforming agile athletes. And the surfers here in new England are the Hardest of Hardcore! We are. No question.

Each and every one of you an individual.

Together we are a force to be reckoned with. The trouble is, it's hard to get us all on the same page. There's something about being a surfer from New England. We bitch and complain about all kinds of petty BS, but when things get sketchy and dicey,we are there for each other. And I guess that could be called a clear case of camaraderie. I still feel it today. I felt it more years ago, but it's still there, just under the surface.

The love and respect that we have for each other. It still breathes.

Like the MOLLY contest and the WOUNDED WARRIORS HIT THE BEACH all spawned within the last 10 years. Two of my most memorable times. Surfing everyday for MOLLY and being in on the first HIT THE BEACH where we took wounded War Veterans surfing. I will never forget what that felt like for as long as I shall live.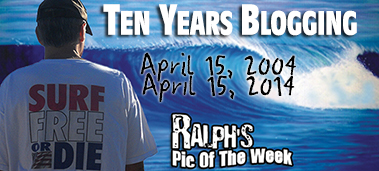 CLICK ON THE GRAPHIC ABOVE TO SEE EVERY
SINGLE WEEK FROM THE LAST 10 YEARS!

"Blogging About Surfing Heals All Wounds"
During these last 10 years we lost a lot of family, friends, and pets. And each time we lost a loved one, I blogged about it here. So I guess this blog became more than just a cookie cutter local surf scene site. It got personal in many ways. Here are just a few of the names we lost since I started this in 2004:

Jerry Bunton, Ray Hackett, Danny Miller, Janice Cassidy, Danny Healy, Eva Fatello, Joey Fatello, John Bocko, Molly Rowlee, Linda Paugh, Dan Carignan, Gert Keefe, Winnie Meehan, Bud Gould, Ginny Grondin, Carylyn Grondin, Al McCarthy, Jim Cropper, Mrs Jowett, Ginny Paugh, Mr Stecchi, Mr and Mrs Chamberlain, Sofia's dad, and so many more. I apologize if I forgot your loved one, I am simply going on memory alone, and quite frankly, my memory is not as sharp as it used to be.

There were many pets as well. Gunny, Scout, Hobie, Lulu, Mignon, Duncan, Red, and all the others. Again, I apologize if I forgot your pet. May they all Rest In Peace.

Of course I must thank so many people for making this blog what it is today. And make no mistake about it. It is a group or rather a community who keeps this thing above water each week. But let's start with the photographers.

Ed O'Connell, John Carden, Brian Nevins, Nick LaVecchia, Joe Carter, Bernie Baker, Lenny Nichols, Cory Fatello, Kim Grondin, Steve Dillon, Kevin Doherty, Jamie Wade, Ben Ginsberg, The Phantom, Michael Sander, Ryan Denning, Ryan Jackson, Bryan Nicholson, Ryan Scura, Dylan Ladds, Bryan Landergan, Maureen McNamara, Arianna Photopoulos, Jon Kiskinis, Jeff Crawford, Jay Hammer, Brennan Natoli, Jeff Chamberlain, Brian Sullivan and the many hundreds of READERS Pics!

Thank you all from the bottom of my heart.

Then there are the Surf artists: Hannah and Sam Vokey, Stan Chew, Alex Deconstant, Erik Zak, Max Fatello, Phil Munson, and all the other creative artists.

I must thank the local musicians as well who contribute to my movies. QWILL, Todo Bien, Kings Highway, BHD, and all the other talented musicians out there.

I would be completely remised if I didn't thank my sponsors. Starting with Dave Cropper and Cinnamon Rainbows. Dave believed in me back in 04 and gave me the nod. I can't thank you enough Crop. Followed by Johnny and Jay at Flatbread, William and Sofia at Back To Health, Geoff Haenn at Lansdale JEEP, William Trafidlo, Jay at Wayne's Auto Body, Jon Gozzo at Secret Spot, ESM Magazine, The SURFERS JOURNAL, and all the other great places listed in the right hand column. The readership of thousands of weekly readers is a direct result of these Surf related businesses and the surfers who run them.

Finally I want to thank you the Readers. Because without your interest in our coast and our surfers the blog would not be here. So with a heart full of love and warmth, I thank each and every one of you for your continued support.




This was an outdoor movie showing at 10th Street in 2005. John Carden shot this. It was a total guerilla style event. No promotion, no permits. Just got a generator and a large movie screen and we set it up on the sand and watched the latest SFOD movie right there on the beach. Classic.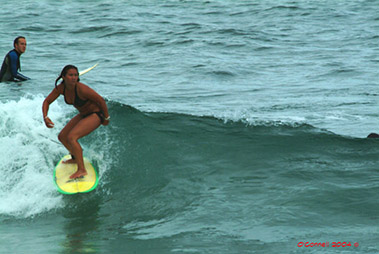 This shot by Ed O'Connell of Nohea Nichols in the summer of 2004 was in between the ESA contests that were run by NNE director Lenny Nichols.




This photo of my daughter Gabby was shot by me on my birthday in the summer of 2004. The whole family went surfing that night and it was one of the most memorable surf sessions of my life. Gabby is now a mom and has provided us with our first grandchild. Avery Marina has been such a treat for us. We all love her so much. And becoming grandparents is one of the highlights for us this last year.

My life has been good, and I can only thank those of you who truly love me, as much as I love you. From my wife and kids to my extended family and close friends. Hell even you Facebook friends, some of whom I have never met.

I love and thank you all


Now for Some Of My Weekly Global Observances
The missing Malaysian Plane is still missing. Though there are new pings. My heart truly goes out to the families. It is so sad. Speaking of sad, the Fed Ex truck that collided with a bus full of students last week in California was heartbreaking. Life can be so tragic and so sudden. Live each day with a full heart.
Because you never know when that axe is going to fall.

And now for my weekly humiliation of Khalid Sheik Muhummed (KSM) the mastermind behind 9-11. This week KSM is seen at the recent press conference with the President and outgoing US Health Secretary Kathleen Sebelius as she resigns her post. KSM seems as miserable as ever, with the possibility of him having to run the ObamaCare Website. Oh boy.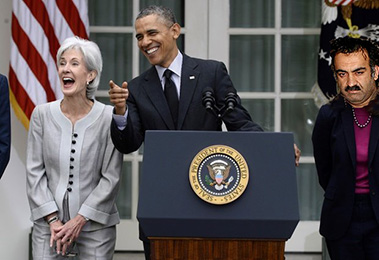 So once again, let's all take a minute, and enjoy the weekly humiliation of the mastermind terrorist who killed 3,000 innocent civilians on September 11th, 2001.

* Note to self: Must pick up a case of How To Build a Website For Dummies Book at Home Depot this week.

ANNOUNCEMENTS:
HAPPY BIRTHDAY Bob McNeil April 12th, 2014!
HAPPY BIRTHDAY Chris Nichols April 12th, 2014!
HAPPY BIRTHDAY to the KEEFE Triplets April 13, 2014!
HAPPY BIRTHDAY Shannon Dooling April 15, 2014!
HAPPY BIRTHDAY Johnny Barnes April 15th, 2014!
HAPPY BIRTHDAY Mark Sutton April 16th, 2014!
HAPPY BIRTHDAY Alan Gansenburg April 16th, 2014!
HAPPY BIRTHDAY Steve "Mags" Magliano April 17th, 2014!
HAPPY BIRTHDAY Brian Sullivan April 17th, 2014!
HAPPY BIRTHDAY Jamie Wade April 17th, 2014!
GET WELL SOON Little FINN LOCKWOOD!
HAPPY PASSOVER and HAPPY EASTER !

ESA benefit at FLATBREAD Hampton April 22nd, 2014

And please continue to send positive thoughts and prayers to our dear friend Debra White and family.

Please Support ALL The photographers who contribute to Ralph's Pic Of The Week every week for the last 9 years. **Think about BUYING a HIGH RES Photo from any of the weeks on RPOTW.

Remember my friends... Surfing Heals All Wounds.
Pray for Surf. Pray for Peace. Surf For Fun.

Ralph

Like us on Facebook