September 26th, 2005

Wha??? I warned you all last week that I'd be late this week. I got back to the Great White North late yesterday. The Cape Hatteras trip was worthwhile my friends. We all scored some great waves and talk about warm water. Lord have mercy, the water was tropical. No kidding. It was soooo warm. We surfed in just trunks and rash guards all week. I had forgotten how good Hatteras can get. If you want to extend your summer, I'd highly recommend heading south to Cape Hatteras in late September. We lucked out with TS Philippe sitting offshore all week. Ole Philippe sent us a Head High to a couple of feet overhead swell all week. Clean, green and hollow. And...powerful. Hatteras can get beefy and unforgiving.

We had quite a crew from New Hampshire with us. The Nichols, The Grondins, and a whole other bunch of assorted New Englanders invaded the Island. The younger NNE Team members did not fare that well in the contest but, older member Kevin Grondin once again showed everyone on the East Coast that he still knows how to hit a lip and get shacked. Kevin is like the ever ready battery. He just keeps on going...and going...and...
(you get the picture).

The trip would of been perfect had I not received a $135.00 Speeding Ticket from one of North Carolina's finest. I was going 60mph in a 50mph zone on my way to the airport. But here's the kicker. It was 4:00AM and I was the only driver on the road!. Now why did Johnny Law have to be so hurtful to me? I swear some of those boys down South are still fighting the Civil War. I tried to tell them that I had nothing to do with that dam War...but they didn't seem to care or listen. I asked the not so friendly Trooper if a portion of my fine could go to the Hurricane victims. He just looked at me and said. "Do you have any more questions sir?" I had none. Well, I did, but not that I would of asked him.

Speaking of Hurricanes. I say Katrina and you say Rita. Man what is going on here? The word from the experts is Global warming has been the culprit. Dang. Those poor people down in the Gulf region are taking these storms on the chin. Terrible stuff. If you can afford to send some money then you ought to. Every little bit helps.

I saw the tail end of the Patriots vs the Steelers game. That was an exciting game to watch. Tom Brady and Adam Vinateri have ice in their veins. So cool under pressure. The only downside was we lost Rodney Harrison for the rest of the year and quite possibly his career may be over. It's a tough sport Football. I hope he heals quick and gets on with his life. The team won't be the same with out him and Matt Light. Two broken bones. Two broken dreams.

I heard through the grapevine that TS Philippe was not very good to our coastline. And that it was only a few feet at best. I'm not surprised. Hard to figure these Tropical storms out. I still have not seen any evidence of Big Waves on those South facing beaches from Ophelia. Did you guys get Big Surf or not? Cough it up if you did. We need proof. Send me a few pics.

I did see a front page (Sports Section) in the Boston Globe about Tow-in surfing down in southern New England. They even drew a map. They had a map to show where the waves were. Are you kidding me?

So much for imagination.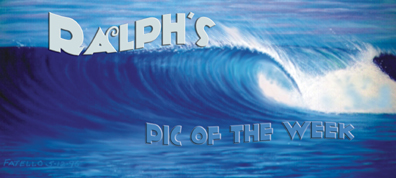 Got good surf pics? Send em off to me directly.
(See link below) Just make sure they're NOT huge files.
In fact if you have any questions about the size, email
me first and I'll write back.
Start shooting crackie!!
Ralph Pic Of The Week
If you want to access the Pic of the week from past weeks click here.
Archives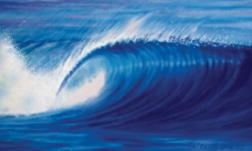 Yesterday 1920 North Beach (Before The Wall)
This is North Beach long before anyone ever pulled up with a surfboard to check the surf. If you could go back in time and you could bring your board with you where and when would you go?
Photo courtesy of the Lane Library in Hampton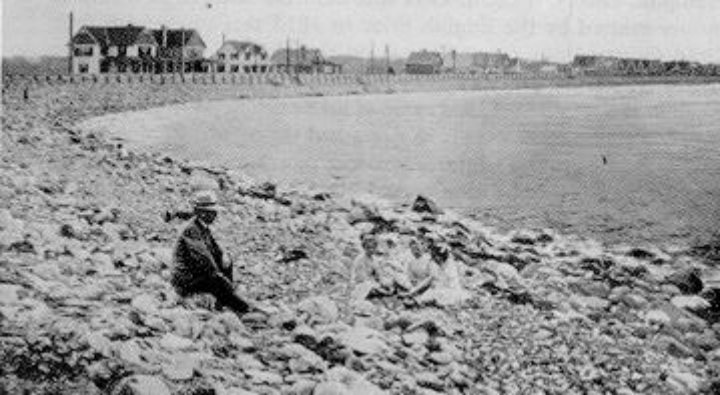 OK kids, it's time for the 15th and FINAL Summer Installment of: "Ralph's Tip of the Week".
The last 14 weeks we've talked about Holding On To
Your Board, Paddling Common Sense, DROPPING IN, Knowing a Left From a Right, How To Use That Leash, How To Wax Your Board, HOW TO TALK TO A LOCAL
HOW TO GET BARRELED, Which Board Is Best For You?
Which Wetsuit is best For You?, How To Surf A Hurricane Swell, How To Come Up With A Surf Excuse, How To Take a Surf Photo and How to Duck Dive.
See archives for past Tips.
This week's Tip: How To Measure the Size of a Wave.
Unlike the last 99% of my Tips, this Tip is for EVERYONE. I mean everyone. Beginners (kooks), Intermediate, Soul Surfers, Pro Surfers, Longboarders, Shortboarders and your basic Know-it-alls. There's nothing that get's my blood boiling more, than when someone down plays the size of a wave, just to sound Macho in front of other surfers. You know what I'm talking about. But if you don't, let me explain it to you. If a man who measures 6' tall is standing tall on his board at the bottom of a wave, and that wave face is twice his height, it can't possibly be 3'. How could it be? It would have to be (at a minimum) at least 8 to 10'. Look, the US NAVY (ever hear of them?), the US COAST GUARD and the NOAA WEATHER PROS all Measure wave heights by the bottom of the wave (trough) to the top (crest) of the Wave. Why would you measure it any other way? The HAWAIIAN SURF FORECASTERS Now all measure the size of waves the same way. How did this Macho wave measuring BS all start? In the late 50's and early 60's, a bunch of Californians starting downsizing the wave heights in Hawaii to impress their buddies. They would call an obvious 8' wave 3' to freak their buddies out. And you know what? It worked. Suddenly everyone in Hawaii started calling waves by half their actual size. And it spread to certain parts of the world. Including here in New Hampshire. The last Big swell we had here was TS Maria. Now, I surfed and photographed that swell and at certain times of the day, there were clearly overhead waves. I mean, it was head high and bigger. A certain friend of mine, who shall remain nameless, was calling the surf 2'.
"How could that be?" I asked. "You're 6' tall. Were the waves you were riding, just knee high on you?"
He gave me the answer that irks me more than The Yankees and the Jets combined. "I'm talking about the backs of the waves." I wanted to scream. But, I only yelled. "WHO RIDES THE BACKS OF THE WAVES?" He gave me a know it all look and said "That's how you measure waves."
I was shaking. "That is NOT how you measure waves. That's how Macho Boneheads measure waves." Then I gave him an example that he had NO answer for. "If someone is riding a Wave at Teahpoo (Chopes) and the face of the wave is 25' and the back of the wave, is at best, 2' are you gonna call that wave two feet?" He gave me a blank look. "Well? How big is it?" I asked. He just shook his head. Because he knew how silly it would sound if he called some of that Big Chope stuff 2'...and he also knew that Chopes has NO BACK. Not that it really matters my friends, because (all together now) YOU DON'T RIDE THE BACKS! What are we dolphins?

Look, the best way to measure a wave is like Dave, Stevie, Zap, Shane and all the other shops do. Thigh to Waist High (2-3'), Waist to Chest (3-4'), Chest to Head High (4-5'), Overhead (6-8'), Double overhead (10-12'), and Triple Overhead (15-18' ). If it's good enough for the US NAVY, the US COAST GUARD, NOAA and the Hawaiian Surf Forecasters it's got to be good enough for us here in New England. Don't be a macho fool. Be realistic. Besides can you imagine if the rest of the world used that Macho scale to measure everything? How tall would you be? How big would your Johnson be? You see where I'm going here people?
Tell the truth and call it like you see it.

I hope some of you got something out of these Tips but more importantly, I hope you all got a good chuckle.

As always my friends...

Pray for Surf. Pray for Peace. Surf For Fun.

Ralph




Click On Wave to Go Back to The Top.
Today 2005. Last Friday in Cape Hatteras
These are all Frame Grabs of local New Hampshire surfers in Cape Hatteras last week from my video. They were all shot last Friday in NC. Water temp 80 degrees. Air Temp 95 degrees. Waves by TS Philippe. Video Frame Grabs by SFOD R. Fatello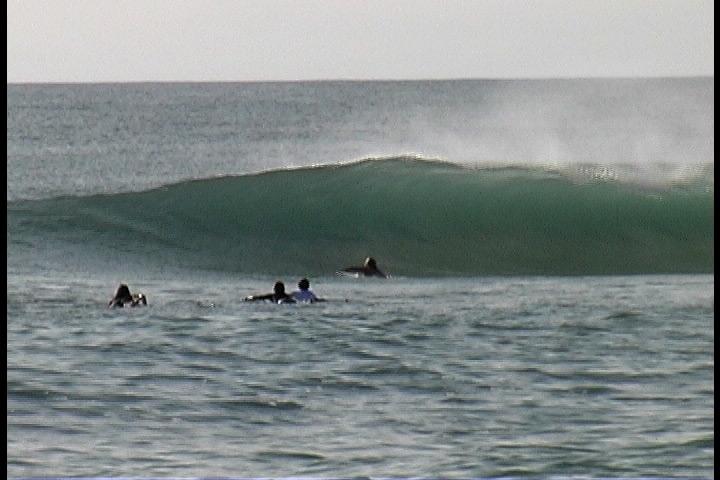 Above: Local NH crew sampling a North Carolina Peak all to themselves

Above: Tube Master Kevin Grondin finds a room with a view from the same peak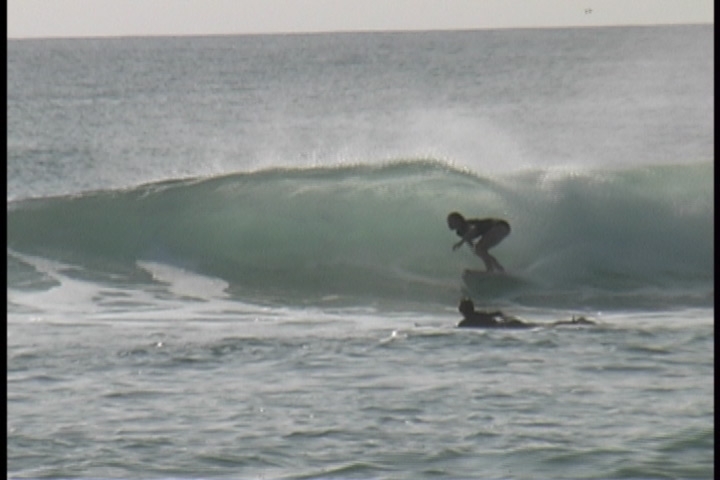 Above: Kevin's daughter Leah Grondin finds herself a room with a view from the very same peak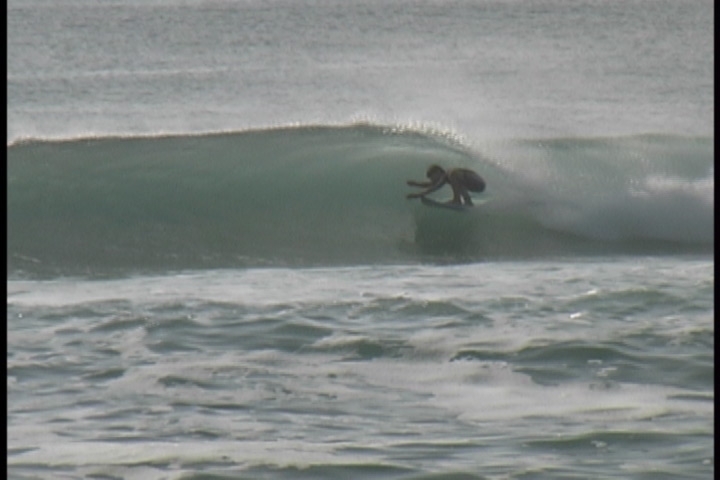 Above: The Tube Master's son Kody Grondin finds his own room with a view from the same peak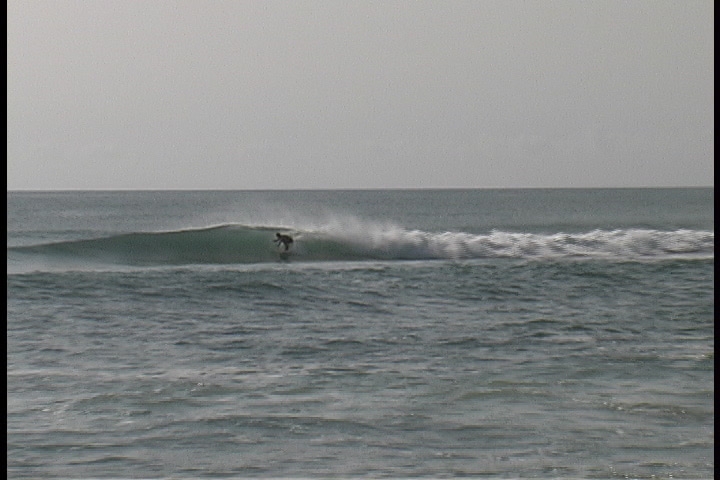 Above: Bob McNeil finds his own room with a view from the same peak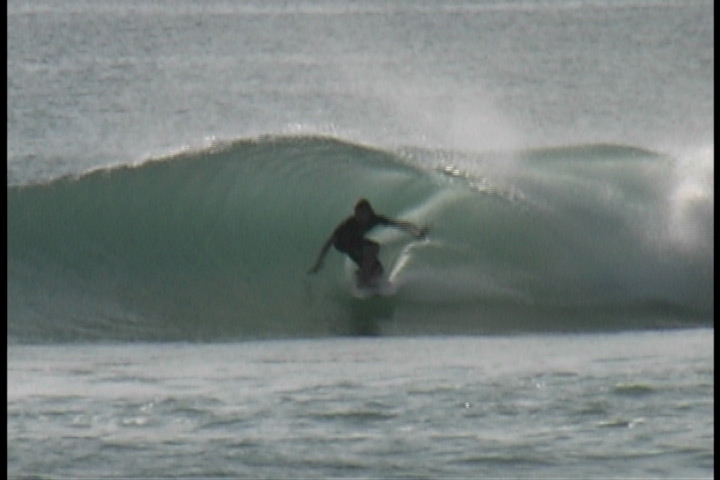 Above: Mackey "V" finds a guest room with a view from (guess) YES the same peak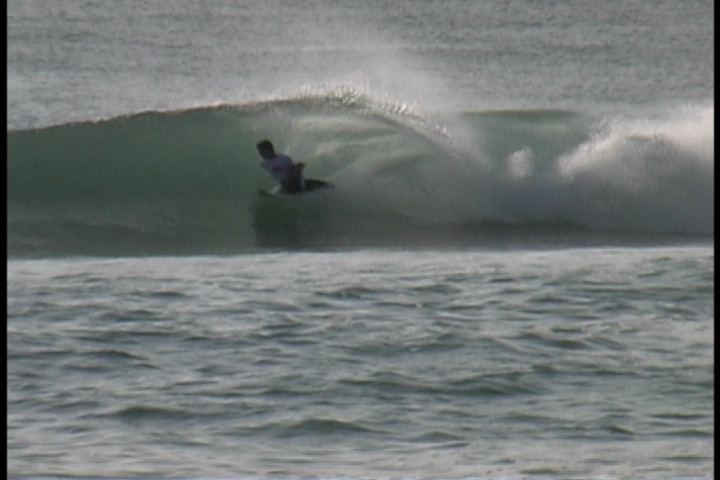 Above: Jesse Gould leans into a spare room with a view from (guess again) You are CORRECT Sir! The very same peak...that they all had to themselves...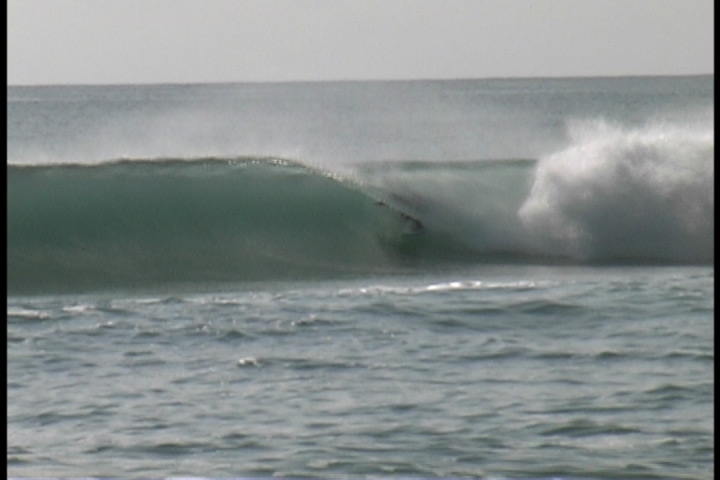 Above: Kevin Grondin Barrel number 15 from the same morning and yes from the same peak
Today 2005 This past week in North Carolina
Seeking shade from the Heat of the Contest scene. The NNE team hunkers down.
photo by SFOD


Below: Kai Nichols age 6,The youngest Competitor in the history of the ESA Easterns in Cape Hatteras. Photo by SFOD.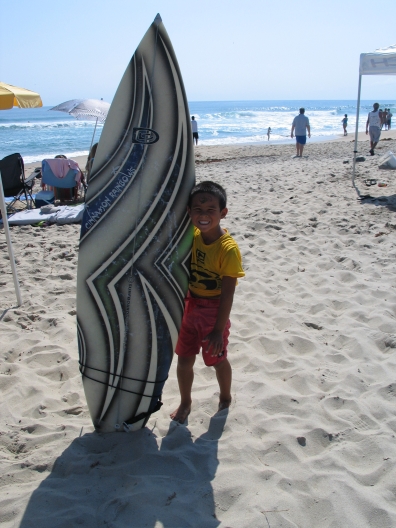 Today 2005 Last Month in Mexico
New Hammy transplants Chris and Dimitri Valhouli along with Mark Sarcusa scored these gems in a place called Scorpian Bay down south in Mexico. *Check the size of the wave by measuring the dude at the top of the wave. I'm calling it double overhead.
photos courtesy of Christos Valhouli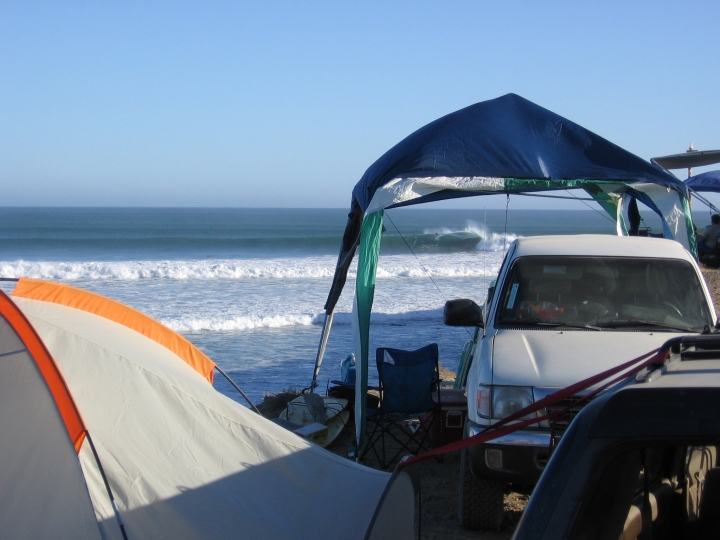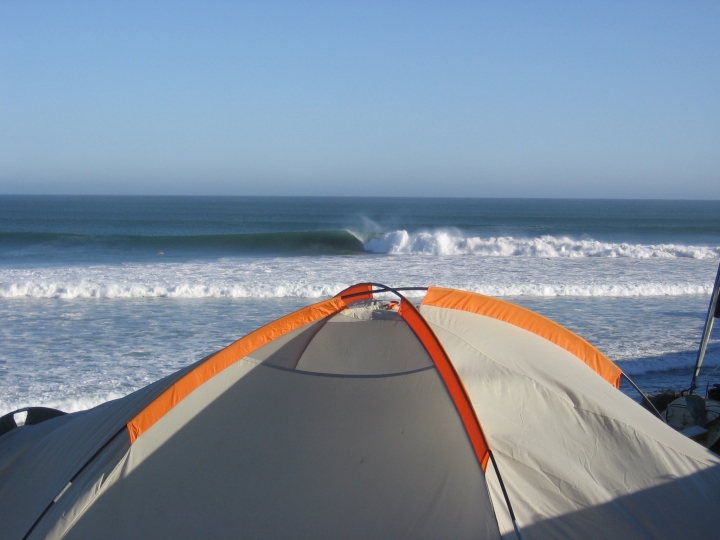 Today 2005. Last Month...North of New England
The Land of Points and more points. Photo by Jeff Crawford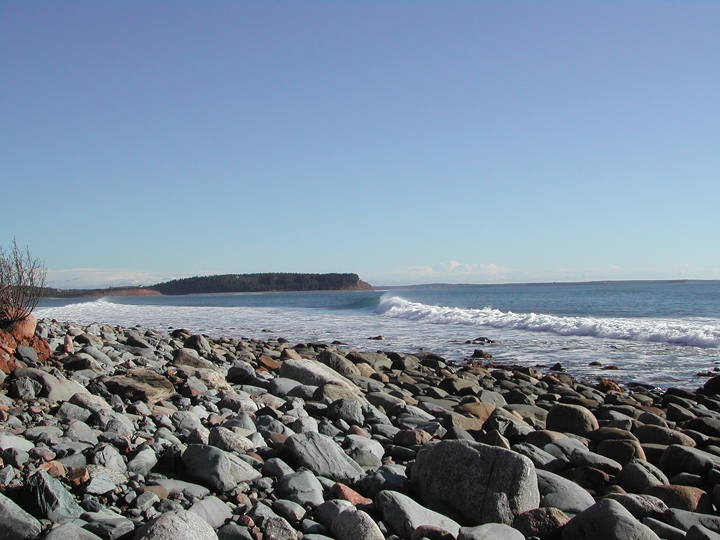 Below Ole Jack Dahlmer streaking across a section. Photo by Jeff Crawford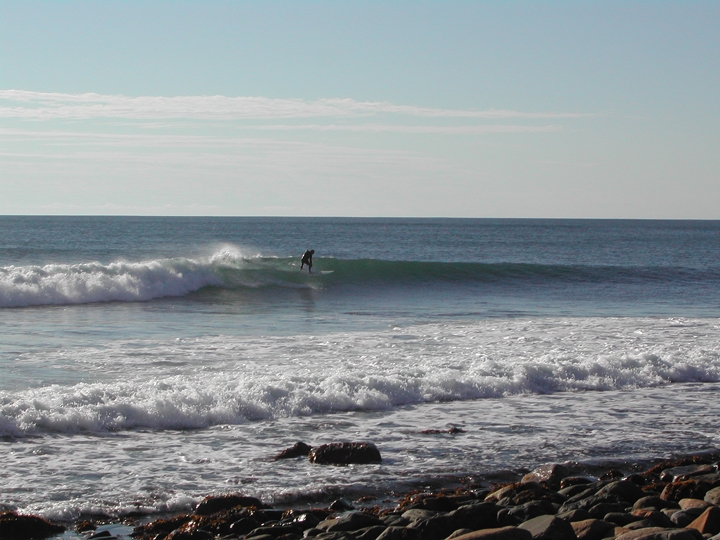 Today 2005. Last Summer...Parting Shot
This past summer was so much fun. We had so many swells it was hard to keep count. Although, there were NO real Big Macker days, there were plenty of days like this. Clean, green and fun. Photo by Chris Buonomo