October 2nd, 2005

The calendar says Summer is officially over, but today's weather says otherwise. What a beautiful "Summer like" day we had today. There were even some fun little glassy waves today. Just a beautiful day. Looks like were in for more of the same all week too. Weather wise that is. I don't see much in the way of any potential systems bringing us any decent surf, but you never know. It's New England, Anything can happen. Can't really complain about the weather though.

Speaking of Summer...this last one was pretty good didn't you think? I mean in terms of being consistent, it was one of the best. In Big Wave terms it was not. Still, the many waist to head high days we all had were certainly worth while. There were a couple of days down south that had a few hearts beating faster and louder than normal. But the overall take on Big Surf this Summer never fully materialized. Which is too bad.

The lack of BIG surf kind of put the damper on my "1" Project. My "1" project was to be a documentary style movie about One Swell, in One Day, in all of New England. The premise is to have a Massive (Double Overhead), Clean, Sunny Swell hit all of New England (Rhode Island to Maine) and shoot it all in one day. Ideally, I was hoping for a Big Hurricane Swell to keep the interest up as well as the water temps. With this active Hurricane season, I thought we had a chance. But now that it's October, that window is closing. Therefore, we are looking at a Massive Nor'easter to blow through and clean up for the next morning with clean semi hard offshore winds.The project is still on hold until the first of November. After which we will shelve it until next year. It's looking more and more each day like this is my personal Eddie Aikau.

I can just see the bumper stickers now..."Ralphie Would Go!"

Maybe not. We still have a shot of pulling this thing off in October. The water won't be as warm as August or September, but, it would be pretty looking with the Fall colors, and we'd still be in 4/3's with NO hoods.
And really what better time of the year depicts our coast the best? It's always been Autumn.

So keep yer fingers crossed and pray for a Big Ole Nor'easter!.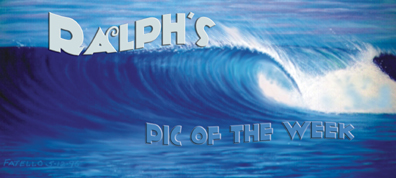 Got good surf pics? Send em off to me directly.
(See link below) Just make sure they're NOT huge files.
In fact if you have any questions about the size, email
me first and I'll write back.
Start shooting crackie!!
Ralph Pic Of The Week
If you want to access the Pic of the week from past weeks click here.
Archives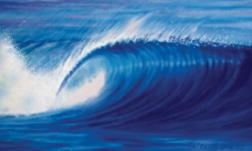 Yesterday 1985 The Call of The Wall
Just in case you didn't know. Kevin Grondin has been getting barrelled here at the Wall for as long as anyone I know. I don't just mean getting little head dips either. I'm talking about getting Rifled, Deep in the Pit. He's still doing it today. You saw those pics of him last week in Hatteras...the man is closing in on the half century mark and he gets as deep as anyone out there and he shows no signs of slowing down.
Photo by Michael Baytoff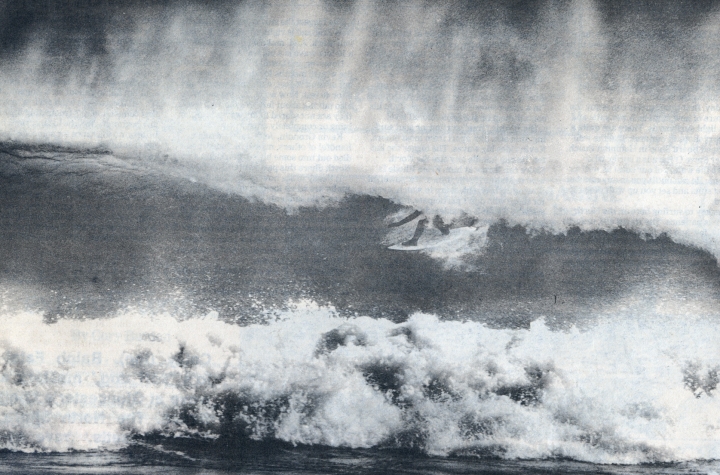 Did I really see The Patriots get their butts kicked today or was I dreaming that? Man. Well one thing's for sure, these ain't your 2004 New England Patriots. That was another eye opener. And the poor Sox losing yesterday to the Yankees made it an especially difficult weekend for local sports fans. But do not despair my downtrodden fans. There is still plenty of time left with the Pats and there's still the Wild Card slot for the Sox.

My last summer installment of: "Ralph's Tip of the Week" last week, really stirred up the beehive. (See archives for all the past Tips).
The good news (for me), was that the overwhelming majority of you agreed with me. The bad news is, those of you that didn't, were pretty passionate about it. None the less. As long as we can all agree, that we all, do in fact, ride on the face of the wave, then, my case is closed.

We ride on the face. We measure the face. Now please...Get Out Of My Face! Just kidding (sort of).

Speaking of faces. I hope you all are still spraying the DEET on your faces and on your loved ones too. The triple E and other mosquito carrying viruses are still out there. And it's no joke. Spray and Be Safe.

Is it me, or has the US gone Reality TV crazy? Are you kidding me? They got a Reality TV show for almost every scenario nowadays. And don't think Surfing hasn't been part of this madness. It has, with last year's North Shore fiasco about Sunny Garcia and Company. There was some good Surfing to be seen for sure, but some equally embarrassing awkward moments for the crew.

I'd like to come up with and direct a Reality TV Survivor Type Show. And Call it Ralph Island. It would be a combination Survivor/Surf Trip/Combat/Rock and Roll game. The Stakes would be high on my show. Very high. But the ratings would be even higher. I'll be sending out audition forms soon...how bad do you want it?

Speaking of shows...A Big Congrats to Jimmy Dunn for a Hilarious Show at the IOKA last Friday Night. Jimmy is one funny guy and a talented writer too. Check him out at JimmyDunn.TV or buy his book. Either way, you'll be smiling.

As always my friends...

Pray for Surf. Pray for Peace. Surf For Fun.

Ralph




Click On Wave to Go Back to The Top.
Today 2005. More Shots from Last Week in Cape Hatteras
Your local Maine and New Hampshire posse down south in the warm waters of Cape Fear.
All photos by Kim Grondin.

Above: Local Maine boy Colby Pearson dropping into a long clean green wall on a long board.

Above: Local Maine boy Colby Pearson flying out of a short white wave on a short board.



Above: "Why couldn't you surf like that in the contest?"




Above: Doc The Tube Master blasting one for the kids.

Today 2005 Last week in North Kackalacky
Seeing how we had such good surf and good fun, I had to drop a few more on you all.
photos and video frame grabs by SFOD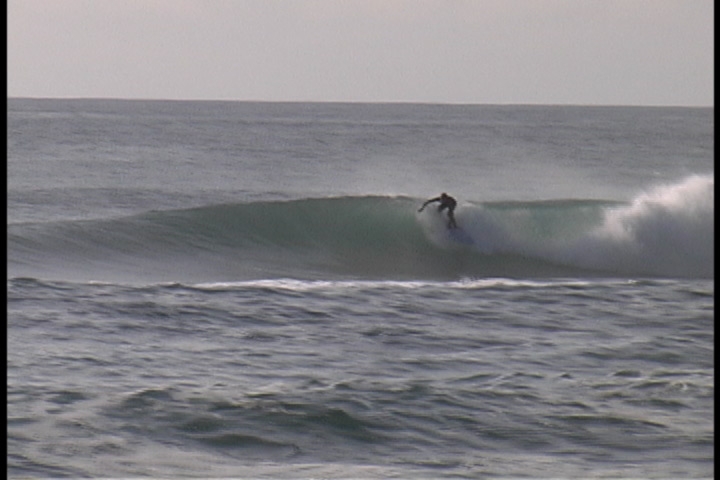 Above: Kody Grondin dropping into a nice wall.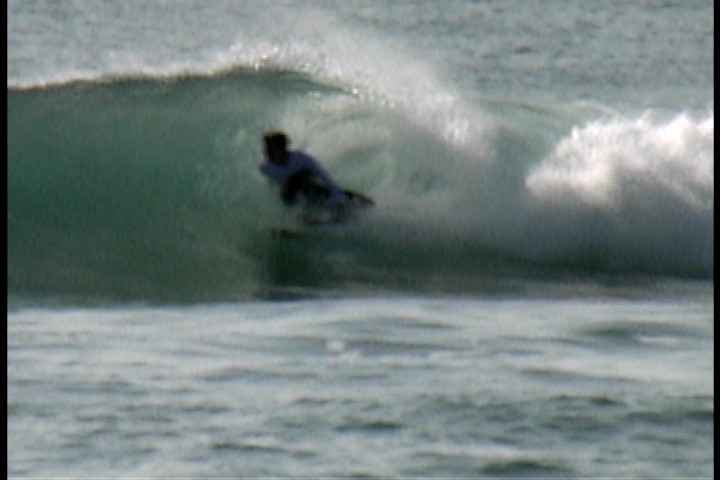 Above: Jesse Gould contorts to fit his frame into another Ramps Hole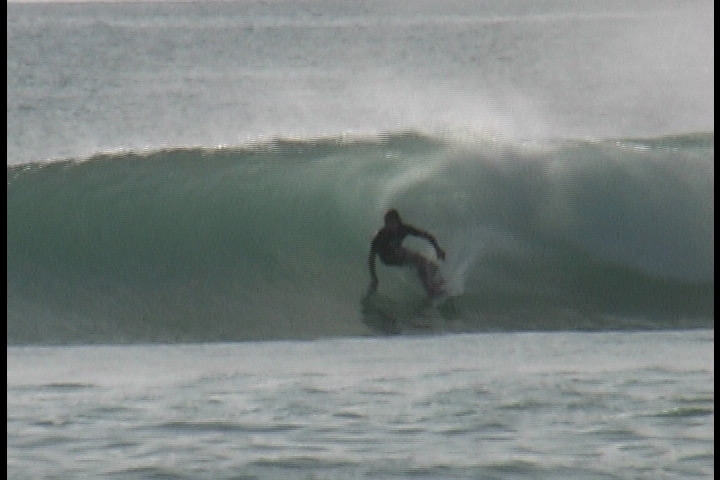 Above: Mackey "V" leans into a smooth bottom turn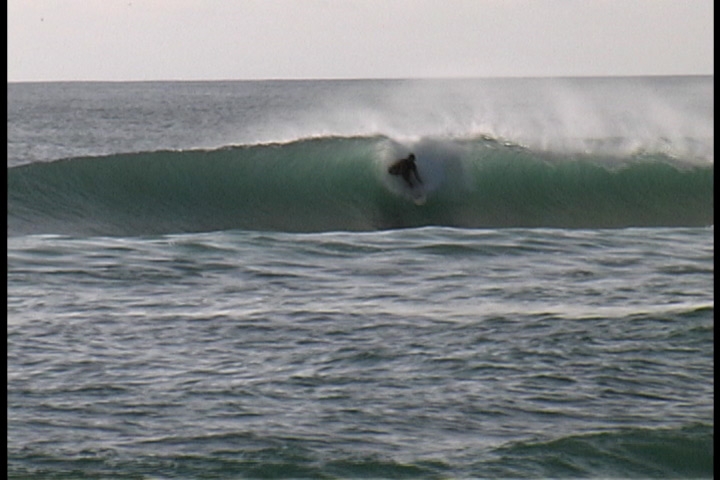 Above: Unknown Local Goofy footer finds a nice section ahead



Above: Hatteras Sunrise..."Y'all Come on Down agin next year boys and girls!" photo R. Fatello
Today 2005 Blake Blasts Off In The Bahamas
Blake Sands back home in the Bahamas Getting some serious air.
Photos by Chris Wilson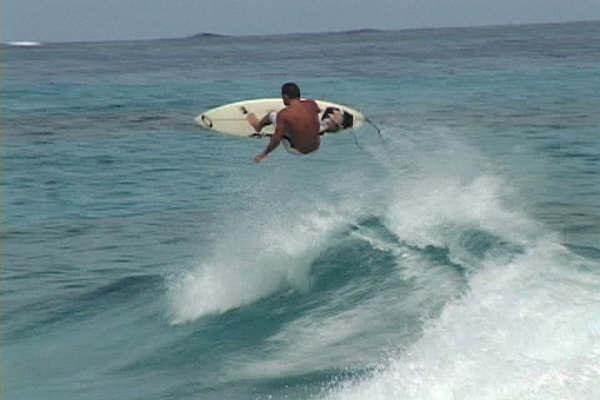 Today 2005 Surf Family Westie Style
Everyone knows I have a soft spot for Surfing Families. This crew is having a blast.
photo courtesy of The Phantom
Today 2005 Surf Family Eastie Style
What's good on one coast is as good on the next. Taken in Rye, NH...The Surfing Stevens Family from left to right: Sam, Zack and Ali. Photo courtesy of Lori Stevens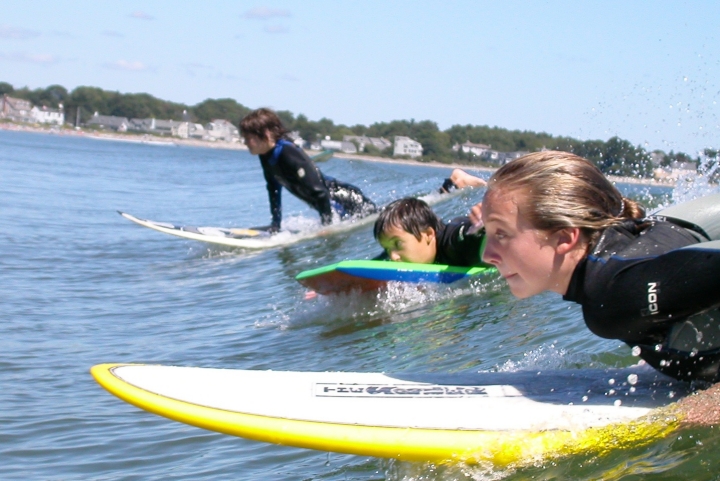 Today 2005 My West Coast Buddie Out In the Maldives
Everyone ought to travel to some far away surf destination at least once in their lives. You owe it to your souls. Photos courtesy of D. Hendry




Today 2005. STUCK TRUCK Sunday October 2nd, 2005
This guy got both his Boat and TRUCK STUCK in the Sand across from the CR Shop.
Photo by R. Fatello