May 8th, 2005

Happy Mother's Day to all you Moms! Hope you have a wonderful and very special day. It is truly your day and you've earned the accolades and gifts that your loved ones will bestow upon you. And for those of you who are missing your mom this day, we hope that you can find peace and solace in your mother's memory. Moms do a whole lot. I see it on a daily basis. Especially surf moms. Now for all intents and purposes, there are two kinds of surf moms. There's the mom who's mother to surf children, and then, there's the moms who actually surf.
Both are bonafide Surf Moms in my book. I know a whole bunch of moms who ferry their kids and their kids friends to and from the beach all day long. The list is long and endless. Karen Evans has to be one of the first of this new generation of surf moms. Followed closely by Kim Grondin, Arlene Nichols, Cory (my wife), Kaki Gould, Kelly Millerick and a whole brigade of other moms. There's just too many to name here. You know who they are. You see them all the time.

Picking up and dropping off Groms at the beach in all kinds of weather. And with the cell phones the kids all have today. Their job is twice as bad as say when I was a kid. Nowadays the kids call their "rides" when the wind switches, or the tide is wrong. "Mom can you come and get us? The tide's messing up the Wall and we want to go look somewhere else." And Surf Mom drops what she's doing and gets the kids and takes them wherever they want to go. I hope some of you Groms are reading this. If you are, you better be good to your Mom today. No scratch that. You better be good to her all the time. But today, you better be EXTRA Good to her. Cause if I find out you were not...well...I'll let you know.

Then there's the other Surf Mom. The Mom who actually surfs. Erica is one of the new Surf Moms. I see her pushing little Jack in his stroller down by the Wall. One eye on Jack the other on the waves. She and her husband have to take turns surfing. She's a Surf Mom and she's making sacrifices for her child

Think about what we as Surfers have done to our poor mothers throughout the years. Don't know what I'm talking about here? Read on.

How about all the Holidays you missed cause you went surfing. All the dinners, birthday parties, weddings, religious activities, homework, school, work, doctors appointments, any kind of family get together that happened to fall on a day that the surf was going off. How many times have we all sheepishly approached Mom with the sad puppy dog look..."Sorry Mom, but the surf was insane!" Your Mom who loves you takes it all in stride. Not like dad. She's in your corner all the way.

My poor Mother went through some rough times with me. I used to Surf this one break alone during the dead of winter. This was back in the day when we wore two piece wetsuits. Diver suits. Parkway Wetsuits. Ever heard of em? Some of you older dudes remember. I never wore a hood in those days either. My mother would be worried sick. "Don't worry Ma, I'll be fine." "But it's snowing and you have a cold" she'd say.
I'd come up with some harebrained comeback that I'd make up on the spot. "You know Ma, I read somewhere that if you have a cold the best thing to do is to go jump in the ocean. It'll cure you for sure."
"Really?" she'd ask. "Ma would I make something like that up?"

"Don't worry about me Ma and oh, by the way, I won't be home for dinner tonight. I Love you!"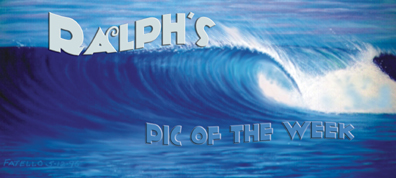 If you got good surf pics send em off to me directly.
Just make sure they're NOT huge files. In fact if you have any questions about the size, email me first and I'll write back. Start shooting crackie!!
Ralph Pic Of The Week
If you want to access the Pic of the week from past weeks click here.
Archives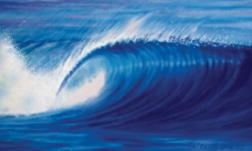 Yesterday 1971. The Old Surf Gang
This photo was taken at Wells Beach. I remember the cold overcast misty rain that was falling that day. From left to right: Mike Normand, Peter Hilton, Jeff Crawford, Ralph Fatello and Bruz Bowden. A few weeks after this photo was taken three of us in this photo went on a major Surf Discovery into the Canadian Maritimes and found the kind of Surf that only existed in our dreams. Jeff, Bruz and myself made the journey. What a trip that was. This photo is bitter sweet though. The two guys on the left, Mike and Peter passed away at a way too early age. Mike got sick with cancer and left behind a wife and two kids. Peter was killed in a car accident (by his own doing), he was intoxicated and drove his car into a stonewall. He was not wearing a seatbelt. This day was one of many fun days we shared as a group of young surfers. *Note the logo on the board I'm holding. If you read Surfers Journal, you'll recognize the Harbour Rapier logo in an article featured in this month's issue. I have this exact board in my office. Jeff, Bruz and myself are still very active surfers.
Photo courtesy of Clay Carkin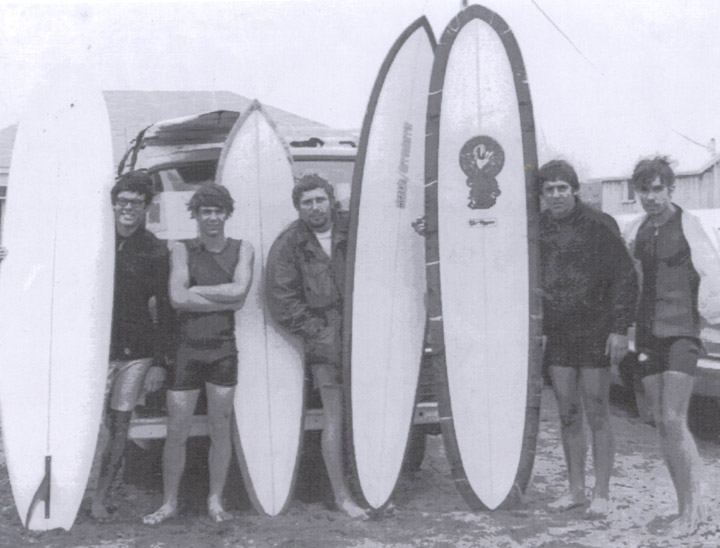 Yesterday 1955. My Mother Eva
My mother would kick my ass if she knew I put this photo up on the Internet. Sorry Ma. If you look closely you'll see the old Movie camera my dad owned and the light rack he used (I now have them both). Also, notice how close the washing machine is to the the stove. It was tight in that apartment. We used to all walk to the beach from this home. Right to the very spot I learned how to surf. My dad took plenty of movies in his day. The ocean and making movies. Gee where did I get those genes from?
Photo by Gus Fatello



What is wrong with us surfers? Worrying our poor mothers to death. It wasn't just Surfing with me. My poor mother had to sign for me when I pre-enlisted in the Marines at 17yrs old. She was worried sick. "Don't worry Ma, the war in Vietnam will be over by the time I get out of Bootcamp." I remember saying. "Really Ralph?" she pleaded.
"Ma, would I lie to you?" I answered with a big smile on my face.
The year was 1968.

Oh yea...I did all kinds of crazy things that when I look back on now I just cringe. Mostly because, I wouldn't want my own kids doing these things to their mother. Some of those wild surf trips we went on...man.

As far as my surfing relationship with my mother goes. It never changes. Here's a perfect example. Today. As you many of you know. The SURF was going OFF! I mean it was thumping. Again.
Our weekly swell fell on Mother's Day. I was late meeting my mother today. She looked at me and shook her head. "Surfing." I just smiled and said "I love ya Ma. Happy Mother's Day"

So the bottom line...be good to your Mothers. No matter where they are. Heaven and earth.
Well, the Celtics have to be crying on Mommys shoulders today. What the hell happened there? I don't know Basketball well enough. But I do know an ass whooping when I see one. Ouch.

Speaking of Sports there's a whole contingent of Surfers heading down for the ESA Northeast Regionals in Montauk the weekend of the 20, 21 and 22. Director Lenny Nichols has assembled quite a crew of competitors. Lenny, Nohea (who turned 18 last week!) and Julia Nichols, Max Fatello, Jesse Gould, Kevin, Leah and Kody Grondin, Casey Lockwood, Mike Paugh, Mitch Repucci and a whole bunch of others. We wish them all the best of luck. REPRESENT! By the way, my column will be a day late that week. I'll be shooting the action there.

ESM magazine gave my new movie (take a click and see for yourself) 13POINT5 a decent review. Except they did call all you locals "Strange and unkempt ruffians..." HA! Of course we are. We live in extreme conditions. It ain't Florida. We need to dress a certain way when the weather is freaking FREEZING! But seriously, the review was very good and I am thankful for it.
If you have NOT seen a ESM issue you are missing out. ESM is the only Mag that covers the entire East Coast from Maine to Florida. They are the best. They OWN the Right Coast.

Don't forget the Memorial Paddle for Ray Hackett. On Sunday May 15, 2005 at 5:00PM at Rye Rocks. Ray was one of us.
Let us honor him in a fitting Surfer's Send Off.

Click on this link for more info.
Ray Hackett Memorial Surfer's Paddle

Please Pass the word on the Ray Hackett Memorial Paddle.

As always my friends...Pray for Surf. Pray for Peace. Surf For Fun.

Ralph

P.S. Happy Birthday Leah and Gabby!


Click On Wave to Go Back to The Top.
Today 2005. A Mothers Day Womb for Mike Moran May 8, 2005
I love this photo. It was taken today at one of the more popular point breaks. Especially in light of what day it is. It looks like Mike Moran found himself a nice warm hole to hide in...even if it was short lived. Another great swell in a never ending winter/spring wave bonanza.
Photo by John Featherman

Today 2005. A Mothers Day Fat Lip May 8, 2005
Another great photo.This was taken today at the same popular point break. John emailed me today with some sad news about his Mom. She's not doing so well. Say a prayer for John's Mom tonight. And maybe she'll be one of the miracle cases we all read and hear about. They do happen when you believe in something good. The surfer is our good friend Jay Gould. Happy Mother's Day to Harriet (Jay's mom).
Photo by John Carden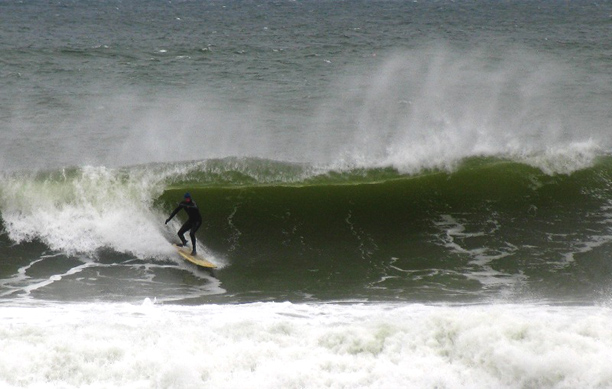 Today 2005. Ken & Kyle Linseman In Da Tropics
Kenny and son Kyle enjoying the tropical heat and juice in Costa Rica this past winter. I saw Kenny get some good waves today (Mother's Day). Kyle is giving Kenny a run for his money in the Bigger waves these days. Sign of the times.
Photos courtesy of Ken Linseman
Today 2005. Big Will Takes a Whack Out of this Glassy Face
Big Will is a friend of John Walter Bud and according to the Budman Will can Kill. Well I guess he can.
Photo courtesy of John Walter Bud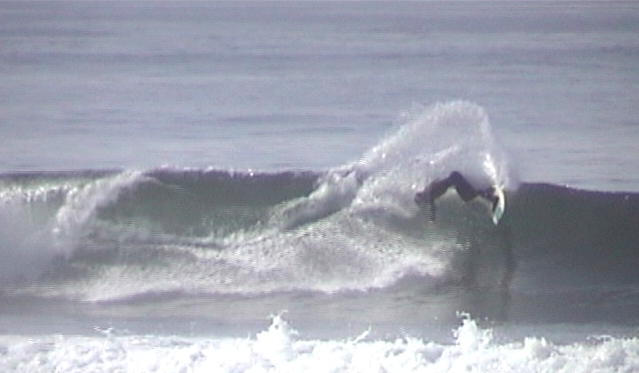 Today 2005. Leftland in New Zealand
This place is real. How bad do you want it? It's out there my friends go and find it.
Photo courtesy of the Phantom




Today 2005. Tahiti Jetski Decapitation
This was the scene of the crime last week in Tahiti when some bonehead on a Jetski bailed and sent the craft within inches of this goofy footer tow-in rider's skull. The Jetski operator's name? "Reefer". Case closed.
Photo courtesy of Bielmann


My Travel Through Time
By: Dana Waker (age 11)

Hi, my name is Minnie, I am an igneous rock and I am here
to tell you a story of how I was formed.

I sat in the middle of the Earth with lots of other melted
rocks. We called ourselves magma.
One day, the Earth exploded and I flew out of a big hole.
I shot up 50 feet into the air at 60 miles per hour!
Soon after that, I found myself crystallizing under the freezing
cold ocean water. I saw fish and lots of other ocean creatures.
Not too long after that, I was hardened and I became an igneous rock.

I was washed up onto many sandy beaches.
I was thrown back into the raging ocean again and again
by innocent little children splashing in the cold, salty water.
Finally, after two decades of being rejected and thrown,
I washed up onto a beach in Hampton, New Hampshire.
Everyone there called it North Beach.
I enjoyed watching people surf and swim.
I enjoyed the warm, soft sand and I loved the contrast between
the hot summers and the freezing cold, snowy winters.
I loved the cold, white blanket that covered the shore each winter.
I loved the sea weed that washed up onto the sandy beach each day
and the soft mist that sprayed and sparkled off the top of the huge,
curling waves. I loved the strong, salty smell that came from the
deep, blue ocean. Most of all, I loved the sound of sea gulls s
scavenging for a scrap of food left behind by a small careless
child and the sound of children laughing with joy. I loved to
watch the crabs crawl in the tide pools and scurry around on the
sandy shore.

After many years of waiting, a little ten year old brown
haired girl named Dana came and scooped me up. She took me along
with many other rocks back to her house in Londonderry, New Hampshire. After a few months of sitting at the foot of her front steps, Dana took me to a place that she called school. I went back and forth to school with Dana for one week. She took me everywhere that she went and I even made a couple new friends!

I cant quite describe the way it feels to be held in
the warm, comforting hand of a child but trust me on this one,
you will surely love it.