May 30th, 2005 Memorial Day

Before I go into the usual weekly banter about surf and local surfers I need to do a little cleansing of the soul here. Today is Memorial Day. I know a lot of you older men and women certainly understand the significance of this day. But I'm afraid a lot of the younger generation does not. For those who do not understand the meaning of this day I want to try and clarify what the day's true meaning is all about.

Today is the day we honor and remember those who gave their lives for our country. It should come to no surprise to anyone to know that Americans are dying each week in the Global War on Terrorism.
In Iraq and Afghanistan over 1,600 Americans have given their lives for our freedom. Some of you might be saying that you don't know anyone who was killed in this current Global War on Terrorism (GWOT) or, you don't know anyone who was killed in any war period. So you might not feel the need to remember or reflect. To those individuals I ask, how many of you know someone who's ever served our country? A Mother, a father, a husband or wife. A brother, a sister, an uncle or aunt. A grandfather, a grandmother, a cousin, or just a friend? I'm sure you all know someone who's served in the military.

Then think about them today. Because chances are, they all knew someone who was killed in a war. Or, think about this. Imagine what your life would be like, if the person that you knew, was killed in one of America's wars. How would your life be different today?

Here let me make this easier for you. If my father had been killed in WWII, you would not be reading this today. Or, if I had been killed in Vietnam, this column would not be written by me. There would be no Ralph's Pic of The Week. There would be no Max Fatello photos because, Max would of never been born.

Maybe some of you are thinking ' Well Dave would of had someone else write this column.' Maybe. But what if Dave's grandfather had been killed in WWII. There would not only be NO column, but no Cinnamon Rainbows. There would be no Dave Cropper. The list goes on.

Jack Keefe's father, Jay Gould's father, Kevin Grondin's father, Mark Jowett's father, if their dad's had been killed in the war none of them would of been born.

I hope you're all getting this.

This day, Memorial Day, is the one single day of the year, when we can put aside all of our political and religious beliefs and come together as one, to honor and remember our fallen heroes.

So please, take the time today to remember those who gave their lives so that we can all continue to do the things we all enjoy. Like Surfing.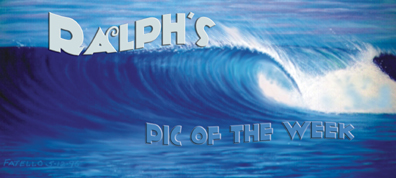 If you got good surf pics send em off to me directly.
Just make sure they're NOT huge files. In fact if you have any questions about the size, email me first and I'll write back. Start shooting crackie!!
Ralph Pic Of The Week
If you want to access the Pic of the week from past weeks click here.
Archives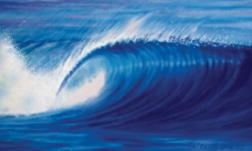 Yesterday 1975. A young Joe Somogyi at 10th Street
I remember taking this photo of Joe. We had just got done surfing for the 3rd time that day. He didn't want his photo taken. But anyone who knows me and my cameras knows that I don't take no for an answer when it comes to documenting surf and surfers. Looking back, I'm glad I snapped this shot. Joe was the real deal surfer. He was instrumental in naming a bunch of the breaks we all still surf today. Freaks, Pioneers, Ahwoo and a few more. He helped build a lot of these homes you see on the seacoast. He was a bona fide War Hero who saved countless of both American lives and Vietnamese lives as well. I wrote a story about him about 5 years ago. Feel free to read it. Just click here and read all about Joe Somogyi. It's especially important that you read it this week.
Photo by Ralph Fatello


Yesterday 1945. Dave's Grandfather Myron Cropper in WWII
We all need to reflect on the Greatest generation of World War II veterans here on the Seacoast. This is Shop owner Dave's late grandfather. Myron Cropper was in Europe during the War and had some amazing firsthand accounts of his time there. For more photos and a truly inspiring original poem that he wrote please click here. Myron Cropper
photos courtesy of Myron Cropper's family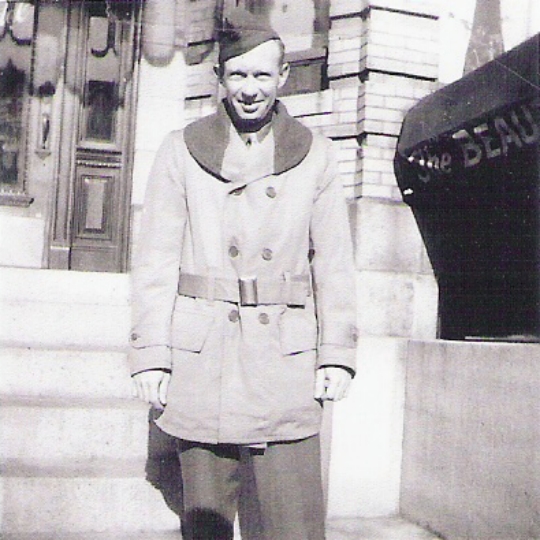 "And the wind began to howl!" Jimi Hendrix sang those words back in 1968 in the All Along The Watchtower remake. Last week, the Wind began to howl and didn't stop for three consecutive days.We lost a tree out in back of my house. The old Maple split in two and bounced off the back of my home. Had anyone been standing there when she went down...they would of been seriously injured.

I guess I be remised if I didn't call that swell the Memorial Day (week) Swell. It was a pretty intense little Nor'easter. Most of us could care less about the rainfall, as long as there was surf who cares if it rained for a week. Well...it's been a pretty rainy month old May has been. Still...how can any of us really complain when you get that much consistent surf? Not me. Not you.

Well I have to say, I really surprised myself during this last swell. I picked up my new board ( Rusty 6'8" 20.5" wide) and like all new boards I get, I almost dreaded riding it for the first time. Why? I guess I'm afraid that I won't like it, or it doesn't float me right, or a number of other reasons.I'm happy to say that this was not the case. My new board worked like magic the first time out. I shared some waves with a handful of close friends and we all had a blast. I think my friends had more fun watching me catch waves and ride them than I did. It was a Soul session for the record books. Six of us out surfing perfect chest high reeling lefts. "T" said that I was "Throwing buckets!" Now, I have to tell you, I have never had that call thrown my way ever. I'm an old school surfer living in the new world order. But I can certainly appreciate the comment. "T" was doing pretty good too.

That was a memorable session. I called Crop to thank him for the board that night. I must of sounded like a babbling grom on the phone.


The next day we all surfed the wall. I mean all of us...all 100 of us.
For fear of dinging my new board, I went to what I thought was a secluded spot. Two out of state Kayakers paddled out to where I was "throwing buckets" by myself. After a while, one of them paddled over to me and asked, "Are you a local?" My answer was something I've always wanted to say around here. I said, "You mean am I an Abenaki Native American?" He looked at me with a quizzical look on his face. I laughed. "In other words, the only true locals are the Native Americans." Then he laughed too. "But, if you mean...do I live here, than the answer is yes.Yes, I do live here." And let me tell you friends. It felt good to say that.

We live in one of the greatest places on earth. New England. Whether, you're 5 minutes from the ocean or 3 hours. New England is the best. We're lucky. Very lucky. And we all know who to thank for that on this sacred day...don't we.

As always my friends...Pray for Surf. Pray for Peace. Surf For Fun.

Ralph




Click On Wave to Go Back to The Top.
Yesterday 2003. Heather's Cousin Brian KIA in Iraq 2004
Taken a little over two years ago in Iraq. Heather Day's cousin Brian McPhillips was Killed in Action while fighting with the Marines in Iraq in April 2003. Brian was a 1st Lt and was awarded the Bronze Star for bravery. Today at 1:30 p.m. in Concord, MA at the Veterans Memorial Park, which is in the center of town, they are adding Brian's name to the Memorial, which includes fallen soldiers from WWII, Korea, Vietnam, Dominican Republic and Iraq. Yet another connection of Memorial Day to our little surf world. Please remember Brian for his ultimate sacrifice.
photos courtesy of the McPhillip's family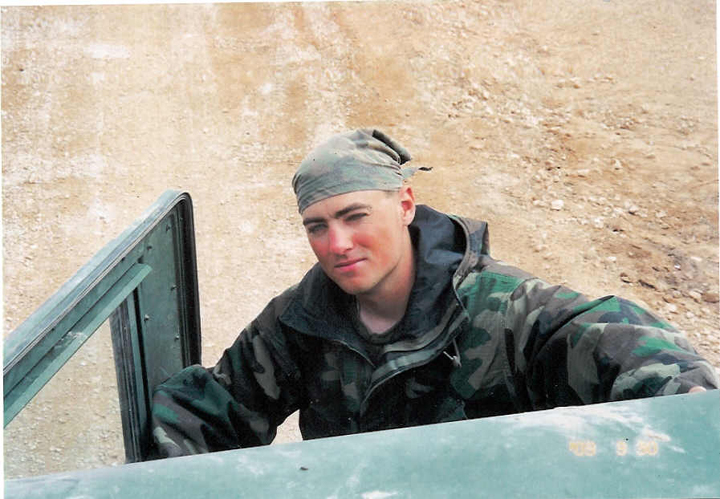 Yesterday 1970. Home from Vietnam Ed Snaps a photo for the future
Ed O'Connell writes: Ralph a shot from Sept 1970 (I know I am not too good remembering dates, but fortunately Kodak stamps them on slides). My old friend Bobby Beaulieu from Gonic NH (now living in CA.) riding at a very top secret spot, except for the fact that a well maintained state highway runs along the high tide mark, tons of metered parking spaces, public rest rooms and the most photographed lighthouse in the world is visible in the background. Its location is a well kept secret carefully guarded by the thousands of locals, tourists, and by-passers who surf here. I remember I was just back from Vietnam and while I was away lots had changed. When I left everyone was riding 9 – 10 foot boards. I went out on this day on my 10-4 Hansen Competitor. Bobby was riding a 5-10, a board his own height. Strange Days. photo Ed O'Connell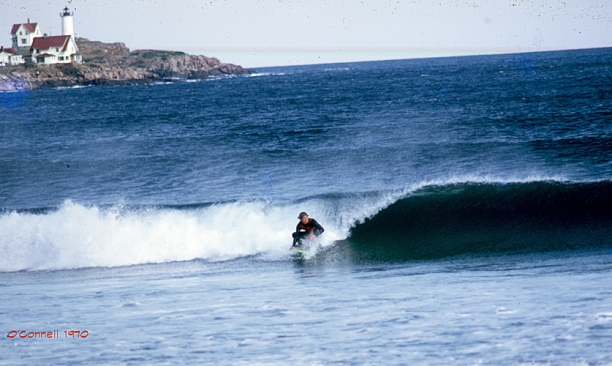 Today 2005. Matt Evans during the Memorial Day Week Swell
Taken from inside my vehicle during the rain. I saw Matty go by and I snapped this photo before he left my windshield.
Lot's of broken boards this day. Missing fins too!
photo by Ralph Fatello



Today 2004. Michael Sacca's neat nose perspective
Taken last July as he cruised along the Northshore. The board is a Bing DNL that his father bought for him in 1967. It's still in great shape and it is still his primary board since he likes to noseride. Well I guess he does!
Michael likes the nose so much, he's taken to shooting photos of it. Good photo Michael.
photo by Michael Sacca