May 23rd, 2005

My brothers and sisters I do apologize for being late (or is it tardy?), I did however, warn you all that I would be. You see my good friends and neigbors, I have just returned from a long extended weekend on Montauk Long Island, NY. Where your Cinnamon Rainbows Surf Team had just competed in the ESA Northeast Regionals. I'm happy to say that several competitors did very well.

But, before I get into the contest results, I need to spout off about what occurred in the days leading up to our departure. Checking the wave cams and the many surf sites that make a living off of predicting surf, all predicted that the surf in Long Island would be 0-1'. For all three days. I'll repeat that because it needs repeating. ZERO to ONE FOOT! Now I have to admit, I do not subscribe to any of the paid surf sites nor do I intend to, but, I did have some friends check on them as well. To a single site, they all PREDICTED 0 to 1' surf.

Well, the call as to which boards to bring, was simple. I'll bring a single Longboard for myself, and my son Max, would take his two small wave boards. Clearly, there was NO need to bring his semi guns. We needed the space in the vehicle and it seemed like a waste of time and effort to bring a Big Wave board. After all, the experts all predicted that Montauk Long Island would have...ZERO to ONE FOOT SURF.

I think you all know where I'm going with this. The first day of the contest had 3' surf. And it was building. Now for all intents and purposes, I call a 3' wave about waist high. I do this, because I stand 5' 10" tall, and when I put a yard stick (which is 3 feet long) next to me, it comes just under my waist band. The surf on Friday was waist high with bigger sets. Clearly, it was NOT Zero to one foot.The surf got bigger on Friday night. When Saturday morning broke,( the day the young kids had their heats) the surf was...6-8' with 10' sets. NO ONE from out of state had their BIG Wave boards. Why? Because of the EXPERT predictions. So...our kids were undergunned. And Jay Gould and I who chaperoned the kids, were stuck with our Long Boards facing GIANT Surf. I did all I could not to pick up the phone to call these Surf Sites and give them a piece of my mind.

The bottom line? Don't believe everything you read. I'm going back to the RALPH CAM. What's that? That my friends, is when I get in my vehicle drive the one minute to the ocean, step out of my vehicle, look over the Wall and LOOK at the Surf. The RALPH CAM never lies.

Of course, you can always look at the WALL CAM on this site. But if you're traveling....? You're on your own.

Mother Nature does not subscribe to Surfline.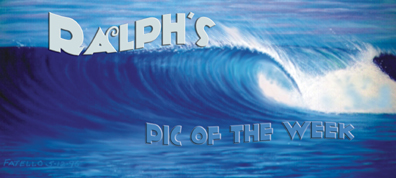 If you got good surf pics send em off to me directly.
Just make sure they're NOT huge files. In fact if you have any questions about the size, email me first and I'll write back. Start shooting crackie!!
Ralph Pic Of The Week
If you want to access the Pic of the week from past weeks click here.
Archives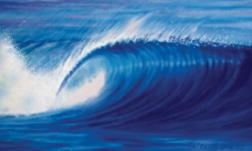 Yesterday 1978. The Cold Northeast and a young Dr William Haffenreffer Meet
Doc Haffenreffer before he moved to our seacoast. Before he became a Doctor. Before he married Sofia and had two beautiful children. Doc doing what he's still doing. Surfing in the winter. Keep Surfing William, it's good for your health. This is another photo from my man on Cape Ann Jeffery Crawford. Jeff's been pulling these old photos out of the woodwork in the last few months. Thank you Jeff. All you other surfers who are holding onto some classic old Surf photos will ya please get them to me? I mean come on. If you don't have the capabilities of scanning them bring them to me and I will scan them IN FRONT of you and you can walk away with them. No fuss no muss.
Photo by Jeff Crawford


Now for the contest reporting. I have to say, for someone who's going to his grave having never entered a contest, I am impressed with the ESA and how they run their contests. They are like a well oiled machine. The heats are run by the clock and there is NO compromise. It is very well organized and supported. Lenny Nichols the ESA-NNE Director does a great job with his district and has put himself togther one potent team of surfers that range from the young Menehunes (11 and under) to the Grandmasters. Both men and women. I'll also go on record saying that, the kids are the Number ONE reason, why this ESA-NNE district should be supported. The kids not only have fun, they get to see some serious High Performance surfing each and every day. You learn by watching hot surfers. You get good at surfing by being around Hot Surfers. We are lucky that we DO have a slew of Hot Surfers in our area.

Watch and learn kids. Now for some of the results.

Nohea Nichols WON the Women's Longboard division with younger sister Julia placing 4th. Kyle Linseman got 4th in Junior Longboard and Colby Pearson took 5th. Nohea Nichols took 4th in Junior Women's Shortboard. Leah Grondin took 4th in her first regional appearance. Grandmasters saw Hampton's version of the EverReady Battery Bunny Kevin Grondin take 2nd with Lenny Nichols chomping at his heels with a 3rd place finishing. All in all, your NNE Team did REPRESENT and it's off to the EASTERNS in Hatteras in September.

The ESA Banquet was fun. They gave away copies of my DVD movie 13POINT5 Don't worry....those NY and NJ surfers won't be making the long trek back here because of my movie.

But if they do...just remember what I've said in the past..."If You Can Drive By it-it ain't a secret!"

I heard that the surf we got in Long Island on Saturday reached our shores on Sunday. Although, not as big. None the less, it's another week of waves! Speaking of waves. The EXPERTS (oh oh) have PREDICTED that this year's Hurricane season is going to be eventful. How? Well, how does 15 Tropical Storms sound? With 9 of them developing into Hurricanes and out of the 9 Hurricanes, 5 will be Major storms with 3 making Landfall. That is impressive. But it is only a prediction.

Who are you going to believe? The Hurricane forecasters? The Surf Sites? The Wave Cams? Personally, I'm putting my money on the RALPH CAM.

As always my friends...Pray for Surf. Pray for Peace. Surf For Fun.

Ralph




Click On Wave to Go Back to The Top.
Today 2005. Winter in Maine
Taken this past winter in Maine. And oh what a winter it was. I love these photos. The empty barrel shot. The longboarder on the left with stacked up set behind him. Finally the last shot of the empty set. Look closely at the lone paddler way inside on the left. Are you kidding me? This is New England? You bet your ass it is! Thanks for the great shots Nick.
Photos by Nick LaVecchia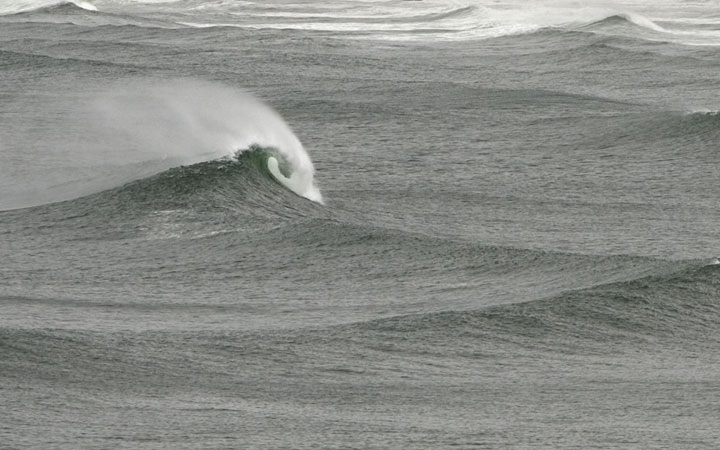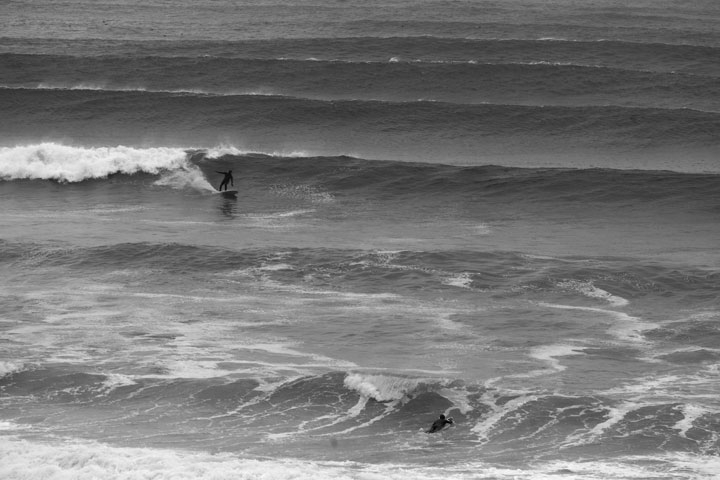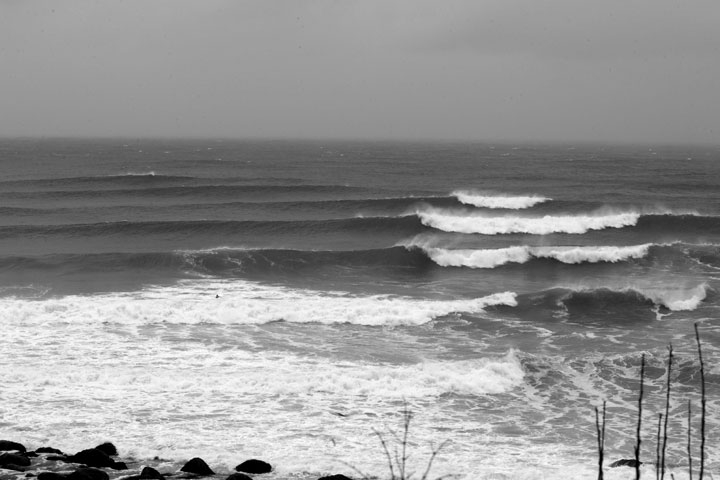 Today 2005. South of North America
This place is somewhere in Chile. How big do you think these waves are? Look at the huts in the foreground and make your call. Oh yea baby....Viva La Chile!
Photo courtesy of Dave Cropper


Today 2005. Tamarindo Left for Matt McKay and a Costa Rican Sunset to end the Day
Matt the Goofy footer enjoys the warmth of Costa Rica and his wife's photography
Photos by Jeannine McKay

Today 2005. Scott "Wally" Engle at 50 can still make the Glide
This a photo of my West Coast buddy Wally. Old Wally just joined the 50yr Old club and by the looks of things, he can still hold his edge and rail and look stylish doing so. Happy Birthday brother! May you surf for another 50 years...well...let's be reasonable here. How about another 30? Yea 30! May you surf until you're at least 80!
Photos courtesy of Wally Engle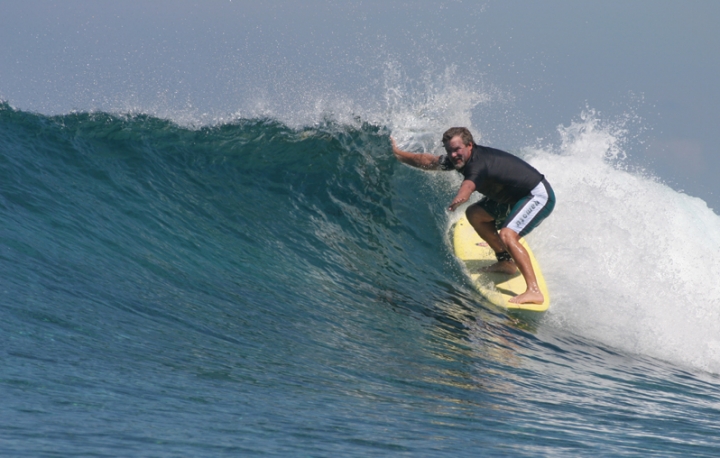 Today 2005. Sammy Martin's Dad gets a cold one North of The Wall
This photo comes from someone named Sammy. Now Sammy may be be a boy or she may be be a girl. I don't know. All I know is...this is Sammy's dad. And it looks like dad's stuck in that lip. Did dad make it? Don't know. And Sammy says this is 40 miles North of the Wall. I think he meant 4 miles, but, I could be wrong. If it's 40...it's in Maine. If it's 4 miles...well, you do the math.
Photo courtesy of Sammy Martin