May 1st, 2005

I'm choosing the color Gray (as a background color) this Sunday because it's been overcast for so long. Rainy and gray for so long I almost forget what the sun feels like. Oh I'm not complaining, no sir, not even close. Well, maybe a little. I do know that the misty rain is perfect conditions for the demon Mosquito, who is undoubtedly breeding as I write this. By the millions. No the Ga-Zillions! Waiting in the marshes and in the standing pools of water near our homes and beaches. Waiting to attack us all. Indiscriminating to both humans and pets. And there's nothing we can do about it, except fight them with chemical agents. There's a future millionaire out there and that person is the one who comes up with the ultimate Mosquito killing product that will not harm people, pets, or our environment. So all you brainacs get working on it. I'd like to see it happen sometime in my lifetime.

So my friends...how sweet was Thursday? Are you kidding me? Was that not the surprise swell of the week? Whoa. The day started off with a small ground swell showing, but nothing to really get excited about. The wind was sort of weird, as was the swell direction. Then things started changing by midmorning. The sets started growing. The wind switched. You could feel it. The buzz was out and about. From here in New Hammy and Maine, to Massachusetts and Vermont. By early afternoon it was GOING OFF! The usual gathering places were full of familiar faces. Everyone was in a good mood. Or so it seemed.

Isn't it funny how good waves makes everyone happy and friendly. Or at least, when you're standing next to your vehicles waiting to go out. Things can change dramatically once you paddle out. I know how I feel and act in the parking lot when the surf is going off. All smiles and good natured ribbing with my friends. I also know how things can go south once I'm out in the line-up. It's usually because someone is speaking at very high decibels about getting ripped off on a set wave. Kind of takes the wind out of your sails.
The key to keeping the session fun is to quickly move on and try and make light of the situation. If it's a novice surfer who has made the infraction, I'll try to paddle over and point out the error and explain how to avoid it next time. If it's someone who knows better, well, that person has to fix things on their own. Saying the magic words "I'm sorry" is a start. The thing about surfing related hassles on a day when the surf is good is, you better get things in order quickly, because the ocean doesn't give a rats ass who was right or wrong. She's gonna keep sending waves at you, whether you're ready or not. So it's best for everyone out there, if you get the issue resolved in a timely matter.

Just remember this. We all surf better when we're smiling.

May Day May Day! I took a break from writing this column to go and get a quick surf in. It was 4:00PM and Max wanted to surf the Wall with his friends. The surf looked fun. Waist to chest high and clean as a whistle. Was it crowded? Well let me tell you folks, it was OPENING DAY at 10th Street! There were longboarders, shortboarders, boogieborders, old dudes, young dudes, ladies and girls. And all with varying degrees of talent. There were lots of fender benders and near misses. In short, it's the start of the season. Ahhh it was good to be back in the mayhem.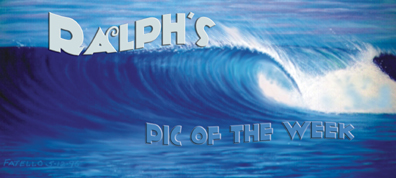 If you got good surf pics send em off to me directly.
Just make sure they're NOT huge files. In fact if you have any questions about the size, email me first and I'll write back. Start shooting crackie!!
Ralph Pic Of The Week
If you want to access the Pic of the week from past weeks click here.
Archives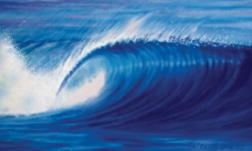 Yesterday 1983. Paul Hamblet Setting Up for the Spring Launch
As long as I can remember, Paul Hamblet had one of the best surfing styles of anyone I've ever seen surf. I don't just mean locally, I'm talking globally. Paul could get his tall lanky frame into some of the tightest holes as good as anyone around. He could hit the lip and carve a turn with the best of them. Paul was one of those surfers who always made the waves look better than what they were. You know what I mean? That's a testament of any good surfer. Paul still surfs today. He can still get barelled and he can still carve a turn. He knows the game well enough to to get his share of waves. He is a New Hampshire Pioneer and he deserves our respect whenever he's in the water.
Photo courtesy of Ralph Fatello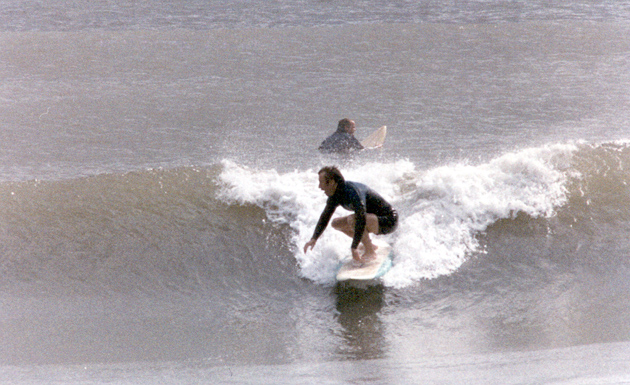 Yesterday 1985. Steve " Mags" Magliano in between turns at the Wall
Mags is one of those surfers who has surfed here in NH as long as anyone I know but has never lived here. I'd call him a local.
He may not live here but he's surfed every spot for many years. He's moving to Australia with his surfing wife Julia and little girl Tess.
We wish him and his family the best of luck. Lord knows he'll be getting his share of waves. Good on you mate! Remember Stevie there's always room in the line-up for you when you come back to visit.
Photo by Ralph Fatello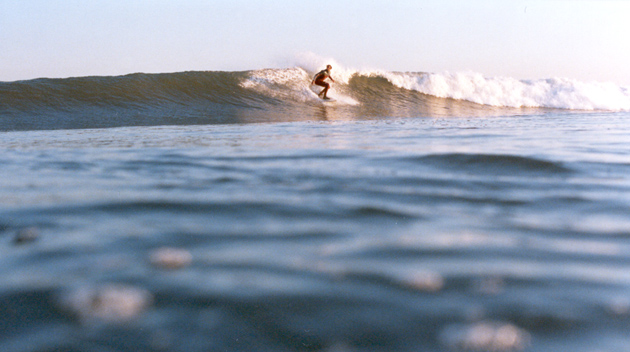 Last night the Celtics tied up the series. That's exciting for B'ball fans. The Sox fans have to deal with Aces Wells and Schilling being out for some time. Oh Derek Lowe and Pedro Martinez where art thou? Local New England Boxer John Ruiz is hurting this morning from the realization that his Heavy Weight Championship belt being wrapped around someone else's waist this morning.
And... are you ready for this? Doug Flutie is a New England Patriot again...whoa! What a strange and wacky sports world it is.

The kids were off school last week in New Hampshire. But the line-ups were surprisingly tolerable. I'm guessing most of the kids headed out of town for vacation. The Hartnetts went to Costa Rica and had a blast! I know Jesse Gould headed out west with his dad Jay and they scored some great waves at Trestles. Except they had to share them with a few hundred others. Others like the Grondin kids headed to North Carloina where they got some fun waves. My kid got to surf all week long. He complained about surfing alone a few of the days...can you believe that?

I was saying to a fellow surfer the other day as we were dodging these Big Bombs..."The surf is going to go away right at the time when we really need it the most...Summer". I'm keeping my fingers crossed that the Hurricane Season matches the winter we just had. Wouldn't that be something? All that Big Wave Winter training would really pay off as we shed more rubber and become more limber. The last time we had a solid year of good to excellent surf was...? You know, I don't remember. Anyone out there recall? From January 1st to January 1st. A full year of good surf? I know the last REAL good summer was 1995. Now that was a summer to rival all summers.

This has nothing to do with anything involving surfing. But, how about those 3 Massachusetts guys who claimed they dug up some money while working a job? They went on TV and told their good luck story. Turns out they stole the money from a job they were working in Newbury Mass. What the hell were they thinking?

And how about the woman who fled the scene of a 600 guest wedding? Are you kidding me? 14 bridesmaids and 14 groomsmen...sobbing parents...100's of volunteers and thousands of dollars spent...and the worse thing...the poor Fiancé was getting the finger of blame pointed at him. All because you had a change of heart? Now that ain't right people.

Don't forget the Memorial Paddle for Ray Hackett. On Sunday May 15, 2005 at 5:00PM at Rye Rocks. Ray was one of us.
Let us honor him in a fitting Surfer's Send Off.

Click on this link for more info.
Ray Hackett Memorial Surfer's Paddle

Please Pass the word on the Ray Hackett Memorial Paddle.

As always my friends...Pray for Surf. Pray for Peace. Surf For Fun.

Ralph


Click On Wave to Go Back to The Top.
Today 2005. Last Thursday...the John Carden Collection.
Johnny's been shooting quite a bit lately. Here's some photos from last Thursday April 28, 2005. I know that's Billy Ritchie on the red board. Don't know who the regular foot doing the bottom turn is. Do you?
Photos by John Carden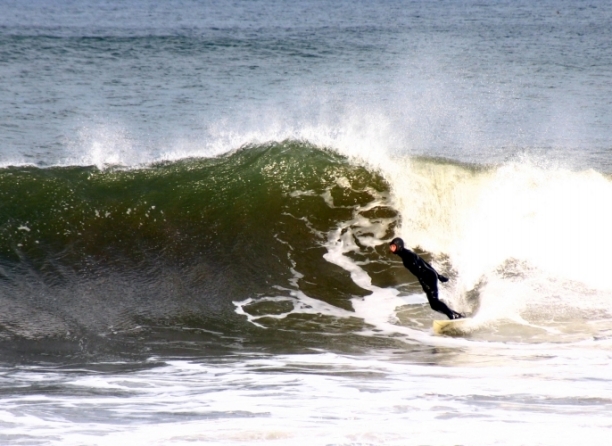 Today 2005. Last Thursday, Jacko or MarkyJ? I don't really know...do you?
Don't know which friend this is. I shot this while standing on the beach chatting with some other friends. Please help me identify this poor unknown surfer, so I can give props where props are due. Thank you.
Photo by Ralph Fatello




Today 2005. Same day, Last Thursday...Don't really know what to make of this photo.
What in the name of God is going on here? Is this some weird ass shizzle or what? Check out the ghost image near the upper right of the loose board. What is that? Looks like a missile.
Photo by Brennan Natoli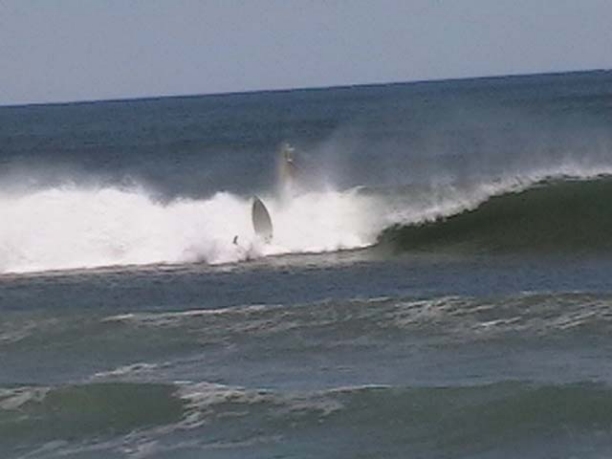 *READ THIS INSANE TRUE STORY!
Last Thursday. Different Coast. Jeff Chamberlain's BIG West Coast Adventure.
Running back yesterday from Government's, a glorious day, sun is out, the wind is creating a little chop that is chattering along on the underside of the hull, and Steve, Tom, and I are nicely surfed out, our faces tightly snug from the sun and wind exposure. Heading back to the pier, on plane at something like 23 knots, just blasting home outside the surf zone, typically taking the 'inside passage' back to the pier. There had been tons of sea life, dolphins chasing bait fish, seals doing the same, and we saw over 50 whales, most as close as 20 yards as they circled the anchored boat, rising and falling all around us all day as they played in the cove. Truly a magnificent sight, and a bit unusual, even for up there where mega sea life sightings are common.
All of a sudden, in a millisecond, a whale surfaces 10' in front of the boat, heading out to sea and crossing our path at a perfect right angle! Tom and Steve scream, 'Look Out!!', the whale does it's hump up and down surfacing thing, and I'm faced with a 4' high wall of whale back, directly in front of me not even ten feet away, and I'm doing 23 knots. It was so freaky, and there was almost nothing that I could do in that short amount of reaction space.
The next 2.987 seconds is a blur. I instantly throw the boat into neutral to stop the propeller, the boat quickly comes off plane and begins to rapidly slow down, and we all scream 'Arrgghhhh!!!!!!!!!!', hunch over and instinctively brace for impact, and slam into the whale at maybe 10 knots.
The front of the boat lifts skyward as we ramp up the whale's back, and the bow of the boat comes out of the water. As we slid up over the top of the whale, the middle of the boat now is out of the water, and we continue to slide over, slowing down the entire time, and now feel the forward edge of the outboard bump into the tail as we slide down and off the whale's body. I had expected the whale to flip it's tail like they do, and I fully expected the boat to be thrown up and over, maybe even upside down, but that didn't happen. Ten days ago, I had bumped into a sunken log up in the Delta, and in the process bent my kelp cutter. I had just removed it, so at least when I hit the whale's tail it was with the blunt front of my motor, not with the kelp cutter.
In less than three seconds, the boat came back down into the water, and we just stood there, breathing heavy and looking at each other with pancake eyes that said, 'What the hell just happened there?!'.
We saw the whale continue it's lazy swim out to sea, seemingly unaffected by our boat ramping up and over it's back. I don't think that we could have hurt it, but the whole experience almost caused three heart attacks.
We ended up back at the pier, inspected the boat for damage while it was slung off the hoist, and found none.
I still cannot believe that it happened.
Regards,
Jeff
Today 2005. Sand Storm in Iraq...check this out!

Next time you complain about some dust in your eyes, think about this photo.

Photo courtesy of the Phantom