March 7th, 2005
The Big Swell from last week really played into the hands for those of us who enjoy the Art of the Wipeout. The snow storm cancelled school for the day and most of you bagged going to work. That resulted into a heavily clogged line-up of numerous individuals, with varying skill levels. Throw the Video camera into the mix and you've got the makings of people going for broke on most of those set waves. Which, as I stated earlier, made up for some spectacular wipes. You see, when some people see the Camcorder out there, they tend to throw caution into the wind. That my friends, adds up to good video.
Now, I certainly don't wish for anyone to be taking gas on my account, but, I'm not going to turn the camera away if I think I can capture someone getting worked. Look, it's all part of the ambiance of any Big Swell. Last Tuesday's BIG SWELL was no exception.

I shot one sequence where one guy was hung up in the lip of a solid 10' Gray Mass (see below) and then free fell into the pit, only to be held under for two waves! I felt guilty shooting the whole thing. On the other hand, I understood the value of the footage. I could just hear the groans of future audiences watching the thrashing on the big screen. I could feel this poor soul's pain and anguish as he finally surfaced gasping for air. I remember thanking him under my breath for the footage. I knew what I had in the camera. I got some good footage at someone else's misfortune. The videogapher in me was giddy with delight. The surfer in me was sick to my stomach after witnessing such a severe pounding. The dad in me, was fearful of my own kids having to have to deal with this element of Big Wave Winter Surfing.

Look, we've all been there. The hold downs. It's a rite of passage in Big Wave winter surfing. You know the potential for disaster is there everytime you paddle out, yet we all paddle out. The risk is worth the intense rush of dropping into a massive winter wave. And as a videographer, I can't thank you all enough for the guts and glory.

Remember, "He Who Hesitates is Lost."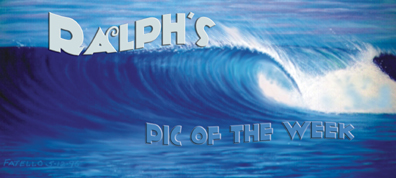 If you got good surf pics send em off to me directly.
Just make sure they're NOT huge files. In fact if you have any questions about the size, email me first and I'll write back. Start shooting crackie!!
Ralph Pic Of The Week
If you want to access the Pic of the week from past weeks click here.
Archives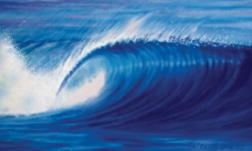 Yesterday 1968. Jeff Crawford with a Wells Peak to himself.
This photograph of Jeffery Crawford was shot from the Wells Beach Jetty in Maine. The Jetty was a great place to shoot from. It still is. Set up the tripod and get some cool angles. Hard to tell what time of year this was. Could be Spring or it could be Summer. Where were you in the Spring/Summer of 1968? Most of you were not even close to being conceived let alone born.
photo courtesy of Mike Normand's Mom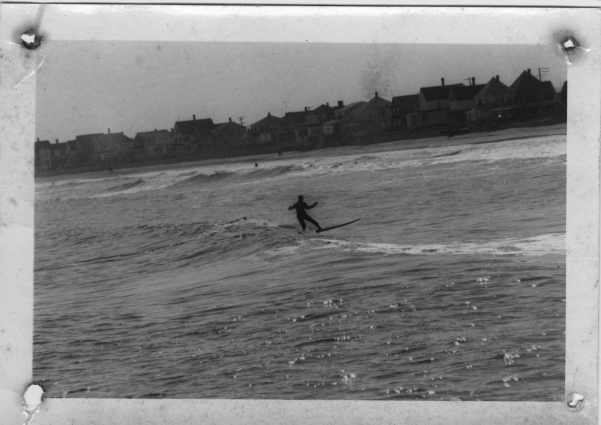 Ok, the never ending line of Patriots leaving the team has got to stop. Enough already. Ty Law, Troy Brown, Roman Phiefer, Joe Andruzzi, David Patton, not to mention Charlie Weis and Romeo Crennal. That's a bitter pill to swallow for some diehard Patriots fans. Those were popular players. We're gonna miss them all. I am not going to question Belichick, Pioli and Kraft in their decisions to release these players. I'm way past that. I know that I know very little when it comes to Professional sports and how the business end of it is run. I know nothing. However, I do know loyalty. And some of those players I mentioned above went beyond the call of loyalty. And that should account for something. As a fan, I feel saddened by their departure. Of course, if it means another Superbowl Championship...well don't let the door hit you on the way out boys!

I'm kidding. (Sort of). And I know, I'm not speaking for everyone out there. However, I do know some of you agree with me.

It's the same thing with the Sox. Pedro's gone. Lowe's gone. I'm not going to question wonder boy Theo Epstein. Are you? That's why these guys get the Big Bucks. They make these big money decisions and hopefully it all translates into Championships.

I see Antwoin Walker is back on track with the Celtics and they seem to be winning again. Jay Gould and Jack Keefe went to Walker's welcome back party against Kobe last week and came back with all kinds of good memories.

Are you ready for the next Swell? My battery is fully charged and I've got some new booties! I'll see you out there rain, snow or shine.

As always my friends...Pray for Surf. Pray for Peace. Surf For Fun.

Ralph



Click On Wave to Go Back to The Top.
Today 2005. Last Week At MAVERICKS. GETTING WORKED!

You think we're the only one's taking Gas last week? Guess again. The horror...the horror...the horror...
Photos courtesy of MavSurfer Photos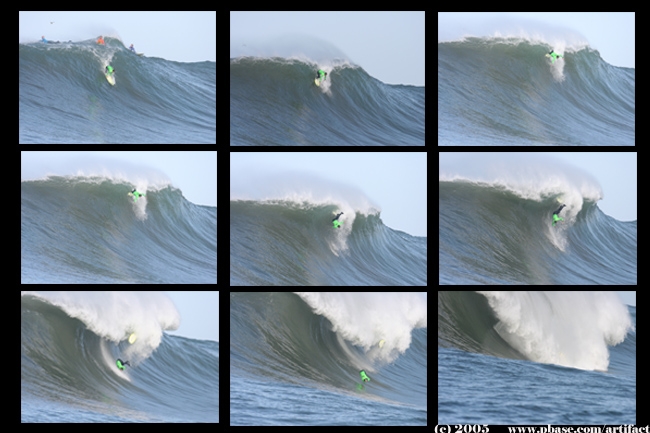 Today 2005. Adam's TWO WAVE HOLD DOWN! (Gulp)

This sequence is from the Video I took last week on March 1, 2005. If you read the Newsletter above you know what this whole sequence is about. If not...well either go back up and read it, or follow the numbers. The arrows indicate where Adam is in the wave. Keep in mind. This was a bona fide two wave hold down in 34 degree water temp. In the blinding snow. Can you feel this? How long can you hold your breath in these conditions? Look at numbers 7 thru 9. That's wave number two and still no sign of Adam. Shot number 10 is the third wave of the set and Adam finally broke the surface. The last shot is called REDEMPTION. Because Adam paddled right back out after this thrashing and caught a handful of bombs. Good on you Adam!
Video Still Frames by R. Fatello SFOD





Today 2005. The Swell Before Last. Nice Wave.
Look at how hollow this wave is. Clearly this rider wishes he could see what we all see. Although his view looks interesting.
Top Cat hit a bump in the road and Johnny G pulled the trigger. No shame brah, we've all been there.
Photo by Johnny Grasso