March 27th, 2005 Easter Sunday
Most of you reading this have already had your morning coffee and it's actually Monday, not Sunday. But (in my own defense), I started this column yesterday and never quite finished it. It was a busy day for my family. My youngest was turning 10 (how did that happen?) and we had to get moving to visit relatives in Massachusetts for the Easter Holiday. Not to mention there was still something showing from the Good Friday Swell. Waves on Easter... What a dilemma. We did our annual Easter Tradition of having our family photo taken at the Wall in our Easter Get up. I don't remember there ever NOT being waves on Easter for the last 10 years or so. It's hard to focus on the family photo when there's surf booming at your back.
That was quite swell we had on Friday. And it indeed was, a Good Friday. Big and Clean. Was it my imagination (pun intended), or did the popular spots seem less crowded this swell? Was it because of my column last week or something else? Did you look elsewhere this swell? Did you find a new spot? It just seemed more spread out to me. I shot a lot of footage for my next movie project and it was the last of what I needed for this movie. WINTER 05. All the swells all the action. From December-March. Speaking of movies, I had to re-edit 13POINT5 because too many of you have missed the Bonus footage after the credits. So I simply put the Bonus Footage before the credits.
Hope you all had a nice Easter. I'm still feeling the affects from my sister's big feed. Man...so much for my training program. And my kids have all this candy laying around the house tempting me to sample some of it. I tell ya, it's a struggle these holidays.
This last swell set a new record in my weekly column. How so you ask? I usually get around 3-5 new photos each week from various photographers. This week I was slammed with dozens of photos. I'm talking 35 plus at last count. I told Crop that it's not the Pic of the Week this time around it's the Photo Album of The Week!
Lots of good news from the last couple of weeks. We had a few babies born into our Surf Community. Terence and Sandy Kirby welcomed a new baby girl into their home. Skip and Terry Brunette have a new baby sister for young Grif. All the moms are doing fine and the dads are too. We wish them all the best!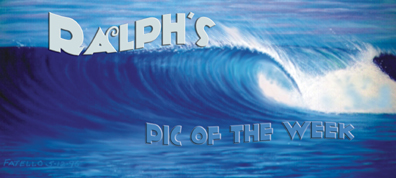 If you got good surf pics send em off to me directly.
Just make sure they're NOT huge files. In fact if you have any questions about the size, email me first and I'll write back. Start shooting crackie!!
Ralph Pic Of The Week
If you want to access the Pic of the week from past weeks click here.
Archives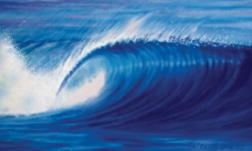 Yesterday 1985. Rick Evans Hard Off The Bottom.
Rick always had one of the hardest and deepest bottom turns. His total conviction and pure power was a trademark of his surfing. The look of determination in his face on the bigger days was second to none. This was a small day at the Wall 20 years ago. But you can still see the look I was describing. I mean this boy could carve a deep turn in his day. Look for Rick to be joining his boys and friends sometime in the near future. He won't be hard to spot. He'll be the guy with the biggest smile on his face. photo courtesy of Ralph Fatello

Click On Wave to Go Back to The Top.
Today 2005. Sooooo Good Friday

Somewhere in New Hampshire,
Billy Ritchie
weaves his way through the Goodness of this Good Friday Swell.
Photos courtesy of Bob Consentino

Today 2005. Can You Handle More Good Friday....?

More Good Friday Photos than I know what to do with.
Photos courtesy of Dave Blomquist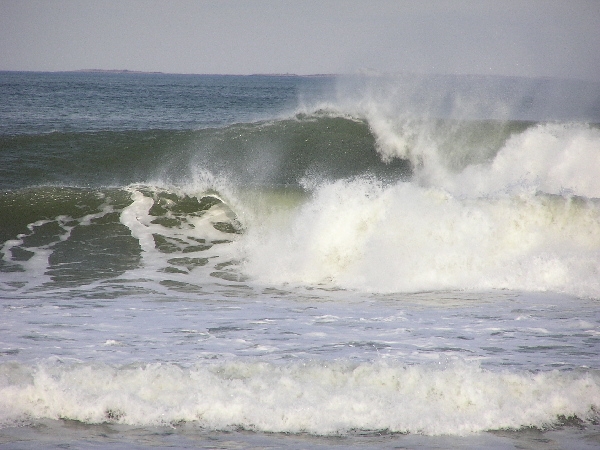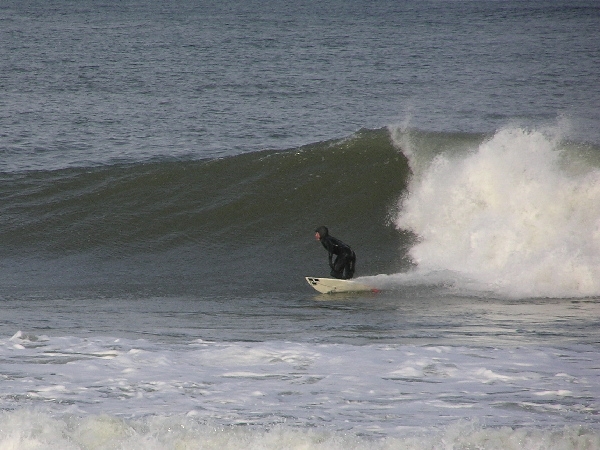 Today 2005. Can You Stand it? More Good Friday....?

Good Golly it's some more Good Friday Photos! Is that you
JT
on shot number 3?
Photos courtesy of John Carden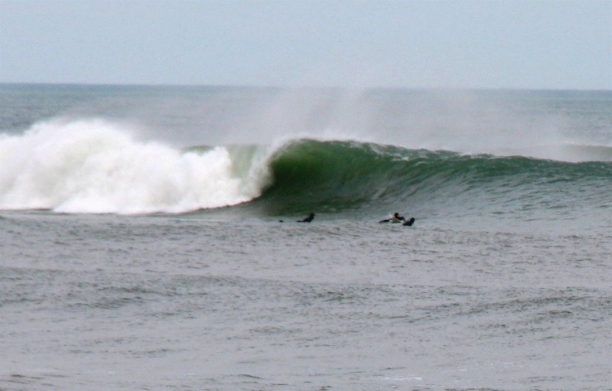 Today. One More Good Friday Photo

Somewhere in Tropical New Hampshire, a lonely peak, beckons a lonely surfer.
photo courtesy of Chris Cavalieri


Today 2005. Meanwhile Down Under...

Somewhere in Australia... East Coast boy
Brendan Hudson
sends us this shot of a spot he and one other guy surfed for 4 hours.
They had it to themselves.
What no hood, gloves or booties?
photo courtesy of Brendan Hudson's dad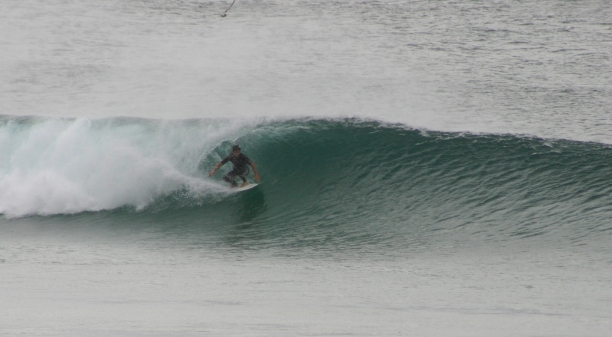 Today 2005. Good Friday

The first photo is
Cinnamon Rainbows
Shop Guy
Phil Carey
finding a good place to hide on Good Friday. The second shot is
ZAPSTIX
Shop Owner
Mike "Zap" Paugh
riding the foam ball on Good Friday. Just Phil and Mike Paugh sharing these waves on Good Friday.
Video Still Frames by SFOD R. Fatello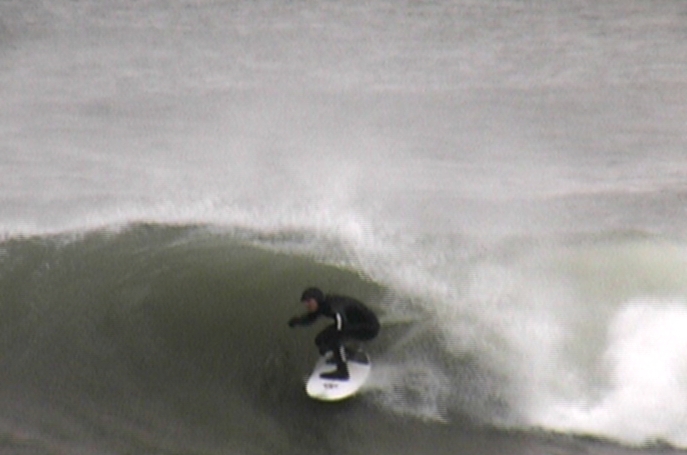 Today 2005. More Good Friday Scenes

This first photo is
TC
(check out his arms) at a place that rhymes with my last name.
The second shot is my 13yr old son
Max Fatello
, at a place that is virtually unattainable in the Real Esate market.
video frames by SFOD R. Fatello
I've known RICK EVANS for just about as long as I've known anyone from our Surf Community. We go way back. From the early Rock n Roll days in Boston during the Punk Invasion of the 70's, when I'd convince him and (his then girlfriend) Karen that it was safe to go into the Rat to see my band. We've seen it all. I've watched him surf some big days at the Rocks and The Wall and managed to capture some of those days on Movie Film (pre-video). He and Karen married and now they have 3 beautiful kids. Megan, Matt and Mikey. You've seen the boys out surfing together. Matt is really starting to charge it in Big Waves (just like his dad). And Mikey has been coming on strong the last couple of summers. As a dad, I could relate to what Rick was living. If you've read any of my columns, you know how I feel about my own kids surfing. And the love I have for surfing with them. There are lots of men and women who share 'this thing of ours' with their kids.
Well, all that changed for Rick a few years ago when he started having problems with his hips. First, it was discomfort, then it gradually became severe pain. It ultimately led him to not being able to surf. Rick could NOT SURF. He couldn't stand up on a surfboard. He tried other means of surfing. Knee boarding was one. Then that too became too painful. Finally, last summer it was the bodyboard. But even that became unbearable.
We talked about surgery. They can replace old hips with new High Tech hips that are designed to make you run jump and surf like you were 16 again. Rick opted for the surgery. He had the procedure done last week. He's now on the short road to recovery. I'm happy to report, that Rick will be back in the line-up again in the very near future (don't rush it Rick), and it won't be long before he's sharing waves with his kids and his friends again.
We want to wish him and his family a speedy recovery and we all can't wait for the welcome back session at the break of his choosing. Between the local crew and Matt and Mikey's buds, Rick should have more than his fair share of waves that day. And I, will shoot the whole thing on video.
Don't take surfing for Granted my friends. It is a special gift for all of us. And, to share it with family and friends, is truly one of life's purest moments. We are a lucky tribe, we surfers.
Oh and Good Luck and quick recovery to Tedy Bruschi.
As always my friends...Pray for Surf. Pray for Peace. Surf For Fun.
Ralph