June 12th, 2005

Oh oh, we just had our first week of no waves. What's that? Tropical Storm Who? Arlene? Hot dang! If this first storm of the season is any sign of things to come, we may just have ourselves one hell of a Hurricane Season boys and girls! Looks like Arlene is mowing right through the snout of the Gulf and up into the Southern tier of States below the beltline. Hopefully, she'll continue on and out through the mid Atlantic States where she'll once again reform and regain strength, then Bitch slap us all silly with a solid mid-week ground swell. Won't that be nice.
Bring it on Arlene!

Got a few emails this week from some New Hampshire Transplants who live out on the West Coast and beyond. Turns out this weekly column is a Monday morning ritual with these guys. Somehow they feel connected to both the current pics and the old stuff as well. So a big shout out to Chris Valhouli, Mark Saracusa and Charlie Daly! If you're reading this, we miss you guys and we want you to know that, there's always room in the lineup for you guys when you come back to visit.(Just don't bring your new West Coast friends). I'm kidding....

The New England roots are strong within all of us. Something about our waves and surf culture that's different than anywhere else. That's why so many transplants like my boys (above) never lose that New England stoke. It's like a badge of courage or something. If you've lived here long enough and surfed our waves long enough you know what I'm talking about. Especially, and I do mean ESPECIALLY if you've experienced a Winter. Like the one we just had. When you've put a solid winter surf season under your belt in New England (and I mean Northern New England cause Rhode Island is almost Tropical to some of us) then you carry that experience with you your whole life.

There's a new movie coming out called UNSALTED. It's about the extreme surfing conditions in the Great Lakes Region. Now, I don't mean to belittle the Great Lakes surfers but... come on. The spread in SURFER magazine showed (at best) some weak looking waist to head high surf with snow on the ground. Look, we just went though one hell of a Winter when we saw almost weekly swells of overhead and sometimes double overhead Macking Winter Waves. In water temp's as COLD AS IT GETS! And you want to talk about snow? Don't get us started. Am I right people? Dam right we are. We Northern New England Surfers have the 'most extreme conditions ' of anywhere within the continent of these United States. Not Northern California. Not The Great Lakes. But right here in Northern New England.

And That's my story and I'm sticking to it.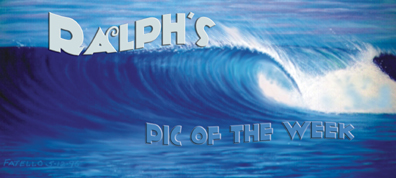 If you got good surf pics send em off to me directly.
Just make sure they're NOT huge files. In fact if you have any questions about the size, email me first and I'll write back. Start shooting crackie!!
Ralph Pic Of The Week
If you want to access the Pic of the week from past weeks click here.
Archives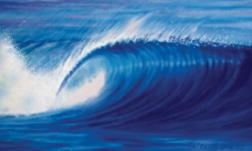 Yesterday 1975. Charlie Daly captures a timeless photograph in New Hampshire
Charlie is a good friend of mine. He's also one of the best humans on the planet. It's true Charlie, you're a good person. He's also a good surfer. I've know Charlie for quite some time. I recently spent some time with him a couple of years ago on the West Coast where we shared some beautiful waves together. Charlie snapped this photo of one our Point Breaks in 1975. If you don't think that empty line-up shots are timeless then you really don't know, or understand the beauty of what we all live for. This photograph is as compelling and inspiring today as it was 30 years ago when we surfed this day. Thanks for the memories Charlie. It's still here waiting for your return.
Photo by Charlie Daly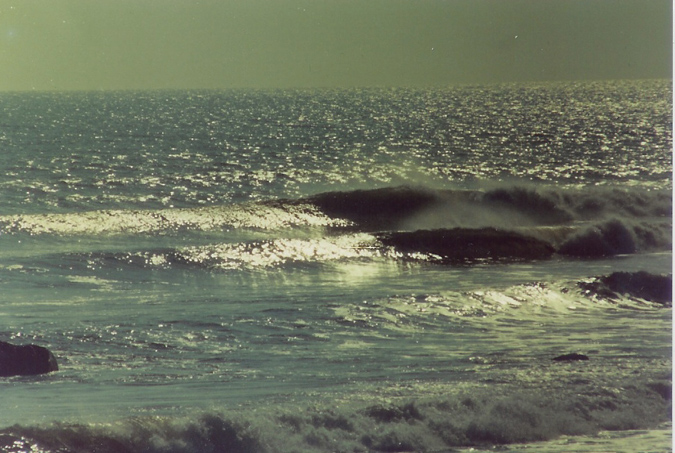 Yesterday 1978. Young Bruz Bowden setting up a Green Wall
Bruz is one of those surfers who made the transition from Longboarding to Shortboarding in the 70's and kept the same style. Bruz could cruise on a longboard and he was equally as smooth on a shortboard. I still see him from time to time at the Wall on Hot summer days. Still smiling still stoked. His son Rory is now 13 years old and he's getting him into the ocean. Bruz, Jeff Crawford and myself experienced the ultimate surf trip in 1971 when we were one of the very FIRST Americans to Surf In Nova Scotia. We'll take that experience with us to our graves. It was the kind of trip you read about in magazines. I almost feel guilty mentioning it here now, But the truth is...it's not a secret anymore than New Hampshire is. Besides Nova Scotia is a HUGE wave field. I could be talking about anywhere up there.I won't tell you where we went. Not that it's a secret. It's just that I don't want to rob you of your imagination.
Photo by Jeff Crawford


There was a bad motor vehicle accident this week on Ocean Blvd. in North Hampton involving a motorcycle. Right across the street from the Ocean. The woman driving the bike lost her leg at the hip. She's still in critical condition. It got me thinking about how life can change in the blink of an eye.
It's graduation time. I know some of you young surfers are now driving and thinking that this new found freedom of driving your own car can only get better. It can, if you're smart. However, if you don't pay attention to your driving, and I mean, REALLY pay attention, you can risk losing it all. Speeding. Drinking. Taking drugs DO NOT make for a safe driving experience. It's true. Think about NEVER being able to Surf again. I mean Think about it. I don't mean to come off as some kind Mr. Safety school character here, but, I have seen friends lose their lives at an early age because of the three things mentioned above. One of my best childhood friends, Donnie Nelson was 19yrs old when he was killed on a motorcycle. He was speeding. He was a surfer. He loved surfing. Another friend was intoxicated. He was a surfer too. He was killed when his vehicle slammed into another car head on. He killed the other driver too. A married man with four kids.

Look, I want you all to be around for a very long time. I want you to enjoy all of what life has to offer. I want you to surf and have fun. Life is too precious and surfing is a gift for all of us to enjoy well into our senior years. So to all you newly young drivers...Please drive safe. Watch out for the other guy. There, I did my good deed for the week.
If only one of you, pays heed to what I just wrote, then this whole plea has been worth it.

I hope to see you all out in the water this week (just not at the same spot) if Tropical Storm Arlene gets here. Maybe the water will get warmer with the Tropical winds. Oh that would be sweet.

Hope the Red Sox get their act together soon. And I hope that Richard Seymour comes to grips with only making a few million dollars this year playing Football for the World Champion Patriots. And I really hope that boxer Mike Tyson quits boxing once and for all. That was an embarrassing night of boxing last night. I can't believe I spent the $44 bucks to watch that fiasco. What is it with some athletes who don't know when to hang it up? And what is wrong with me for buying into the whole hype? I am a Rope a Dope.

As always my friends...Pray for Surf. Pray for Peace. Surf For Fun.

Ralph




Click On Wave to Go Back to The Top.
Today 2005. Captain Chamberlain Hunting the Cold Northwest
This is my buddy Jeff on yet another quest to find out what's around the next point as he pushes the throttle of his little Green Boat to the Max. Look for an upcoming article in the Surfer's Journal on this man and his unique little crafts as he and his buddies explore the West Coast of North America. Life to Jeff, is a Bold and daring adventure. Imagination my friends. That's all it takes.
photo courtesy of Jeff Chamberlain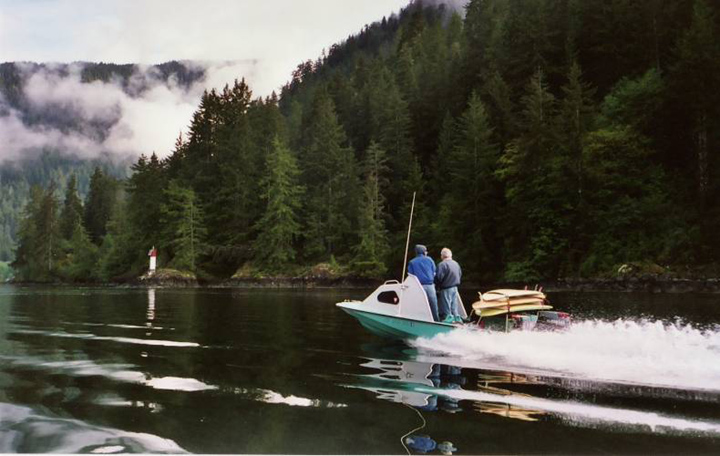 Today 2005. Adam Coates Coming Round the Corner at Puerto Escondido
Taken this year in the Heaviest Beach break on the planet (same time as last week's Mike Moran shot). Adam just exited this barrel and is seen setting up for a trademark AC lip bash. Did you break it out Adam? I've seen Adam do some the craziest antics while surfing back here. Like Busting airs on out of control beach breaks during winter swells. I can only imagine what he was doing there in the water. Suffice to say, he turned a few heads.
photo by Brian Nevins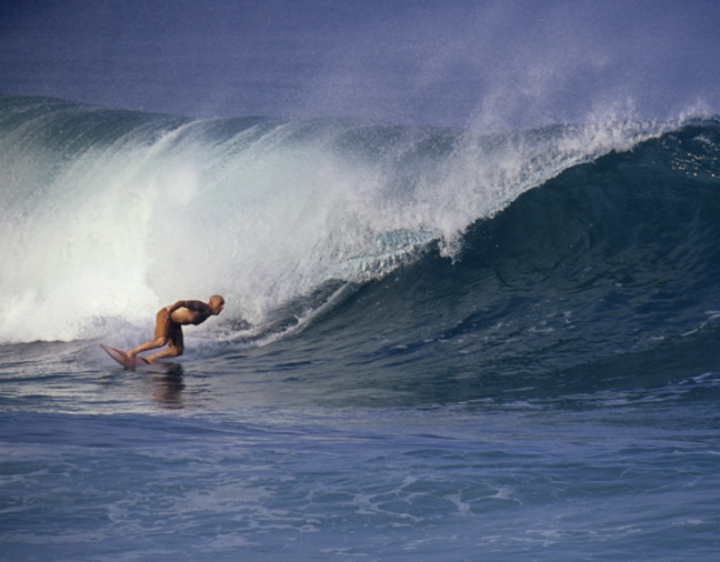 Today 2005. Adam Dealing with the Wet Lady of Puerto Escondido
This photo is as bizarre it looks. The story is even more crazy. According to Adam. This woman is Bona Fide Crazy.She thinks she's Micky Mouse in the movie Fantasia and that she can part the sea. She's Screaming at the top of her lungs while pounding the wet sand in this photo (as she does everyday). According to Adam she hates American Surfers and will smash your board on the street if she gets a hold of it. She throws beer bottles and ashtrays at American surfers the whole time screaming insults in Spanish. Adam and the boys called her Wet lady and they were all petrified of her. Wonder if we could get her to come and visit us to help keep the crowds down...just kidding (Nope).
photo by Brian Nevins

Today 2005. Jodie Racing The Lip in Costa Rica
Jodie Stackhouse sent me a sequence of himself running a fine line through one of Costa Rica's famed lefts.I chose this shot of the whole batch cause I liked the feel of the speed. Maybe we'll be in our trunks and lycra sleeves this week when Tropical storm Arlene sits off our coast. Thanks Jodie.
Photo courtesy of Jodie Stackhouse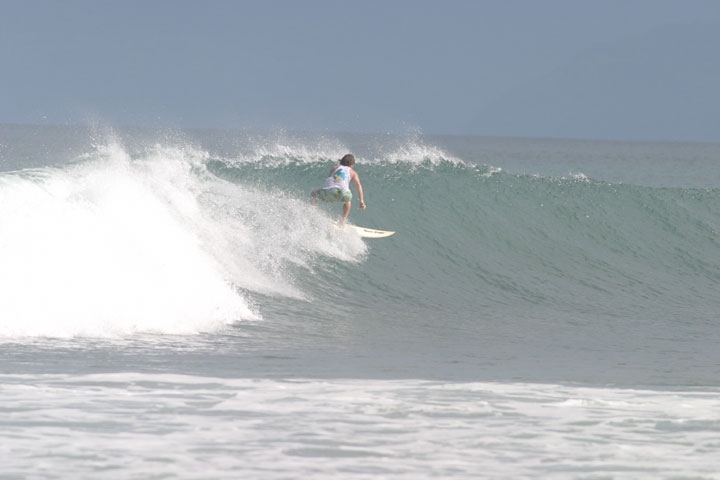 Today 2005. This look familiar? Check last week's pics. Same day same spot. Different photographer. Different time.
Photo by John Walter Budney



Today 2005. Another Featherman Shot from The Wicked Nor'easter
Somewhere over the Portsmouth Bridge in the Great State of Maine this spot was reeling during that week of wicked winds a couple of weeks ago and only one guy got to sample these waves...what I say about Imagination?
photo by Featherman