July 31st, 2005

Now I know this might not sit well with some of you, but... I surfed five days in a row this past week. It started on Tuesday (26th) and ended yesterday (30th). All thanks in part to TS Franklin. I feel guilty writing this because I know so many of you have work and family commitments that were too important to miss. I lost money this past week. No question about it. I passed up on a big job that would of netted me some serious cake. But instead of working and making money, I chose to surf with my kids and my friends. And quite honestly, it's hard to put a price tag on that. (Least that's what I'm telling my wife. Who by the way, agrees with me).
We surfed three different states in 5 days. It was great. I even surfed my shortboard two days in a row. I was forced to catch waves and turn my board to gain speed. I had fun both surfing and shooting the surf. And the water temp ranged from freezing in our state of NH to tropical warmth in the lower NE State to not bad in the Northern State. In other words, it ranged from 3/2 suits to trunking it. Not bad, especially in July.

I have not seen the weather since Thursday night. So I don't know what's brewing out in the tropics. My guess is we're in for a good August and September. The more surf we get, the happier everyone seems to be. That's a good thing. I'll be "happier" when the dreaded biting Greenheads are gone. Never could figure out what purpose those Green Devils have in the giant Eco System on the Seacoast. For that short 2-3 week lifespan they have, they sure can wreak havoc on the defenseless beachgoer. I had one last week bite me so bad, that I bled for an hour. The thing was relentless. I must of hit him three times before he finally fell wounded to the ground. I picked him up and lectured him before finally dispatching it. "Was it worth it?" I asked the buzzing Greenfaced Satan Fly. "Was it?" The thing just kept opening and closing it's vicious little bat mouth. Mocking me. "Tell your friends to stay away from here. Tell them that they will meet the same fate as you!" Then I pulled one of it's wing's off and tossed him in the sand. I know that might sound cruel to some of you but, I believe the Greenheads are part of the Global War on Terrorism. Therefore, it's our civic duty to keep the Homeland Security Program in the backs of our minds when we're on the beaches. Be vigilant my friends.
The July 26th Movie/concert at the IOKA Theater in Exeter was a memorable evening. The movie was great and the band KingsHighway was great too. They were kind enough to let me get up and play a couple of songs. I played Voodoo Chile by Jimi Hendrix. That was fun. Vinny the Sax Man sat in too and then Steve Canty got up and played with KingsHighway for a great end to a fun night. The only down side of the night was, there was no Air Conditioning. It was about 350 to 500 degrees in the theater. I may be slightly off on that figure. It may have been only 300 degrees in there. It felt like 500 though. Jimmy Dunn was the MC and he said it best. "Welcome to the Historical IOKA theater which translates to NO AIR CONDITIONING." Despite the oven like conditions, the movie was great. The Quiksilver Pros were great and Dave Cropper's band KingsHighway was fun to watch and listen to.

Word of advice to the IOKA...invest in some Air Conditioning units. Or, bill yourselves as a Movie Theater/ Weight Loss Experience.

A few weeks ago, a Surf buddy of mine out on the West Coast shot a Hole in One. I'm not a Golfer, but I understand this is something that all Golfers dream about. I would imagine, that it's a difficult feat to perform. And quite frankly, not too many Golfers achieve this status. It's akin to one of us getting barreled at Chopes or Big Pipe. By one of us...I mean, a New England Surfer. In short, it's hard to do. So, to my friend Scott "Wally" Engle, from Central California congrats.
Hope you didn't have to spend too much money buying everyone a drink in the clubhouse.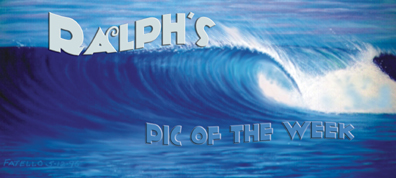 Got good surf pics? Send em off to me directly.
(See link below) Just make sure they're NOT huge files.
In fact if you have any questions about the size, email
me first and I'll write back.
Start shooting crackie!!
Ralph Pic Of The Week
If you want to access the Pic of the week from past weeks click here.
Archives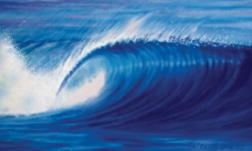 Yesterday 1940's PRE-Cinnamon Rainbows
Another shot of The junction of High Street and Ocean Boulevard, showing the old Coast Guard station.See the small triangle across the street from the Old Coast Guard Station? At the base of the left road of the small triangle is where CINNAMON RAINBOWS now stands.
Photo courtesy of the Hampton Public Library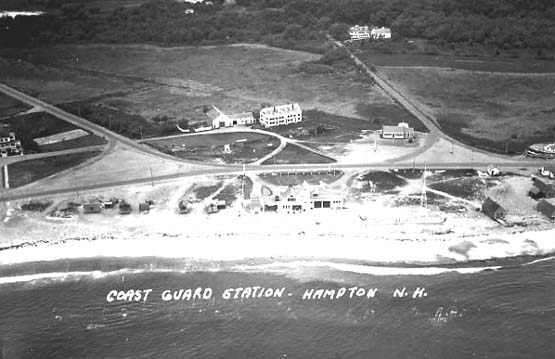 The local
NNE
Surfers had their second contest of the
Summer 05
season this weekend. The surf was small but clearly contestable. Everyone seemed to have fun and get along.
Lenny Nichols (ESA-NNE Director), and Bob McNeil
, and all the other volunteers really contribute a lot to making the contest surf scene in
Northern New England
a viable option for many of the kids and adults who enjoy competing.
Well it's Official.
Tedy Bruschi
will NOT play this season. And
Ted Johnson
has retired and
Richard Seymour
is playing hard to get. Not to mention the absence of
Charlie Weiss
and
Romeo Crennal
. These are not your
2004 New England Patriots
.
And, has
Red Sox
nation seen the last of
Manny?
OK kids, it's time for the 7th Summer Installment of:
"Ralph's Tip of the Week".
The last 6 weeks we've talked about Holding On To
Your Board, Paddling Common Sense, DROPPING IN, Knowing a Left From a Right, How To Use That Leash and How To Wax Your Board.
See archives for past Tips.
This week's Tip HOW TO TALK TO A LOCAL.
The very thought of localism bothers some people. But, the truth be told, it's out there and it exists, even if it's only in the minds of some of the locals. One could argue that the only true locals are the Abenaki, Algonkin, Nipmuc and the Wampanoag Native Americans. In Modern times, the local is someone who lives and surfs at a break for more than five years. So, if you and your friends find yourselves surfing at a break for the first time and you are in the midst of a bunch of locals, there is a way to break the ice, without getting your nose broken. I've always been one to throw out a compliment (but only after I've watched and been quiet for a few sets). Something like" "Whoa that last wave you caught was nice. Or That turn was so radical, I don't know how you hung on there. Pretty impressive." Most times I get a smile. And smiles are what we're all looking for. Usually I can find a common bond with a local crew by just sitting idling by and listening in on conversations. If I hear something that we might have in common (music, politics, etc etc) I pipe in. If I get the 'stink eye' I shut up. I'm not gonna push it with dribble chatter. Let's face it, some locals just won't open up. They all feel the need to protect their spots. I know this, because I am one. I've been there. Very protective of certain breaks and not user friendly. I've since mellowed. But, I understand the local concept. If I pick up a bad vibe from a local, I simply lay low. I'll just sit tight and wait for a wave with NO ONE on it. And I NEVER, EVER paddle out at a new spot and sit beyond and deeper than the locals. That's just plain stupid. That's starting off on the wrong foot. You're sending the wrong message to the boys. And, I'd never call out a wave, like: "I'm taking this wave so back off!" That shit will only get you bitch slapped and banished from the break. Especially if you blow the wave that you just claimed. Nothing pisses off a local crew more, than when some aggro stranger out snakes a local for a wave, only to blow the wave.

A good rule of thumb is to sit off to the side and watch a few sets go by. Let the locals get their waves, then you go, ONLY when there's a wave with NO ONE else on it. Be patient. There's plenty of waves coming. Don't be aggro at a new spot. Trust me, there are places in this world where that kind of attitude will only result in a very unpleasant surfing experience. Also, if you're a beginner, you should NOT be surfing at the Point Breaks. You need to earn that right. There's plenty of mellow beach breaks to surf without clogging the line-ups at the more popular Point breaks. And, if you're with a friend or two who are bona fide loudmouths, you might want to pull them aside and tell them to KNOCK IT OFF. Respect the locals and you will be treated the same.

Next week's Tip HOW TO GET BARRELED.

As always my friends...
Pray for Surf. Pray for Peace. Surf For Fun.

Ralph




Click On Wave to Go Back to The Top.
Today 2005. Summer Swell at North Beach
Looks crowded. But the waves look good. Looks cold too, except for the girl wading into the shorebreak. I can tell you this about this day. The air temp was close to 100 degrees.
Photo courtesy of Jack Fleming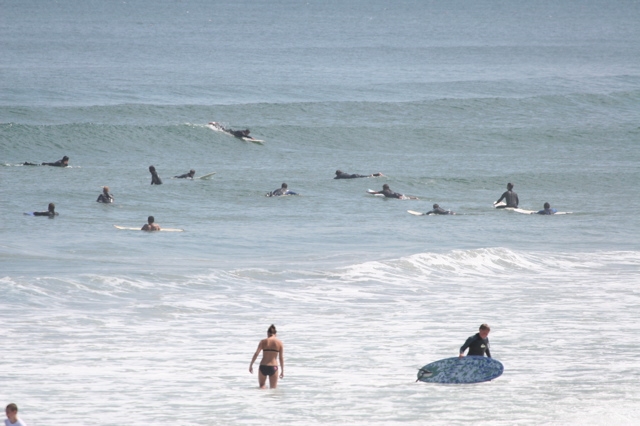 Today 2005. My dinner with The Lifeguard
Local surfers have had talks with Lifeguards since the beginning of time. Here's a photo of me talking with a Lifeguard about me surfing too close to the rocks.
Photo by John Carden


Today 2005. Watching a Surf Flick at the Stand In Theater
Ask any old timer and they will tell you about drive-in theaters. I remember seeing movies outside every summer when I was a kid. This was a great night at the Coolest Restaurant in Newburyport Bucky's Burritos owned by local Surfer Mike Rosa. Eat there sometime it's so cool! photo courtesy of Bucky's Burritos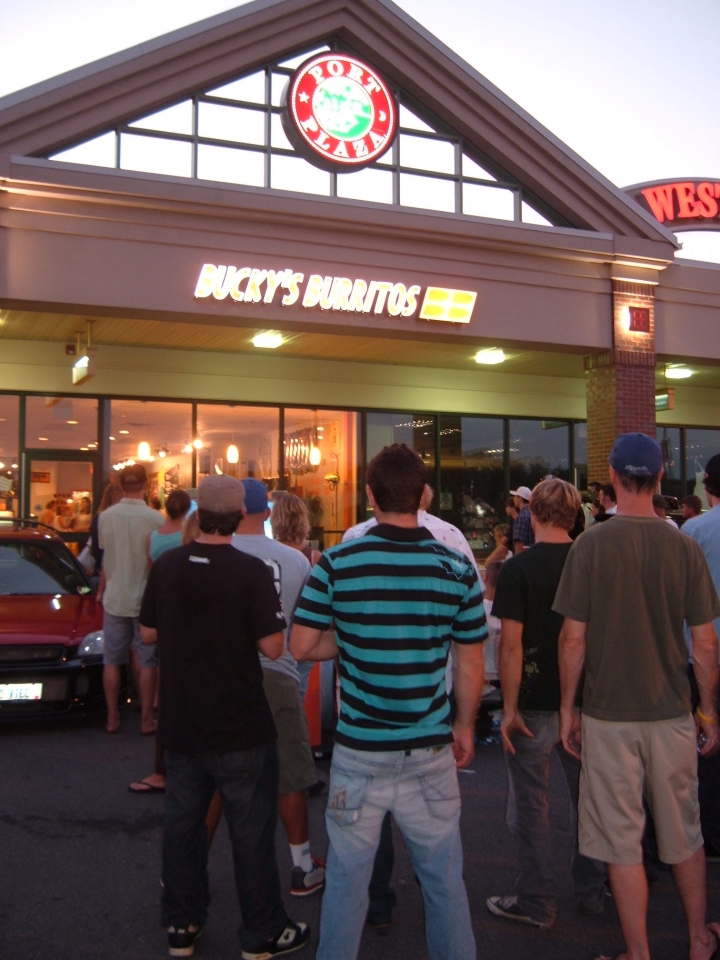 Today 2005. After the Surf Flick Rock Show
My man Dave Cropper and his new band KINGS HIGHWAY. I like to think that I helped Dave get his musical chops together by my jamming with him over the years, but, he more than likely did it on his own. Once the music bug bites you...you never recover. Kind of like the surf bug bite. photo courtesy of Bucky's Burritos

Today 2005 West Coast Bottom Turn
My old buddy Charley Daley who used to live here in NH sent me this photo of an unknown Goofy footer ripping a nice bottom turn at Ocean Beach in California. The color of the water looks like our winter water look. So does the caliber of surfing. Photo courtesy of Charley Daley

Today 2005. The Fresh Man On The Launch Pad
Here's our boy Doug "Fresh" Wright getting a little pocket of air under his board. Having watched Doug surf very closely over the last few years I can honestly say that "Fresh" is starting to put it all together. You know how you get good surfing? You surf all the time in every single condition. Pretty simple concept. Go surfing. For more photos from Skye of this day click on the Dougie photo or click here...right here.
Photo by Skye Nacel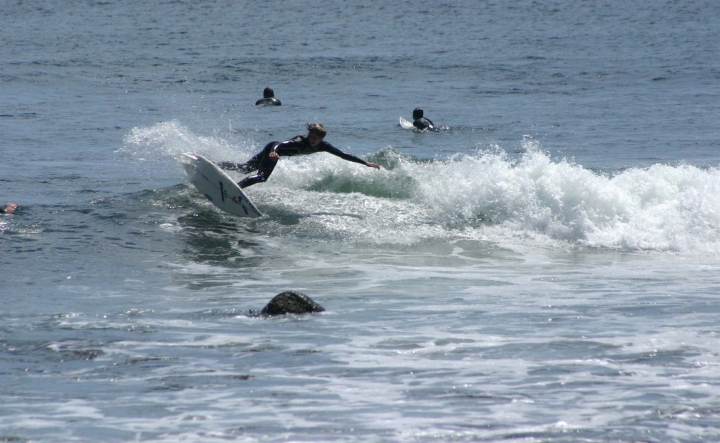 Today 2005 North Beach Water Shot
Big waves and small waves it's all fun. Matt walker pretending this wave is an overhead barrel at Chopes or Pipeline. It's all about imagination. Photo courtesy of Jeannine McKay