January 31st, 2005
"The Sky Is Falling! The Sky is Falling!" Huh?...
The Wave Cam is down and everyone went loopy last week. Come on people get a grip! Are we that dependant on the wave cam? Well, I guess we are. I found myself checking the CAM throughout the days last week even though I knew it was down. But you know what? I did something I used to do before there were wave cams and daily photos...I checked it myself! I call it the Ralph Cam. Works pretty good too. I drive down the streeet and look over the cement Wall at 18th Street and I make the call myself. The Ralph Cam never lets me down. It's always spot on. I surfed on Saturday because we had a tropical heat wave. It was 32 degrees! Warm air but the water temp was still cold. Very cold. We lasted a few hours before the extremities started to go. First it was my right toe...then it was my left foot. When your feet feel like wooden stumps it's time to head in. I did.

Went snowboarding yesterday (GUNSTOCK) with Max and Dougie Fresh and his two buds. How fortunate are we to be able to surf and snowboard on the same weekend? Heck, in the old days Kevin Grondin and I surfed and snowboarded on the same day! That was cool. And just two years ago I surfed, snowboarded (GUNSTOCK) and came home that night and went skateboarding on my street. Can you beat that kids? I'm sure you could if you wanted to.

Anybody going to Jacksonville for the Superbowl ? If anyone has a couple of tix they don't want give me a call...I won't hold my breath.
Surfing with Larry Giles on Saturday we talked about the Super Bowl and it turns out Larry is one of those who has no interest in Sports. I told him I envied him. On the one hand, it can be a total drag if you're team loses. But on the good side...it's a great feeling when your team does good. Still, I wonder how many of you would, if you could, choose between being either into Sports, or not into them? I know which one my wife would choose for me....

Game, what game?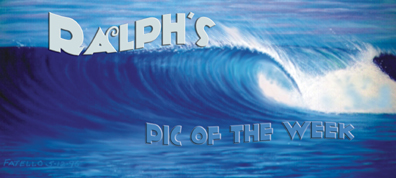 If you got good surf pics send em off to me directly.
Just make sure they're NOT huge files. In fact if you have any questions about the size, email me first and I'll write back. Start shooting crackie!!
Ralph Pic Of The Week
If you want to access the Pic of the week from past weeks click here.
Archives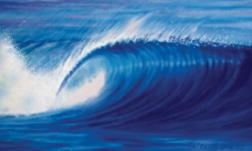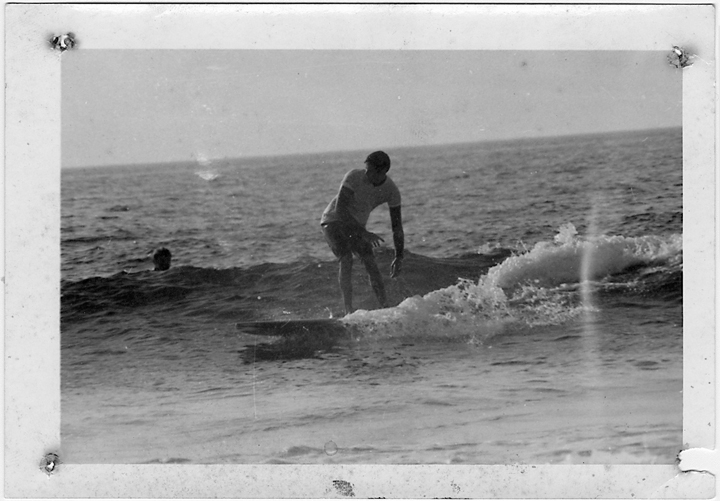 Yesterday 1968. The Late Mike Normand gliding on a summer wave on the NorthShore of Massachusetts.
This is Mike Normand. He was a friend of mine back in the 60's and 70's. He was a unique individual. Very talented he made his own boards back in the 60's. He was part of our Surf Club. We had some great times as kids. Mike got married in the late 70's and had a few kids. He stayed surfing throughout. He got cancer in the early 80's and passed away. His life was cut way too short. We miss him,
Photo courtesy of Jeff Crawford

Here's some food for thought. I was thinking about this the other day as I was paddling out. It's a question that has NO chance of being answered. And that question is...How many waves have I seen in my life? I mean not just ridden, but have seen. Think about that for a moment. All the waves you've watched. Whether you're paddling by them, or sitting under the Wall and watching them with your friends. Or sitting in your vehicle watching. My guess-ti-mate has got to be in the hundreds of thousands and perhaps millions. I started surfing in 1964 and I was out on Saturday, January 2005 watching empty waves roll by. How many waves have you seen? It's a mind boggling question when you think about it. Not to mention that there are hundreds of thousands of Americans who have NEVER seen a single wave. Oh yea, it's true. There are people who live in this country who have NEVER seen a single wave...Whoa. That's what I call a sheltered life.

Time for another shameless plug here. I have now converted all my movies to DVD. That's starting from the 99 to 90 series, The WALL 2000-2001, Surfing The Soul 2002, Grommatically Correct 2002, RICA RICO 2003-2004, and of course, 13POINT5 and Monkey Punk. Watching my own movies (I have to monitor them when the batches come in) the other day gave me a new appreciation on how far we have come as a Surf Community. We are truly blessed to have the waves and friends that we have here in our little surf world.

Why did Freddie Mtichell say those terrible things about Rodney Harrison? Why Freddie why? Why would you piss Rodney off?

The Countdown to the Superbowl is On! Enjoy this time.
GO PATS!

As always my friends...Pray for Surf. Pray for Peace. Surf For Fun.

Ralph

P.S. Help the victims of the Tsunami if you can.



Click On Wave to Go Back to The Top.

Today. 2005. Col Jason Hammer catching up on his roots (look at the Computer Monitor), while serving our country in Hawaii.
This was taken yesterday. How unreal is modern technology? It's just amazing. Jay Hammer is a longtime Hampton local who's surfed every break in our 13.5 miles of coastline. Just back from Kuwaitt, he's in between missions and sent us this classic shot. Thanks Jason...get some warm ones at Lani's for me (I love that wave).
Photo courtesy of Jay Hammer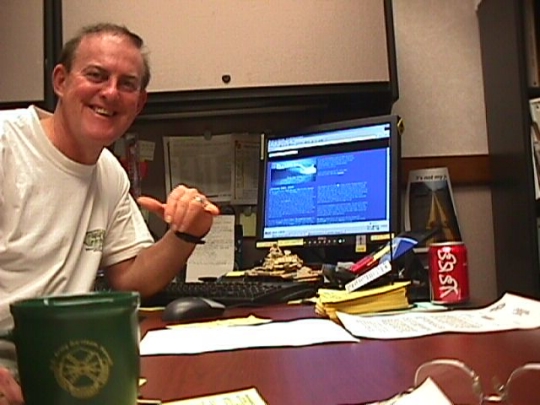 Today. 2005. Another shot from last Monday.
You know this spot...but do you know who this UNKNOWN rider is? Let me know if you do.
Photo By Ed O'Connell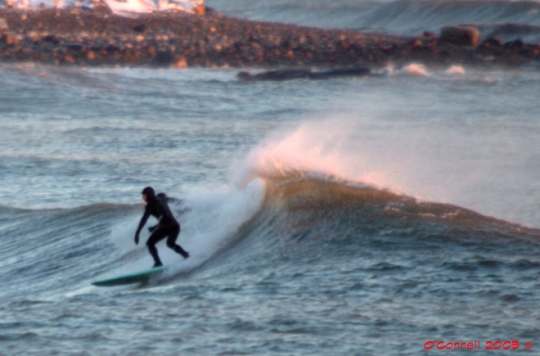 Today. 2005. A few swells ago. I call this one WAVE FIELD.
This is a beautiful photograph. Joel Field sent me this a few weeks ago. Nice shot Joel. I'd like to see some more of your stuff. .
Photo courtesy of Joel Field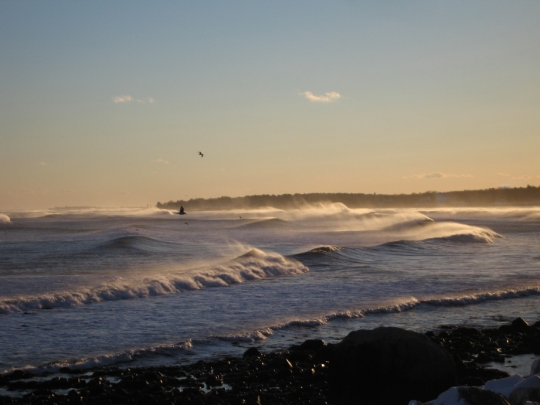 Today. 2005. Stan Chew sampling his PRIVATE Break in Central America...oh yea.
This is Stan Chew. If you don't know who Stan Chew is, you need to get out your Hampton History Book. Stan is a LONGTIME local Surfer who has travelled all over the world and then some. He's a great musician and an all around good guy. We miss Stan. I miss playing my guitar with him. And surfing with him. He recently sent me some pics of his Private Surf Spot. Here's just one of them. Stay tuned...I'll be featuring more of Stan's new found Wave Field along with updates on his Surf Related business. That wave looks so warm and nice right about now. Lars is headed down in the next week or so and we'll be getting some NEW shots. Thanks Amigo.
Photos courtesy of Stan Chew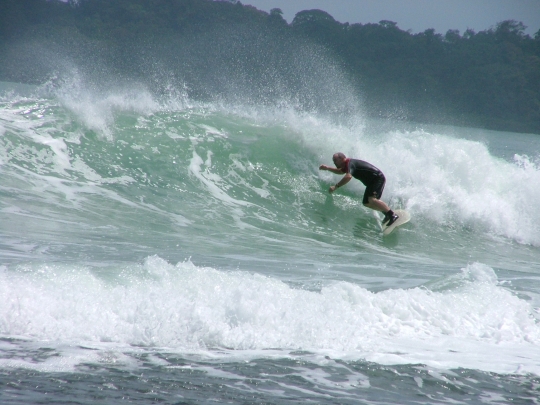 Today. 2005. Local East Coast Boy Slams One Home!
This was sent in by a local Hampton visitor "Dingo" Hudson, who hails from down South along the Jersey shore.
He lives in Australia now finishing up his degree. He reads our column every week and wanted to know if we'd
put his photo up. Well...there it is my friend.
Photos courtesy of Brendan Hudson