January 29th, 2006

"If you live in my house you have to surf!" Can you imagine growing up with that statement from your dad? I mean, think about it. Your father, making that rule a part of your daily life. How many of you think you'd be still surfing today had one of your parents laid that law down? Would you be turned off to surfing, because your parents forced it on you, or, would you realize your good fortune and embrace it. Well, I'm banking on my kids embracing it. Because that's my line! That's RULE Number 1 in my home. So far, all my kids enjoy surfing. In fact, they relish in it. Granted, some more than others, but they all adhere to my request. Even my youngest daughter who really does NOT want to surf but loves Boogieboarding. And yet somehow, she thinks that Boogieboarding is not surfing. Ha! Little does she know, that it's all surfing. Stand up, Kneeboarding, Boogie boarding. Heck, even Body surfing I consider surfing. So you see, my rule is not that far fetched. Albeit, it does seem so on the surface.

You see my friends, I was basically trying to set the tone for all Summer activity and future family vacations. Thus far it's worked to all the hardcore surfers in my family advantage. All of our family vacations have taken place in the locales that produce good waves. Costa Rica, Puerto Rico, California etc etc.
Does this make me a mean dad? Hardly. I mean, I could of been into Golf, or worse, and then made the same claim. Can you imagine growing up with that Law? "If You Live in My House You Have to Golf!" Huh? I'd run away. I will admit, that my Surf Rule is a tad on the selfish side, but in hindsight, I look at Surfing as the ultimate gift in life and if I can share this wonderful gift with my family like I do with my friends, I figure life, (or at least our family life) will be so much the better.

It is and has been.
I get a kick out of hearing my kids say my rule out loud to the non-surfing community. The look of incredulous disbelief is almost priceless. It's a neat little secret we have. A nod and a wink. Like surfing in general. It's still after all this time, a relative secret to so many. I mean the general population is still not hip to it. Especially here in New England. I mean I am so beyond trying to point out to the civilian world that YES there is Surf here in New England. Even when they are staring at a photo of it. The way I look at it, if something in their brain clicks and they act upon it fine. If it does not, I won't lose any sleep at their missed opportunity.
Like I've said a hundred times before..."If You Can Drive By it...it ain't a Secret!" It's not like Surfers are hell bent on hiding the ocean. Although, it sure seems like it in some places.

Like the infamous Jerky Boys once said..."Open your Eyes Jack Ass!"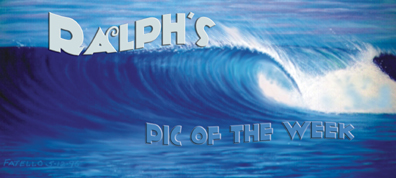 Got good surf pics? Send em off to me directly.
(See link below) Just make sure they're NOT huge files.
In fact if you have any questions about the size, email
me first and I'll write back.
Start shooting crackie!!
Ralph Pic Of The Week
If you want to access the Pic of the week from past weeks click here.
Archives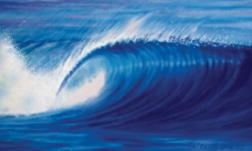 Yesterday 1976 Beaver Tail Flapping at The WALL
Another Vince shot and this time it's in the dead of Winter (January) and if you look closely you'll notice that young Vincent is not wearing a hood. Are you kidding me? I kid you knot (not). He hated wearing hoods. Yea...and your point is...?
Photo courtesy of SFOD




Why all this family talk? Well, turns out another member of our Surf Community has had yet another little potential surfer. Kevin and Natasha are the proud parents of another little Surfer Girl "Kaylee Jane Rafferty" has weighed in at 7lbs, 9oz and has already been by the ocean for a quick surf check. Seriously, there has been a number of little Surfer girls born within the last year with ties to our Surf Community and it looks like there's no shortage of future groms. Welcome to our Surf World Kaleigh (or is it Kaylee?) I'm sure you'll be hanging with the other girls and surfing with them in the very near future. Veda Day, Anna, Isabella and a few others. There's a healthy crop of future surfers who will carry the torch long after we're all to old and brittle to do it ourselves.

Hey I met some new surf friends this week while out surfing that real popular Pointbreak. So a big shout out to Christian and Jonathan! That was fun boys. A little midday surf sesh is good for the soul. Speaking of Soul. The swell before last was one of the most soulful of the year. I watched as young Perry Reynolds, Mackey V and Mr Lenny Nichols put on a display of sharing and shredding waves. When done properly, a good surf session should result in everyone getting their share and absolutely killing it. That's what I saw as the sun went down on the 19th...a clinic on shortboarding New England style.

Speaking of the sun...man it was warm this weekend. Are you kidding me? Do we have the strangest weather patterns on the planet or what? It's just nuts. If I didn't know better I'd say the air temp was almost 60 on Saturday! Is that possible? Same with today. Warm. Look, I know it (winter) ain't over by a long shot, but for right now...I'm digging it. That's a BIG DIG IT!

I know some of you can't stand the thought of Football and the NFL and while I sympathize with you, I think there are more of you who are fans. And more specifically, you're Patriots fans. You see my Pig Skin Loving friends, I'm still not right about that Denver game.
I think the Patriots really were the best team on the field that night. I also think they were the worse team on the field that night. And I believe the Broncos just happened to be there to take advantage of this phenomenon. In short, the Broncos did not win that game as much as the Patriots handed it to them. Like a gift. Here you go. Here's a victory...let's see what you can do with it now.

Turns out they couldn't do squat with it. Which makes it all harder for us to deal with it. Look, I'll be ok. I just needed to vent one last time before the SuperBowl next Sunday...the Superbowl that WE SHOULD BE PLAYING IN WAHHHHH! Ok I'm cool...it's over (snif)...I'm ok...(snif)...

Remember...Surfing heals all wounds.
As always my friends...Pray for Surf.
Pray for Peace. Surf For Fun.

Ralph




Click On Wave to Go Back to The Top.
Today 2006 Beach Breaking in New Hampshire
Surf mogul, Jack Fleming was out strolling the beach last weekend with his hounds when he spotted this guy paddle out and proceed to dismantle these small fun beach waves. Turns out it was our longtime friend Stevie O. Like I said a few weeks ago, all the Shop guys know how to surf. And Stevie is one of the BEST. Hands down. He rips.
Photos by Jack Fleming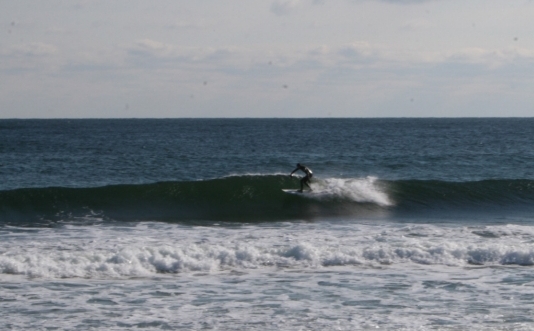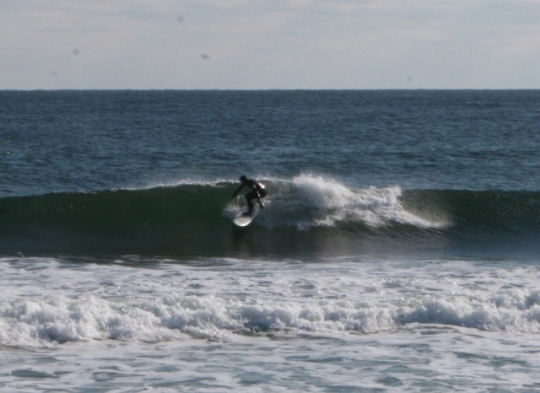 Today 2006 Casey Goes North of North
This is a B&W series of Mr Lockwood by Nick LaVecchia. Casey can you keep a ...nevermind.
Photos by Nick LaVecchia



Today 2006 The West Coast Rocking!
More photos of a great swell that our Westies took advantage of...
Photos by The Phantom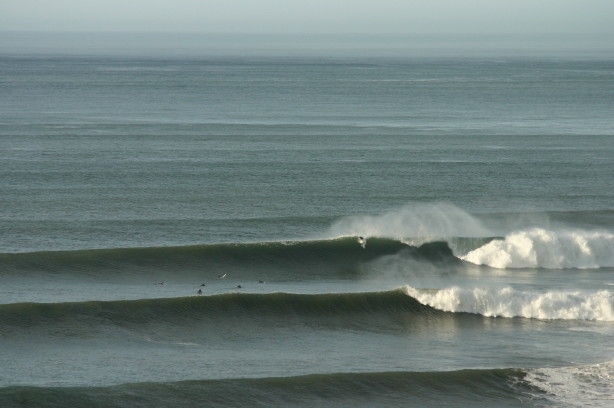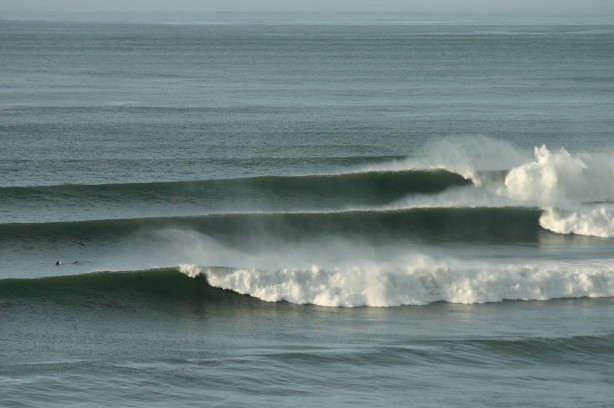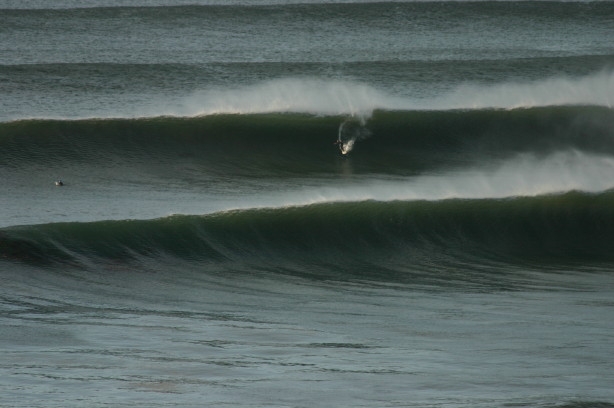 Today 2006 Wally World Westie Action
This is a good friend of mine from the West Coast. Scott "Wally" Engle. He's a good guy and a good surfer and his crew is a lot like our crew back here. Except they never get snow.
Photos courtesy of Scoot Engle




OK Wally this is a nice wave, but brother, that Yellow wetsuit has got to go!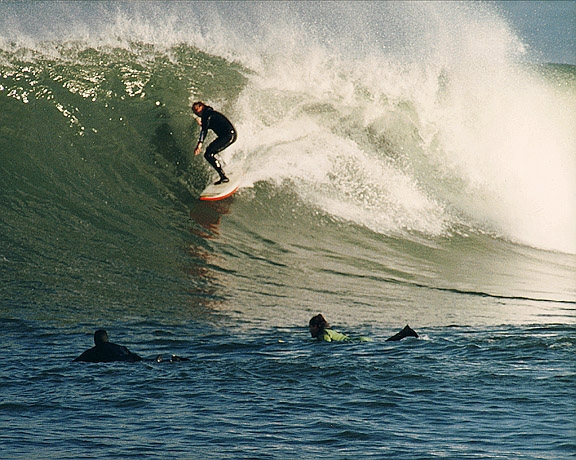 Wally putting on a clinic!



Today 2006 January TWO More from California
Taken last weekend by ex-New Hammy Surfer Tony Szabo. This is his buddy out surfing a special beach break. They had it to themselves. Well, the Great Whites had some too.
Photos courtesy of Tony Szabo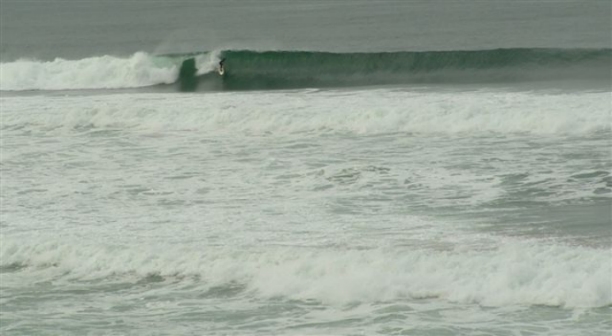 Today 2005 Poop Island
New Englander Ben Nigro sent this in...pooper scooper Beach.
Photos by Ben Nigro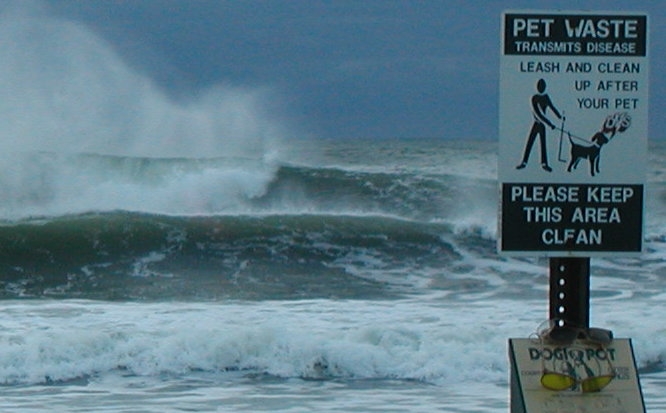 Today 2006 PARTING SHOT- Let's Paddle Out It Looks Safe to Me!!
Why would anyone want to do this to themselves? Maverick's Surfer in a classic Tuck and Roll.
Photo courtesy of The Phantom