January 11th, 2005
"Where's that wave?" The client in my office asked this week as he stared at the monitor on my computer. On the 19" flat screen, the opening of my movie 13POINT5 was playing as I checked the latest batch of DVDs. "Right down the street." I answered. "Are you kidding me? That's here in Hampton?" he asked. "Yep. That's the Wall, you know, 10th Street...North Beach." I told him. He stared at the monitor with his eyes bugging at the perfect barrels unloading before him. "I had no idea we had waves that big around here." He finally said. "Oh God", I thought to myself. Here we go again. "Well, we do. Not all the time. But, we do get waves that big. I know we do, because I filmed what you're looking at." I answered, somewhat bothered by the lack of knowledge that some non surfers have. We have all heard statements like that a million times before. But, here's the kicker. This guy was a local. Granted, he dosen't surf, but he lives here in Hampton. All his life. The man is in his 60's and he's telling me he's never seen surf like that around here? "What planet do you live on?" I asked under my breath. I know you've all heard similar statements. Isn't it amazing what some people see and what some do not?. It's hard for me to comprehend that there are many living among us who are clueless to what's happening out in the Ocean. I guess that's why this thing we call "Surfing" is so special. Apparently, not everyone sees what we see. Maybe it's the East Coast stigma we've had since the early 60's.

Look, we know that surfers from West Coast and beyond used to think that we lived in a barren land for waves. It wasn't until the last few decades that New England started getting media coverage that opened the eyes of the blind. I can remember being very offended by the snide comments we'd get from the "elite" groups who had more consistent surf than we had. The incredulous looks of utter disbelief when you tried to describe the surf we actually get. "No way man. You guys couldn't possibly get surf that good in New England." They'd say. "Well we do, and I've got the goods to prove it." Then I'd show 'em a photo, or a film clip and watch 'em stare with their mouths hanging open like dogs. It always felt good. But they'd always come back with..."But it's gotta be cold." And I'd always answer..."Oh yea. It's beyond cold. So cold that NO ONE surfs back there...it's just too cold." And I'd smile at em.

"Too cold to surf in New England.".
Same day as above...another Tsunami Wave?
You all know this spot...but what you didn't know is, it's part of that deadly tsunami a half a world away! This is truly mind boggling when you think about what you're seeing. Great photo Green Mountain Boy!
photo by Dave Sautter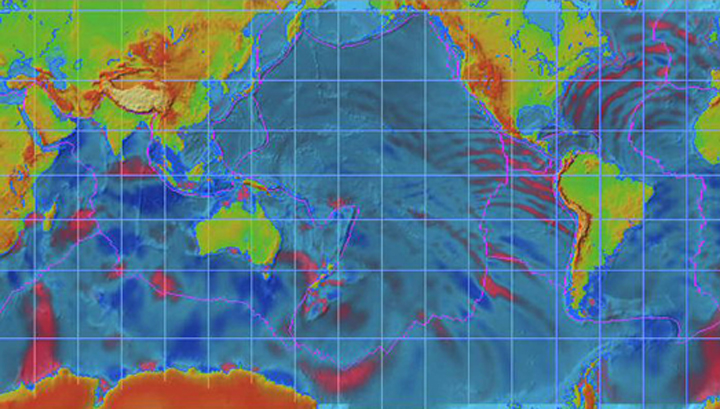 The Red bands indicate the actual swell lines. Look at New England! There's an amazing video on the NOAA website to see this whole deal unfold.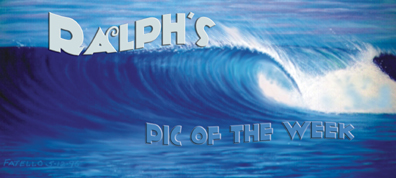 If you got good surf pics send em off to me directly.
Just make sure they're NOT huge files. In fact if you have any questions about the size, email me first and I'll write back. Start shooting crackie!!
Ralph Pic Of The Week
If you want to access the Pic of the week from past weeks click here.
Archives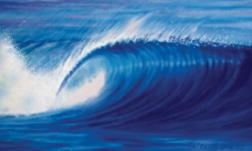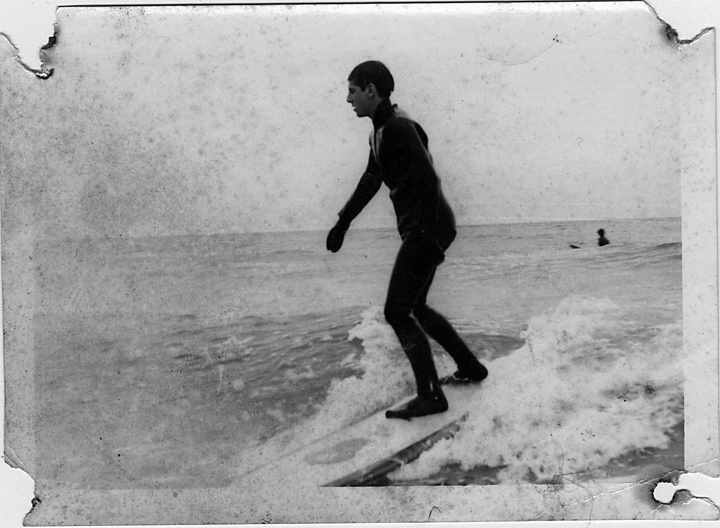 Yesterday 1968. The North Shore of Massachusetts.
I'ts a photo of me. A young Ralph Fatello. I was 17yrs old. I still have this board. It's in my office. The Rapier, made by Harbour Surfboards. It has no rocker at all. But in 67 and 68 it was considered one of the first short boards. It's 8' 3" long.
I'm guessing this was winter. I never wore a hood in those days (didn't look cool). I froze my ass off. This was right before I went into The Marines. My oldest surf buddy Jeff Crawford sent me the photo this week. It blew me away. I remember
those early days. We had a Surf Club, Competition East . The world was a different place back then. Thanks for the memories Jeffy! I'll be posting more in the weeks and months to come.
Photo courtesy of Jeff Crawford

I just saw something on the Network News that blew me away. The massive tsunami of Dec. 26 2004 actually sent waves all around the entire globe. They just showed a time-line graph from NOAA that clearly showed the waves from the tsunami reaching our very shores. Do you know what this means? My friends, it means, if you surfed on Monday, December 27th, 2004, you surfed waves from the tsunmai! That's insane! That's just mind boggling. This is for real. I saw it on NBC. That deadly swell hit our shores.
http://www.noaanews.noaa.gov/stories2005/s2365.htm
See last picture below for the actual NOAA Graph. If you want to watch the video go to the NOAA website and watch it...UNREAL!

Speaking of deadly...what is going on in the world? The snow and floods in California are unheard of. Are you kidding me? The landslide footage on TV was right on the heels of the never ending video footage of the tsunami. Is it me, or is the world's weather going haywire? Is there a logical answer to any of this? If any of you weather experts have a handle on what's going on please email me. I'd like to be enlightened. Because, it looks like (at least on the surface) that there are things happening out there that have a lot of us concerned.
Maybe, it's bigger than the weather...

Well, the Patriots are playing the Colts. Is this what you all wanted? A rematch? That freak Peyton Manning throwing a million TD passes this season is bringing his voodoo magic to Foxboro this Sunday. Let's hope it is a repeat of last year. Except we won't be having Ty Law's services. He picked off Peyton 3 times last year. Our secondary is hurting like never before. I guess we have to believe in Coach Belichick's uncanny ability to get inside Peyton's head and cause havoc. One thing's for sure, we'll be getting our money's worth this weekend. It won't be a blow-out (I hope).
The Patriots are NOT the Broncos. Not even close.

And what is up with Randy Moss and Randy Johnson? Have the Randys gone Crazy? I tell ya...the weather's going crazy and so isn't the world of sports!
Let's Hope we're heading to Pittsburgh next weekend...or better yet, let's hope the JETS are coming to New England! GO PATS!

As always my friends...Pray for Surf. Pray for Peace. Surf For Fun.

Ralph

P.S. Help the victims of the Tsunami if you can.



Click On Wave to Go Back to The Top.
Today. Monday Dec. 27, 2004. Mike Stanek Surfing What we all know now to be, part of the deadly Tsunami!

Kevin Rafferty and Mike Stanek were out riding this day. This shot is of Mike Stanek pulling into a SICK PIT...but here's the REAL story. As of 01/11/05 the NOAA weather service has indicated that part of this swell was actually the TSUNAMI itself! Whoa! (Read above in Newsletter!) NO BS! On the NBC nightly news, Brian Williams has reported that the waves from the Tsunmai reached our Shores! The next day!
Photo courtesy of Jamie Wade