February 26th, 2006

As I was pouring my first cup of coffee this morning, I glanced out the kitchen window at the freshly fallen snow that had descended on us throughout the day yesterday and into last night. The relentless, white blanket of powder, had covered every square inch within my view. The sun was shining bright and there was not a cloud in sight. Suddenly, a large gust of wind unfurled from the Northwest, and a massive billowing wall of crystallized snow flakes blew across my front yard. It was at least 75 feet high and three times that in width. It was like watching a white tornado. It stopped me dead in my tracks. And at that moment, I wished that some of my West Coast Surf buddies could have witnessed this amazing occurrence. I smiled thinking about it. ' This is why we live here year round' I thought to myself.

Beautiful, natural explosions of winter right at our doorsteps.
Of course, I was not thinking these pristine thoughts last night when I was out there Snowblowing. In fact, I may have cursed a few times. Mostly when my trusty Snowblower's chute would clog with hard packed snow. I did wonder whether or not we'd be Surfing in the morning, or Snowboarding. We chose the former. But tomorrow, we're headed to the mountains for some POW POW boarding. Now, you West Coast boys would dig snowboarding in powder because, it is a lot like surfing.
Could you handle it? Snowboarding in the Northeast? If you think you could, you may as well get yourselves a 6-5-4 and join us for a hearty Surf as well!

Nah...on second thought, forget about it.

I know I'm not alone when I mention how many times people have asked me why I live here. You've all heard it. "If you love surfing so much, why don't you move to Hawaii or California? Why would you live here?" And I suppose it's a legitimate question. I might ask the same question, had I not known about our surf. But more importantly than the surf. I live here (and I expect some of you feel the same), because I like it here. Yes, the surf is world class when it's on, but, to me, it's more than that.

It's the overall beauty, of both the land and climate, and quite frankly, I love the people. My family and friends all live here. I honestly love everything about New England. Yes, even the dam winters.

And I know, it's not for everyone. Thank God for that.

Truth be told, there are not many places on this earth where you can go Surfing and Snowboarding all in the same day. New England is one of them...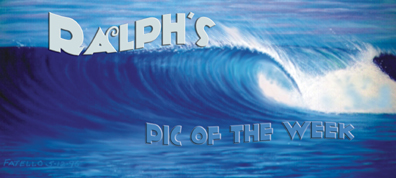 Got good surf pics? Send em off to me directly.
(See link below) Just make sure they're NOT huge files.
In fact if you have any questions about the size, email
me first and I'll write back.
Start shooting crackie!!
Ralph Pic Of The Week
If you want to access the Pic of the week from past weeks click here.
Archives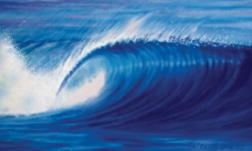 Yesterday 1985- Gary Ritchie Hit's the brakes at the Wall
This is just one of many photos I have of Gary Ritchie. I have just as many video clips of him over the years. I chose this photo because I remember this day clearly. Gary, Billy and Mark were all out and about this day. If only we could go back and freeze time. Would you, if you could? But then again, isn't that what photography does for us? I mean, freezing time. Doesn't photography do that? Capturing those moments and just freezing a slice of our lives. Same with video and film. It truly is amazing when you think about it. I remember this day like it was yesterday. I think it was Hurricane Gloria. We were all so full of life, and so stoked to be together, surfing these fun waves. No worries, no pain, just the pure stoke of a new swell, at our homebreak. Gary and Billy, we remember, and we won't forget.
Photo by SFOD R. Fatello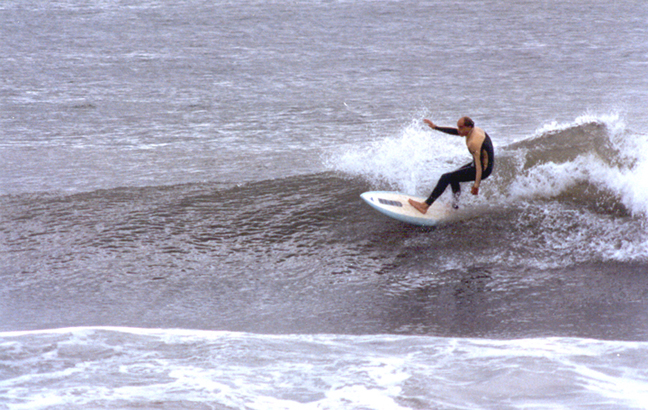 There is pain and suffering in this world of ours. One need not have to look any further than the headlines of the daily newspapers and the nightly news on TV. There is so much suffering out there. Unfortunately, there has been pain and suffering right here in our surf community. Last week, we lost two loved ones who had strong surf connections right here on the Seacoast. First, Johnny and Lynn Meehan, lost Lynn's father "George". He had been suffering from Parkinson's disease for quite a few years, and finally last week, the Air Force Veteran, lost that long courageous battle. Johnny and Lynn spent many hours with George over the last decade helping him get through each day. It's really a common situation these days, when we find ourselves, looking after and over our elderly parents. Our sincere and heartfelt condolences go out to the Meehan family.

Rest in Peace George.

We also lost Mark Ritchie last week. Mark was the younger brother of Gary and Billy Ritchie. The three of them grew up surfing here on the seacoast. Most of you have seen numerous photos of Billy right here on this web site in the last few years. You've seen Billy in most of my movies as well. Billy's one of the best surfers in New England. His older brother Gary is also a hard core surfer that most of you older guys know well enough. Mark was the youngest of the three Ritchie brothers. Mark was a surfer. He might not of been as good as Billy, or traveled as much as Gary, but in his day, Mark was a surfer who loved surfing here in New England. Somewhere in office, where there are stacks and stacks of movies (film) that I have shot over the years, I have a reel with Mark surfing and just hanging out at the beach.
I promised both Gary and Billy that some day in the future, we will all sit down and go through my movies and find that footage of Mark.

Mark was a gentle soul, who had a huge heart. He made a real difference in this world, by his caring love and affection for family and friends. He was also a volunteer firefighter on the Seacoast and he loved to fish. He leaves behind three beautiful daughters, who were his pride and joy. He also leaves a grieving community of family and friends.

From of all us here on the Seacoast and beyond, we want to extend our deepest sympathies to Mark's family and friends. And we hope, that they find peace and strength in the days to come, and may the sorrow that they feel now, be filled with fond and happy memories of Mark. Rest in Peace Brother...Rest in Peace.

Remember...Surfing heals all wounds.
As always my friends...Pray for Surf.
Pray for Peace. Surf For Fun.

Ralph




Click On Wave to Go Back to The Top.
Today 2006 Billy Ritchie Shacked, Tubed, Barrelled...whatever you want to call it...he's in there! A Bona Fide New England Hollow Wave!
From a few swells ago...did he make it? What do you think? Does it make a difference? Maybe. I know I've seen Billy in plenty of holes over the last couple of decades. I expect to see him in quite a few more before all is said and done. And I'll be there, shooting and making more memories.
Photo by Jack Fleming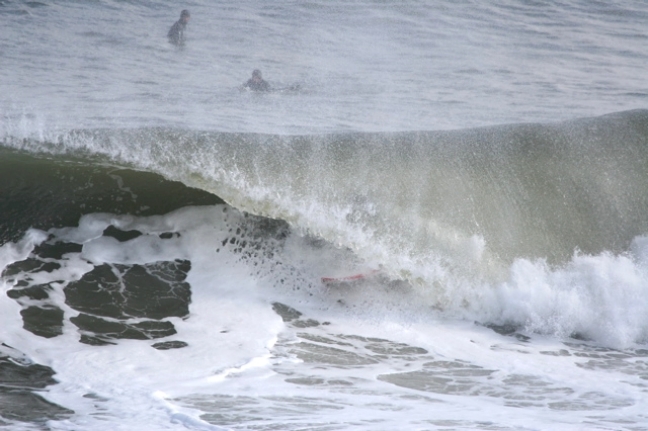 Today 2006 Somewhere Very Far Away From New England
It's nice to see what other places look like. This place looks beautiful on the surface..but me thinks there
may be a shark or two hanging around these waters...it just looks sharkey to me.
Photos courtesy of The Phantom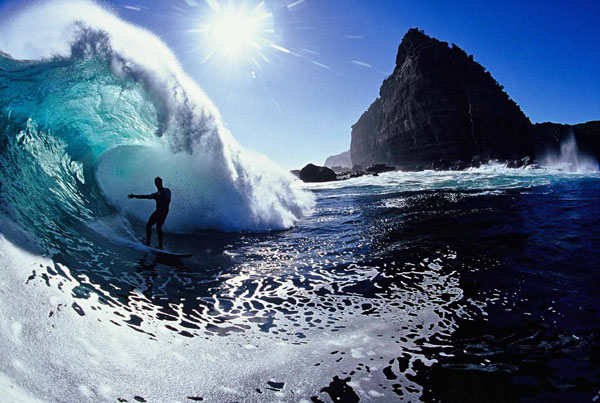 Same spot (Above) Wide angle lens can be deceiving. I like the sun poking out over that big rock.




Again, the same spot (Above) CAN YOU SAY BIG WIDE ANGLE?




Same dam spot (Above) ...keep in mind these are all different waves...dam. This place is starting to grow on me.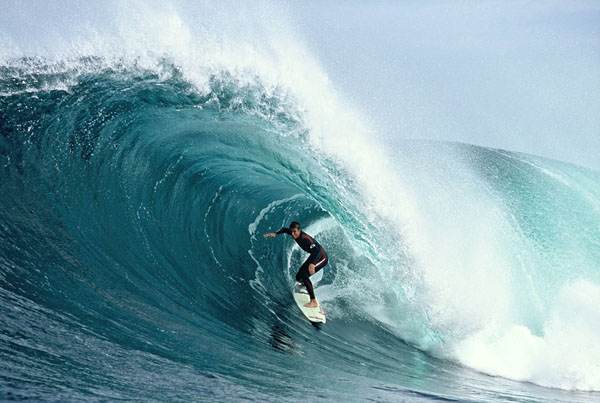 Same spot! Alright that's it! Where is this place? Look at this wave!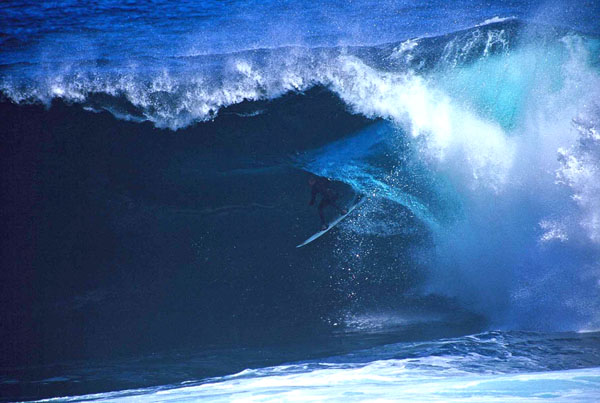 ...on second thought....Nevermind.This wave is freaking me out! What the hell is that???
Is this a tube within a tube???


Today 2006 PARTING SHOT ..."Surfing The Moguls" February 2006
Are you kidding me? What the....??????? This is a TOTAL FREAK! I mean it's Off The Shizzle Van Sizzle!
Photo courtesy of The Phantom