February 19th, 2006

A friend of mine who does not surf, walked up to me yesterday (Saturday) and said "Surf must be good today!" To which I replied..."Yea, in France!" He looked at me with that big, question mark look on his face and said "But all this wind? I thought you guys liked it windy?" I then had to explain, the good wind vs the bad wind theory to my poor uneducated, land lubber friend.
Truth be told, it couldn't get any flatter today, or yesterday for that matter. And it couldn't get much colder either (actually, it could, but we don't need to bring that up). Another sure sign that we are clearly not out of the woods yet, as far as our Winter being over, and or considered being mild. This is our stark reality.
The surf was pretty fun on Monday. Hope you got to sample some of that quick swell. It was quick too. Got some photos to share with you from both Sunday and Monday. My son Max and I surfed a beach break on Monday afternoon and we both had our share of fun sized, clean little zippers before we had to call it a day. He gets Frost Nip after a couple of hours in the water. I know some of you use Vaseline on the face to prevent Frost Nip. But, the way we roll is so off the cuff, with the quick response surf sessions being the rule, we tend to forget to slap the gunk on his face before we hit the water. So, I have to monitor his face. Once he swells up to twice his normal face size and he starts to speak in foreign tongues, we tend to call it a session. Then, I typically defrost him in the vehicle by sticking his face under the defroster/ heater. This seems to reduce the swelling somewhat, and his speech patterns return to normal. This is all in preparation before his mom sees him. When we get home, I create a diversion and I have him put a towel over his head and run by his mother before she can get a good look at him. This seems to work well in our favor. Most times we don't get caught.
Oh come on, I'm kidding (somewhat).
Although, I'm not kidding about this. It was cold. Very cold. But not cold enough to keep us out of the water.
We even experienced the bizarre Snow Squall with the sun shining down on us. It's hard to explain that strange phenomenon to anyone who has never experienced surfing in a New England winter. Snowing while the sun is shining. It's kind of like, when it rains while the sun is out. Except, she's a tad colder. Bottom line-It's wild.
Max and I enjoyed the wild winter weather display.

But like I said last week, Winter Surfing in New England... it's not for everyone.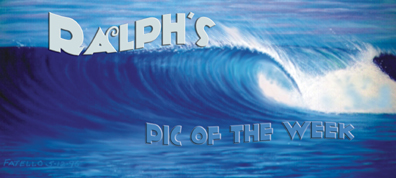 Got good surf pics? Send em off to me directly.
(See link below) Just make sure they're NOT huge files.
In fact if you have any questions about the size, email
me first and I'll write back.
Start shooting crackie!!
Ralph Pic Of The Week
If you want to access the Pic of the week from past weeks click here.
Archives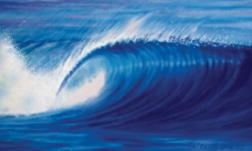 Yesterday 1975 Local boy John "JT" Taylor Finds tropical solace
This photo of local boy JT was taken on our first tropical surf trip together. In fact, it was our first and last surf trip together. Oh we've surfed plenty of times together locally, but have never joined forces to travel again, since this amazing First Tropical Trip, some 30 plus years ago. We met and became friends with the photographer Jeff Chamberlain and his friend Sam George. Some of you might recognize Sam's name, and what he went on to do since then, and some of you might recognize Jeff's name and what he's done since. I've had the good fortune of staying in touch with Jeff, and have traveled to visit him in California a few times since this infamous trip. But JT never bothered keeping in touch. That is, not until this year. Thank God for email. They have since reconnected via email and are now corresponding weekly about surfing and boats. This trip in the Caribbean was magical and it set the tone for all future tropical surf trips. Was it really that long ago?
Photo by Jeff Chamberlain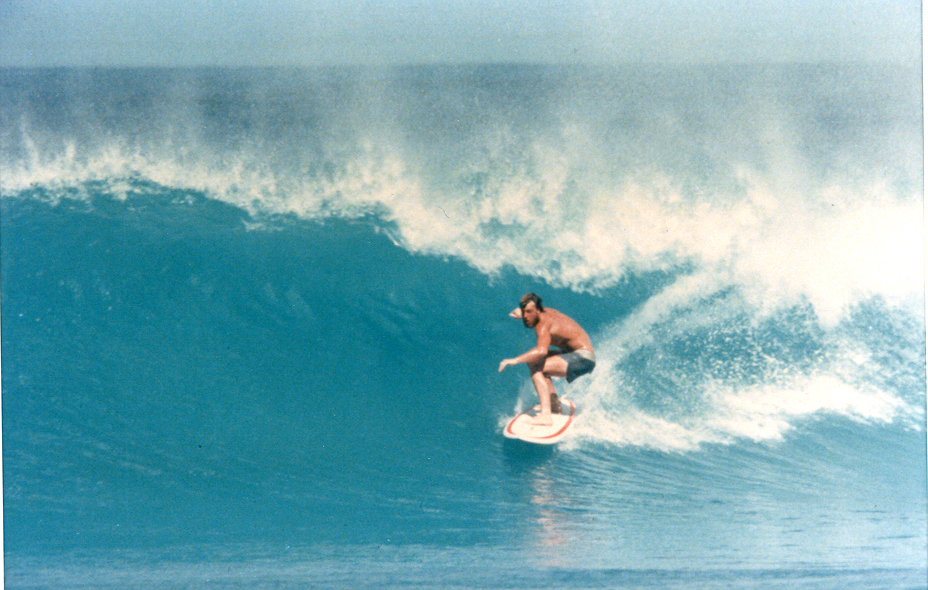 I had the cold, hard, slap of reality hit me twice this week. First slap hit me Friday, when a few of us from Hampton drove down to Beverly, MA to attend the Funeral of local Surfer/Funny man Jim Dunn's dad. John "The Bomber" Dunn was 67 years old. And by all accounts, he sounded like a great guy. How could he not be? He raised both Brock and Jim. Two local boys who surf. The family seems to have the right attitude about soldiering on. Bomber was also a Korean War Veteran. The priest at the service was a WWII vet. It was a very somber and moving service. The very next day I was back in Beverly for a service for a local Surfer Allen "Alpo" Paulino. Alpo was only 50 years old. It was sad to see the old gang again in this setting. Alpo was a Rock and Roller who played bass in the Punk Band, The Real Kids. My brother John and I played in a band during that same time period. We all knew each other quite well. Alpo had been surfing down the Cape the last few years. However, the last time I saw him was here at the Wall. He caught a wave and rode by me. I yelled out to him and we spent the next few hours surfing and catching up on our lives since the last time we saw each other. He was a substance abuse counselor on the Cape and was helping save lives for the last 10 years. He was also playing music again. But more importantly, he had found surfing again and was really stoked to be back in the water. The music has stopped for Alpo and the sets have stopped coming. I pray that heaven has perfect surf for all the surfers who have gone before us. So rest in peace brother...I'll see you again, at that perfect spot you're surfing right now.

This week marks the 61st anniversary of the Flag Raising on Mount Surabachi on the island of Iwo Jima. 6 brave Americans raised that flag and inspired an entire generation of Americans to keep up the good fight and go on to victory during WWII. 5 Marines and one Navy Corpsman. The rest as they say, is history. The son of the Navy Corpsman wrote a book about that battle and the flag raisers, it's called Flags of our Fathers. Clint Eastwood is making a movie based on the book. Some of you have parents and grandparents who fought in WWII, and some of you have relatives who served during the Korean War (like Jim and Brock's dad). We must never forget the sacrifices that these brave Americans faced.
Just like we can't forget, the sacrifices that the brave Americans are facing today in the Global War on Terror. And don't think for a moment there are NO surf ties to this GWOT. There are. One local surfer Col Bailey is overseas right now, serving his country in Afghanistan. Please keep Tim and everyone else serving our country, in your daily prayers.

Happy 50th Birthday Lenny!
Have fun in Costa Rica Mike and Dale!

Remember...Surfing heals all wounds.
As always my friends...Pray for Surf.
Pray for Peace. Surf For Fun.

Ralph




Click On Wave to Go Back to The Top.
Today 2006
Shot Sunday and Monday of this week...enjoy
More from Captain Nick's itchy shutter bug finger. Snow ice and sun...it's all New England.
All Photos by Nick LaVecchia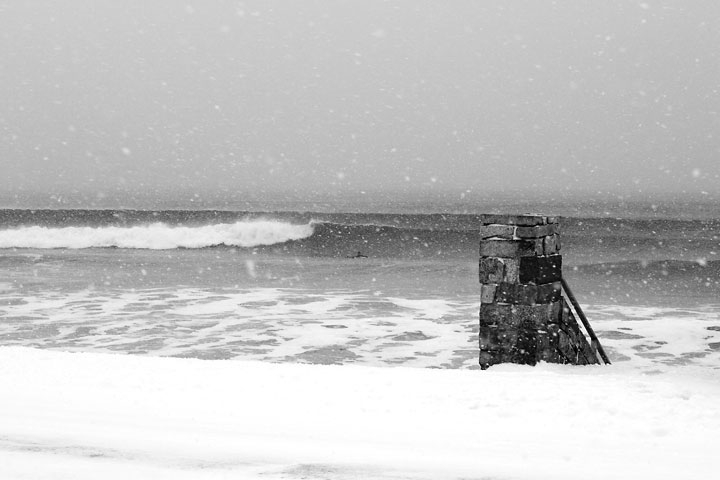 Yes you California wimps that's snow you're staring at!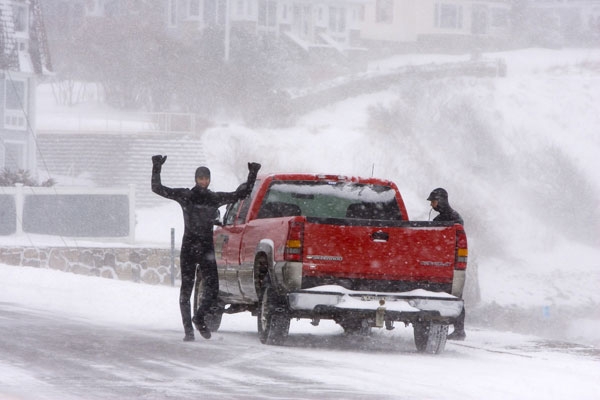 You can be stoked in the snow! Just ask these guys.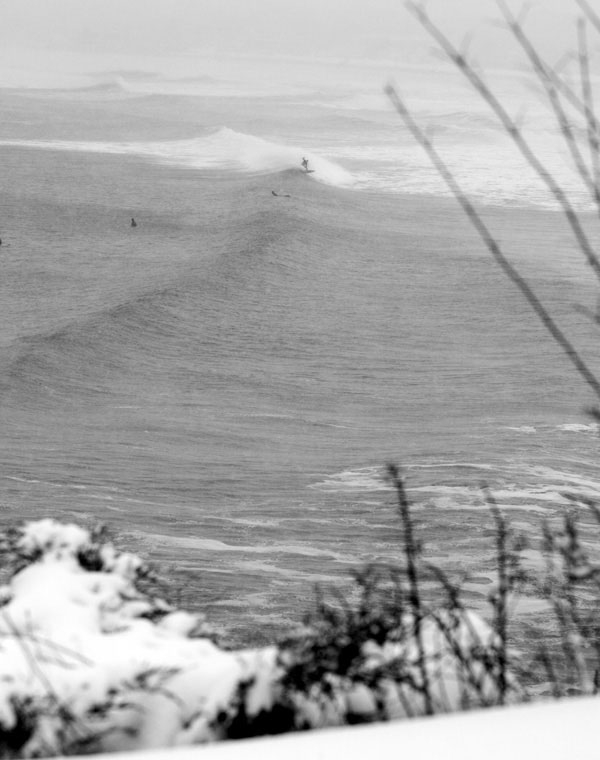 Long lines sweeping down from Greenland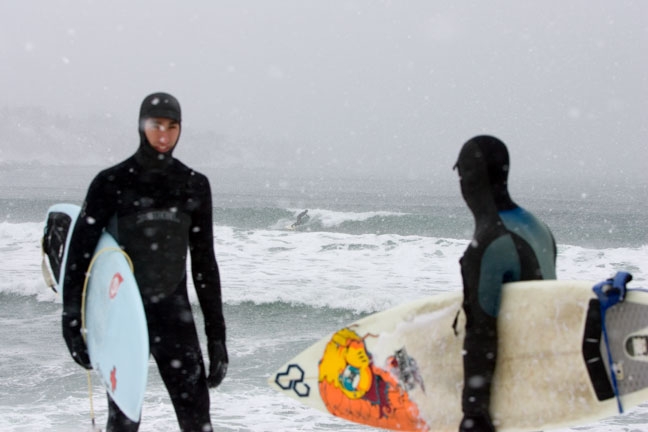 Three different perspectives.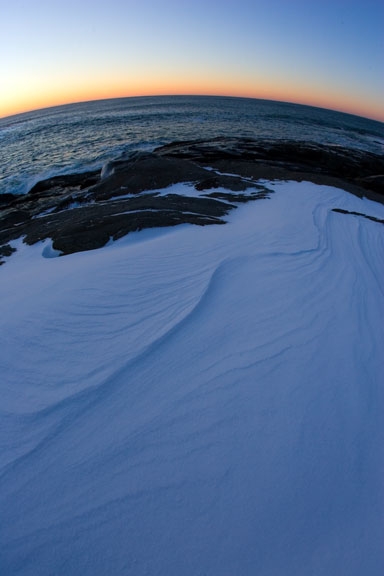 Snow lines...Nick shares his imagination with the world.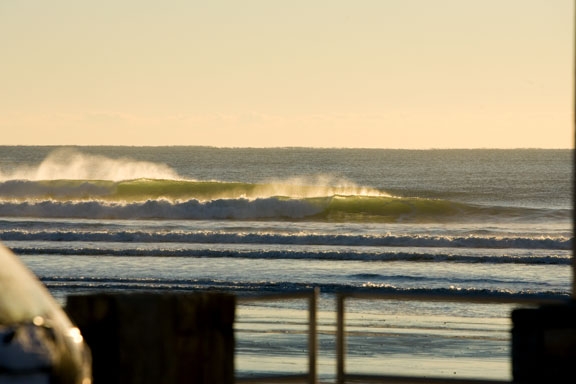 The next day the sun came out...where were you? All Photos by Nick LaVecchia

Today 2006 Last Week in New England
From last Monday ...a beach break with a nice peak.
Photo courtesy of Ben Nigro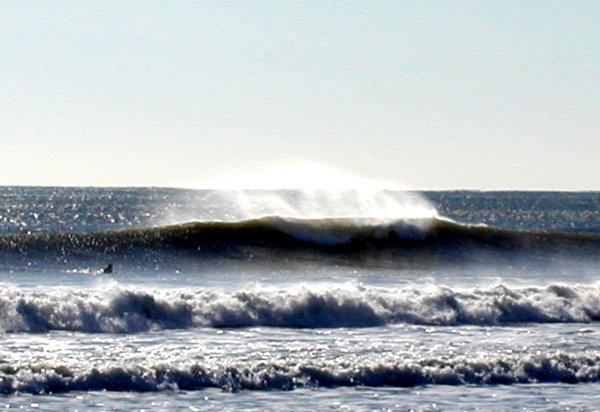 Today 2006 Last Week in New England
From last Monday ...looks nice...but it was cold kids.
Photos by SFOD R. Fatello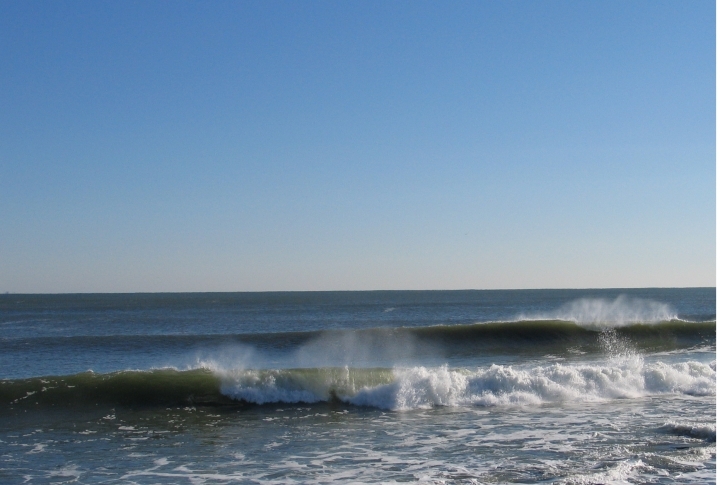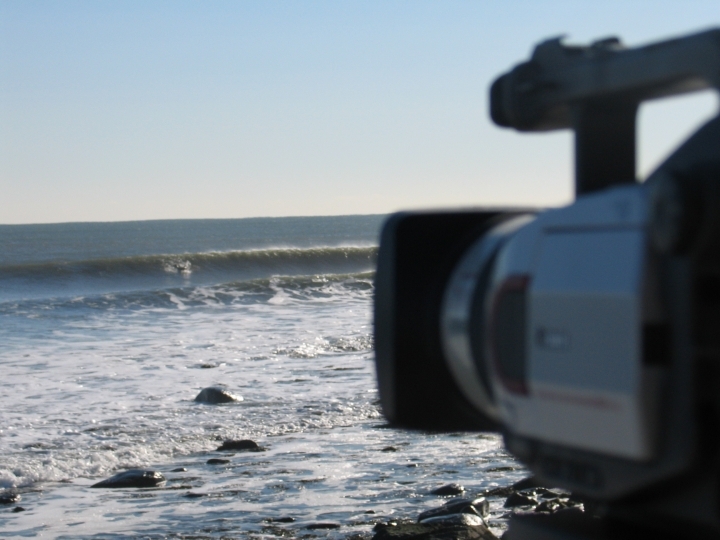 Today 2006 Somewhere in New England
Take a left at the South Pole head North, then take a Right before you get to The North Pole...
Photo courtesy of Ross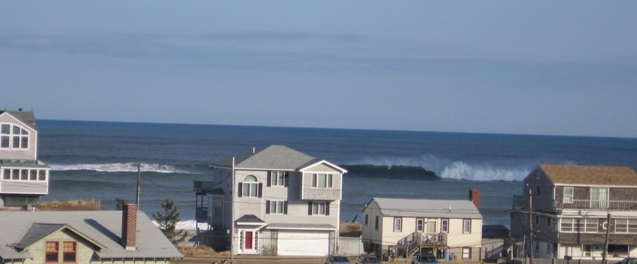 Today 2006 Taken This Week Somewhere In California
This was shot this week in Cali...think this wave is hollow? Photo courtesy of Mark Gordon


Today 2006 PARTING SHOT ..."BUST A MOVE" February 2006
Yea baby! Blow this off the shizzle! Eastie Wipe and a Westie Wipe!
Photos courtesy of The Phantom