February 14th, 2005
Happy Valentines Day!

Did you get your sweetheart something sweet today? You better get moving and grab a card or some chocolate for your honey before you end up looking like Napolean Dynamite.

Remember when we were kids in grammar school and they made you buy Valentines for EVERYONE in the class? I mean EVERYONE. Boys and girls! That was some bizzarre BS. I used to cringe at the thought of it. I guess in today's world it's ok, and I suppose it's all harmless enough. Any way, Happy Valentines to all you lovers out there.

Well, we got more snow but less surf this week. The snow thing is really starting to get to me. Although, the snowboarding has been great! If you haven't tried snowboarding yet you're missing out on one of New England's true treasures. It is LIKE Surfing. Especially in powder.
So what kind of responsible parent am I? I took my son Max into Boston on Tuesday to witness the Patriots Victory Parade. (See Photo below) We did the last two and we figured it was some kind of tradition with us. It was good. No trouble for the most part (in the city) but coming back on the train we witnessed a terrible Gang fight. It was sad to see. It took the wind out of our sails as far as any kind of celebration we were feeling. How can anyone fight over the color of anyone's skin? It really was an eye opener and I was embarrassed for my son having to see this ugly display of human nature.

Thank God surfing has no racial issues. At least I've never seen it. I don't think anyone of us would put up with any kind of racial dissention out in the water. Besides, we're too busy fighting over waves.

The Patriots acted like World Champs on Tuesday and clearly they were a team, a family if you will, without any Racial issues. That's the lesson I hope my son got out of the day. There is good in this world.
You just have to open your eyes to see it.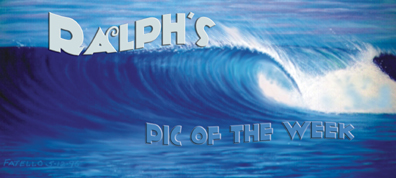 If you got good surf pics send em off to me directly.
Just make sure they're NOT huge files. In fact if you have any questions about the size, email me first and I'll write back. Start shooting crackie!!
Ralph Pic Of The Week
If you want to access the Pic of the week from past weeks click here.
Archives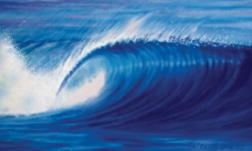 Yesterday 1975. The Hampton Boys In Kaui, Hawaii
This is a classic shot of some local boys you might or might not recognize. Left to right (standing) Lenny Nichols,
Stan Bocco, Jeff "Bert's" Obst and Kevin Grondin. Seated in Guru fashion is Kenny Bernstein.
Photo courtesy of Lenny Nichols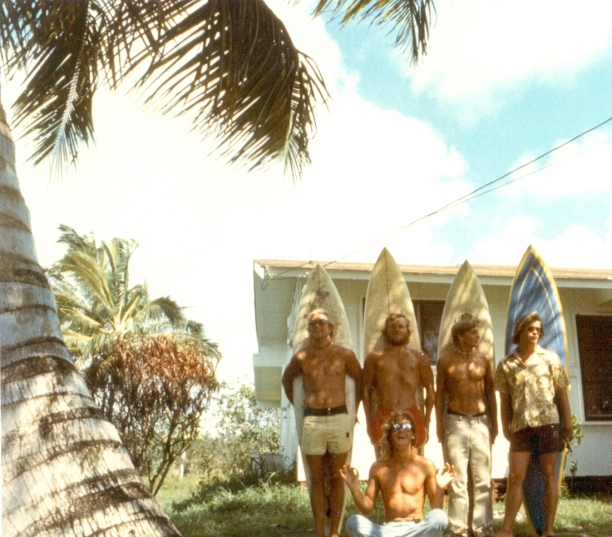 Ok I know a lot of you are Animal lovers. I'm one. Everyone I know has a pet or two. I received an email this week from a Surfer who's looking for a home for her three Cats. Turns out her fiance is allergic to Kittys and they need to find a home for them. So my friends, if you know of anyone who can take all three Kittys, or maybe just one or two, please contact Patty via email at pmpeters40@yahoo.com
I'm sure the Kittys will love you!

Crop and Heather are back after scoring some great surf with Mike Rosa and family somewhere down in the Carribean. I guess Dave got whacked by a Man-O-War. He's still stinging from it. Those bad babies pack a punch. Might I suggest you keep yer eyes open when paddling out in the tropics. There's lots of critters out there that can hurt ya. The last thing you want to happen to you when your on vacation is to get bit by a sea weasel or eaten by one. Surf smart. Use the buddy system. Watch each other's back.

Before I forget, a Big Thanks to all the Global War on Terror Vets for helping Iraq become a Free Nation with the Voting Results last week. The people of Iraq have spoken. Indeed, the people all over the World have spoken. Everyone wants to be Free. Thanks again to all who sacrificed their lives to make it happen.

The days are getting longer. That must mean Spring is right around the corner. Hang in there with me kids...the warmth is coming.



As always my friends...Pray for Surf. Pray for Peace. Surf For Fun.

Ralph

P.S. When do the Red Sox play?



Click On Wave to Go Back to The Top.
Today 2005. The Often Unnoticed Coastline of Our
Beautiful Seacoast
When Lenny stopped by my office the other day to drop off these beautiful photos he had taken, we both
commented on how so many people who live here on the Seacoast fail to see the true beauty that is almost
a daily occurrance. You know it and I know it. There are so many who never stop to smell the roses, or in
our case, to smell the ocean and bear witness to all that is ours for free. Another unnoticed issue is, many
who know Lenny don't realize how talented he is with a camera. Truth be told he's been taking photos for a
lifetime and he has the goods to prove it. You just don't see his work enough.
He and his wife Arlene have been taking photos together for over 20 years. Here's some of his work.
Photos by Lenny Nichols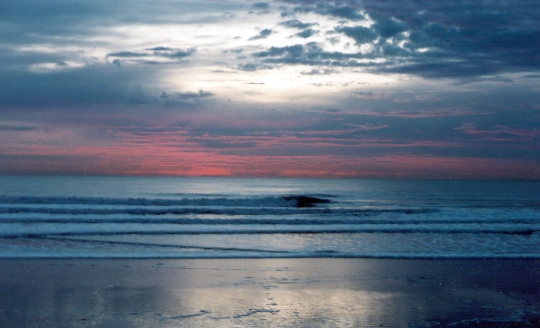 Steel Blue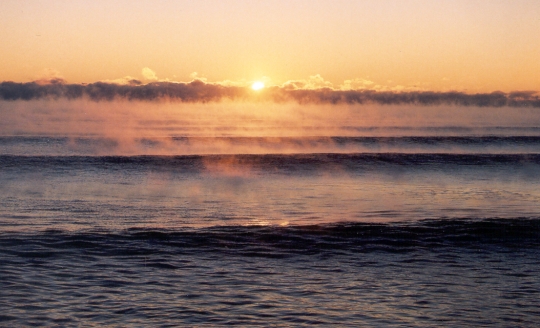 Sea Smoke Dawn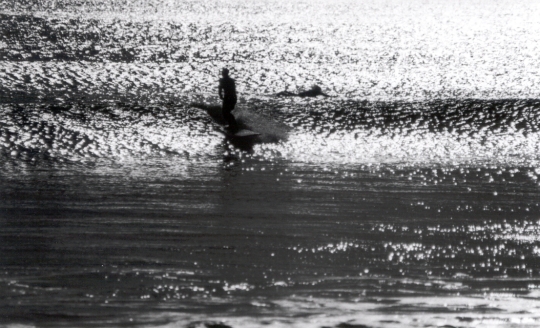 Julia a study in Black and White
Today 2005. The Other Nichol's Photographer
Arlene can take a photo too. Especially when it comes to her own special subject matter.
Photos by Arlene Nichols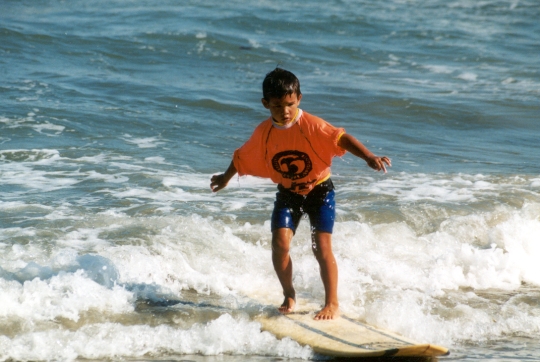 One Future Rippa Kai Nichols gliding to Glory. How old da guy? He's FOUR!
Check Kai out in "MONKEY PUNK" The local Grom Movie.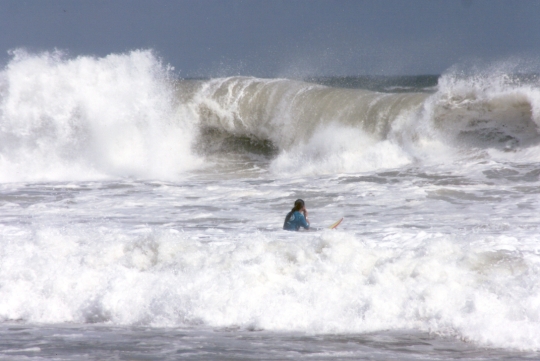 Julia during her Heat in Hatteras...looks like a friendly session. YIKES!
Today 2005. Now, The Other Nichol's Photographer
The tripod doesn't fall to far from the tree. This is a photo from the tsunami swell last December. Nohea took this Black and White photo. What you can't see is her dad (Lenny). He was the only one out there at the time this photo was snapped. How beautiful is the Black and white photo...
Photo by Nohea Nichols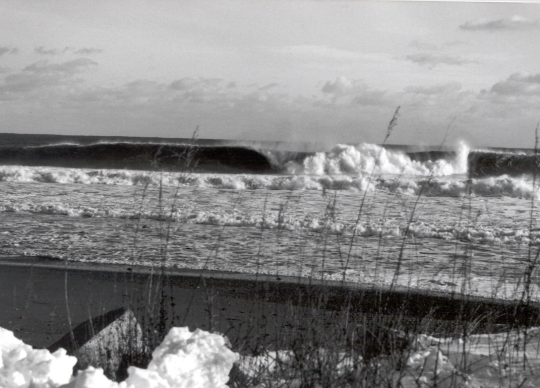 Today 2005. Hey Tom Brady You Just Won Your 3rd Superbowl! What are ya gonna do now?"I'm buying a dam 6mil wetsuit at Cinnamon Rainbows...that water is Freezing!"
Photo by Ralph Fatello