February 12th, 2006

Once again, I open my big mouth and talk about how mild our winter is and BAM! A dang Nor'easter slams us right in the chops. Look outside your windows kids...it's nasty out there! The wind is whipping and the snow is piling up.... And, like a lot of you, at some point today, I've got to go out there and Snow Blow the driveway! (See the opening scene in WINTER 05) I feel so guilty. I mean, I was just commenting about the fact that, I've only used the TORO 750 twice this winter and how truly mild the weather has been. And, I've gone out of my way to tell my West Coast friends, just how good the surf has been back home and how mild our winter has been as well. But, the curse of writing about it, came back and bit me in the butt! So I apologize if I truly had anything to do with this Storm hitting...(you know "Karma" wise)
Looking at the wave cam, I can see that the surf is CRANKING! I've got to think that there's someone out somewhere. In fact, I know there is. Some where in New England there is a handful of surfers surfing some protected reef, or point, and having the time of their lives. Anyone who's ever surfed in the winter, has at one time in their lives, experienced the Full On Winter Go-Out.

By Full On, I mean, the snow in your face session. That's the true essence of winter surfing. Albeit, it does not bode well for the photographers, who are willing and able to capture those frozen moments on film and tape, but, it does make for some memorable carmaradiere in the days and months to come.
Having surfed a few winters myself, I can honestly say, there's nothing like the feeling of having snow, ice and sleet pepper your face as you attempt a blind take-off. And when you look back towards the shore line and realize, that you have no idea where the beach is. And the realization hits you, that NO ONE on land can see you...well, that's Winter Surfing. Driving down a wind swept gray face, and barely keeping your wits about you, as you negotiate the blinding, murky, upcoming sections. Finally making that hollow section and then kicking out into the flats. That's intense.
There's something about surfing a winter session like this, that can really put you in a special league of winter surfers. Now, I do not mean to belittle anyone who lives here and has never surfed in the Winter. Hardly. There's NO shame in NOT surfing in the Winter around here.
I just want to acknowledge those who do, and to give them a nod and a salute.
Winter surfing in New England...It's not for everyone.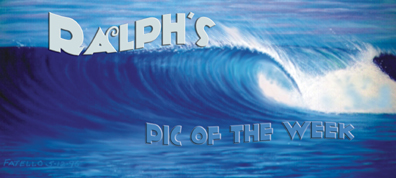 Got good surf pics? Send em off to me directly.
(See link below) Just make sure they're NOT huge files.
In fact if you have any questions about the size, email
me first and I'll write back.
Start shooting crackie!!
Ralph Pic Of The Week
If you want to access the Pic of the week from past weeks click here.
Archives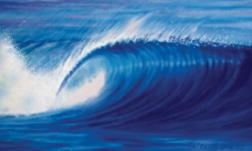 Yesterday 1973 My Old 7' 2" NOMAD and Dodge 72 Tradesman 100 Van
This photo is of my old 7' 2" single fin Nomad leaning against my old Van. We all rode these boards in the 70's thinking we could all be like Gerry Lopez. Of course, Lopez was surfing Pipeline at the time and we were surfing in New England. Those boards worked ok when the swell came up to 6' plus, but on an average day we may have been just as well off surfing a Two By Four. Not a good shape for a 3' mushy summer wave. The Van however, was "Our Ride" for every surf/skate and surf movie session. There were No seats in the back. Just an open carpet and bed. And a super loud 8-track machine Blasting Robin Trower tunes!
Photo courtesy of SFOD



The 2006 winter in California and Hawaii has been something special this year. Those same BIG swells that we've been getting were generated from the same Big Storms that they've been getting. Talk about sharing. You've seen some of the shots from the Phantom in the last couple of weeks of California. Some of those days have been called the "Best Ever". That's a powerful statement for that Coast. "Best ever" in California? That's something to pay attention to. The photos have been spread far and wide over the Internet and the video clips have been played on every site and even some news stations. The Big Mavericks contest went off last week and on Super Bowl Sunday a macking swell hit the North Shore of Oahu that sent all the tow-in boys scrambling for their jet skis and tow-in boards.

So this winter has been quite an eventful action packed series of swells and we're not even half way through it. I've posted a few of the infamous Waimea Bay this week for you to ponder over...that place is magical when the Surf comes up. If you've never seen the Bay go off in person, you owe it to yourself, to get your butt out there and witness one of our sport's truly magnificent wonders. I've had the humbling experience of seeing the Bay do it's thing several times over the years. I shot some of the heaviest waves I've ever seen, out there on the point. It is a special place in our Surfing Life's History and she demands our respect, both in and out of the water.

Ok...I may have a problem that seems to be growing with each week. What's that? Well, I have found myself watching (with a giddy anticipation) the American Idol TV Show. How did this happen? I don't know. I guess watching the talent less buffoons and the truly gifted artists perform each week in front of a panel of judges, who range from, kind hearted, to viciously evil, has caught my attention. My whole family watches it and I am forever yelling at the TV like some crazed fan. Dam. I watch American Idol. I never watched it until this year, and that was only after I saw a contestant with absolutely NO talent, argue with Simon about why she was gonna go on and be a Big Star with or without his blessing. I have since found out that a lot of people who I know and respect watch the show too. Lord help us.

Rest in Peace Alan "ALPO" Paulino...you came back to surfing for a brief time and it was a bright shining light for you. Your pain and suffering is over brother. Rock on.

Good Luck to TEAM USA in the Winter Olympics.
Happy Valentine's Day Cory...I love you.

Remember...Surfing heals all wounds.
As always my friends...Pray for Surf.
Pray for Peace. Surf For Fun.

Ralph




Click On Wave to Go Back to The Top.
Today 2006
Shot This Week In New England
These are hot off the presses (actually, hot out of the camera) from my Maine Man Nick LaVecchia. A series of pics from the past week...it's here and it's Fresh...enjoy!
Photos by Nick LaVecchia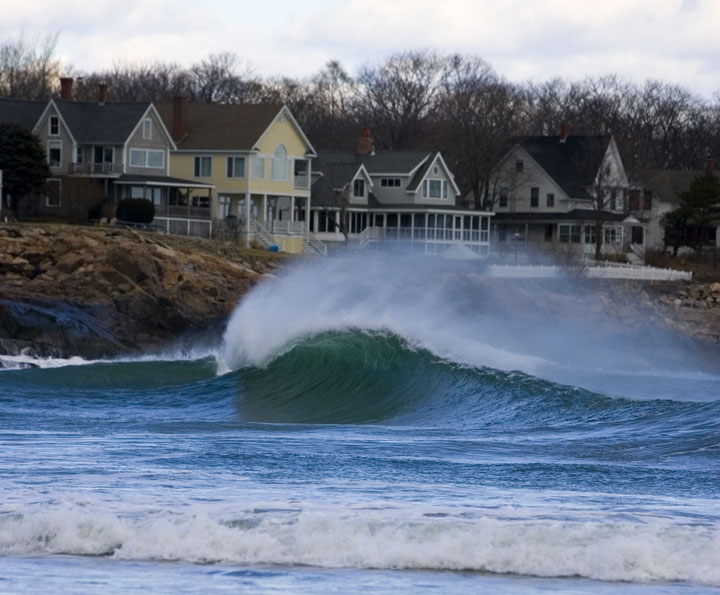 This wave never ceases to amaze me. Such a freak. I love it.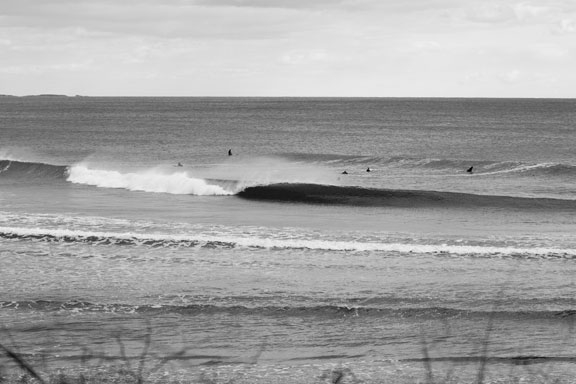 No one shoots more B&W than Nick...sometimes you have to say NO to color.




Tourists in February? With the mild winter we've been having (until today) why not?
Today 2006 Taken This Morning Somewhere In New England
This was shot today during the Blizzard. The Police actually tried to get this guy (Steve O'Brien) out of the water because of the White-Out conditions and the fact that Johnny Law does NOT understand the Winter Surf scene. At a spot that rarely breaks.Photo courtesy of Steve O'Brien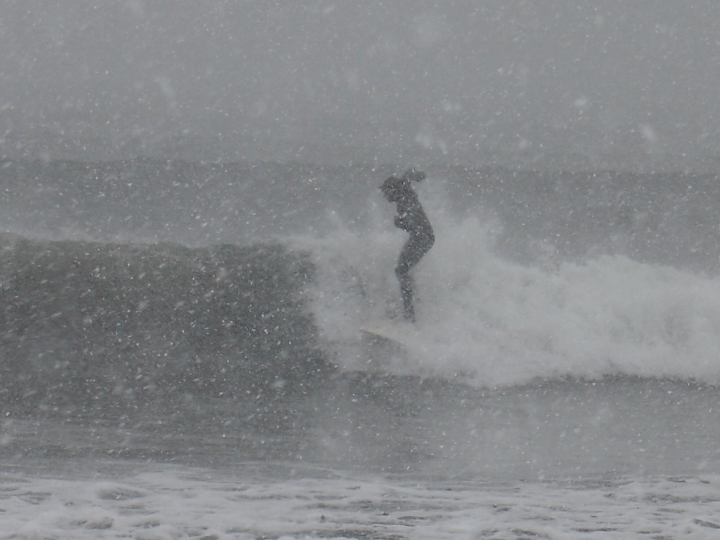 Today 2006 "SUPER BOWL" at WAIMEA BAY!
Jeff Crawford is an old close friend of mine. I took him to Hawaii in 1985 for his first time and he's been back almost every year since. He loves the North Shore and everything about it. These are shots of the Bay from Last Sunday.
Photos by Jeff Crawford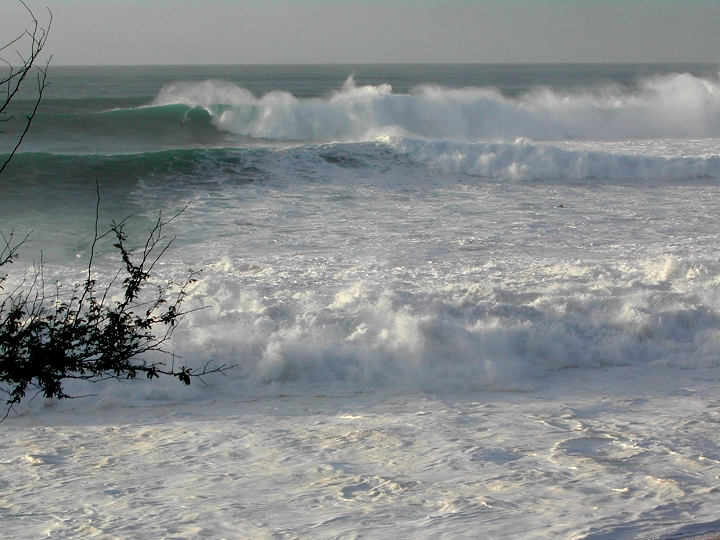 This is a BIG DAY...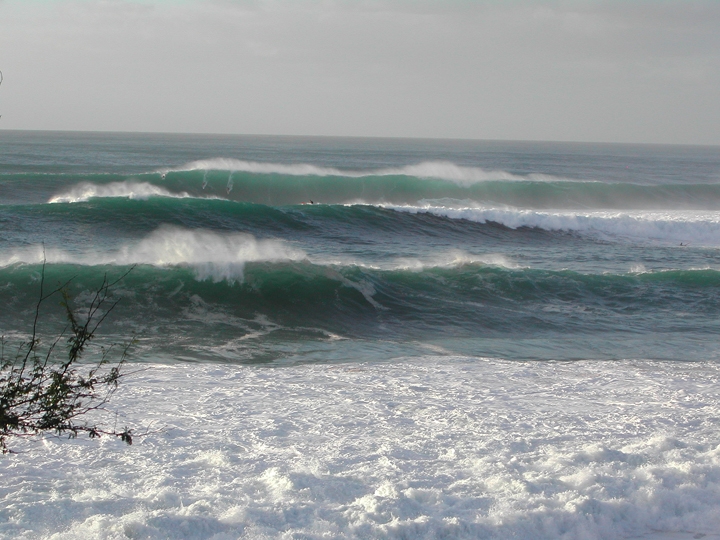 Look closely...those are people dropping down the face of this beast.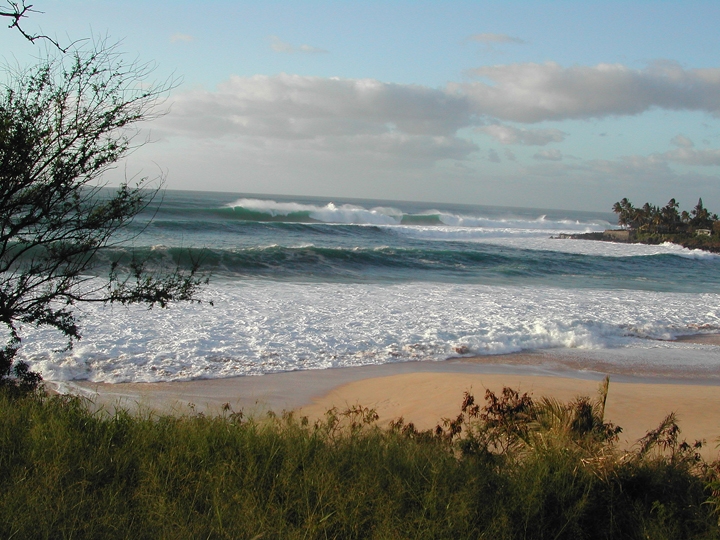 Would you paddle out here? Really? Why?
Today 2006 More WILD WAIMEA BAY
Jeff sent these in via Bernie Baker. Bernie shot these from the cliff above the Bay. Just a different perspective of an awesome wave on a magnificent day.
Photos by Bernie Baker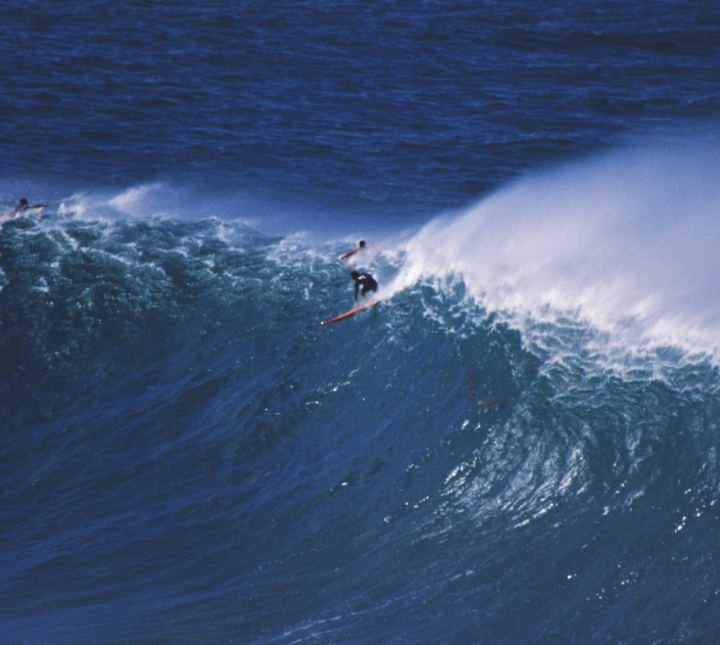 Looks easy enough from here...almost sunny and mellow...HA! Mellow like a death drop...
Photo by Bernie Baker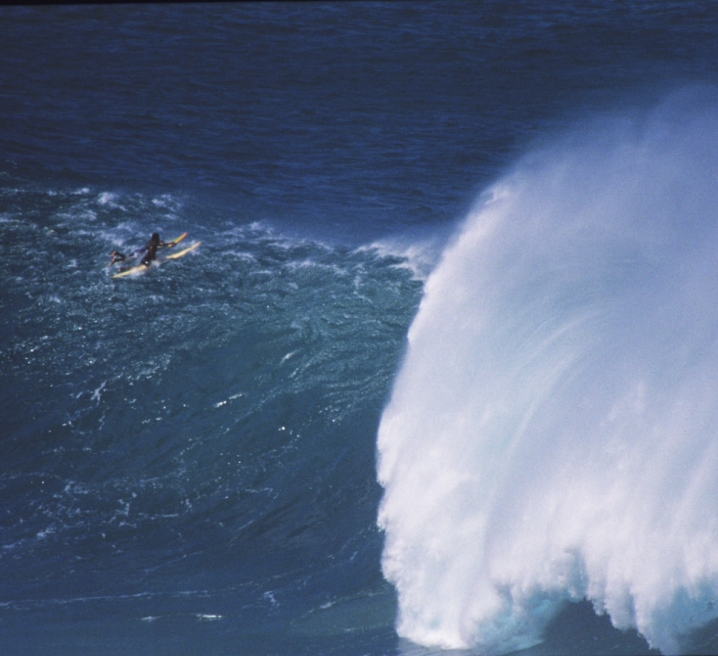 That's pitching Top to Bottom...would you pull into this...? Really? It'd be like the Roach Motel.
The Roaches Check in-but they don't check out.
Photo by Bernie Baker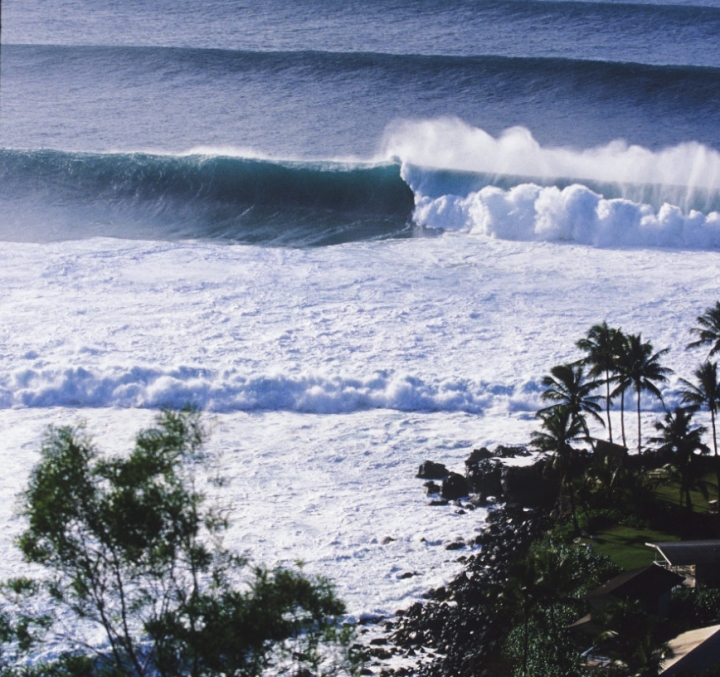 Today (above) February 2006 Super Line-up (if you like 25-33 foot faces!)
North Shore Beauty and the Beast
Photo by Bernie Baker

Today (below) February 2006 MAVERICKS CONTEST
Looks doable if you like BIG COLD DEATH DEFYING CONDITIONS.
Photos courtesy of the Phantom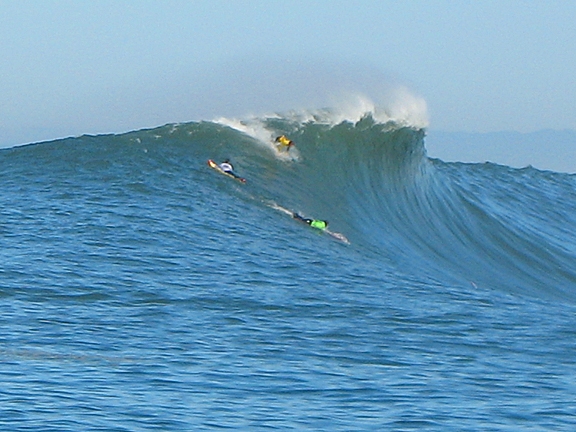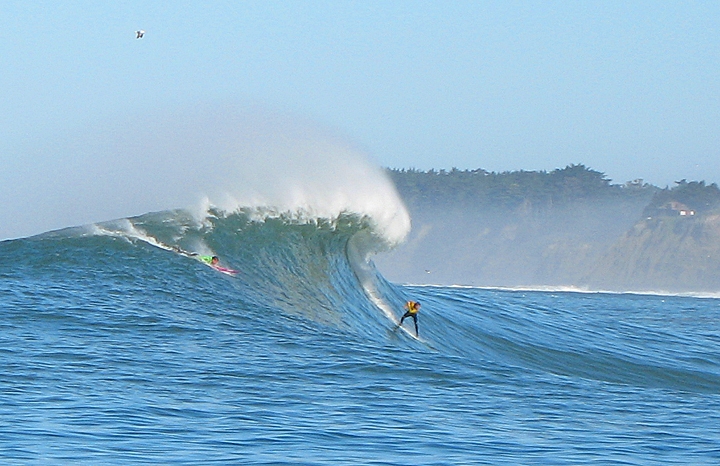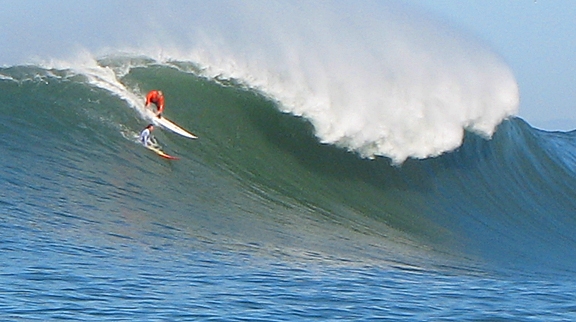 Today 2006 PARTING SHOT ..."Please God..."February 2006
Why are there no atheists in Foxholes? Same reason why there are none who are caught inside
Big waves like this.
Photo courtesy of WannaSurf.com