December 25th, 2005
It does not matter which Holiday you celebrate. Christmas, Chanukah or Kwanza. We wish you the best of them all. It is the season of giving and forgiving. It is the season for peace. It is a time to reflect on life's most precious gifts. The love and respect for friends and family. The love we all share for our Mother Ocean and for those of us who partake in experiencing the most wonderful of all gifts. Surfing. I've said this many times before my friends, and I'll say it again, especially today. We are a fortunate tribe. To be able to do what we do. Surfing.

Don't know how many of you have ever missed a Christmas dinner because of Surfing, but the Lord knows I missed my share. My excuse as a young teenager or a young adult was always the same. "This is what I wanted for Christmas! You should be happy that it didn't cost you anything."

I'm making light of this now, but I know there will be a day when one of my kids will miss an important festive family gathering because of surf and I will have to bite my tongue for fear of sounding like a hypocrite.

I know it's coming. So do my friends. Oh well. There could be worse things for them to get into. Like I said...we're a lucky bunch we surfers.

I have a confession to make. That's right, on the day the Lord Jesus Christ was born, I have a confession.

Here it is...I am NOT a Big Wave surfer. There, I've said it. It's out there. I am NOT a Big Wave Surfer, I have been out in BIG Waves, I have ridden Big Waves, but I am not a Big wave Surfer. When I see a photo of Mavericks or Jaws I cringe. There is nothing in my body, or mind, that says..."Dam I'd like to do that." Nothing. When I see the Tow-in pics of the boys at Teaphoo (Chopes)...I get sick to my stomach. I don't understand what makes someone want to put themselves in those treacherous conditions. I just don't get it. But then again, I don't get why people jump out of planes, or bungee jump, or ride on the backs of crazed bulls. I don't get that. But knowing what it's like to be held down by a 10' plus wave I have no desire to want to ride anything bigger than 10'. I just don't enjoy it.

Maybe it's because of a session I had back in the late 80's or early 90's in Hawaii. The North Shore to be exact. February, at Laniakea. The Surf was (by Hawaiian standards) 8-12'. Me? I was calling it 18- 20' faces. It was dark and overcast. I was with Lenny Nichols, Kevin Grondin and Mike Paugh. We also had New Jersey photog guru Michael (Iron Balls) Baytoff with us.
He (Baytoff) was calling it 12' Hawaiian.

I was calling it heavy. Any ways, I got caught by a large set that blacked out the horizon. If you've ever surfed Lani's, you know that it's a long wall with an end bowl section. But, sometimes...the end goes on forever.

This day was one of them. The Big Black sets that marched in on us sucked the air right out of my lungs. I remember paddling very hard up to this massive wall of white water, and standing on my board, I dove off. I dove deep, but it was not deep enough. My leash snapped like a cheap elastic band and I commenced to twist and tumble underwater for quite some time. I felt like a ping pong ball, with pipe cleaners for arms and legs. By the time I surfaced, another giant wave was about to unload on me. I was not happy.

The same thing happened. I got worked Big Time.

Only this time, I made a pack with the Lord. "Let me get back to the shore in one piece Lord, and I will never, ever, paddle out into surf this big again."

Seemed reasonable enough. Long story short. I made it back to the beach in one piece and I have never paddled out into Surf that Big (18-25') again. Ever. And I never will. Even if my son Max wants to surf BIG waves.

You're on your own Crackie!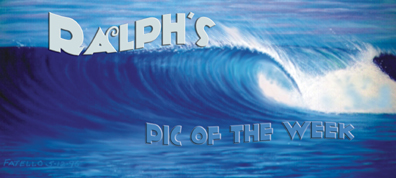 Got good surf pics? Send em off to me directly.
(See link below) Just make sure they're NOT huge files.
In fact if you have any questions about the size, email
me first and I'll write back.
Start shooting crackie!!
Ralph Pic Of The Week
If you want to access the Pic of the week from past weeks click here.
Archives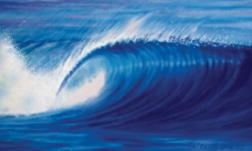 Yesterday 1987 Me, on a Not So Big Wave...
Is this a big wave? Well, I guess it all depends on who you ask. If you asked some Jaws surfer he'd snicker. If you asked some Gulf Coast boy he'd say yes. Ask someone around here and you'd more than likely get a mixed bag of responses. I'd call it a 8-10' face.
Video Frame Grab by SFOD R. Rowell


Speaking of Big waves, our Westie Boys have been getting their share of GIANT MACKER SWELLS All Week. I mean Helloo????Are you kidding me? From the Northern cal Boys down to the Mexican Todas Santos crew. The West Coast was ROCKING!
My boys have been sending me pics from every conceivable angle. Yes, I've posted them for you all to savor. I must say, from a safe distance, they were all impressive. There were some very clean looking fun waves, to the death defying Massive Cement Truck Destructos...

Surprisingly (or not), there seemed to be many more empty waves, than there were actual riders. I guess Big Surf thins the crowds everywhere. Even in California.

There may be some surf for us tomorrow...so get all the festivities behind you and get ready. Maybe you got a new board, or wettie, for the Holidays and need some surf to try it out on. Looks like we could get something.

Will the Patriots beat the JETS tomorrow night? Maybe. Will we actually see Doug Fluite come out and throw the ball as opposed to taking a knee like last week?( What was uo with that?) Our condolences go out to the Dungy family and the COLTS team during this time of mourning. May God Bless them all and comfort them during these next days and months.

Thank you all again .The SurfFreeOrDie Winter Surf movie WINTER 05 has been in the Shops and also on the Shopping Cart on the Cinnamon Rainbows Online Shopping and has been doing really well.
Thus, we have decided to prolong the release of SUMMER 05 until a later date.
The WINTER 05 success is all in part to you, the local surf crew. Thanks again.

Speaking of movies, my man Joe Carter just released his latest movie GET IN THE VAN. I think it's Joe's best work to date. Check it out. Joe's really come a long way with this flick. Great surfing in great waves. Two thumbs up from Lil Ralphie! Good job Joe.

Don't forget The last week of the year I'm doing the BEST PIC of the WEEK for 2005. So many of you have already voted and I'm impressed with the response I've gotten so far. You still have ONE MORE WEEK. So Go back into the archives and pick your favorite Picture from 2005 and send me an email with what photo you picked. DON'T SEND ME THE ACTUAL PHOTO just a description of which one. Come on kids cast your vote. Go back and find the one photo that you think deserves the title... PIC OF THE YEAR!

(*Two categories YESTERDAY and TODAY) The pic with the most votes, gets both the Photographer a FREE DVD and if there's a rider in the pic he/she gets a FREE DVD too! You can only vote for one pic. Check the archives out and cast your vote!

Next week we do the year in review (Lord knows much has happened both here at home and abroad) along with the Pic of the Year (both Yesterday and Today)

Again enjoy this most joyous season.
Merry Christmas! Happy Chanukah! Happy Kwanza! God Bless you all!

P.S. Some ex-local surfers sent me this link of a school in South Africa. www.leapschool.org.za
It's worth reading. Trust me.
They are in the process of a Project called LEAP. It is both thoughtful and sincere. Please make a contribution to this great project.

Remember...Surfing heals all wounds.

As always my friends...Pray for Surf. Pray for Peace. Surf For Fun.
Ralph




Click On Wave to Go Back to The Top.
Today 2005 Big Wave? What do you think? Last week in California...
Click on the photo for an amazing Phanton smorgasbord of flicks from the pulsing West Coast..
Photos courtesy of The Phantom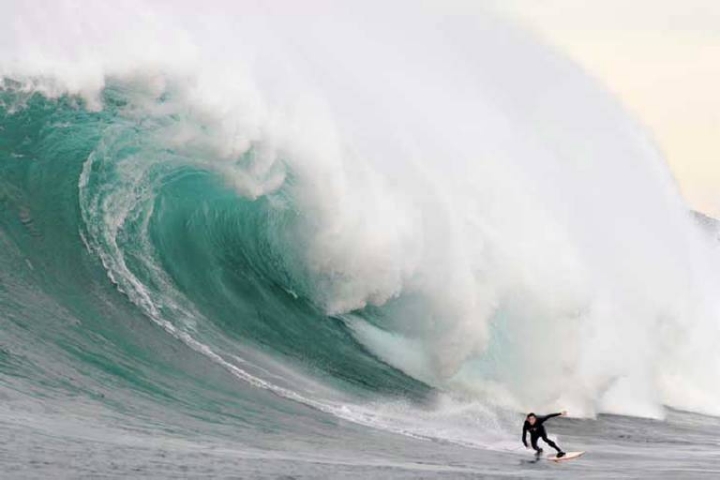 Today 2005 MORE FROM LAST WEEK's XMAS BOMBS!
My man the Phantom was everywhere last week. He sure does earn his pay! Click on the photo
for more Phantom madness.
Photos courtesy of The Phantom




BACK FROM A FEW WEEKS AGO! (not as Big or as impressive as the Cali stuff ...
but it sure looks like fun!) Click on photo for more images
Video Frame Grabs from visiting West Coast rider Brett Bayne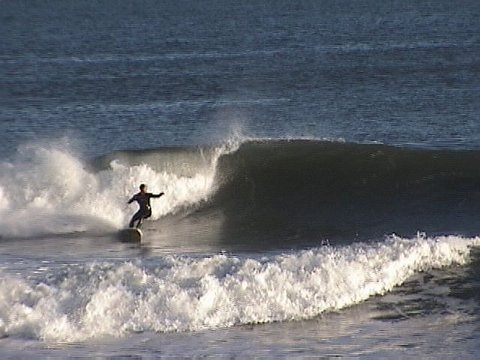 Same photographer except now he's home and here's what Brett sent...
Click on photo for more images
Video Frame Grabs from visiting West Coast rider Brett Bayne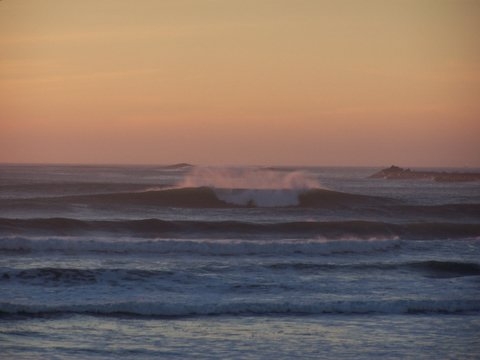 Today 2005 Jeep Dealer Geoff Haenn dealing with a fun Tavarua Wave
My buddy Geoff works his butt off all year selling surfers cool rigs. Like my COMMANDER. Then he takes a break with his lovely wife Lori and they head off to the tropics and score fun waves like this. It almost makes working 2 hours from the ocean worthwhile. I said almost. Here you go Jersey!
Photos courtesy of the Lansdale Clan.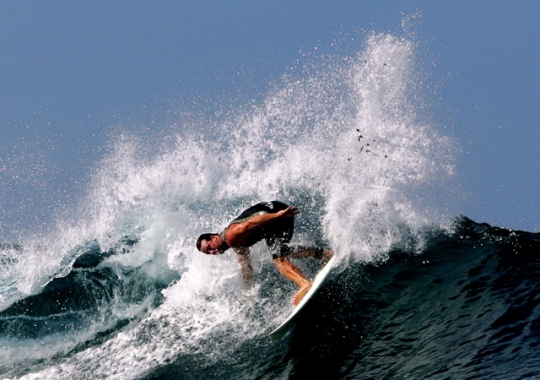 Today 2005 PARTING SHOT- Person of the Year from Hampton, NH!
This the same guy who was in the North Shore group shot a couple of weeks ago.
. Photo courtesy of Lt.Col. Hammer