September 27th, 2004

Dreams still come true. What's that? Dreams. Or more specifically, Surf Dreams. They still come true. I'm here to tell you that first hand. Last Friday, when the first ground swell from Hurricane Karl starting hitting I found myself Surfing one of those infamous Point breaks with just one other guy out. He said his name was Brad. We surfed perfect head high to slightly overhead waves with NO ONE ELSE. You see, that's one of those Surf Dreams that came true. I hear people moan and groan all the time about how crowded it gets around here and make no mistake about it. It does get crowded. I hear how we'll never see it like we did in the old days. Heck, I heard that just today. But every now and then, even the unlucky squirrel, finds a nut. Now don't get me wrong here. I'm not calling this guy Brad a nut, or a squirrel. I am however, calling the two of us, lucky SOB's. Look it's 2004, it's never gonna be 1964 again, or 1974 for that matter.
But, the dream is still out there. The same dream we all have. It's attainable. You just have to open your eyes. It's right there.

Here's another example of a Surf Dream coming true in 2004.

Two young members of the NNE district of the ESA made the Semi-Finals and Then the FINALS of the Biggest contest on the East Coast, The ESA EASTERNS. Jesse Gould and Julia Nichols both made the Semi Finals
Yesterday.Joe Murphy 1971 "Dream Session"
Joe is a surfer who lives slightly north of here. He's out surfing by himself in this old 1971 photo. And yes, that's a perfect point break. NO ONE OUT!. Don't know if you can see it or not but, Joe's wearing one of those O'Neill Super Suits. Anybody remember those things? They had a tube that stuck out of the suit near your mouth. It was there so you could blow your own "Hot Air" into the suit to warm up. I remember seeing guys out in the water in those cold Winter days blowing hot air into those dam suits and almost passing out! Then the stupid thing would fill up with air and you'd be surfing wearing a dam inflated balloon! Hands down, one of the dumbest designs I ever laid eyes on. Come on and own up to it. If you owned one of these suits we need to hear from you. Super Suit my eye. (Whoops no pun intended ther Jack "One Eye" O'Neill).
Photo courtesy of Ed O' Connell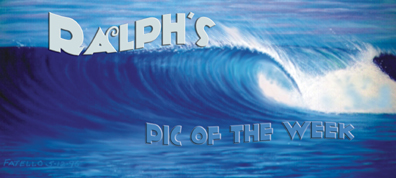 If you got good surf pics send em off to me directly.
Just make sure they are NOT huge files. In fact if you have any questions about the size, email me first and I'll write back. Start snapping your buds!!
Ralph Pic Of The Week
If you want to access the Pic of the week from past weeks click here.
Archives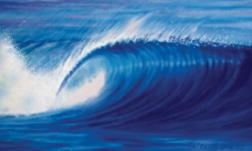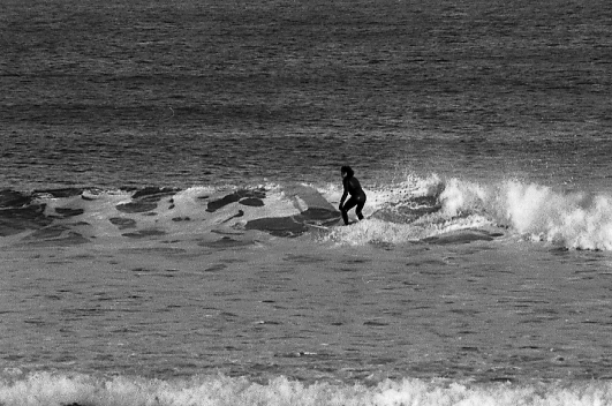 Today. Tony Szcabo "2004 Dream Session".
Tony was a local surfer who moved to California some 9 years.I guess he moved there to find his dream wave. This week Tony sent me this photo. He says it's just he and one other guy out surfing here. Tony found a dream wave in 2004 in California of all places. Now, if Tony can find one out there in the land of Surfers than, everyone can find their dream wave or their dream session. Remember..."Imagination is More Important Than Knowledge". Well I guess Albert Einstein was right on the money when he came up with that gem of a statement.
Photo courtesy of Tony Szcabo

with Julia making the FINALS. This my friends was out in double to triple overhead Hurricane surf in treacherous Cape Hatteras. Good for you kids! You can see both Jesse and Julia this coming Sunday October 3rd is the premiere showing of the New SFOD Grom Video MONKEY PUNK featuring all the local Groms (under 18) surfing in New England.at the American Legion Hall on High Street in Hampton. Show times are at 7:00PM. Doors open at 6:00PM. This is an ESA-NNE sponsored event. There will be Raffles and prizes and live music.
Click here for Poster

On Sunday Oct. 17th at the American Legion Hall on High Street in Hampton, SFOD Presents the Premiere Showing of 13POINT5. Doors Open at 6:00PM for a 7:00PM Showing.
Live Band "The JIMIS" will be performing.

Hey how about that Great White Shark down in Cape Cod? That's a dream for some people but NOT us!

Pray for Surf. Pray for Peace. Surf For Fun.

Ralph

P.S. Pray for those folks down in Florida. They could use it.

Click On Wave to Go Back to The Top.