September 20th, 2004

Got Hurricanes? Well, I guess we do. Seems like there's another new Hurricane every other day. Pretty amazing to just watch 'em spawn off the coast of Africa and make a beeline for the US. Of course, it ain't that amazing if your sitting in shambles (that used to be your home) with no power and no water. Cause that's what's happening in certain parts of Florida and Alabama. We all want these storms, but we don't want to see Americans suffer because of them. We all wish they'd just sit off the coast and spin aimlessly for weeks at a time. Nobody gets hurt. No homes get destroyed. We all get surf.

Speaking of surf. I started writing this at 1:15PM today. I was curious as to what the remnants of IVAN was doing so I checked the Wave Cam. And lo and behold what did I see? A perfect 3' North Swell with NO ONE OUT! Well bunky, I had to stop what I was doing and paddle out. It is now 5:20PM and my hair is just starting to dry. That was a fun session. And...the water is WARM!
Yesterday. Dave"Crop" Cropper 1983
Check out shop mogul Mr Dave Cropper himself. Neatly tucked away in a fun looking Pointbreak hole. Check out those wild pink arms as he reaches for sunlight and a whole new world ahead of him. At the time this footage was shot, Dave was a shop rat at the early Cinnamon Rainbows Surf Shop. Who would of guessed what the future held for this young red headed goofy foot ripper!
Photo courtesy of SFOD from the Video "Surfing The Soul"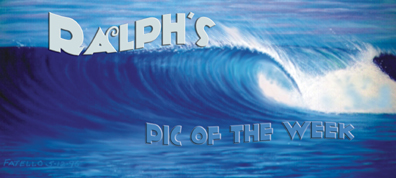 If you got good surf pics send em off to me directly.
Just make sure they are NOT huge files. In fact if you have any questions about the size, email me first and I'll write back. Start snapping your buds!!
Ralph Pic Of The Week
If you want to access the Pic of the week from past weeks click here.
Archives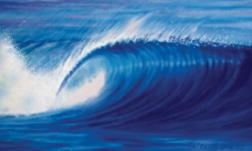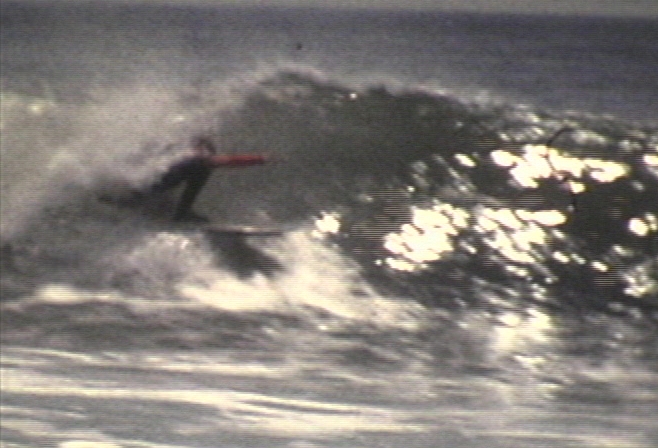 Today. Joe Collins, Oceanside California.
Why would I run a shot like this? I'm sure there are some of you saying what the hell is this Ralph? Well, this is a photo of a friend of mine. His name is Joe Collins. He's a Marine Lt.Colonel. This photo was taken 8 months ago, the day before Joe shipped out to IRAQ. He wanted to surf one more time before heading off to War. He rented this board and went out surfing at Oceanside. Today, Joe left IRAQ. He's on his way home as you read this. He'll stay in Camp Pendleton California to get re-acclimated to the real world before he finds his way home to New England, where his wife and two sons are waiting for him. Joe is a Surfer. His sons surf too. He wrote me saying when he's done going through the process at Camp Pendleton, he plans on Surfing every break within a 20 mile radius of SanDiego. When he gets back here to New Hampshire, Joe can have any wave he wants if I'm out in the water. He earned it. Welcome Home Joe and Thank You for Your sacrifice and Service.
SEMPER FI MARINE. Photo courtesy of Joe Collins

The ESA-NNE has headed South for the ESA Easterns. We want to wish them all the best of luck. Looks like they'll get waves for sure. Again, we hope the storms stay east of the Hatteras.

Don't forget Sunday October 3rd is the long awaited premiere showing of the New SFOD Grom Video MONKEY PUNK featuring all the local Groms (under 18) surfing in New England. Sunday, October 3rd at the American Legion Hall on High Street in Hampton. Show times are at 7:00PM. Doors open at 6:00PM. This is an ESA-NNE sponsored event. There will be Raffles and prizes and live music.
Click here for Poster

On Sunday Oct. 17th at the American Legion Hall on High Street in Hampton, SFOD Presents the Premiere Showing of 13POINT5. Doors Open at 6:00PM for a 7:00PM Showing.
Both of these videos are local videos of local surfers surfing here in New Hampshire and Maine.

Pray for Surf. Pray for Peace. Surf For Fun.

Ralph

Click On Wave to Go Back to The Top.