July 18th, 2004
FIVE DAYS IN A ROW! That needs repeating. FIVE DAYS IN A ROW...with the possibility of more in the next day or two. I'm talking of course about the surf. About the drought to end all droughts being officially over. We finally had surf. And what a great long lasting swell it was. The ironic thing about it all, was the fact that the day the Billabong Bus pulled into town the surf came up. And too make the irony even more noteworthy was the fact that "Pros" were having a good laugh at our pathetic state of euphoria. Shane Dorian could not comprehend what we were going through. Talk about reality check. Shane would not surf our waves...why? Because he didn't think it was that good and he thought it was freezing. When I told him this was as good as it gets, he shivered at the thought.

Both Billabong Pros Shane and Bengi Weatherbee passed on the rising swell while East Coast pro Sam Hammer clearly took advantage of the fun surf. Sam had fun surfing with Mackey V and Dougie Fresh right out in front of the shop. Needless to say the local crew was having a go at it.

Every beach break and every point break was utilized during this 5 day swell. People surfed way into the night.I saw many smiles and lots of sunburned faces. It seems like everyone's got a bad rash too.

If you didn't get in the water last week, well, I hate to say this but...you REALLY DID MISS IT!




Yesterday. Heading East 1972
The walk out to one of our premeire point breaks. Note the egg shaped board design. The farmer short John Wetsuit. The old vans. The gathering crowd. Not much has changed except the gear. A simpler time? Perhaps.

Photo Ed O'Connel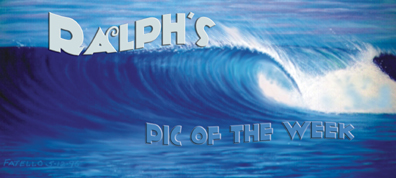 If you want to access the Pic of the week from past weeks click here.
Archives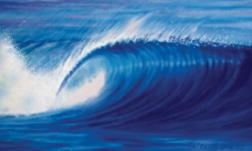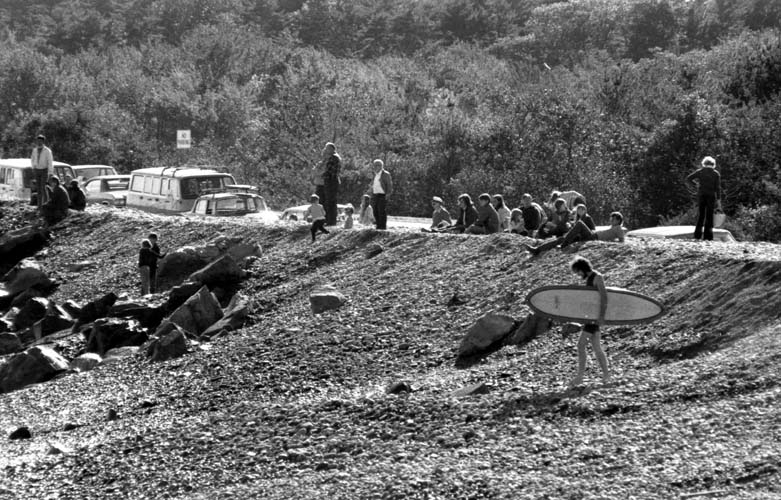 Today. HAMPTON, NH July 13-18, 2004
All images above were taken during the week of July 13-18, 2004.
Click on the thumb nail for larger view. Enjoy!

All Video stills from SFOD's new soon to be released THIRTEEN POINT FIVE.

The very next day, the Quiksilver gang rolled into town while the "Indies Trader" The Crossing was moored right off our coast. It was an amazing site to say the least. There's the boat that sailed around the world and is responsible for discovering 98 new perfect waves on our planet sitting off of 10th Street. The Quiksilver Crossing and her crew, along with the travelling pros, were treated to the best surf they'd had in over 3 months. Jason Borte told me they had not surfed a wave over waist high in over 3 months. "And here you are, of all places, in New Hampshire scoring overhead barrels!" I answered. They were stoked.

It's always a pleasure to see the world's best, surf your home break. These guys did not disapoint. They surfed hard and fast and put on a clinic for all of those who came to witness it. The Surf Camp was a Huge success even with the Big Surf. Everyone had their full. Young and old. Not to be outdone by the travelling pros, our own local grown rippers stepped up to the plate and belted a few out of the park!
Finally the week ended with a perfect day for a Surf Contest as the ESA-NNE and Cinnamon Rainbows teamed up for the best contest the region has seen in many years. It was an amazing ending to an amazing week of surf. And as I write this...I know there's another one coming. It's good to be a surfer here in New England again.

Until next week....Pray for Surf. Pray for Peace. Surf For Fun.

Ralph

Click On Wave to Go Back to The Top.