July 11th, 2004
Ok, ok, ok, OK-A-A-A-A-A-Y!!!!!...it's official. We're in a bona fide wave drought. A slump and a doozy. One of the worse I've ever seen. Worse year period. Don't know what to make of it. Week after week of absolutely nothing. I mean NADA...even the Grom's are moaning. People are bailing left and right. And it's been paying off. Lot's of waves in Central America the last few weeks. A big part of me wants to go too! But I know better. With my luck, I'll leave and the surf will come up around here and I'll get skunked at my would be destination. What's that? Who said I should go? Now that ain't right kids.
I know a lot of you are watching the latest weather map and by all means of wave prediction, it does look like we'll get something this week. How big and how long is anybody's guess. However, it does look promising. And that's some long, overdue good news.

But a word to the wise peeps. Don't get too over amped. Pace yourselves. Endurance. But above all, please be patient with each other. Hopefully the lifeguards will understand what we've been going through and be more forgiving with the whistle blowing.




Yesterday. 1948 Hampton Beach
The southside of Boar's Head and the tourists look very colorful in this dated 1948 circa Postcard. If you look close enough you can see the faint lines of a swell. Can't imagine who'd be surfing during these times, but I imagine it's possible. If they were surfing out there during the late 40's they clearly had it to themselves.
Lucky stiffs..

Photo Unknown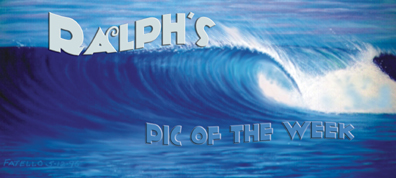 If you want to access the Pic of the week from past weeks click here.
Archives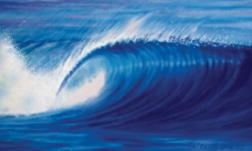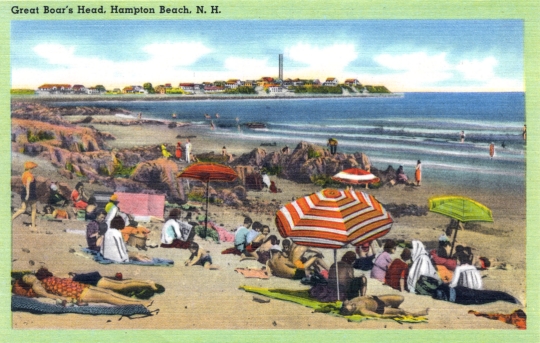 Today. Central America.
Wait a minute Ralph didn't you have a photo of Centro America last week? Yes I did. Why? Cuz it's the only place on the planet that's getting surf. This is local Maine Boy Billy B sampling some heavy green water at Playa Grande. Good Lord what we all wouldn't give to have something like this right about now. I like the thump at Grande. It's good for you.

photo courtesy of Billy B

The third round of the 2004 Extreme Beach Bocce Tour was played again this weekend. Veteran Players this week included Jack Keefe,
Skip and myself. (This is sad...I mean, I'm writing about Bocce instead of surf...dang crazy weather patterns). This week's matches saw two major "Firsts". The first time a Seagull ever flew in and picked up the "Pea" and tried to fly off with it and another MAJOR first when Jacko took a stunning shut out. Beating his shocked opponents 10-0-0. Skip and I were dumbfounded and flabergassed. To hear Keefe call it, "Probably, one of the biggest Sporting upsets in the wide world of sports. It was a Shalacking! I may have to retire" . Skip later was DQ'd for his second DQ of the year. We'll have to check the rule books but I believe the rules state that you are allowed 5 DQ's for the season. Over 5 and you don't make the play-offs.
We hope the Surf Gods give us enough surf to last right through the weekend and maybe the ESA will have their day...
Until next week....Pray for Surf. Pray for Peace. Surf For Fun.

Ralph

Click On Wave to Go Back to The Top.
Yesterday. 2003 Hurricane Season. The WALL.
Cinnamon Rainbow rider Kevin Rafferty from last year's great Hurricane season. Look for a great photo of Kevin in the new issue of Surfer's Journal. It's a shot by Brian Nevins of a beautiful Wall Wave with Kevin paddling out. Classic shot. This video still is from that same day. I had to throw this out there to remind you all what's coming.

Video Still from the new movie 13.5 by Ralph Fatello