December 7th, 2004 (Remember Pearl Harbor!)

Hey guys! Max and I just got back from a quick 5 day visit to Central California. We scored some great waves. We saw some old friends and made some new ones. It was nice to surf in a 3/2 again, no gloves, no boots. You know, my friends out in Central Cal surf in 4/3 wetsuits year round. What kind of weather and surf conditions would you rather have? Surfing in a 4/3 year round, year after year, or surfing the seasonal windows like we do? You know what I mean, from trunking it in the summer, to the full on 6Mil winter suits in the Winter? That would be a tough call. Personally, I'll take the seasonal changes any day. I like the fact, that we can surf a few days in the summer without a suit and then be fully encased in a wetsuit in the dead of winter. Still, the looks I get from those guys when I try and describe to them what it's like surfing out here in the dead of winter are priceless. They are basically horrified at the notion of surfing in the the snow and ice. Come to think of, so am I. Yet, we all do it.

Ok kids it's the Holiday Season now and it's in full swing. So what do you want for Xmas? A New wetsuit? A new Surfboard? Some surf gear? DVD's? (Yes, that was a shameless plug for my Movies).

Whatever you decide to put on your list to Santa, I'm sure Mr Cropper has it all at the Shop.

Yesterday 1971. Joe Somogyi, a Hampton Surf Legend.
The late Joe Somogyi sitting on the beach with unknown. Check out the zipper sleeves on his wetsuit. Looks like it's a Sea Suit. They have long since been out of business. Joe passed away in 1978. A victim of Agent Orange. His mother passed away last year. Just his brother Steve is left. Joe was a special person. He named a lot of the breaks that we all surf today. For those who knew him, he is sadly missed. photo courtesy of Chasbo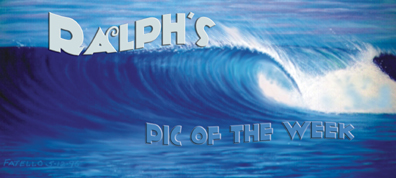 If you got good surf pics send em off to me directly.
Just make sure they are NOT huge files. In fact if you have any questions about the size, email me first and I'll write back. Start snapping your buds!!
Ralph Pic Of The Week
If you want to access the Pic of the week from past weeks click here.
Archives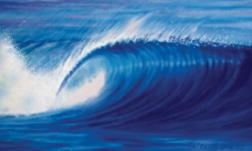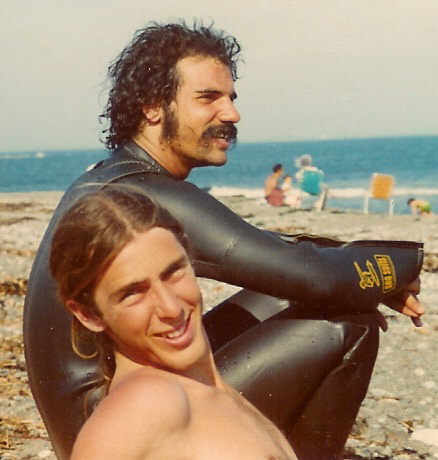 Today 2004. Jack Keefe finding some room to move on an open face at Lefty's.
This is a nice shot of Jack, on a nice wave at that Pointbreak. I forget what you guys call the place. I do know it's very popular. Like I've said..."If you can drive by it, it ain't a secret."
photo by Betsy Cory


Speaking of the Holidays. Every Holiday season, me and Jacko and Johnny Meehan have a contest at the Malls. The contest is based on how many people we run into at the Mall while we're shopping. The rules are: YOU HAVE TO KNOW THE PERSON'S NAME. And THE PERSON MUST KNOW YOU. Obviously the points are negated if we both know the person.The person who has the most earned points gets a free dinner! We're tied 3 and 3. This year will be big Real big..
Wish me luck.

We hear that a lot of you are taking off for warmer climates this Holiday. Nothing like Christmas morning in the tropics.

The Patriots. Can I talk about them again? Man...it's so cool to see them week after week. We watched them while we were in California and even the Cali boys had to acknowledge their greatness. Finally, we have a couple of teams that we can both be proud of and can brag about. Those of you older fans can remember how hard it was to be a Patriots fan and Red Sox fan. It was hard. Not anymore.

Thanks again for buying my movies guys. I am so thankful that you like them. I need to remind those of you who have purchased 13POINT5 that you need to watch the bonus footage of the Red Bull Contest that comes on after the credits.
Pray for Surf. Pray for Peace. Surf For Fun.

Ralph

Click On Wave to Go Back to The Top.
Today 2004. Brendan Moore on a wave we'd all like to be on.
This is a photo sent in by Brendan's dad Tim. The spot is north of the Wall....the stoke of a father submitting a photo of his kid was too much to not acknowledge. I have a soft spot for parents who share surfing with their children. There is no better gift than to turn on your kids to surfing. My dad did it for me way back in 1964. I've done it for my three kids. If you have kids, you owe it to yourself to introduce them to the ocean. photo by Tim Moore