December 29th, 2004
For the record; I sat down on Monday morning to write this column. There were blue skies out my window and the wave cam, along with all the reports coming in were impressive. The Surf was big. Very Big. The wind was howling offshore. It had all the makings of an epic day. Clearly, as a filmmaker, I should of been on it, shooting from every angle. As a surfer, I should of been looking for a spot that my tired old bones could handle. But I did neither of these. I did not write my weekly column. I did not shoot any footage. I did not surf. Why? Because, a half a world away there were early reports of massive devastation and huge loss of life caused by a tsunami. A Tidal Wave. A wave that caused so much death and destruction, that they were saying that it was of "Biblical Proportions". Think about that for a moment. I was stunned. Because of the irony of the day. The irony of it all did not escape me. Here I was, sitting in my office, thinking about the epic surf down the street, as I was hearing and watching about what a wave did to millions of people. The irony was overwhelming.

My friends, we spend the better part of our lives hoping for and seeking waves. As surfers, we think about and dream about waves on a daily basis. The fact that a wave, killed so many people, is a hard and bitter pill to swallow. I know there are many of you who feel the same. I've spoken with some of you on the phone. We're all devastated. Here it is Wednesday morning and the death toll has reached 100,000. My God. I heard last night on the news that one spot had 40 surfers out surfing when the first wave hit. They are all missing. When this is all said and done, this will go down in history as the biggest loss of life in our lifetime. And, it will be, the single biggest loss of life, suffered by SURFERS!
I don't know what to make of it.

I do know that our friends and neighbors Phil Carey, Sashi Lyford and Kevin Rafferty were just there. I mean they were standing and walking around on those same beaches and villages that we keep seeing on TV. Phil told me this morning that it was difficult to look at. "All those smiling faces from all the kids and fishermen, I can remember so many of those friendly people. I'm afraid to find out how many friends we may have lost." Kevin Rafferty had trouble sleeping Monday night. "I kept thinking about all those people. It's just awful." he said. I have not spoken with Sashi, but I'm sure he's feeling the loss. Phil is going to send me photos of the trip and I'll be posting them throughout the coming weeks.

I can remember reading a story in SURFER Magazine during the 70's by Felipe Pomar that was hands down, the scariest surf story I had ever read. Pomar was a Big Wave Surfer from Peru. He was out surfing one day off the coast of Peru. He described how "Suddenly the ocean just emptied out. I found myself on the dry reef. I was scared and confused. I did not know what was happening. Then a Giant Wall of White water appeared on the horizon. A Tsunami! I panicked trying to out race the massive wall of water. But I could not. The wave caught up to me and I was tossed about onto the beach and managed to survive by holding onto some tree branches.
I quit surfing after that for many years."
Yesterday 1960's. Surfing Santa.
This was one of those clever cards back in the 60's. Why not? A surfing Santa. photo courtesy of Rick Savastano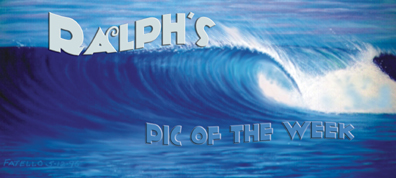 If you got good surf pics send em off to me directly.
Just make sure they are NOT huge files. In fact if you have any questions about the size, email me first and I'll write back. Start snapping your buds!!
Ralph Pic Of The Week
If you want to access the Pic of the week from past weeks click here.
Archives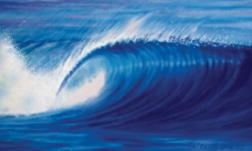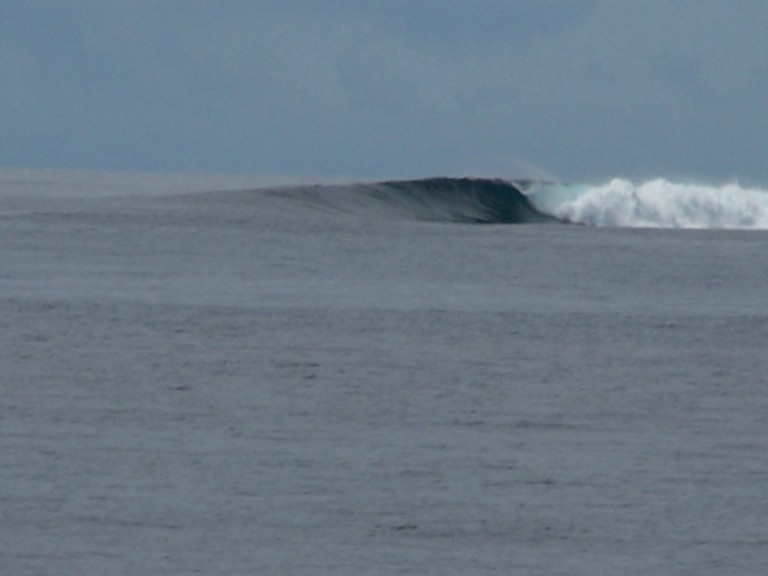 Today 2004. Taken a few weeks ago. At the same spot where the deadly Tsunami just hit
Phil Carey sent me this photo.This image speaks volumes. This wave is what we all seek. It's the reason Phil, Sashi and Kevin went to Indo. This same spot is now the scene of despair. The difference of a few short weeks. The Surfing World will never be the same. How could something so beautiful as this wave become so deadly?
Photo by Phil Carey

So what can we do? Well, there are many charities out there.The RED CROSS being one of them. I'm sure there are Surf Websites like Surfline and others that are setting up Disaster Relief Funds. Maybe we can start our own right here in New Hampshire. I don't know. I know that I feel so helpless. I do know that it couldn't hurt to say a simple prayer. I prayed every night since I first caught wind of this. There was a story and photo of a family of five from England. They were all surfers. Father, mother, two daughters and a son. They had planned this surf trip for a year and we're really looking forward to it. They are all missing. I looked at that photo and thought of my own family. I felt sick to my stomach.
I guess if there's lessons to be learned it's the obvious ones. But, it's the lesson we all seem to keep forgetting.That is; we should all be thankful for what we have. That we should take the time to tell each other that we love them and we enjoy having them in our lives.

Life can be many moments while death is only one.

Let's not wait until something tragic happens to one of us before we acknowledge them. Look, I'm not saying that you all get soft and mushy on each other. I'm just saying you say what you feel.

For me, I'm happy to have you all in my life. I enjoy surfing with you all (just not on the same wave). I enjoy the laughter we all share and the overall good vibes. And most importtantly, That if you're my friend, you're my friend for life.

There I said it.Your turn. Turn and say something nice to someone. Listen to someone. Help someone out. I'm not trying to preach here. I'm just stating the obvious. Be good to each other.

Ok... Now getting back to our protected world here in New England.
I do hope you all had a good Holiday. Hope you got some good gifts and you gave some good gifts. It's all about the giving.

I'm glad the Patriots are back on track. Maybe what Crop said will come true. That The Steelers will lose thier first Play-Off game and we'll end up playing all of our games in Foxboro. That would be nice...(and cold).

Please be careful this New Year's Eve. Be smart. Party Smartly.

Let's hope that 2005 will bring us all good health and happiness.
Because my friends, that's all we really need. Yes, we all want surf.
And we'll get surf...we always do.
But we need, love, health and happiness.
God Bless.

Happy New Year! Pray for Surf. Pray for Peace. Surf For Fun.

Ralph

Click On Wave to Go Back to The Top.
Today 2004. Taken last week. Maine man Ronnie Freeman at his fave wave in California.

Let's not lose sight of the pure beauty of what we all love and want. This photo is a reminder of that.
Photo courtesy of Ron Freeman
Today 2004. Local Boy Mike Stanek Hiding Out in One of His Secret Holes.

Mike has this spot wired. Drop a dime in the meter and get barelled.
photo by Jamie Wade