August 30th, 2004
Can you say "Keep talking?"Last week I complained about my own big own mouth spouting off at how great our Hurricane season has been. Then I thought I jinxed this awesome active Hurricane Season by yakking about it... Well...there's two large storms out there spinning around and you'd have to think that at least one of them will give us something. If I had to guess, it would be FRANCES. With winds up around 135mph and the slow speed and direction...well bunky, it does look favorable. Meanwhile, Ole GASTONE is twirling off the Carolinas. Ole Gassy is a bit closer than Frannie so keep yer eye on him. Either way...this coming week and weekend could be significant.

Another successful "MIDNITE MADNESS" Sale is in the record books. The new numbering system seems to be working just fine. The wait is now only haf the time of what it was in years past. However, like all good things...it's worth the wait.You're not gonna find better deals than you would on the annual Midnite Madness Sale. There was quite an array of talent and entertainment on hand this year to keep everyone laughing. Look...they don't call it Madness for nothing.

Yesterday. THE WALL 1974
Clearly, the Wall is the Mecca for New Hampshire Surfing. Everyone knows where it is. Everyone has more than likely surfed here at least once in their lives. The Wall is the focal point for all swells, both coming and going. The swells start here and end here. Everything else in between, revolves around the activity that occurs here. Look at this photo. Taken 30 years ago. Look at the cement wall. The dividing point between man and nature. How much has really changed? Well, for starters, the parking meters cost more. But look at the grass growing out of the meters and the wall itself. That stuff is gone today. See the single fin? The Old Van? The long haired surfer? The dudes sitting on the wall contemplating another go out? The lifestyle has not changed much in 30 years. If only that cement could talk. What would it say?
Photo courtesy of R. Fatello SFOD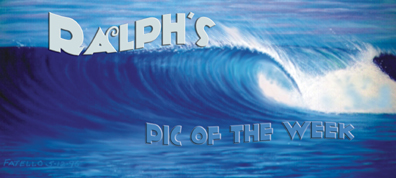 If you got good surf pics send em off to me directly.
Just make sure they are NOT huge files. In fact if you have any questions about the size, email me first and I'll write back. Start snapping your buds!!
Ralph Pic Of The Week
If you want to access the Pic of the week from past weeks click here.
Archives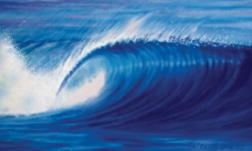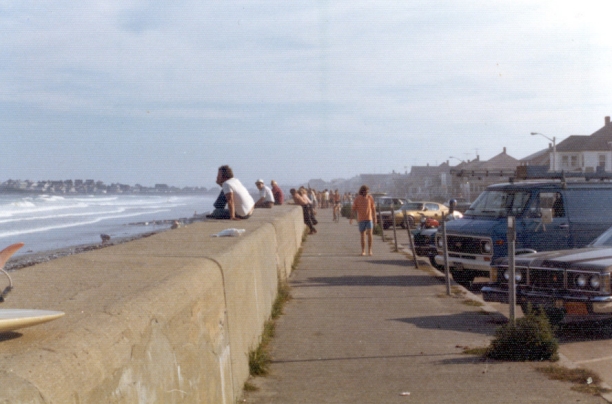 Today. GOLDEN WAVE
Taken last year. I don't know who this is, I do know where it is...it's The Wall. Nick sent us this photo last Spring. I do like the look of this shot. I really like the golden filter. It looks like the end of summer to me... How sad. The end of summer is here. How would you rate the summer of 2004?

Photo courtesy of Nick LaVecchia

There was a strong showing of support at the Bud Gould Memorial on Saturday. It was very nice to see so many friends from the local Surf Community pay their respects to a wonderful caring man like Bud. I'm sure the entire Gould Family is very thankful to all who attended.

Another sad note to report. Longtime Hampton Surfer Mr Zetterburg ( who now resides in York Maine) lost his father the same week as Bud's passing. So again, on behalf of our entire Surfing Seacoast Community, we want to extend our sincere condolences to the Zetterburg family

Those of you with elderly parents and grandparents should take the time to talk with your loved ones. Listen to them. They have something to say. They are a big part of who you are today.

For those heading back to school this week. Keep your chin up.

Until next week....Pray for Surf. Pray for Peace. Surf For Fun.

Ralph

Click On Wave to Go Back to The Top.