Friday the 13th and
t
he RETURN of Gabrielle...
I am not one for superstitions per se, but I will say, that this past Friday the 13th, reminded me of a time, when exactly 22 years to the day, I was full of dread. Why? Well, my wife was going into labor with our second child. It was right around dinner time. And it was Friday the 13th, 1991.

"There's no way our child is going to be born on Friday the 13th!" I stated. And rather firmly I might add. I know that's crazy. But really?

So we sat down and had dinner and then watched a movie. I believe it was BAT 21 starring Gene Hackman and Danny Glover.
The whole time she was having mild labor pains. Having already had our first child we were sort of used to this stuff. Sort of.

I mean if you listen to the experts they will say that the second child can usually come at any time. Still, I was not going to allow our child to deal with a Friday the 13th Birthday. Look, I know it's silly. But look who you are dealing with here.

My plan was to leave at 11:30PM. The hospital where all of our children were born was a good 45 minutes away. Now keep in mind, I was fully prepared to deliver this child myself if need be. That's how committed I was to avoiding this date.

Suffice it to say. I was not needed. We arrived after midnight. and little Max Vincent Fatello was born on Saturday September 14th 1991 at exactly 7:06AM.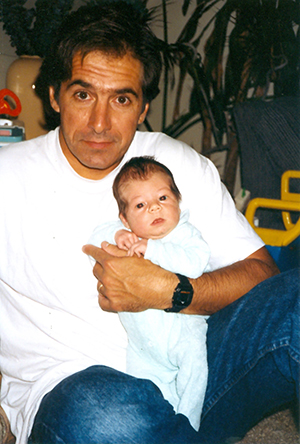 Of course if my wife was telling this story, she might have a different take on things. Still, she will admit, that the 14th was easier and better than the 13th. Life is hard enough without throwing that bad luck crap into the mix from day one.

This past Friday the 13th reminded me of that time.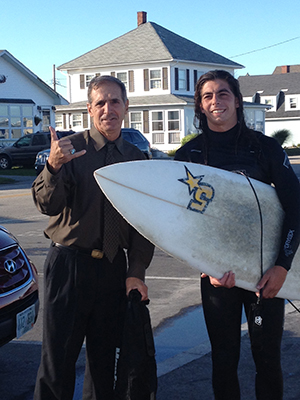 Here we are 22 years later. Saturday September 14th, 2013. You're welcome Max. I guess we could of named you "Jason" if you were actually born on the 13th. But we never had to cross that bridge.

So we were all excited about TS Gabrielle this weekend. *That's the reason I am late with the blog. Hey, there was REAL surf and I shot about a million photos, and so did Ed. But more importantly, I went surfing. Imagine that? I am still a surfer. And I'll be dammed if I let that swell slip by without sampling her well groomed groundswell.

Now some of you older surfers will recall the original Gabrielle.




Now that was a swell to end all all swells. Oh my God. The reason it was so good was, directly on the heels of Gabrielle, was another storm, Hurricane Felix. And those two actually mated. I swear. Ask anyone who was around for the original Gabrielle. September 1989. Gabrielle and Felix produced INSANE waves here in New England.

In fact, there has not been anything like it since.






There's another interesting story with my family ties to this original storm. My wife was pregnant with our first child when Gabrielle hit. I shot some of the (what I thought at the time was) my best ever movie footage. I filmed and shot the days of Gabrielle and was in heaven. Then I went surfing.

I got to surf for about an hour, when my world went "topsy turvy" on me. The surf was about 6-8' and just perfect. I had surfed a few of the point breaks, and was about to sample my fave wave of all the point breaks. I was out for all of 20 minutes, when a big set approached.

I did what I thought was a routine duck dive, but my timing was slightly off. I turned my head ever so slightly, and caught the full brunt of that pitching 8 foot lip directly on my ear.

Instantly my ear was blown out. Vertigo times 100 followed.
It took everything I had to keep from falling off my board as I paddled towards the horizon.

The worse part? All my friends thought I was kidding.

To this day ,I want to strangle one of them. Harry. He kept saying "Dude, I thought you were kidding!" Really? Kidding in 8-10' surf in the impact zone? That's funny? I mean good lord, I'm lucky I didn't drown.

Any ways, to make a long story short. I made it back to shore.
On my own. No surprise there.

When I did manage to crawl up the embankment, I was driven to the hospital by our dear friend, and resident nurse, Kim Grondin. By the time I got back I said to my wife," if our child is a girl, we should name her Gabrielle." And we did. Gabrielle Marina (which means of the sea) Fatello. And that's, the rest of the story.

So my son Max, surfed TS Gabrielle on his birthday this weekend. And so did I. And this time, I wore ear plugs.

Now for Some Of My Weekly Global Observances:

OK so the big news this week continues to be Syria. We may have dodged a bullet here with Russian president Putin stepping in to broker a deal where Assad and Syria hands over all their chemical weapons to the International contingent.

Though one must be weary of Putin. He is after all ex KBG.

I will say that if this works, the administration will look like geniuses. If not? Well hold on to your seats kids. It's going to be a rocky ride.

Meanwhile closer to home .Our thoughts and prayers go out to the folks in Colorado. The flooding is heartbreaking to watch. With the fires out west and this flooding? It's easy to see how lucky we truly are. I mean. Fire and flooding?

Please say a prayer for them. And whatever you can do to help, I'm sure would be greatly appreciated.

OK this is a joke this week. KSM is still an evil son of a bitch who was the mastermind behind September 11th, 2001. And with the mentioning of Friday the 13th I figure what the hell.

As always, let's take a minute and enjoy the weekly humiliation of the mastermind terrorist who killed 3,000 innocent civilians on September 11th, 2001.




* Note to self. Must pick up some Halloween candy
at Home Depot.

ANNOUNCEMENTS:

HAPPY BIRTHDAY Shane Smith September 17, 2013!
HAPPY BIRTHDAY Ginger Kellar September 18, 2013!
HAPPY BIRTHDAY Mark Bohenko September 18, 2013!
HAPPY BIRTHDAY Jack Keefe September 21st, 2013!
HAPPY BIRTHDAY Sam Nevins September 21, 2013!
HAPPY BIRTHDAY Victor Capozzi September 21st, 2013!
HAPPY BIRTHDAY Mat Evans September 23, 2013!
HAPPY BIRTHDAY Lester Priday September 30, 2013!
GoodBye Summer 2013 Hello Fall 2013!

Please Support ALL The photographers who contribute to Ralph's Pic Of The Week every week for the last 9 years. **Think about BUYING a HIGH RES Photo from any of the weeks on RPOTW.

Keep in mind the photos you steal from this site are low RES. You can't blow them up. Order HIGH RES photos that are suitable for framing. It's a GREAT Gift Idea. A nice framed photo of your favorite Surfer or Surf Break!
Remember my friends... Surfing Heals All Wounds.
Pray for Surf. Pray for Peace. Surf For Fun.

Ralph