Goodbye October and The Rowlee Family
...
I know you know that October is my favorite month. And like all good things, October is coming to an end. I wait all year for this most glorious month and in the blink of an eye, she's gone.




The transition from Summer to Fall, and then Fall to Winter.

The colors associated with this month stay with me throughout the year. Boy I must really sound like a crunchy granola type closeted hippie huh? No? But I do sound like I have a soft side don't you think? Well, I've been told by more than one person that I am getting mellow in my latter years. They Call me "Mellow Fatello" that's right.




I'm sorry, I just find these images just too beautiful not to shoot.

Sunlight filtering through the electric trees. It's magical. To me that is.
But I know I'm not alone. But such is life. Because here comes November. And She's bringing her cold sister too. The one with the icy touch. Better known as December. Oh yea, they are coming.

And as much as I like the winter months, I do prefer the Fall.

I know of one such person who does not like the cold. That person would be our dear friend Meighan Rowlee. And while she has survived many a winter here in New England, it's time for a change. And change it is, because the Rowlees are heading south.




For those of you who don't know who the Rowlees are, I can only say that they are one of the many Surf family's who have made this seacoast their home for many years. I know you have seen the MOLLY stickers everywhere throughout the community and for good reason. Molly Rowlee has become an icon in these parts.

A young, bright, beautiful little girl, who was diagnosed with large cell lymphoma in February of 2009, and passed away a mere 5 months later at the age of 5. And since her untimely passing, "Molly" has become a beacon for all that is good and wonderful on this seacoast.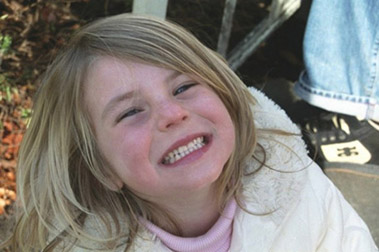 From the many fund raisers in her name, to the loving wonderful family that is the Rowlees. Buck and Meighan are the mom and dad and Molly's little brother Kieran, to the latest addition TJ. The Rowlees have been one of the "Surf families" that make this community so good. Meighan likes the summer, no scratch that, Meighan LOVES the summer! And summer is too short here in
New Hampshire. So the are packing up their bags and ...

...they are moving to the Carolinas next month.

Now before you all start getting weepy on me here, know this. THEY will be back EVERY SUMMER to Run the MOLLY. The BEST Surf contest ever! Buck has assured me that they will return every summer. And while we will miss the Rowlees each winter, it will be
so nice to see them again each summer.




Those of you who have been following this blog for a few years now know that I spent some serious time doing a fund raiser of my own for Molly from 2010 to 2011. I surfed every day for a year. This is a photo from the last day. What an amazing day that was.

It would be an under statement if I were to say that I became close to the Rowlees during that year. I am personally going to miss them. But I also know that with the way we all communicate on Social Media we are never that far apart. Hell, I spend more time these days staying connected with old friends on Facebook than I ever have before in my life. So I know, that even though the Rowlees will be hundreds of miles away, they will still always be just one click of the mouse away on our Google Machines.

Surfing Heals All Wounds.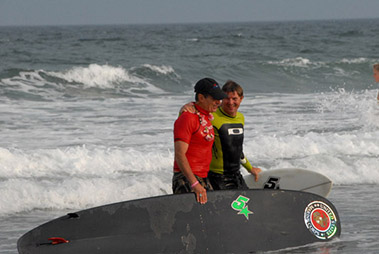 Buck and I on DAY 365. July 26, 2011. Hard to believe that was two years ago. That was day that we won't ever forget.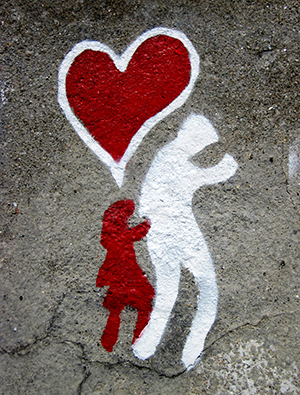 This graphic created by Mike Sidebottom is no longer visible at 10th Street. But for the longest time it had become something special for so many of us. I know it was considered graffiti by the Parks & Recreation but it had become much more than that, to those who followed my journey. This graphic spoke volumes about that particular day.

It's still nice to look at and remember. Thanks again Mike.

For those who never followed the daily blog I posted called "CATCH A WAVE FOR MOLLY" simply click on the graphic image above, and follow each day as it happened.

So Halloween is almost here.

And I'm sure I asked this same question last year, but when did Halloween become such a BIG holiday? I mean some of the decorations are over the top. Hello? Really people? We are that much into this day? I see Halloween as the beginning of my weight gain season.

The candy intake followed by Thanksgiving and then of course Christmas. And the next thing you know, Lil Ralphie is not so little anymore. I am guessing that I put on between 5-10lbs every freaking holiday season. Ugh.

And because we live on a street where we are the only house, the trick or treaters rarely come to our house. So that means "you know who" eats the candy. I can't win. Help.


Now for Some Of My Weekly Global Observances
I am hoping that the TRUE Red Sox fans get their World Series title this year. The game is on upstairs and it's Game 3 and the game is tied. 2-2. This Game 3 is important. Hell even i know that. But to be safe I checked the stats and it turns out the last 11 teams out of 12 that won game three went on to win the series. Those are pretty convincing numbers. So it would be to our advantage for us to win Game 3.

Because I'm into making KSM look like a fool. This holiday seems perfect to mess with the big fool. So once again, let's all take a minute, and enjoy the weekly humiliation of the mastermind terrorist who killed 3,000 innocent civilians on September 11th, 2001.




* Note to self. Must pick up some Halloween candy at Home Depot this week.

ANNOUNCEMENTS:
HAPPY BIRTHDAY Joe Carter October 28th, 2013!
HAPPY BIRTHDAY Elizabeth Ann October 28th, 2013!
HAPPY BIRTHDAY Kim Ernst October 28th, 2013!
HAPPY BIRTHDAY Eva Fatello October 28th, 2013!
HAPPY BIRTHDAY JoEllen Bunton October 29th, 2013!
HAPPY BIRTHDAY Jana Nash October 29th, 2013!
HAPPY BIRTHDAY Dylan Ladds October 30th, 2013!
HAPPY BIRTHDAY Matt Shaw October 30th, 2013!
HAPPY BIRTHDAY Patrick Meehan November 1st, 2013!
HAPPY BIRTHDAY Katherine Smith November 2nd, 2013!
Please Support ALL The photographers who contribute to Ralph's Pic Of The Week every week for the last 9 years. **Think about BUYING a HIGH RES Photo from any of the weeks on RPOTW.

Keep in mind the photos you steal from this site are low RES. You can't blow them up. Order HIGH RES photos that are suitable for framing. It's a GREAT Gift Idea. A nice framed photo of your favorite Surfer or Surf Break!
Remember my friends... Surfing Heals All Wounds.
Pray for Surf. Pray for Peace. Surf For Fun.

Ralph