I hope you guys have been scoring some of these sneaky little waves we've been getting the last couple of weeks. I mean, it's been day after day there for a while. Just some of the most fun waves that any of us could imagine. Seems like every day, or every other day there's surf.

And yes, it's getting warmer. Clearly 3/2 temps.

Some guys are going no gloves and others are peeling off the booties as well. Summer is coming. Heck it's almost here. Another few weeks and we could be right smack dab in the middle of AC cranking days.

Figures, I just got over paying monthly heating bills. Now my electric bill will be going up. There's no end in sight. I wonder
who can save us? Mitt or Barack? Republicans or Democrats? Who? Can anybody hear us out there? Hello?

Personally, I don't care who, just as long as we get help.
I swear if politicians could simply get over the novelty of being President and just start doing what they are supposed to do,
I believe none of us would care which party sits in the Oval
office, as long as the economy was thriving again, and there
was world peace.

Right now, it's all about the economy. Let's get this country
back on it's feet. Let's get working again. Let's all make enough money again, so we can all go surfing somewhere fun...and tropical. Can I get an amen people? Can I get a bar of surf wax?

I wonder who will be the first Surfer President? Kelly Slater? Nah.

Ok, so I was staring at the latest batch of photos that found
their way into my inbox this week, in my never ending stream
of incoming emails. I was as always, able to pick out certain surfers simply by looking at their stance. Or their pose.
Whatever you want to call it. The bottom line is, I was able
to recognize certain surfers, because I know their style.

Call it our own surf DNA, but it's rather remarkable to think that we all have such unique and different stances. It's true. Then I thought how funny it is to think that we all have a certain way
of standing on our boards, that make each and every one of
us unique. It's crazy to think that we all have our own style.

I mean is surfing really that unique? It can't be. Or can it?

The answer is yes. It can and does. We all have our own style. We all have this foundation that is embedded in our surfing life style. And I have been able to pick out individuals simply by looking at their stance.

I can't tell you how many times a person would ask me..."How
do you know it's this or that person?" They would ask. And I would typically just answer because I know. I know that style.
I know that stance. And nine times out of ten, I do.

"But they all look alike!" They would say. And I would nod yes.

To the untrained eye they all look alike, but for those of us who know better, we know what we are looking for. And having said that, we all have this certain stance that is our trademark. Our own foundation to the rest of our surfing. Good or bad, it's ours.

And look, by good I mean simply, to look good standing still.

That's a little harsh I know, but it's true. We all have a certain stance. Don't believe me? Ask any longtime surfer the same question, Or better yet, show them pics of any of their close friends surfing, and they will point it out to you.

We are all not Kelly Slater's and Dane Reynolds.

We are who we are. Local surfers who have un-wittingly developed our own surf style. Yet to the trained eye, can be picked out in a heartbeat. I can do it with all my friends. Just
by their stance. And I am talking 100's of surfers that I know personally. We all have our own stance. Every last one of us.

Like Mackey below...check his left arm. That's MVF all the way.
I know of only one other surfer who does this. Zap. But he uses his right arm. Still, it is a giveaway when I see it.




Another reason why surfing is so freaking cool and unique.

And just to clarify this theory. Our stance is the same on a two foot wave as it is on a 10 foot wave. Our stance remains the same. As does everyone's. I was made aware of that as well
this week. Staring at a photo of a famous surfer inside a major 15' barrel. His stance I recognized was the same stance he
uses in a smaller insignificant wave.

It's the wave that makes us look good. Our stance is just fluff.

It is and always will be the wave. And again, another reason
why Surfing on any coast, and at any level, is so freaking beautiful. The wave dictates the awe. The gazing at a photo,
the going back to look at it again and again. Yes, we want to see the rider (especially if it's you), but the telling factor is always the wave.

Seeing yourself standing there like Kelly at backdoor, on a two foot mushburger, is not very appealing. Seeing that same
EXACT stance/pose on a double overhead wave, is five times
the rush. For both the viewer and the rider.

Same stance different waves. Two different animals.

Standing there is only part of the attraction. It's what you are standing on, that gets the blood pumping. The Wave. Better to look good than to feel good when it comes to surfing. Wait did I just write that? I did, I am obviously going on little to no sleep.

My daughter went on her Junior prom last night...

I guess I still can't believe she's not a little girl anymore. When did this all happen? When did my little girl become this young woman? Where was I when this transformation happened? Was my head stuck in the sand like a lot of dads? Or did I refuse to acknowledge my baby growing up...?

I guess a little of both.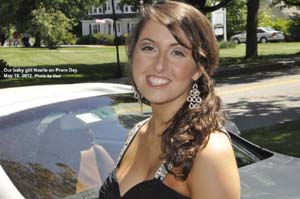 Wait this is my daughter? My baby girl? Huh...? Gulp.