Momentum, and the never ending swell...

We have all witnessed in our lifetime the amazing ways of "Momentum". We have seen it first hand in politics. We have seen it many times over in sporting events. And we have seen it in our own personal lives. And this past month, we surfers, have seen it in Mother Nature. With the incredible run of surf we have all experienced.

But the real reason I wanted to touch upon this phenomenon is last week's Game 7 in the Boston Bruins world. If you saw that game you know exactly of what I am talking about. If you did not and could care less about the NHL, and other sports team, well I can't help you. In fact, there's a small part of me that envy's you.

But for the rest of us lunatics? That Game 7 last week? Whoa.

This strange entity, known as momentum, took over one team, while sucking the other team dry of anything positive. Look, even you non sports types can follow this. The Bruins were down 4-1 in the 3rd period. The game is only 3 periods long. For the Bruins to score 3 goals to just tie it up, would be nearly impossible.

But only on paper apparently. Because my friends, that Ole Magic known as "Momentum" stepped into the Black and Gold world that is Boston...and well, the impossible, became a reality.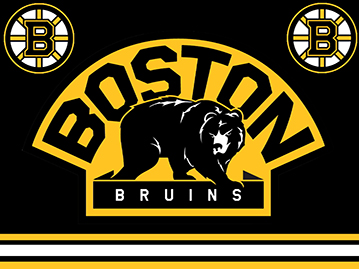 How many times have we seen Momentum sweep into a
stadium, or an arena and just suck the life out of one team
and their fans, and give it to the opposing team and their fans?
It's almost as if you could reach out and touch it. That it's some kind of living breathing life form.

I do know this. That once it starts, it's hard to stop. Almost like destiny. There are things that happen in our lives, that appear to be almost unworldly. Unexplainable occurrences.

Yet they happen over and over again. Such as the incredible Momentum that the Bruins had in that Game 7 against the Toronto Maple leafs.

They had it. Then they lost it. We have it, and we are riding it.

Because the "B's" are now up 2-0 in the series against the Rangers. Another New York team. Another semi rival. And we
are riding this wave of momentum into this next round of
play-off hockey. And Play-Off Hockey is the fastest, and most exciting game on the planet.

So may the Bruins continue to ride that wave of momentum.




Speaking of waves. The surf has been non stop for weeks now.

And not only has there been good surf, but the wave color and texture, has been nothing short of incredible. On Thursday May 16th, 2013 in the morning, I thought I was in New Zealand or Australia. The wave color had this aqua marine green tint to it.
I was completely blown away by that.

When our cold New England water looks semi tropical, it's time
to take note. And I did. 99% of the empty waves I shot on that day were not touched in photoshop. In other words what you
see is what I shot. So damn pretty, and so damn hollow.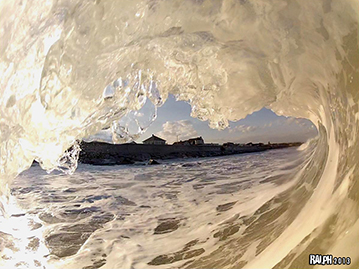 Later that night I took the little GoPro camera out with me, and with the sun in perfect position, I shot some decent video. The images above and below are frame grabs from the clips I shot.

Truth be told I am not a big GoPro fan. In fact, I detest the over used board mount on the nose look. I'm sorry, but that look has been beaten to death. Please spare me the pain of having to see yet another stiff video clip, of someone surfing a two foot wave on a longboard with your tongue hanging out.

Having to look at your face while you gyrate, and pretend that you are surfing Pipeline, or Chopes, is not flattering. Trust me, it is not. It's fine if you want to show Uncle Tim and Auntie Marge what you did on your Tropical surf trip to Costa Rica...but the
rest of us? No thanks.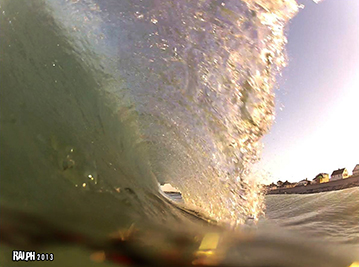 But those little cameras do have some merit, if you choose to think outside of the HERO box. Not that I think these are world class images, they are not. But, at least the composition is interesting enough, and if you use the right amount of slow motion, and the right music (which is KEY), then you might
want to re-think these little cameras.

I'm glad I did and now I am looking forward to experimenting further with my GoPro. Remember. "Imagination is more important than knowledge."
......Albert Einstein