The END of an Era and the beginning of an Era.
Not sure of how many of you know of my other lives outside of the surfing community. I would assume that quite a few of you who follow this blog are aware of my other roles. One of which is coming to an end on Monday May 19th, 2014 at 7:00PM. Back in 2001 I became (reluctantly) Commander of the American Legion POST 35 here in the Hamptons. At the time I was clueless as to what I was doing, and had no idea of what I was supposed to do. I was just a simple grunt in the Marines. I never amounted to anything. I did not want this job.

I became CDR on the heels of 9/11. So I knew, that whatever I did, it would be a different world. Well, as it turned out, we were embroiled in a war against Terrorism that is still ongoing today. And because of that I was motivated enough to be the point of the spear. Our country was at War. I needed to do my part. No matter how small.

I was and always will be, a volunteer.

So I accepted this position to lead this group of veterans in the darkest times of our entire history. And we did so much in the 13 years I was Commander that it all now seems like a blur to me. Thirteen years does not seem like much, but when you consider that you are only supposed to be Commander for one year?

Well you get the picture. It's a long time.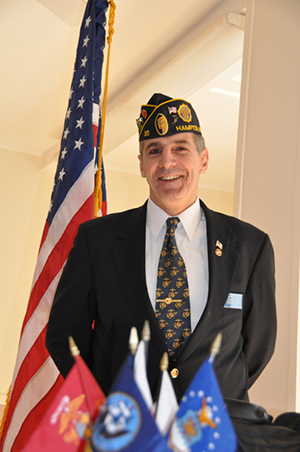 I embraced the role and the leadership that came with it.

And the men and women who I represented, were with me every step of the way. The results of our joined actions were rewarding on so many levels. The lists of things we did as a group of veterans was nothing short of amazing. The many monuments, and annual events that we did, were never ending. The total awareness of veterans and the wars in which they fought that we brought to the community was unheard of in our Post history. We essentially put Post 35 on the map as no other membership has before, or since.

This little "Post On The Coast" as I am fond of saying, has done so much in these last 13 years, that to name all of what we've done here would take up this whole blog. I'm not kidding. There's just so much.

But on the short list, we have done the following:

Erected two memorials for the two Brown boys from Hampton who were two of the 9 killed in Vietnam. They both were overlooked due to their last names being so popular that there was already, BROWN Parks and BROWN streets. Once we found out, we acted. And we got two monuments erected for their families.

We were instrumental in getting the WOUNDED WARRIORS HIT THE BEACH Surfing Program along with Michael Taylor. This year
is our 7th year of running this successful event.

The annual Memorial Day events and parades in four locations on the seacoast. The crowds have grown every year and continue to do so. Then there's the Veterans Day observances. Again, record crowds attend these services each November 11th.

There are so many other events that we do and volunteer for. Between the schools, the Pease Greeters, and just dozens of fund-raisers and public events that it is like I said, hard to name them all. But I would be truly remiss if I didn't mention our biggest and most profound undertaking of all.

The Global War On Terrorism Monument and our annual September 11th observance. That memorial monument that is in front of our Post on High Street, next to Flatbread is our most satisfying achievement. We worked long and hard for this to come to fruition. And when it did, it was a day, that none of us will ever forget.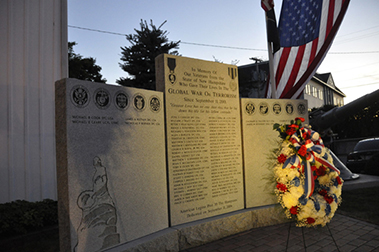 The only monument of it's kind in the entire country. A living perpetual monument if you will, where we add the names of the veterans from New Hampshire who have died in the GWOT from one September 11th to the next. We started on the 5th anniversary of 9-11 and have had one every year since. The Governor of NH speaks, as well as other notable dignitaries. And we always have a Key Note speaker of significance. It is in short, a moving and somber event.

And if you have ever attended one you know of what I speak.

So yes, it is a bittersweet parting for me. I put a lot of blood, sweat, and emotions into that building, and the men and women who belong to our post will always have a special place in my heart. But it's time to move on. It's time to heal and get healthy and move forward.

And my heart will always be in the soul of that building.
God Speed Post 35 and Semper Fidelis.

OK enough about me and my ending of an era story...how about the start of a NEW era for a dear friend and local surfer who has earned his way into the limelight of the entertainment business.

Hampton's own Jimmy Dunn made the official announcement this week that CBS has picked up the new sitcom The McCarthys.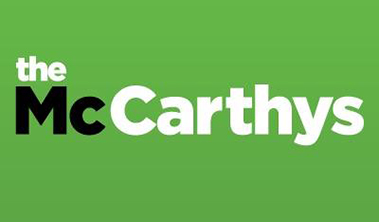 Anyone who knows Jimmy (and he knows a ton of you) knows that he's the real deal. He's not the chain smoking, profanity riddled comic who spews out insult after insult on stage. Hardly. His comedy is the kind of humor that we can all relate to. Not saying that Jimmy's a saint up there, it's just that his comedy is familiar. Like he was one of the guys you hung out with. Which he is.

I've watched his act go from the starting struggling comic to headlining the big rooms, and eventually onto national television by appearing on Lettermen a few months ago, to this latest gig. He never gave up. He kept going further and further up the ladder. And now this latest gig looks like a true winner.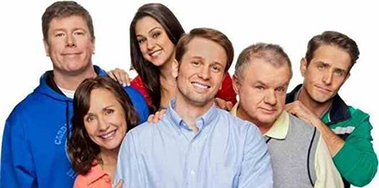 I know I'll be tuning in and I would hope that all of you do the same. I mean the McCarthys are about a Boston based family that all of us can easily recognize. It has it all. I'm posting a trailer down in the video section so be sure and check it out.

Congrats Jimmy! Wish you all the best. You've earned it.

"A Local Comic Heals All Wounds"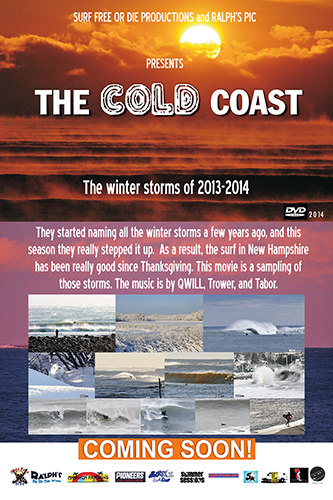 My latest movie is due for a mid June showing. And I think I'll end up showing it at the Legion (next to Flatbread) for an old school premiere. Portions of the proceeds will go to the WOUNDED WARRIORS PROJECT. So Stay tuned.

Now for Some Of My Weekly Global Observances

Ok the wildfires out in California are heartbreaking to watch.
Local boy Steve Dillon who moved out west years ago has sent some pics in from his perspective. Meanwhile, here's a few pics from the "Googlemachine" of the nightmare that is happening out there.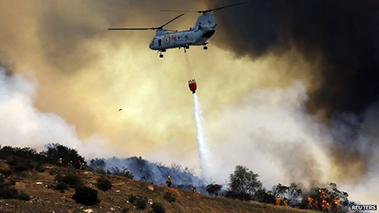 That's a Marine Corps chopper. A CH46. I guess everyone is pitching in to help combat this nasty fire.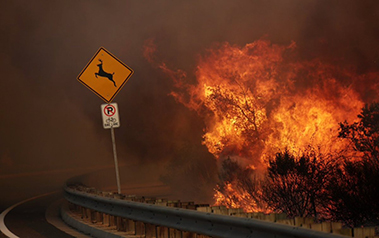 Any deer that is left here has long since crossed.

Say a prayer for those who are dealing with this fire firsthand and please say a prayer for those who are battling the fire.

So The Bruins lost in Game 7. I'd like to say that I never saw that coming but I think we all did. Oh well. Go SOX!

*NEWS FLASH The missing Malaysian plane is still missing.

OK this story has legs. The owner of the LA Clippers has made some rather racy comments about Blacks to his girlfriend who then leaked it to the public. He has been an outcast and she has become a celebrity of sorts. I swear, I NEED to launch my site CELEB LOSERS soon or I will be regretting this to my dying day. Each week it seems there's someone new from up above us all that tumbles back to earth and lands in their own feces. This week it's The Spencers.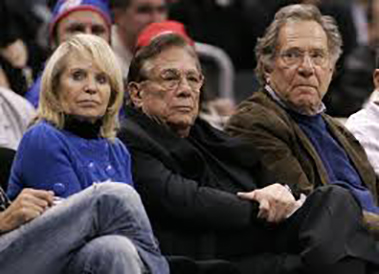 Seen here with his wife and friend George Segal (who no doubt wishes he never accepted those tickets). Oy...oh well.

This was an easy week for me with Ole nasty butt KSM.
My weekly humiliation of Khalid Sheik Mohammed (KSM) the mastermind behind 9-11 is never at a loss to be photo-shopped in the most embarrassing scenes. Though I know I may stretch it too far week to week it's still fun. And making fun of this devil is all about that.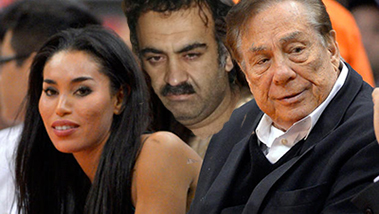 KSM hanging with the big dogs at a recent Clippers game. KSM is a bona fide racist and has no qualms in letting you all know. Of course he hates JEWS and AMERICANS more than any other race on the planet. So this image this week is not entirely true. But I had to do it.

So once again, let's all take a minute, and enjoy the weekly humiliation of the mastermind terrorist who killed 3,000 innocent civilians on September 11th, 2001.

* Note to self: Must pick up a case of used basketball sneakers at Home Depot this week.

ANNOUNCEMENTS:
HAPPY BIRTHDAY Ross Kunkel May 18th, 2014!
HAPPY BIRTHDAY Rick McAvoy May 19th, 2014!
HAPPY BIRTHDAY Eva Andrews May 22nd, 2014!
HAPPY BIRTHDAY Peter Stokes May 22nd, 2014!
HAPPY BIRTHDAY Sean McIsaac May 23rd, 2014!
HAPPY BIRTHDAY Jay Healy May 23rd, 2014!
HAPPY BIRTHDAY Josh Schneirer May 23rd, 2014!
HAPPY BIRTHDAY Tom Miller May 23rd, 2014!
HAPPY BIRTHDAY JJ Huggins May 24th, 2014!
REST IN PEACE Jake Pongrace.
REST IN PEACE Officer Stephen Arkell Brentwood, NH
GET WELL SOON Nancy Hartmuller!

Please continue to send positive thoughts and prayers to our dear friend Debra White and family. As well as JT, and Ed O'Connell. Please add them all to your prayer list.

Please Support ALL The photographers who contribute to Ralph's Pic Of The Week every week for the last 9 years. **Think about BUYING a HIGH RES Photo from any of the weeks on RPOTW.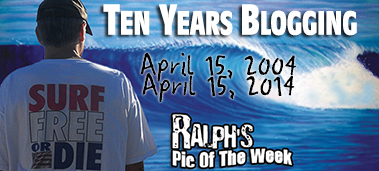 CLICK ON THE GRAPHIC ABOVE TO SEE EVERY
SINGLE WEEK FROM THE LAST 10 YEARS!

Remember my friends... Surfing Heals All Wounds.
Pray for Surf. Pray for Peace. Surf For Fun.

Ralph


Like us on Facebook