Hello Daylight Savings Time, Winter Storm Ulysses
,
and Goodbye Mr Cropper...
I guess I really do march to a beat of a different drummer. No surprise to some, I can be stubborn. Very stubborn. For instance, last fall when we set out clocks back one hour, I refused. Why? Why not?
I think it's absurd. Pick a damn time and stick with it. That's right.

I spent the better part of the last clock change one hour ahead of everyone else. Besides, I knew this day would be coming. The DAYLIGHT SAVINGS TIME day. Now I can smile with a smug smile, and nod my head in my acknowledgement of being ahead of everyone else. I didn't have to lose an hour sleep. I was already here.

The clock in my JEEP Commander now tells the correct time.

Please don't hate me for being one step ahead of the rat race. Just give me a smile and casual hand salute when you see me. That's all I'm looking for. No need for any additional accolades. Or further acknowledgement of my vision. Just a wink and smile, that's it.

So this last Winter Storm came and went without depositing any snow per se. But honestly? We surfers don't care a hill of beans about the snow. We certainly don't want to deny the mountains and resorts their much needed white stuff. But as far as the hardcore surfers go? We just want the waves associated with these storms.

And this last one? Winter Storm Ulysses? Well Ole U was good.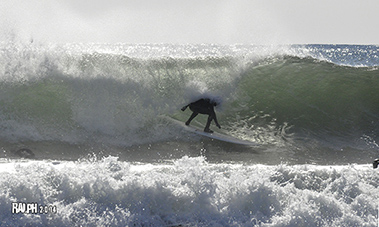 I shot this photo of Lenny Nichols this morning.

As you can clearly see, the surf was good. Clean and hollow. Just what the doctor ordered. This last Winter Storm was named ULYSSES. Keeping with the Greek naming of storms. This storm did not produce much in the way of snow and wind or freezing cold temperatures. Hell, it was 52 degrees yesterday. I had to do a double take on that. The snow and ice was melting all day.

Though today the day broke and it felt like winter again. Just 32 degrees out. Yes it was cold again, but the surf was better than it was the day before. So good in fact, that I shot most of the day. I shot stills and video in the morning. And then this afternoon I actually swam out and shot more video from the water.

I took out my GoPro with the custom Dale Kobetich's housing. I have not seen the results, but I do have a good feeling about what I may have captured. Max, Kyle, Kai, Jared & Thom Hay, Pev, Ryan Reed, Lenny, and Johnny Meehan were all out. It was a perfect set-up. Color wise, it was not the best angle, but I've learned over the years, that you better shoot first and ask questions later.

So I did. I shot the snot out of Ulysses.

This week we said goodbye to the Patriarch of the Cropper family. James Cropper passed away on the 5th of March surrounded by his loving family. James is the father of Dave Cropper owner of Cinnamon Rainbows. There will be calling hours and more info later on his services and I will post them next week. Right now the tentative dates are Friday March 21st, 2014 at REMICKS Funeral Home in Hampton, NH. Meanwhile his sons and daughter, and his wife and grandchildren need your love and support. Please keep them in your thoughts and prayers.


"A COLD Coast heals all wounds!"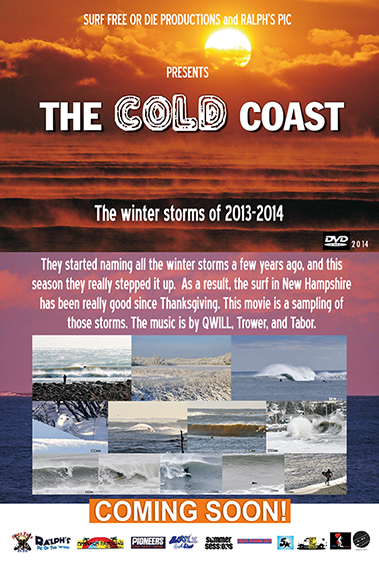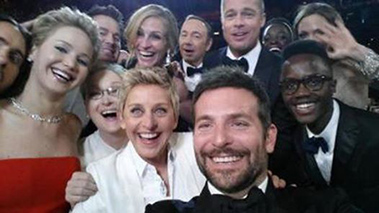 Being a BIG and one of the OLDEST fans of the selfie (ask anyone who has been around me since the 70's). This is one SELFIE that actually did some good. Thank you Ellen.
St. Jude Children's Research Hospital will receive ONE AND A HALF MILLION DOLLARS from Samsung.

The Oscar Selfie photo going viral made Samsung (the phone it was taken with) a lot of $$ so they are giving Ellen a buck for every share of the photo to one of two of Ellen's fave charities, the other of which was the Humane Society.


Now for Some Of My Weekly Global Observances
The top dawg Russian President Putin had a press conference last week that still has the free world shaking their collective heads.It is amazing to think that just ONE week after hosting the Olympics, President Putin and Russia have invaded the Ukraine and then had the audacity to say that there are NO Russian troops on the ground in Crimea.

President Obama is doing what he can in terms of rattling a saber. But honestly? In the eyes of the Russians and other world threats, he may as well wave a wet noodle. He simply does not have the weight of the super power that we once held. We are seen as weak. That we have no conviction. Nothing to back up what we (the white house) say and do.

And I'm not sure if there's time to rectify our once solid stance on the world stage. Too many things have come and gone with our idle threats. We seem more keen to turning a blind eye than we would taking action.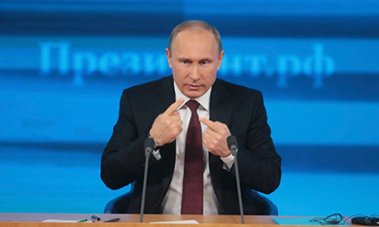 "Who me? What me do? I invaded who? When? Well what are you going to do about it?" President Putin.

And now for my weekly humiliation of Khalid Sheik Muhummed (KSM) the mastermind behind 9-11. This week KSM is seen at the press conference that Putin has held.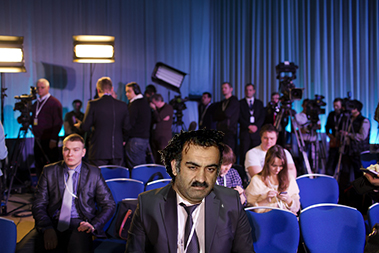 KSM looks like his miserable self waiting for Pootin.

So once again, let's all take a minute, and enjoy the weekly humiliation of the mastermind terrorist who killed 3,000 innocent civilians on September 11th, 2001.

* Note to self. Must pick up a case of notebook paper at
Home Depot this week.

ANNOUNCEMENTS:
HAPPY BIRTHDAY Amy Kane March 12th, 2014!
HAPPY BIRTHDAY Weston Rogers March 13th, 2014!
HAPPY BIRTHDAY Joe Hurley March 13th, 2014!
HAPPY BIRTHDAY Harry Link Jr March 14th, 2014!
HAPPY BIRTHDAY Ken Sakurai March 15th, 2014!
HAPPY BIRTHDAY Dave Cain March 15th, 2014!
HAPPY BIRTHDAY Raymond King March 15th, 2014!
HAPPY BIRTHDAY Lynn Jackson March 16th, 2014!
GETTING ready for RPOTW 10th Year Anniversary 4-15-14!

Our Thoughts and Prayers are with the Cropper family with the passing of father James Cropper

And please continue to send positive thoughts and prayers to our dear friend Debra White and family.

Please Support ALL The photographers who contribute to Ralph's Pic Of The Week every week for the last 9 years. **Think about BUYING a HIGH RES Photo from any of the weeks on RPOTW.

Remember my friends... Surfing Heals All Wounds.
Pray for Surf. Pray for Peace. Surf For Fun.

Ralph


Like us on Facebook