Surf art and Surfing...
Somewhere in this mess that is my office and art studio, is a priceless piece of my history that I can't seem to find. It is my 5th grade report card. And I believe, it was the 3rd quarter remark by my then teacher Mrs Hooper, that I would frame (after scanning) if I could just find it again. What she wrote has stayed with me my entire life.

"Ralph spends most of his time in class fooling, especially in art and music, where he does absolutely nothing!"

Those of you who know me, would find this amusing. Those of you who don't, should know, that I spent the better part of my life in both art and music. Though I never accomplished much in either subject,
it was, and still is today, a passion of mine.

And look, I love educators. There's no more a solid, and inspirational occupation out there today. To be able to mold young lives, and help prepare them for the big bad world, is a noble endeavor and I salute you all. I just thought I would share this little "Ralph History TidBit" because, it is after all, the annual Surf Art Column/Blog.

We all have influences in our lives. And it makes no difference what path you choose to walk down. We all have them. In my young life I was heavily influenced by a certain surf artist. Rick Griffin. Most of you know who Rick Griffin is. But for those who don't. Google him. Griffin and his "Murphy" character shaped my mind set at a very
early age. My whole concept of art was shaped by Griffin.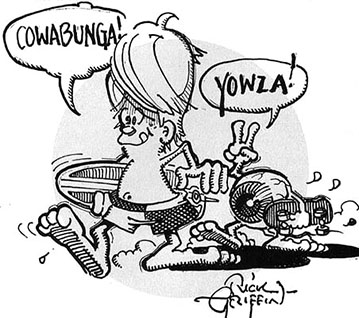 My then close friend Thom Tremblay who was (and still is today) an incredible artist and I would draw Murphy like cartoons all day long. We'd be laughing and drawing at our own drawings. Mrs Hooper would get so mad. She would confiscate our art, and rip them up in front of us. God how I wish I had some of those early drawings.

We even made up names for our cartoons. "Stonewall and Fern"
We would have them surfing and skateboarding everywhere. We got pretty good at drawing these Murphy like cartoons. Later on, after the drudges of High School, military, and college, Thom and I met up again, and we got back into drawing together. He helped me design logos for my bands, and we even did a few old school drawings of each other. Here's my drawing from 1976.




Clearly you can see the Griffin influences in my art.




This was the cover art to my first single in 1978. My band was called The VINNY Band. Thom did the Vinny logo, in the upper right corner and I did the cover art. Again, it reeks of Rick Griffin and Art Crumb. Because those were my art influences.

Of course later, Griffin dropped the Murphy shtick, and got serious.


.

The man was super talented. And he could paint and draw waves like no other (at that time). Rick was killed in a motorcycle accident in 1991. We were all stunned when he died. He was only 47. He would of produced countless pieces of amazing art had he lived.

My good friend Jay Gould, has many original Rick Griffin pieces of art. Including the original art of Pacific Vibrations. I still get chills when I see it in person. Rick Griffin you changed my life. But you really upset Mrs Hooper. (snicker)

I hope you all got a chance to surf this week. I did. I scored some great waves on Wednesday the 24th! Heck I even trunked it! (That's no wetsuit to you non surfers.) It was that warm. The surf was chest high and super clean. I surfed for 3.5 hours with no wetsuit!

Then I got surf on my actual B-day on Friday. I got some great waves. And if that wasn't enough, a big rainbow came out at the end of the day. It was a perfect ending to a day, that started out overcast and dreary, and had me in a gray kind of feeling. But the surf and the rainbow changed all that. I felt blessed.

That's me (below) at the end of the rainbow. Pretty special to have this appear on your birthday. Though I would hardly call myself a "pot of gold. " More like a handful of loose change.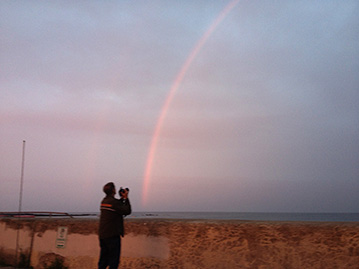 I need to look on the bright side of life more often.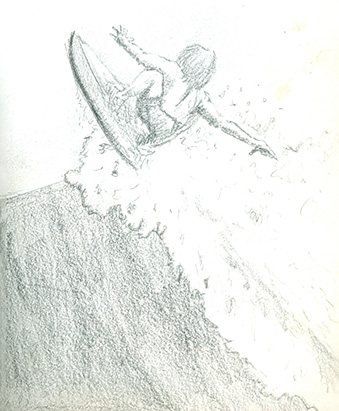 This is one of my college surf art doodles. I did this in 1972.

This annual surf art column has been a favorite among the local surf artists. And there is no shortage of talent in this area. From Alex Deconstant, Stan Chew, and Erik Zak, to Hannah and Sam Vokey. The talent pool is wide and deep. And there's a bunch of new up and coming artists as well. Daniella Tabor and Phil Munson have taken the brush and pen, and have made it their own passion.

There's something special about surfing. We all know that.

And we all know that surf photography is also special. But the actual art, of creating surf art, with a brush, pen, or carving tool? That is special and then some. And I think most of you will agree with me. There's nothing like having a original piece of surf art hanging in your home.

And if you are ever the recipient of such a special piece of art, you must know, that is a special gift. And whoever gave it to you must truly love you, and know, that you have a deep appreciation for this genre of art. Especially if the artist was the one who gave it to you.

There's no better a gift, for the surfer that lives in your soul.

Now for Some Of My Weekly Global Observances:

OK, so now we all know that Kate and Prince William had a baby boy last week and this little guy will eventually become KING. That's a pretty heavy thing to live with don't you think? Little George will be King Someday. Royalty? I don't get it. Never have and never will. And I suppose those that are into the whole Royal family scene must be thrilled that little King Georgie will carry the torch into the future.

Long Live King Georgie poo!

With this being the annual surf art column/blog I had to take our boy KSM and put him in the artist mode. Look what I did this week. Why Ole Khaliddy is painting a white bunny rabbit down in his GITMO art studio. He looks almost happy. Though I suppose he is still miserable. Painting bunny rabbits does not seem to bode well with this evil SOB. I wonder if those are paint by the numbers? Hmmm.

So my friends let's take a minute and enjoy the weekly humiliation of the mastermind terrorist who killed 3,000 innocent civilians on September 11th, 2001.




*Note to self. Must pick up a "Learn To paint Bunnies Set" and a case of Rabbit Food at Home Depot.

ANNOUNCEMENTS:
HAPPY BIRTHDAY Erik Cannon July 28th, 2013!
HAPPY BIRTHDAY Nick "Pev" Pervada July 29th, 2013!
HAPPY BIRTHDAY John Adams July 31st, 2013!
HAPPY BIRTHDAY Johnny "Sav" Savastano August 1st, 2013!
HAPPY BIRTHDAY Bill Stecchi August 1st, 2013!
HAPPY BIRTHDAY Katy Kenty August 2nd, 2013!
HAPPY BIRTHDAY John Carden August 3rd, 2013!
CONGRATS to Duffy and Jenn McCarthy on the birth of Maci McCarthy July 22nd, 2013!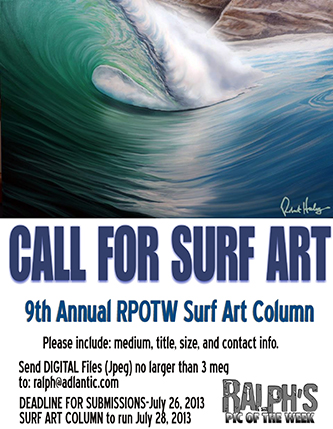 Please Support ALL The photographers who contribute to Ralph's Pic Of The Week every week for the last 9 years. **Think about BUYING a HIGH RES Photo from any of the weeks on RPOTW.

Keep in mind the photos you steal from this site are low RES. You can't blow them up. Order HIGH RES photos that are suitable for framing. It's a GREAT Gift Idea. A nice framed photo of your favorite Surfer or Surf Break!
Remember my friends... Surfing Heals All Wounds.
Pray for Surf. Pray for Peace. Surf For Fun.

Ralph