Heat Waves and Flat Spells...
My friends all said I was crazy for getting Central Air put in our home in 1990."It only gets hot about one or two days during the summer!"
I laughed and said, "Well, that's when I would want to have Central Air. On those two hot days." Turns out, I made the right move and investment. Besides, it's more than two days of heat each summer.

If this last week wasn't proof enough of that, nothing will ever be.




I guess it's safe to say, that was one hell of a heat wave. Man, it was painful to just step outside. And even more painful to drive around in my air conditioned vehicle, and see people out jogging in that heat.

You have go to be kidding me people. Really?

You need to jog that bad? I swear I thought I was about to witness some of them losing their lunch in their painful quest. It was just not healthy, or safe, to be out jogging in that heat. It was dangerous.

All in the name of shedding a few pounds? I don't think so.

How about dieting during a heat wave? Stay inside. Keep cool. And eat less. Bet that works just as good. Maybe better. But then again, what the hell do I know? All I know is, I'm staying cool during the heat waves. And with the lack of "REAL" waves, I'm not stepping out.

Besides, there's no surf period. It's been flat.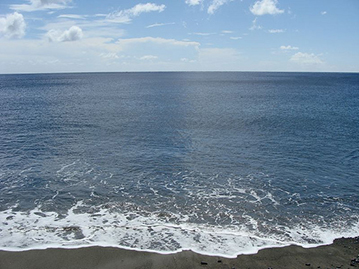 I saw that my son recently posted on Facebook "Could really use a knee high wave right about now." Knee high? Really? We are praying for knee high? That's a sure sign of a flat spell. Though, I seem to recall endless weeks of no surf in my 49 years of surfing.This has only been 3 weeks. Only?

I know that's harsh. And I also know, that some of you who read this weekly blog, do not surf. So it's hard for you to comprehend what we surfers are going through.

But here, let me paint a clear picture for you.

Say you are an avid golfer. You love golfing. You look forward to golfing every weekend, or during the week after work. You live for the little hard white ball. You are obsessed with it. Or, you are a tennis player. You love playing tennis. Can't get enough of hitting that fuzzy yellow ball around, day after day. It is your passion. Your reason for working hard all week.

Now imagine, if you woke up tomorrow, and your golf course was missing. Or your tennis court had disappeared. Try and wrap your head around that for a minute. You'd freak out. No golf course? No tennis court? What the...? Now you're getting it. This is what surfers have to deal with every summer.

Our golf course, our tennis courts, sometimes leave overnight, and they don't come back for weeks at a time. This is our reality.
And there's no end in sight. I know there are alternatives to surfing but none of them appeal to me. I don't like golf or tennis.

Maybe I could take up bowling. Nah...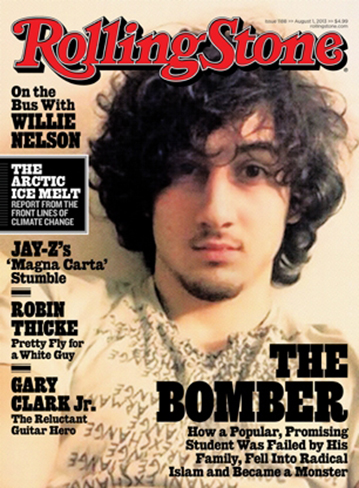 Then there was this little controversy this week.

Perhaps you heard about it? Rolling Stone magazine went out and put little scrawny ass Terrorist Dzhokhar Tsarnaev on their cover this month. The problem that most people have with it, is they make him look like he is some kind of pop star rocker.

And he is anything but. He is, what he is, a COWARD.

And he has no business being on the cover of this magazine. Rock Stars and other like celebrities? Yes. Terrorists who kill innocent civilians and children? NO. Absolutely not.

This may end up hurting this magazine, and yet, somehow, I think they are OK with it. What's the old saying "As long as they are talking about you." I think it was bad judgment. They did not think this one through. This kid is a coward loser. If there was a magazine for cowards, he should be on that cover. Not Rolling Stone.




I could not help but turn my attention to this latest experiment.

Look, I have never been concerned with sharks in my life.
I mean that. I've been out in the water with some real man eaters too. But I never think about sharks. Ever. But seeing this peaked my curiosity. I wonder if this works? Not for me, but for those who surf in places where there are lots of shark attacks.

I guess the studies have proven that sharks will ignore the Black and white stripe suits, over the all black suit. Why? My guess is, the all black suit looks more like their favorite meals. Seals. The striped suit is a turn-off for Whitey. And the all blue and light "camo" suit? Well that suit apparently keeps you in some kind of "blending with the ocean" look. Hmmm. I wonder.

To find out more about these Anti Shark suits click on the image above and form your own opinion.



This has been another week for local heartbreak..

Virginia "Ginny" Paugh passed away on Tuesday July 16th.
Ginny was the mother of local seacoast residents Ron, Mike, and Teresa Paugh. Mike "Zappy" Paugh and his sister Teresa are two popular local surfers. And the whole Paugh family has suffered more than their share of losses the last 10 years or so. This loss however was a complete surprise.

Ginny was the matriarch of the Paugh family.

And I had just seen her a couple of weeks ago at her nephew's Memorial Paddle. I gave her a hug and asked how she was doing. She seemed healthy, but clearly sad over her most recent loss. Little did I know, that less than 3 weeks later she too would be gone.

I know there are no words of comfort that one can give at a time like this. We all just need to have some kind of faith to believe that we all go to a better place when we pass. You need to believe in something beyond this world.

My belief is that Ginny is at home with God and surrounded by all of her loved ones who have passed before her. So rest in peace Ginny. Rest in eternal peace.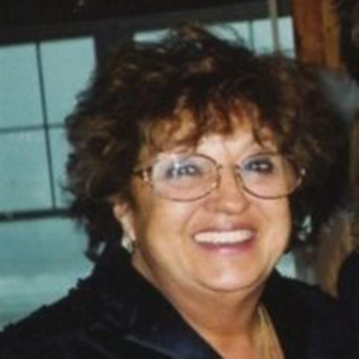 Virginia "Ginny" Paugh.
Services Monday at Remicks in Hampton from 5-7PM

Now for Some Of My Weekly Global Observances:

OK, so now we all know the outcome of the Zimmerman trial. And like I predicted, it has driven a wedge between those who believe he was guilty, and those who did not. And it is also split along racial lines. Like I also predicted. The more things change, the more they stay the same. Personally I think the reaction of those who wanted Zimmerman to fry is embarrassing. We have a system. Like it or hate it. We have to abide by the outcome. Remember OJ. Remember the casey Anthony case. You can't change those outcomes.

You just have to deal with it and move on.

Speaking of embarrassment. Ole Khalid Sheik Mohummed down in Gitmo was outraged that The Boston Bomber got on the cover of Rolling Stone and he did not. KSM called his publicist and between the two of them, got this mock up of perhaps next month's cover. After all, KSM is by far a bigger Terrorist than this kid. It's only right that he get his mug on the cover of Rolling Stone too.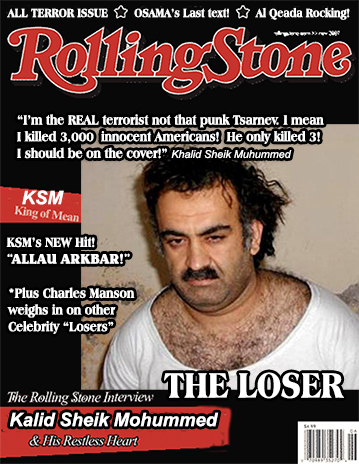 Besides he's going to get 5 copies for his mother. Now that he's on the cover of Rolling Stone. So take a minute and enjoy the weekly humiliation of the mastermind terrorist who killed 3,000 innocent civilians on September 11th, 2001.

*Note to self. Must pick up a case of used Dr Hook and the Medicine company LPs at Home Depot.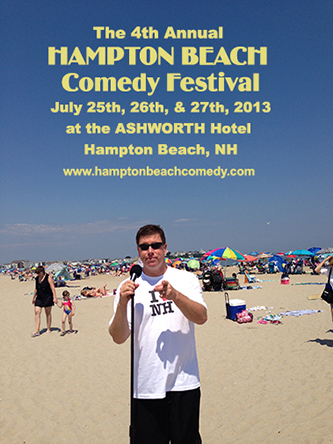 ANNOUNCEMENTS:
HAPPY BIRTHDAY Judith Rastl July 23rd, 2013!
HAPPY BIRTHDAY Tami Heide July 23rd, 2013!
HAPPY BIRTHDAY Lars Jacobsen July 24th, 2013!
HAPPY BIRTHDAY Mary Ellen Grasso July 24th, 2013!
HAPPY BIRTHDAY Judy Dombrowski July 25th, 2013!
HAPPY BIRTHDAY Vince Shazam July 26th, 2013!
HAPPY BIRTHDAY Nick Africano July 26th, 2013!
HAPPY BIRTHDAY Raven Lundy July 27th, 2013!
HAPPY BIRTHDAY Erik Cannon July 28th, 2013!
REST IN PEACE Ginny Paugh.
ESA-NNE CONTEST is on at Long Sands at York Beach, ME.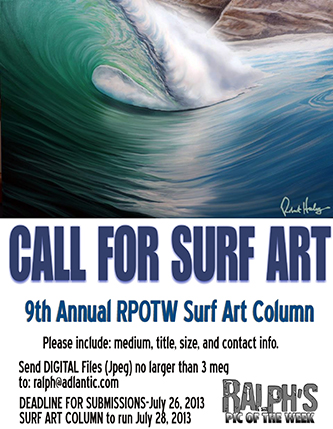 Please Support ALL The photographers who contribute to Ralph's Pic Of The Week every week for the last 9 years. **Think about BUYING a HIGH RES Photo from any of the weeks on RPOTW.

Keep in mind the photos you steal from this site are low RES. You can't blow them up. Order HIGH RES photos that are suitable for framing. It's a GREAT Gift Idea. A nice framed photo of your favorite Surfer or Surf Break!
Remember my friends... Surfing Heals All Wounds.
Pray for Surf. Pray for Peace. Surf For Fun.

Ralph