Rainy Days and Singing the Blues...

I am not at all surprised, that the RUN of surf we have been having the last 25 weeks, has finally come to an end. I mean good lord, that was quite the run. 25 weeks? That's almost half a year. I tried to call the waves on Friday night waist high, but I could not.

Even with my friend Jon Anderson standing next to me, saying that one wave was waist high, I could not bring myself to acknowledge that, yes there was ONE waist high wave on Friday. But not enough to call it. Therefore, the Run has ended.

This is what most summers are like around here. It goes flat.

Then to have the never ending rain on top of the flatness? Ugh. It has been a trying week for sure. My garden has been flourishing though. But then again, so have the mosquito's. And next to the dreaded Greenhead, I hate mosquito's with a passion.

In fact, when the kids were younger and we spotted a mosquito in the home at night. We would go into immediate lockdown. No one went to bed until the mosquito was captured, and dispatched. I even trained the family cat to hunt mosquito's. Think I'm kidding? Ask anyone who lives in my house. She would hunt them down, and eat them. And I praised her for her valiant efforts.

"Good Kitty. That's my girl Comet! Good job!"

So with all this rain we have all been extra vigilant about the mosquito. And so should you. With all the dreaded diseases those things carry with them, we should all be wary of those winged pests.

So this Thursday is the 150th anniversary of the famed battle in South Carolina by the 54th Massachusetts Regiment. The 54th was an all black unit led by a prominent white officer from a well to do family in Boston. Robert Gould Shaw.


| | |
| --- | --- |
| | |

There was a movie about the 54th called GLORY and it was very well done. As a history buff and more importantly, a military history buff, I was fascinated by the 54th story. In fact my whole family was.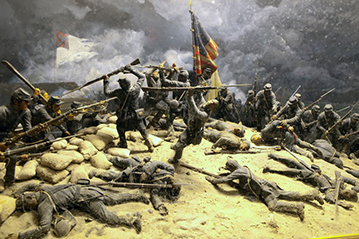 There's a statue at the Boston Common, directly across from the State house, that is dedicated to the 54th and Shaw. I was there for the 100th anniversary of the unveiling. Colin Powell was the guest speaker. It was pretty impressive.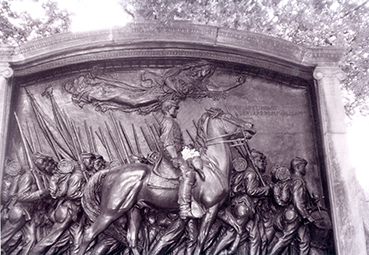 This is a B&W photo I shot during that time period. I'm sure there are 1,000's who walk by this statue and never bother to stop and look. I always stop when I am there, and acknowledge that heroic all black regiment, and their beloved white commander, who perished during that bloody assault on Battery Wagnor in South Carolina.

150 years ago this Thursday, July 18th, 2013.

I could not help but get a little melancholy this morning while observing and shooting the ESA-NNE contest at the Wall.

I can remember so many summers when our kids were young and how much fun we all had at the local surf contests. And this is coming from someone who has never ever entered a surf contest in my life. Yet, I fully supported the local ESA and the NNE district.

How could you not? The local contest scene is great for the groms. They make lifelong friends at these contests, and some actually go on and compete on a higher level. But for the most part, it's a great vehicle for promoting an event that involves surfing. Besides, the camaraderie that develops with other surfers, from all over the Northern New England area, is worth the contest fees alone.

A big thanks to the directors Lenny and Arlene Nichols, along with Bob McNeil, and judges Jon Anderson and Dennis, who spend hours every year putting these events together for the Groms of Northern New England. Well done guys.

I support the ESA-NNE here in Northern New England.


This has been a week of singing the blues for me.

I saw a few great blues acts on Thursday July 11th. One in particular was a local band called the BB GUNZ. I had never heard of them before. And I have to admit the young 19 yr old guitarist was really good. I mean this kid had chops like he was a 50 something bluesman playing his whole life.

Later we went and saw BB King at the Casino on the beach. I'm almost embarrassed to say, that I have never seen BB before this. I'm glad I did. Because he is not long for this world. At 87 years old, he was just a shell of what he used to be. But he still had that voice, and the classic BB guitar licks. But we all get old. And we all slow down.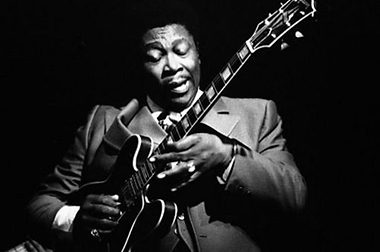 And well, we all get the blues. Here's a younger BB in an undated photo. This is not the BB that I saw at the Casino. Hardly. Still, he is still today the undisputed KING OF THE BLUES and he's still gigging at 87.

Now for Some Of My Weekly Global Observances:

OK, so I'm about over the whole Zimmerman trial. It seems like there's always some big trial that everyone is tuned into and watching these days. From the OJ case to the Casey Anthony trial to this latest. And they all seem to be somewhat race related. And because of that, there is a clear division in where some folks stand. There shouldn't be. But there is.

And when the final verdict comes in, one side is going to be happy and the other not so happy. We'll see how this all plays out. Because it will be any hour now. Guilty? Or Not Guilty?

Speaking of Guilty and the Blues. Look who put together a blues trio this past weekend. Why Ole Khalid Sheik Mohummed has new trio down in Gitmo called KSM and the GITMO Bluesmen...so far they have only played the exercise yard. But they are looking for representation to possibly tour once KSM's trial is over. Ha!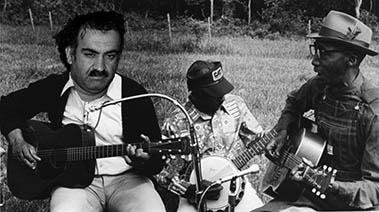 You have to suffer to sing the blues. And KSM has been one suffering fool since his capture in 2003. So take a minute and enjoy the weekly humiliation of the mastermind terrorist who killed 3,000 innocent civilians on September 11th, 2001.

*Note to self. Must pick up a case of guitar strings and picks
at Home Depot.

ANNOUNCEMENTS:
HAPPY BIRTHDAY John Rastl July 12th, 2013!
REMEMBERING Molly Rowlee July 12th, 2013!
HAPPY BIRTHDAY Dougie Fresh July 13th, 2013!
HAPPY BIRTHDAY Heather O'Hara July 14th, 2013!
HAPPY BIRTHDAY William Haffenreffer July 14th, 2013!
ESA-NNE Contest at the WALL 10th Street North Beach
Hampton, NH on Saturday July 13th, 2013 SIGN-UPS at 7AM!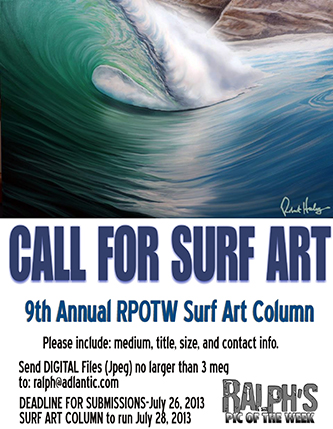 Please Support ALL The photographers who contribute to Ralph's Pic Of The Week every week for the last 9 years. **Think about BUYING a HIGH RES Photo from any of the weeks on RPOTW.

Keep in mind the photos you steal from this site are low RES. You can't blow them up. Order HIGH RES photos that are suitable for framing. It's a GREAT Gift Idea. A nice framed photo of your favorite Surfer or Surf Break!
Remember my friends... Surfing Heals All Wounds.
Pray for Surf. Pray for Peace. Surf For Fun.

Ralph