July 11th, 2010


The Surf Count of Waist High Or Better is now 19 out of 21 weeks...

I am a Kook. A full blown, boot to life- kook. It's true. OK, it's only partly true. I'm not a kook in the water. I am a kook near the water. Let me explain. This last Sunday, on our nation's birthday-July 4th, 2010, well that day, was my first day at the beach this summer. Or to be more specific. It was my first beach day in just my trunks. Up until Sunday, I had been out in the sun, with just my shorts and Tee shirts. In other words, I had the kook tan. I needed to redeem myself, and get back to my traditional deep dark Mediterranean roots, and get the tan that I used to have, when I was a young rebel surfer. In other words...

I needed to work on my tan.

My tan before the 4th was outright embarrassing. Hell, there were pink eyed albinos walking around the beach with more color than me. I remember a time when my dad turned a certain age, and he started tanning like a damn farmer, or something. It was embarrassing for us to be around him. White torso and legs, with tanned arms and face. I mean what the hell is that look? I'm a surfer dammit. I need a surfer's tan. And I had decided to take off the shirt on the 4th, and let mother nature do it's thing.

And you know the old saying..."be careful of what you wish for?" Well Mother Nature did her part. With a vengeance. I got fried like you read about. I'm talking beet red. Fire engine red. Painful to look at red. My own family reeled in horror when they saw my sunburn. So how did it happen? Easy. Hell it was too easy. We got to the beach around 9AM. If you guys were around on the 4th in New England, you know that it was a scorcher. I mean it was freaking hot. My wife said I should put on some sun screen. I refused. (My first big kook move of the day.) I refused sunscreen. Why? Good question.

I guess I still thought I was 18 and didn't need sunscreen. Truth be told, I rarely have ever used sunscreen, or any kind of tanning oil in my life. It's true. I was always naturally dark. I tanned easily since I was a kid. But the older I got, and the more indoor work I had to do... well? That made my "all natural" tan a bit more difficult to achieve. Long story short. I stubbornly refused to use sunscreen. And the Sun made me pay for my stupidity. I looked like a fire victim. Oh I am a kook alright.

So here it is less than a week later, and I now look like a freaking snake. I am shedding my skin like the damn reptiles who slither among us. And I deserve every scratchy uncomfortable moment of it . Because I am a kook.

The one saving grace was, the warm water that hit on Tuesday and Wednesday. Man was that a treat. The waves were small, but they were glassy. My buddies who live in Central Cal can't fathom the fact that we go from one extreme to the next in our weather patterns. They surf in 4/3's year round while we wear em all. From trunks in the summer, to 6mil cold water suits in the winter, and everything else in between.

Like I said, we get both extremes.

And the better of the two? The trunking extreme? Well, I don't know about you guys but, I really like surfing in trunks. I'm talking here in New England. And the other night the water was crystal clear. You could see all the way to the bottom. Hell, you could see the Great Whites swimming by if you looked hard enough. What you didn't hear about that? Oh yea, apparently there are sharks out there. I swear. I saw it on the news. Can you imagine that? Sharks in New England? Great White Sharks?

Look, let me enlighten anyone out there who does not know this. You ready?

Next time you're at the beach, walk down to the water and stick your finger in it and taste it. If it's salty, then there are sharks out there. This whole wacky news story about sharks out in our water is a joke. They have been there longer than we have, and will be there long after we are gone. Earth to NEWS Media. There are Sharks in New England. Enough with the BS news stories about shark sightings. And for the record. The last time someone was killed by a shark in New England was over 70 years ago.

Joseph Troy Jr, a 16 year old from Dorchester, MA was attacked by a White Shark on July 25, 1936. The 16 year from Dorchester was swimming in about 10-15' of water on Hollywood Beach , Mattapoisett, near Aucoot cove in Massachusetts at around 3-4PM when he was attacked by a large White Shark. His uncle's friend, Walter Stiles tried to save him, but the boy later died at St. Lukes Hospital in New Bedford. This was the last Shark attack in New England. There has never been a surfer killed by a shark in New England. Ever. And since July 25, 1936, there have been No swimmers. No fishermen. No surfers. No SUP'RS. And no kooks killed by a shark.

But having said all of that...we might be overdue. Holy Great White Batman!

Maybe we should stay away from the ocean. Maybe, just maybe, the news reporters are correct. These damn beaches are dangerous. We need to get the word out my brothers and sisters. PLEASE-Help us spread the word. There's SHARKS out there! Everyone stay home and be safe. Thank God we all finally came to our senses. My friends we have been blindly risking our lives surfing in these dangerous New England waters. I mean, there are man-eaters out there! Great Whites! Tigers! Makos! Blue Sharks! PLEASE HELP US Pass the word. From Florida to Canada. There are sharks in our waters. Man Eaters. Jaws! Help us...somebody save us from JAWS!!! Mommy!!!

OK, so I'm being sarcastic. I'm sorry. I was still feeling the after affects of my "Kook" sunburn. Speaking of which, you'll never guess what I did after the 4th?The day I got the KOOK BURN. I watched a silly JAWS marathon on TV. All night long. Talk about sequels getting progressively worse as they went along. Those JAWS sequels are a joke. They stopped being funny by the 3rd one. And what were there, 4 sequels?

Campy and mindless entertainment for sure. But how anyone could end up being freaked out by these movies and stayed away from the beaches is absurd. I mean come on. Were you one of them? Did you stay away from the ocean when you were young because of one of those movies? Maybe the next JAWS movie will be about Surfers getting eaten. That could be cool. Say, I could be onto something here.

JAWS 5...This Time It's Stupid. Really Stupid. Here's the pitch.

Based on a non true stupid story about a bunch of stupid surfers getting eaten by a 50' Great White, and the stupid authorities who bungle the case. Starring: Justin Beber and Hannah Montanna as the Surfers. Watch Justin and Hannah as they fall in love at Hampton Beach, and become hot local surfers, who sing and play in a local band at night, only to be attacked and horrified by the 50' Man eater!

Co-Starring (as soon as she get's out of jail) Lindsay Lohan as the drunk older sister "I told you F---ing kids to stay away from that beach! Now look at ya! You stupid sons of...biatches!" And with special guest star from American Idol fame, Simon Cowell as the Beach Sheriff. "Personally I'm glad the shark killed them. Those voices were just horrible. " And also starring Paula Abdul as Simon's crazy wife. "I just want to kiss you and cuddle you...and take you home." Original soundtrack by Green Day. Coming to a Theater near you Summer of 2011.

Hey Mr Spielberg you hearing this? Give me a call. I'm writing the script as I type this.

A BIG Thanks for the many supportive emails and phone calls after letting me blow off steam last week about the broken bottles on our beaches. I know there are many who feel the same as I do, and I feel better knowing that many of you are keeping a close vigil on our beaches, because of that column. So thank you again.

On a more somber note: Monday July 12th, 2010 mark's the one year anniversary of Lil Miss Molly Rowlee's passing. I know that all of you who knew Molly and the Rowlees are still sharing in their grief, and I just wanted to send out a big hug and embrace for all of you who knew this special child, and to Molly's family. We all love you Molly. And we have nothing but love and respect for the Rowlees.

This day is the last of the "firsts" without Molly. There will still be many difficult days ahead for the family and friends. But this first year, is behind them now. The process
of healing is a long enduring journey. And with friends and family continued support, it will make the days ahead easier.

In two weeks time, the CATCH A WAVE FOR MOLLY will start. More on this next week. Meanwhile...WE LOVE YOU MOLLY...



Photo by Brian Nevins. July 12, 2009





Now for some of my

W

eekly Global

O

bservances:


The wacky Russian Spy Scandal story just got wackier. We traded our Spies for Russian Spies. What the hell...? I guess we got a better deal than the Russians. Though, I know a lot of you guys were not happy to see the hot looking Model Playmate type Spy go back to Russia. Couldn't we have at least kept her?

Speaking of deals gone bad. How about Lebron James's big move? And the weird one hour special that preceded it? All that Cleveland swooning over him, was all for not. He's off to Miami. To a potential NBA title. Well, as long as we have the core of our team, the Boston Celtics will have something to say about that Mr James. We will redeem the loss being felt by your TRUE devoted fans in Cleveland, by kicking your butt next year, as The Celtics go on to win their next title.

In other news. You can't make this stuff up. I heard that President Obama has ordered Charles Bolden, the NEW NASA chief to make it a top priority for NASA to "make Muslims feel good about themselves". Look, I have mentioned many times in this column that I have nothing against the Muslim religion. And it's true. I don't. But someone please tell me why NASA should make it a priority to make Muslims feel better about themselves?

Did I miss something here? What should NASA do?

Send them DVD's on the "Lost In Space" TV series? Or, we could send them the original "Star Trek" shows? Even better, we send them the collectors edition of "the Jetsons?" I know that NASA is already demoralized in the space program. The budget cuts that NASA has endured as of recent months are taking it's toll, and now this? Burkhas in Space here we come. What would JFK think about this?

On a more serious note: Lindsay Lohan is facing 90 days in jail. I guess her missing court appointments and other small inconvenient tasks were too much for the troubled Starlet. Now she's facing 90 days in the big house. Maybe having the words F--k Off on her fingernails did not go over well with the judge. Gee I wonder why?



ANNOUNCEMENTS:


REST IN PEACE Mike Colby age 59. Mike was my longtime friend and father to my nephew Michael Colby. He and I played in bands together in the early 70's. Your suffering is over my friend. You can see out of both eyes again. Because you believe in Jesus, you are welcomed into his Kingdom. We all get a Round Trip Ticket in life.
I will see you again someday my friend. Until then, rest easy and hopefully you are with loved ones.


HAPPY BIRTHDAY JOHN RASTL! July 12, 2010. We Love You John/Grandpa.


Thank you to ALL who commented and gave words of encouragement to my upcoming Surf Endeavor. CATCH A WAVE FOR MOLLY.
Starts July 26, 2010 ENDS July 26, 2011.
A Wave a day for 365 consecutive days.
CALL FOR SURF ART. The annual Ralph's Pic Of The Week Summer Surf Art Column is moved to August 15th because of the Catch a Wave For Molly Event on July 26th.


T

he DEADLINE is Wednesday August 11th. All Art s

h

ould be in JPEG format and no bigger than 900 pixels wide. Send the art with:

A.

Title

B.

medium

C.

artist.
AUGUST 27th the Wounded Warriors Return to Hampton. HIT THE BEACH III will take place at 18th Street at the Wall on North Beach. We moved the venue down to 18th Street for wheelchair access and close proximity to the bathhouses.
*CHECK RULES AND TIPS PAGE FOR LIFEGUARD AND SAFETY TIPS
PLEASE Pick up your trash at the beaches.

CHECK OUT THE NEW/Old YESTERDAY PAGE! ALL OLD New England and
beyond Surf Pics! *NEW PICS added each week!

*Check out the NEW updated DROPPING IN ON RALPH blog Section.
ALL Of

June

is up. *This is the blog section of this website where you can write in and comment. The only downside of this blog is, you actually have to use your REAL Name. No hiding behind some fake handle and name. If you want to comment, you have to man up, and be yourself. I will post all comments, both good and bad. You
just have to be yourself.

Please Support ALL The photographers who contribute to Ralph's Pic Of The Week
every week for the last

7

years. **Think about BUYING a Photo from any of the weeks on RPOTW as a GREAT Gift Idea. A nice framed photo of your favorite Surfer!
Remember my friends...Surfing Heals All Wounds....
Pray for Surf. Pray for Peace. Surf For Fun.

Ralph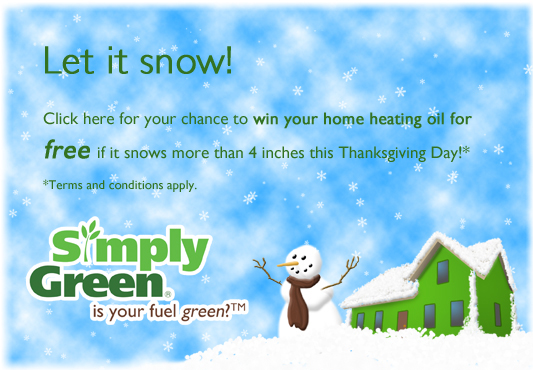 Click YESTERDAY Banner Below to see new Old Surf Pic Page

Summer of 19
77
...Jeff's Perfect Wave

(Below) Summer swell in '77.This is my buddy Jeff Crawford. This was taken somewhere in Nova Scotia. I missed this trip. And I missed it even more when I
first saw this pic. Photo courtesy of Jeff Crawford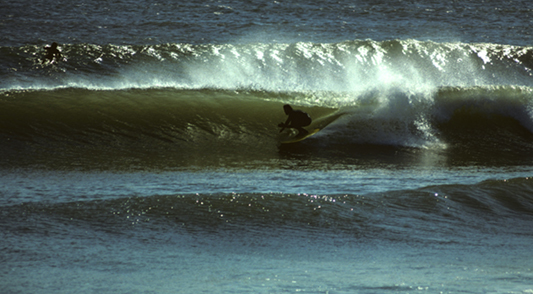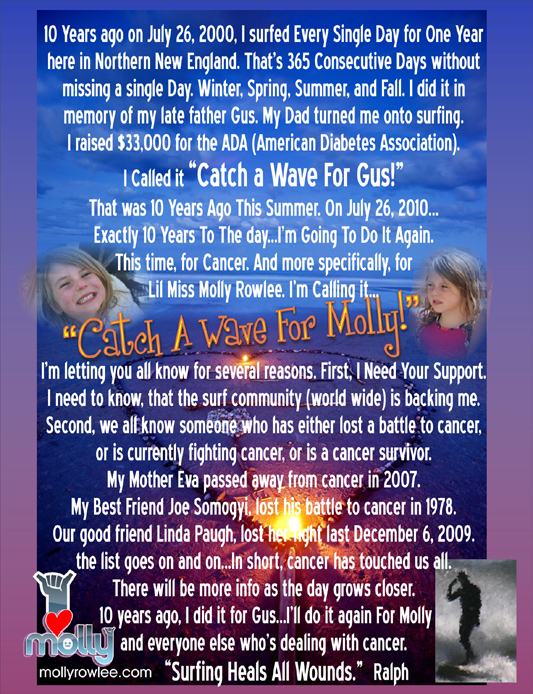 (Above) The First in a series of announcements for CATCH A WAVE FOR MOLLY.
*

Click on the
image
above to see a larger version.
Today-
Saturday-July 10th
, 2010
THE WALL


(Above) The Evans Boys were out surfing their home break this morning and I happened to catch it. This is Matt Evans. Home from California, Mattie was having
a fun sesh with his brother MIkey and his dad Rick. Saturday, July 10th, 2010.
Photo By RALPH *

Click on the photo above to see the Whole Gallery.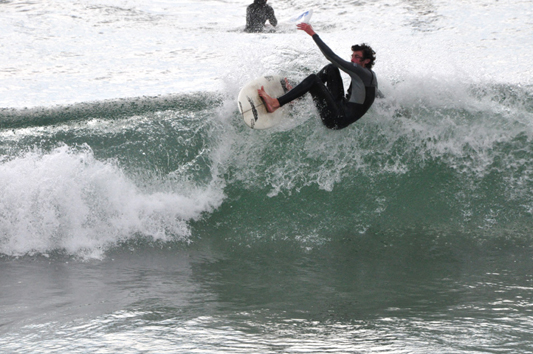 (Above) Mikey Evans riding the falling lip at the Wall. Saturday, July 10th, 2010.
Photo By RALPH *

Click on the photo above to see the Whole Gallery.




(Above) "Big Poppy" Rick Evans father of Mattie and Mikey on a smoking little left
at the Wall . Saturday, July 10th, 2010. Photo By RALPH
*

Click on the photo above to see the Whole Gallery.





Today-
Wednesday-July 7th
, 2010
The WARMEST of Days



(Above) Kyle Linseman in the tropical New England water.
Wednesday, July 7th, 2010. Photo By RALPH
*

Click on the photo above to see the Whole Gallery.
(Above) Couple of Unknowns racing along the tropical water.
Wednesday, July 7th, 2010. Photo By RALPH
*

Click on the photo above to see the Whole Gallery.
(Above) Red all over. This guy had Red Trunks, a Red board, and a Red Tongue.
Yes it was this warm. July 7th, 2010. Photo By RALPH
*

Click on the photo above to see the Whole Gallery.



Today-
Tuesday-July 6th
, 2010
The smallest of days

(Above) The small world we live in... July 6th, 2010. Photo By Brian Nevins
*

Click on the photo above to see the Whole Gallery.



Today-
Sunday-July 4th
, 2010
America's Birthday at the Beach
(Above) This is Austin. He was cruising out there that morning. He said he checks out this blog every week. Hey Austin check yourself out! Sunday, July 4th, 2010.
Photo By RALPH *

Click on the photo above to see the Whole Gallery.




(Above) This was a tiny July the Fourth Wave. Isn't it cute? Sunday, July 4th, 2010.
Photo By RALPH *

Click on the photo above to see the Whole Gallery.




(Above) This was the sunset on July 4th. Isn't it amazing? I mean this is electric. I swear I'd rather look at sunsets like this than fireworks. Sunday, July 4th, 2010.
Photo By RALPH *

Click on the photo above to see the Whole Gallery.







Today-

Wednesday-July 7th

, 2010

THE WEDGE


(Above) There is NO other wave like this on the planet. The Wedge. It's every bit as frightening as this looks. People die here every year. You can see why. July 7th, 2010.
Photo By Ben Ginsberg *

Click on the photo above to see

the Gallery



(Above) Body surfing and bodyboarding this spot is one thing. But ever since they started to actually stand up surf it, it's been nuts. Bobby Okvist joins the insanity.
July 7th, 2010. Photo By Ben Ginsberg *

Click on the photo above to see
the Gallery



Today-
Tuesday-July 6th
, 2010 NSSA FINALS by Ben Ginsberg

(Above) Evan Geiselman from the East Coast placed 4th in the Mens OPEN.
July 6th, 2010. Photo By Ben Ginsberg *

Click on the photo above to see
the Gallery
(Above) East Coast Boy...Evan Geiselman got 4th in the Mens OPEN. HB pier.
July 6th, 2010. Photo By Ben Ginsberg *

Click on the photo above to see
the Gallery
Today-
Sunday-July 4th
, 2010
Hawaiian Paddle Race

by Bernie Baker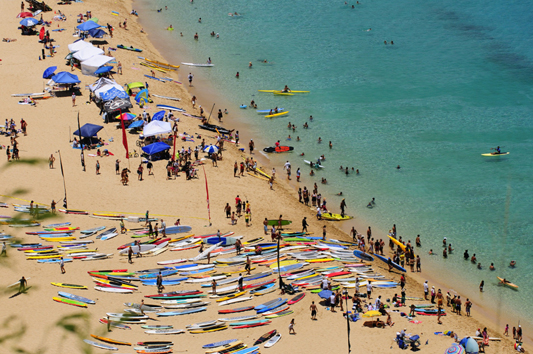 (Above) That's a lot SUPS and other paddle type water crafts. July 4th, 2010.
Photo By Bernie Baker *

Click on the photo above to see
the Gallery
(Above) Paddle hard! July 4th, 2010. Photo By Bernie Baker
*

Click on the photo above to see
the Gallery
Today-
Sunday, June 11
,
2010 The PHANTOM FILES
Photos By THE PHANTOM
(Above) We can't tell you where. If we did, people would get hurt, perhaps even die. It's best you simply look at the gallery and use your imagination. The Year 2010.
Photo By The PHANTOM*

Click on the photo above to see
the Gallery
(Above) The Phantom files. In the Year of Living Dangerously. The Year 2010.
Photo By The PHANTOM*

Click on the photo above to see
the Gallery

CLICK ON THE PLAY BUTTON BELOW FOR a
COOL trip down memory lane
From
Bruce Brown's ENDLESS SUMMER
.







I saw this when it first came out in 1966. It was hands down the most important surf flick of our time. The ENDLESS SUMMER. And more importantly, the discovery of the "Perfect Wave" at Cape St. Francais in South Africa. We all flipped out when we saw this, and we ultimately hit the road looking for our Perfect waves. Some of us found them. Some did not.
But the spark for discovering waves on this planet was lit by this groundbreaking documentary. For those of you who remember, enjoy this short clip. Those of you who started surfing after this flick...well, you really missed it.
You should of been here an hour ago...
Ralph


Mr South Africa himself, Shaun Tomson. From "Busting Down The Door." I loved
his tube riding style in the 70's. He's one of my Top four favorite surfers of all time.
And they are in this order: Phil Edwards, Shaun Tomson, Tom Curran, and Kelly Slater. I actually got to hang out with two of the four. Tom and Shaun.

Ralph


Kelly Slater at Jeffrey's Bay South Africa. This was shot in 2005...and it is
still mind blowing to watch. Is there a better surfer on our planet than Kelly?
I'm talking about in all conditions. Who's better? He is still the man.
Kelly Slater. And don't forget, he's one of us. An East Coast boy.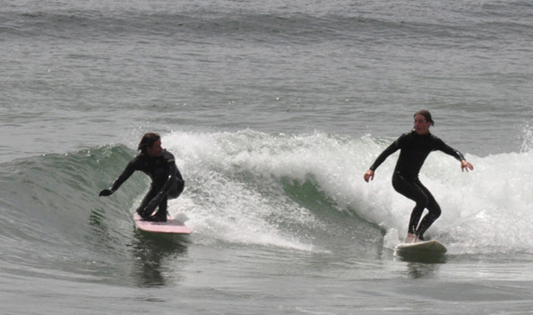 (Above) All Rise:

10th Street District Court of Surf Justice is now in session, the
Honorable Judge Ralph G. Fatello presiding. CASE #64 BLATANT DROP IN OF
THE WEEK- This case is another First...Our First BACK TO BACK Violations!
Photos by RALPH

Click on the photo above to see the Whole CRIME.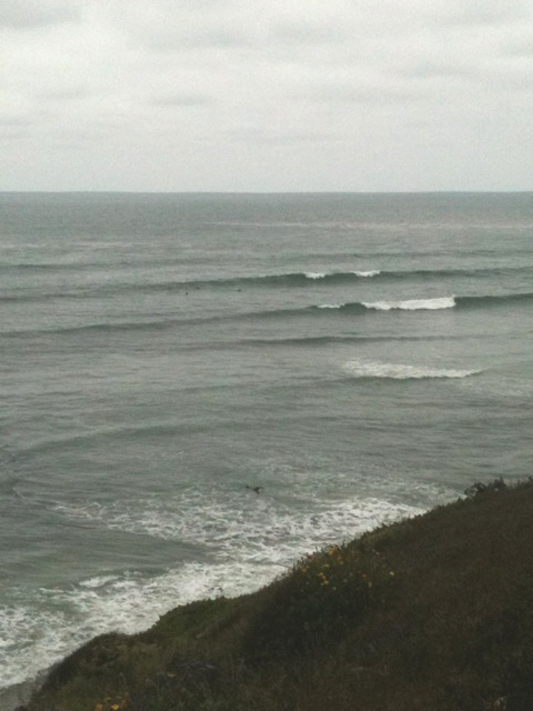 (Above) Michael Taylor shot this Swamis pic last week while he was visiting the
West Coast. Photo by Michael Taylor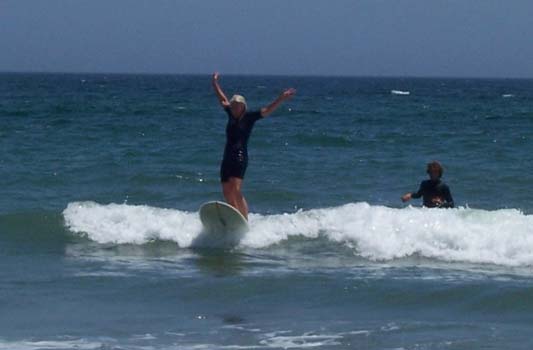 (Above) Becca's FIRST wave ever. Summer
sure is fun huh?
Photo
courtesy of Becca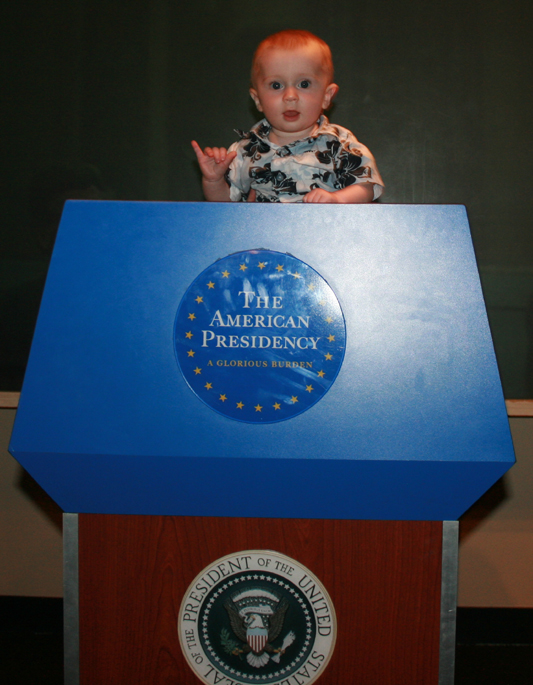 (Above) Local Surfers Mike and Noreen sent in this shot of their son Mikey during a recent trip to our Nation's Capital. *Check out the natural Shaka!
Photo courtesy of MIke and Noreen Ward.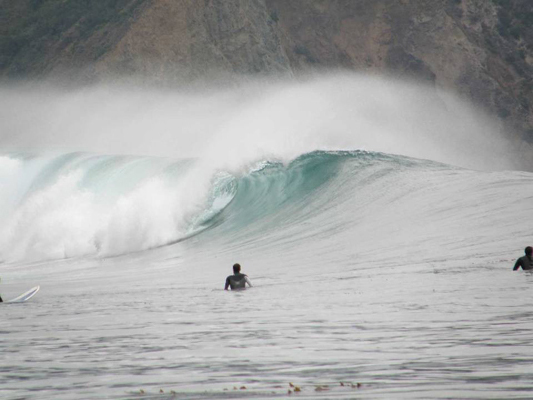 (Above) Once again, The PHANTOM hits the Big Open Ocean off of South America
and finds this cold water Lefthander. COMING NEXT WEEK!
Photo By The Phantom
(Above) The PHANTOM's adventures in South America. COMING NEXT WEEK!
Photo By The Phantom


*Click masthead above to read the original ISM story.
(Above) Put the cursor over the image above to see happens when you DROP in on someone. You become Invisible. Simply put the mouse over the photo to see the original photo and then marvel at the results of what happens when the criminal becomes invisible. *Put the cursor over the photo to see the Real image.
Photos by RALPH



Today 2010

"I'll stomp you like a bug you little twerps!

"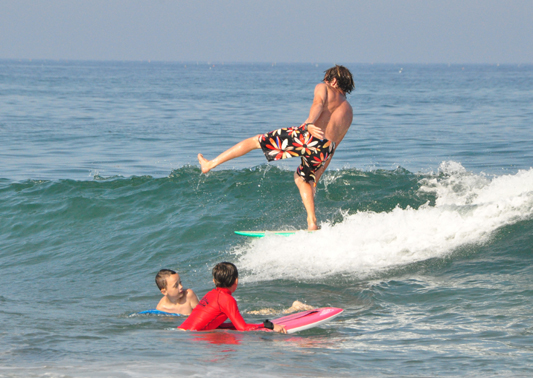 (Above) Kyle seems to be dominating out at the
W
all this past week.

Photo
By RALPH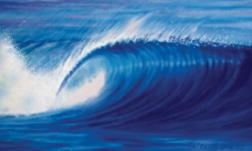 Click on Wave to return to top of page
This site designed and maintained by Adlantic copyright 2010