HERCULES, Snowy Owls, and near drownings
...
How many of you remember Steve Reeves? Not many I bet. Well Steve Reeves was an actor from the 50's and 60's. His brother George Reeves was also an actor. He played the part of Superman in the Black and White TV series. But Steve Reeves was on the big screen. He played the cool character "HERCULES." There were several HERCULES movies, and Steve Reeves played the main role in each one. There more than likely have been a few more recent Hercules movies, but none like the originals.

Steve Reeves was HERCULES.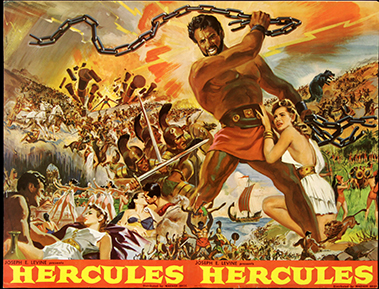 So when the weather station came up with the name HERCULES
for this recent winter storm, I of course, thought about Steve Reeves.

That was quite the storm. HERCULES. Thank God the snow was light. I'm no Hercules when it comes to clearing my driveway. In fact, I'm anything but. Though I do it manually with a snow blower, it is still hard work. So the powder was a relief. And it was a boon to the mountains. Perfect snow for all the skiers and boarders. Perfect.

The seacoast however, had to deal with the fury of the ocean.

Because Ole Hercules really flexed his muscles around these parts. The high tide brought huge surf pounding the shoreline, battering the wall at North Beach, and the rock berms up and down the coast. It was a spectacle for sure. And like every storm, "they" come out in droves to see the ocean's fury.

"They" are typically in landers. Not that there's anything wrong with those who live away from the coast, but they seem to have a quirky attraction to the ocean, especially when she is upset and heaving
big rocks and debris across the roads. Like this guy for instance.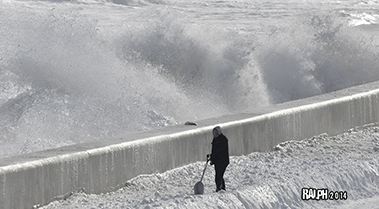 Though, he might be a local. Hard to tell. One thing's for sure, he should be paying attention to the shorebreak and the rocks that are about to go hurtling at his noggin. All the local surf parents taught their kids at a early age, to never turn your back on the ocean and the shorebreak. NEVER EVER turn your back on the shorebreak when Mother Ocean is angry. Just saying. That shit hurts.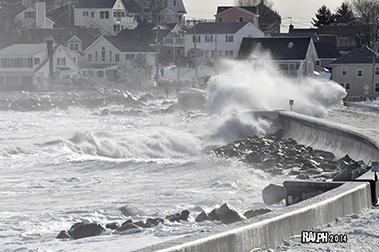 This is another scene from Hercules. That's Ocean Blvd. in Hampton and that wave is halfway across the road. Yet, people find the need to drive their vehicles along the coast during these massive storms. Rocks, debris, and not to mention the salt water alone, will kill your vehicle. It does not matter. And I'm no better. Though I'm working.

I am out there documenting our lives here on the seacoast.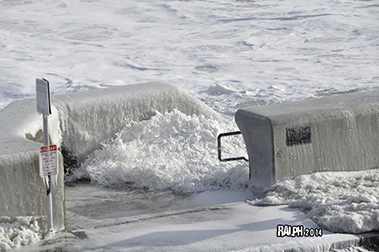 These same stairs that are clogged with tourists in the summer, were flooded, and the water just poured across the street, and down into Kings Highway. It was bad. The roads got flooded. The highways got clogged. It was a typical Winter Nor'easter. Except now, we name them. And let's talk about the cold shall we? Man that was cold.

You all know, that when the ocean freezes, it has to be cold.

It was so cold, it felt like the Acrtic. And I guess that's why we have seen so many of these beautiful birds as of late. The arrival of the Snowy Owl has turned the seacoast into a bird loving nirvana.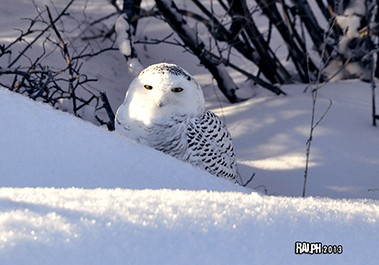 And look, these birds are so beautiful. Simply mesmerizing to look at. It's no wonder that they entire seacoast community has fallen in love with this bird. The whole coast is thriving with these Acrtic birds. And I for one, have been fortunate enough to get up close to several of them, and take a few pics.

They are everywhere. And people from Maine to Mass have been buzzing over them.

I know several of you have been dying to see one. Be patient my little grasshoppers. Be vigilant, and be quiet, and you too shall gaze upon the stunningly beautiful, Snowy owl.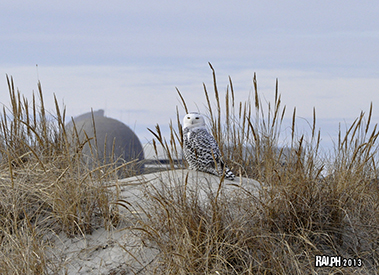 I know I know. The Nuclear Power Plant?

I shot this Snowy on the last day of the year. And it was no "fluke"
that I purposely lined up this majestic bird, with the "Nuke" in the background. The juxtapose of man and nature.

I guess we can, and do, co-exist.

Still it is so beautiful, even with the "observatory" in the photograph. Catch them while you can. The Snowy Owls are here. Can I say it?
Or rather, should I say? Oh come on...here it comes.

"Snowy Owl Heals All Wounds..."


It's easy to forget that this blog is primarily a surf blog. It is based on the foundation of surfing and it's unique lifestyle. And more specifically, the lifestyle and the surf from Northern New England. And the surf the last few days from Hercules has been amazing. Really breathtaking waves. And I mean that in the literal sense as well.

Because most winter surfers that I know, have at one point in their lives, had to deal with having their breath taken away from them. In other words. Near drowning. And there is nothing funny about almost drowning. And for those who think that drowning is supposed to be peaceful? It is not. There's nothing calm and relaxing about drowning.

And I know that our waves are not as big as places like Mavericks, Chopes, and JAWS. But our conditions are extreme. As in frigid air and water temps. To almost drown in these conditions? Well it is simply not fun.

Two of the most respected Big wave riders here on the seacoast recently experienced a near drowning. Lenny Nichols and Johnny Meehan. Both big wave rider hellmen, and they both had trouble out there. Holding your breath while being thrashed in cold water. Not fun. Anything but.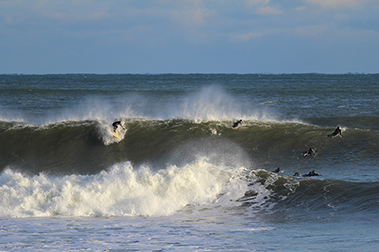 This is the wave that Lenny had trouble with. He got pummeled at the bottom and had to hold his breath for a long time.The big swell before Hercules, had Johnny Meehan actually say to himself, as he was being dragged across the bottom "I could drown, I can actually drown out here..." Scary stuff.

But not surprisingly, most of those who surf in the winter all have horror stories. I had one many years ago. In 1988. I was out surfing after a large Nor'easter. I was wearing one of those "Aqua Lids." It was a nylon like hood, that was supposed to keep you warm. I had caught a decent wave, and kicked out when a large set came bearing down on me.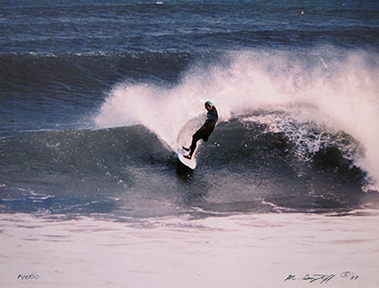 You can see the waves behind me. There are four waves stacking up. This was almost the last wave I ever rode in my life. Below is a close-up of me on that wave wearing the now infamous "Aqua Lid."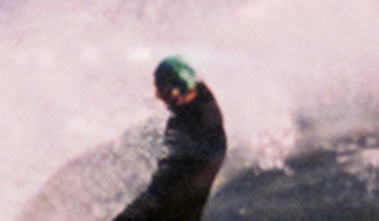 I paddled out and did a routine duck dive. But something happened. The wave broke on my head, and caused the Aqua Lid to slide across my face, and stop directly over my mouth.

Instantly, it sucked in against my mouth. I could not breathe.

I was in a sense, being "waterboarded" except, I was being beat up by a series of big waves. It freaked me out. I could not get the Aqua Lid off my face and mouth. And, to make matters worse, I could not see, which only added to the horror. Blinded, I somehow managed to get through that set, and tore that thing off my face.

I never wore it again.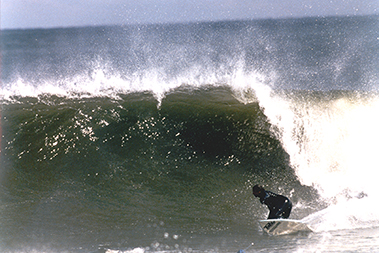 This is the next wave I caught that day. If you look closely you can see the Aqua Lid around my neck. Or just click on this pic to see a larger version. Almost drowning is not fun. Surfing is fun, but it comes with some serious consequences when things go wrong. Especially in the cold winter months.


Now for Some Of My Weekly Global Observances
The NFL still stands for "Not For Long". The Kansas City Chiefs found that out last night and so did the Eagles. Making the Play-Offs is a big deal in the NFL, but it is a one and done if you lose. While no one likes losing (You show me someone who does not mind losing, and I will show you a loser), it was exciting for your team to make the Play-Offs. The Wild Card games this weekend were all worth watching. Though I saw little of either game because of this damn blog. That's right, Homey does not have a magic button to push, and this "blog thing" just pops out like a damn Pop Tart! Hey... I'm just pointing that out. Next week our boys the Patriots are up at bat. It will either be the Colts, or Cincinnati. I think we'll have trouble with either one.

And now for my weekly humiliation of Khalid Sheik Muhummed (KSM) the mastermind behind 9-11. This week we have KSM as an unlucky weatherman reporting on HERCULES. Look how miserable he looks.

So once again, let's all take a minute, and enjoy the weekly humiliation of the mastermind terrorist who killed 3,000 innocent civilians on September 11th, 2001.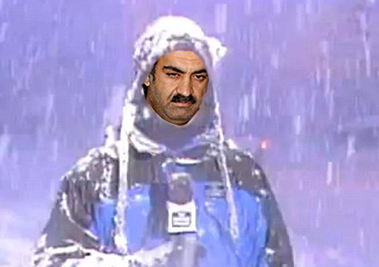 * Note to self. Must pick up a NEW Snow suit at Home Depot this week.

ANNOUNCEMENTS:

HAPPY BIRTHDAY Jerry, Dad, Grampy Bunton January 9th, 2014!
HAPPY BIRTHDAY Nancy Pappas January 9th, 2014!
HAPPY BIRTHDAY Matt Williams January 9th, 2014!
HAPPY BIRTHDAY Dave O'Connor January 9th, 2014!
HAPPY BIRTHDAY Meghan Evans January 10th, 2014!
HAPPY BIRTHDAY Aaron Buell January 12th, 2014!
REST IN PEACE Phil Everly (Everly Bros)

Please Support ALL The photographers who contribute to Ralph's Pic Of The Week every week for the last 9 years. **Think about BUYING a HIGH RES Photo from any of the weeks on RPOTW.

Keep in mind the photos you steal from this site are low RES. You can't blow them up. Order HIGH RES photos that are suitable for framing. It's a GREAT Gift Idea. A nice framed photo of your favorite Surfer or Surf Break!
Remember my friends... Surfing Heals All Wounds.
Pray for Surf. Pray for Peace. Surf For Fun.

Ralph